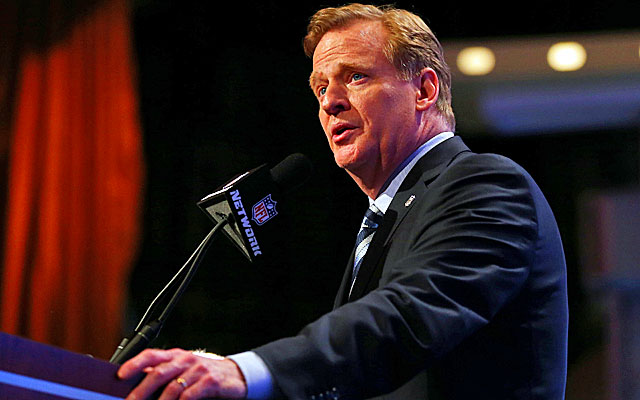 NFL Commissioner Roger Goodell announced the league's new personal conduct policy on Wednesday.
"This morning, the NFL owners unanimously adopted a new personal conduct policy that applies to everyone in the NFL: Owners, coaches, league staff, team employees and players," Goodell began.
"It significantly strengthens our conduct rules and programs. ... The high standards will be upheld through a rigorous process, one that is clear, formal, consistent and transparent. It includes due process for league investigations, the addition of an advisory group of experts, and a new disciplinary officer. This will be a highly qualified individual with a criminal justice background, hired as soon as possible. For the newly created position, a special counsel for investigations and conduct. The person will oversee our investigations and decide the discipline for violations of the policy.
"This is a product of consultation of more than 150 experts on domestic violence, sexual assault and violent crime. We spoke extensively with the NFLPA, former players, wives of former players and leaders in business, academia and law enforcement. The policy is comprehensive, it is strong, it is tough. And it is better for everyone associated with the NFL."
The NFLPA issued this statement shortly after Goodell's remarks: "Our union has not been offered the professional courtesy of seeing the NFL's new personal conduct policy before it hit the presses. Their unilateral decision and conduct today is the only thing that has been consistent over the past few months."
NFL general counsel Jeffrey Pash's response: "We sent (the NFLPA) the policy. Numerous meetings with them. The union knows every element we're talking about."
The NFL distributed this flowchart of possible outcomes based on the new policy. (You can see the old personal conduct policy here.)
Additionally an email distributed by the league outlines what steps will be taken when an incident comes under review:
* Additional NFL-funded counseling and services for victims, families, and violators.
* A more extensive list of prohibited conduct.
* Independent investigative procedures.
* Specific criteria for paid leave for an individual formally charged with a crime of violence, including domestic violence, sexual assault and child abuse.
* An expert group of outside advisors to review and evaluate potential violations and consult on other elements of the policy.
* A baseline suspension of six games without pay for violations involving assault, battery, domestic violence, dating violence, child abuse, other forms of family violence, or sexual assault, with consideration given to possible mitigating or aggravating circumstances.
* The appointment by the commissioner of a highly qualified league office executive with a criminal justice background to issue initial discipline. The disciplinary officer will be hired for a newly created position of Special Counsel for Investigations and Conduct. This individual will oversee the NFL's investigatory procedures and determine discipline for violations of the Personal Conduct Policy. For players, this is consistent with past practice under the CBA in which a member of the commissioner's staff has generally issued discipline for off-field misconduct.
* An appeals process pursuant to Article 46 (Commissioner Discipline) of the Collective Bargaining Agreement for players or to applicable club or league procedures for non-players. The commissioner may name a panel that consists of independent experts to participate in deciding an appeal.
* The appointment by Commissioner Goodell of a new league Conduct Committee comprised of representatives of NFL ownership that will review the policy at least annually and recommend appropriate changes with advice from outside experts. The committee will ensure that the policy remains current and consistent with best practices and evolving legal and social standards. Members of the committee are Cardinals owner Michael Bidwell (committee chair), Falcons owner Arthur Blank, Chiefs owner Clark Hunt, Dee Haslam (wife of Browns owner Jimmy Haslam), Cowboys Executive Vice President and chair of The NFL Foundation Charlotte Jones Anderson, Bears owner George McCaskey, Texans owner Robert McNair, and two former NFL players that are part of NFL ownership -- Warrick Dunn (Falcons) and John Stallworth (Steelers).