Emmanuel Sanders, Broncos agree to 3-year deal; WR jilts Chiefs
Former Steelers WR Emmanuel Sanders and the Broncos have agreed to terms on a three-year deal, pending a physical.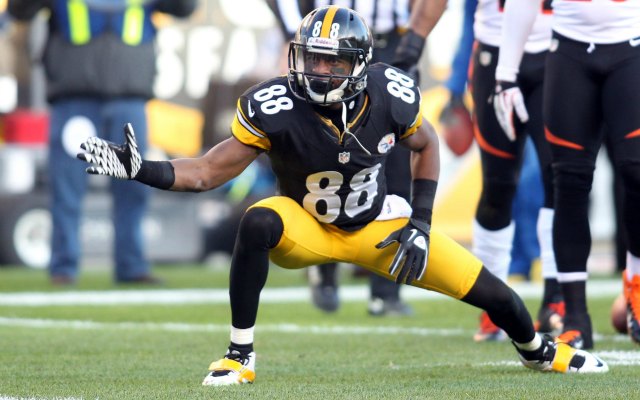 More NFL offseason: Mock Drafts | Prospect Rankings | Pro Days | Top free agents
Word first leaked Saturday night that the Denver Broncos were expected to sign former Steelers wide receiver Emmanuel Sanders , even though he was in Kansas City and reportedly had verbally agreed in principle to join the Kansas City Chiefs . By Sunday afternoon, DenverBroncos.com's Andrew Mason reported that Sanders and Denver have settled on a three-year deal, pending a physical.
According to the Baltimore Sun's Aaron Wilson, the contract has a maximum value of $18 million, with $6 million guaranteed.
The 27-year-old Sanders adds speed and athleticism to an already fast and athletic group of Broncos' pass catchers, but the subplot to how Sanders ended up in Denver remains intriguing, at least from the perspective of mid-March, six months removed from the next NFL football game.
ProFootballTalk.com's Mike Florio points out that the Chiefs could file a grievance against Sanders and his agent, Steve Weinberg, for failing to honor an agreement that had Sanders signing with Kansas City. Nothing was in writing, and a verbal agreement certainly isn't binding, but Florio notes that "all parties to the Collective Bargaining Agreement have an obligation to negotiate in good faith.  Article 4, Section 8(a) imposes that obligation on any team, player, or player agent engaged in contract negotiations."
No word on how the Chiefs will proceed.
The Broncos, meanwhile, continue to beef up their roster in an attempt to keep the Super Bowl dream alive during the closing Peyton Manning window.
Denver, which signed  DeMarcus Ware , T.J. Ward and Aqib Talib last week, chose not to re-sign No. 2 receiver Eric Decker , who inked a five-year, $36.25 million deal with the New York Jets earlier this week. 
Sanders, who played in 16 games last season and caught 67 passes for 740 yards and six touchdowns, would not only complement Demaryius Thomas and Wes Welker , but almost certainly see his production improve in Manning's offense. The 2010 third-round pick out of SMU ranked 71st in Football Outsiders' WR efficiency metric, just ahead of Robert Woods , Cordarrelle Patterson and Kenbrell Thompkins .
The Pittsburgh Steelers were long shots to re-sign Sanders, and will likely re-up veteran Jerricho Cotchery and look to a deep draft class to add depth.
The Raiders running back went Beast Mode on reporters

Elway tried his best to emphasize how complicated the situation is

Plus everything else you need to know about Week 2 of the 2017 NFL preseason
The executive director NFLPA has an ugly prediction for the future of the NFL

Instead of practicing, Titans players and coaches will be hanging out with their eclipse g...

The defensive tackle might not be ready to play in Week 1