More NFL offseason: Mock Drafts | Prospect Rankings | Pro Days | Top free agents
A year ago, guys like Richard Seymour, John Abraham, Osi Umenyiora and Dwight Freeney found out how barren the market can be for older pass rushers. It wasn't that they didn't have suitors; they just found a climate where teams were unilaterally valuing them at figures well below what many of them believed they were worth.
That could be the case again this season, as the initial rush of the start of free agency slows a bit, and with the market still flooded with guys over the 30 who have made distinguished careers out of rushing the passer: DeMarcus Ware (signed Wednesday), Jared Allen, Julius Peppers, Justin Tuck. That's quite a list, representing over 300 career sacks, and during the breadth of their careers, few have done it better. But odds are, that at least a few of them will be looking at a financial climate below their expectations, and one or two just may have played their final NFL snap, as Seymour ended up doing a year ago.
It's a young man's game; teams want to put the big bucks into guys going into their second contracts, not their third or fourth. All of that stuff applies, even with the cap getting a boost this year and even with NFL revenues sky high. I don't see teams budging from these tenets for too many older ends and outside linebackers. Agents will whisper the C word -- collusion -- and trust me, that topic comes up internally at the NFLPA quite a bit, with so many teams having seemingly the same evaluation on so many players.
But in the meantime, these men are faced with the reality that no out there might love them as much as they feel they deserve to be loved, and their days of making $12M-$15M a season are over.
Ware was best positioned and quickly signed with the Broncos, who showed Tuesday they are all-in for 2014 and trying to win now while they still have Peyton Manning at the top of his game.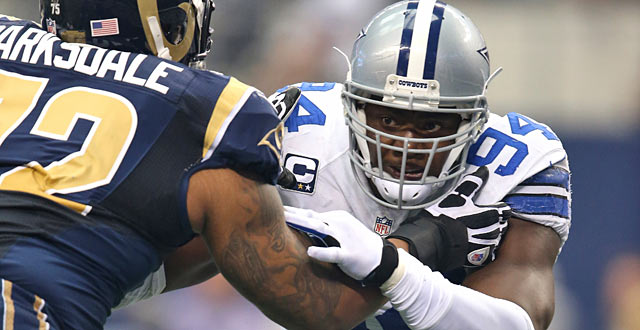 Allen is in communication with several teams as well, but he is a different cat when it comes to some stuff. Might even have a little Barry Sanders in him, a la walking away at the top of his game. Not that he doesn't want to play football, but between his massive charitable endeavors and his eclectic interests and all the money he has already made in this game, if the market speaks a little too quietly I wouldn't rule out this cowboy riding off into the sunset. In the meantime, with Denver and Ware done, teams like New England, Kansas City, maybe even San Francisco, could end up making sense for Allen.
The reality is, the Ware contract helps the landscape for the rest of these guys. Peppers hasn't been as productive as others in this group of players the past few years, but at some point, if he lingers, does a team like Atlanta that is staying out of this market for now, eventually wade back into it at the right price?
Tuck's best option has long been viewed by many teams and agents in the defensive end market as a return to the Giants. Anytime you make your first visit to Oakland, in this climate, it's an indication that some better options are not available at this time. Can Tuck push $5M a year on the open market, and, does a return to New York on a two-year deal still end up winning the day? Wouldn't surprise me, but in the meantime, makes all the sense in the world to find out what a team like Oakland -- that has a crazy surplus of cap space -- has to offer.
Ultimately, I suspect this process leaves some of these guys underwhelmed and frustrated. Their immense accomplishments speak for themselves. But the older you get, the more difficult it becomes to project past performance into the future, and I expect teams to hold a pretty firm line, again, for the most part.
Patriots and Revis
The Patriots have a pretty strong idea that all things being equal, Darrelle Revis wants to play for them. And, in fact, no one could really argue that. It's true.
The Pats held off trading a pick to the Bucs knowing that another team could ship a fifth-round pick for the corner's services. The Pats, now without Aqib Talib and with the corner market pretty well picked through, could have been aced out for him. They won this gamble. Instead of a late pick and a one-year rental at $16M, they now might be able to get Revis for $12M a year.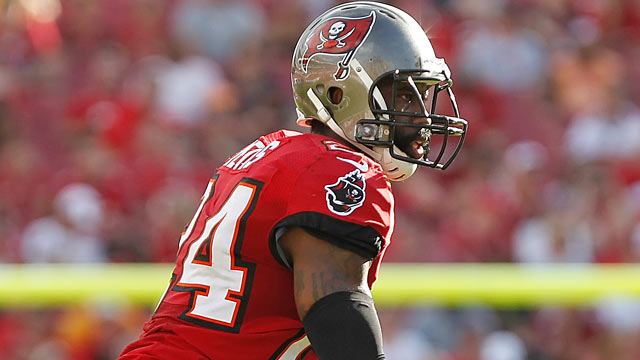 Revis let it be known he did not want to go to Oakland and, given the limited compensation in terms of draft pick, the Bucs didn't seem inclined to ship him out there. The Browns were not serious about any move for him from what I gather, and with the Colts and Broncos just spending huge for corners Tuesday, so the number of attractive suitors for Revis seemed to be shrinking.
I would have bitten the bullet and sent that late pick to Tampa and then restructured the contract and looked at it as a two-year/$32M deal, with a smaller cap number from the restructure (you could convert his $13M base salary to $1M if you chose and prorate the difference over four years).
But now Revis likely just falls to the Patriots. He is beyond motivated to get two cracks at the Jets every year, and this just screams out as a quintessential Belichickian maneuver.
Billion on free agents? Not really
I keep reading Tweets about the billion dollars teams spent on Tuesday? Really? Are people still that naïve?
Sure, you can add up all the total max values of every contract signed, if you want to waste your time. But everyone in this business knows many of these players will be lucky to ever earn half of those totals with the teams that just signed them. The deals, like last year, once all the contract terms are in and you can parse through the actual full guarantees, will end up being two-or-three year deals -- even one year in many cases -- and clubs will be able to easily get out of these contracts in short order.
Hell, history would tell us some of these cats will be back on the street this time next year. Happens all the time.
So slow the roll on the anointing of this spending spree. Because as long as teams have to fund guarantees up front by putting money in escrow -- an outdated process that the NFLPA needs to find a way to kill -- then teams will keep insisting on "rolling guarantees" that aren't fully guaranteed for cap, skill and injury, and give them a window to release a player each year. And many of those players will be released.
Let's get a real look at the language of the deals, then tell me how close we get to a billion dollars that teams actually end up spending on the players signed on the first day of the league year.
Quiet for QBs
The quarterback market started slowly, as expected, with the limited options out there. Josh McCown signed with the Bucs as expected, not making scheduled visits to the Texans and Jets. I still have Mike Vick penciled in with the Jets, who will release Mark Sanchez sometime soon before his roster bonus is due.
The Texans would love for someone to give them a pick for Matt Schaub before they ultimately release him this month -- um, Cleveland, that would be you they are waiting for -- as a Schaub reunion with former coordinator Kyle Shanahan, now running the Browns' offense, is quite likely one way or the other. (If the Browns don't get Schaub, Rex Grossman is the other name on their list -- also a system fit with Shanahan).
The Raiders will try to land a veteran quarterback -- Sanchez would have a chance to start there -- and Buffalo could be another landing spot for him as well, while the chance to work with Bill O'Brien in Houston would be appealing to many quarterbacks.