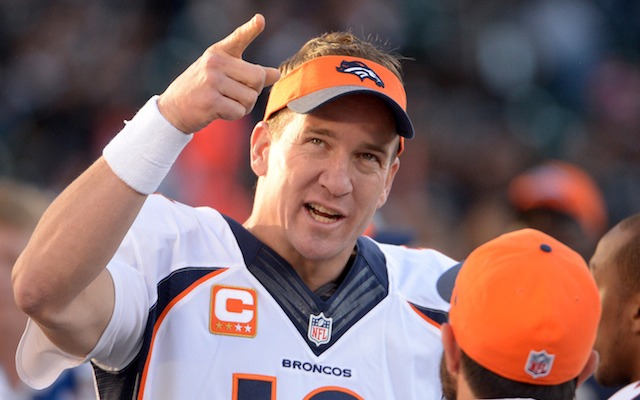 The final MVP Projection of the 2013 season is more of an MVP Coronation. That's mainly because there's no way Peyton Manning isn't going to win the award. Unless of course the NFL decides not to give out an MVP award this year, but that wouldn't actually change anything because the NFL doesn't hand out the MVP award, it's handed out by the Associated Press based on votes made by 50 sportswriters. 
I know what you're thinking, "Peyton always chokes in the postseason, can't we wait until after the playoffs are over to vote for the MVP?" 
The answer to that question is no. The MVP award is a regular season award only. All votes for the award will be cast this week before the playoffs start so that postseason play doesn't influence anyone's vote. Although votes had to be cast this week, the winner of the MVP award won't be officially announced until the NFL Awards Show, which will air on Feb. 1 on Fox. 
Unlike a vote for baseball's MVP or for the Heisman, you can't list more than one player on a ballot for NFL MVP. That means the 50 voters will each list one name on their ballot. A voter can technically split their ballot and list two names, but then the two players only get a half of a vote. 
Peyton Manning has had arguably the best season by a quarterback in NFL history, which is why his name should be on most, if not all of those ballots. Here's a look at a few NFL records Manning tied or broke in 2013. Keep in mind, most players don't tie or break any records. 
NFL single-season record for touchdown passes: 55. Manning threw seven touchdown passes in Week 1 and was immediately on pace to break Tom Brady's record of 50 touchdown passes set in 2007. If there's one record that guarantees someone an MVP award, it's the touchdown pass record. Since 1963, any player that has tied or broken the single-season touchdown pass record has gone on to win the MVP award. Manning's seven touchdown performance in Week 1 put him on top of the first MVP projection where he stayed the entire season. For the record, Eagles running back LeSean McCoy was No. 2 on the first week's projection. He also ended up having a pretty good season.
NFL single-season record for passing yards: 5,477. Manning beat Drew Brees' old record by one yard and he had to sweat it out before the record was officially his. The NFL had to review a play in the Broncos season-finale that could have been ruled a lateral and therefore it would go in the box score as a run and not a pass. The play was ruled a pass, Manning got to keep the seven-yards that came with it and the NFL record. Manning's 5,477 passing yards are almost as impressive as his 55 touchdown passes and that's mainly because Manning had never come anywhere close to throwing for 5,477 yards in his career. Before 2013, Manning had never thrown for even 5,000 yards in a season, his previous career-high was 4,700 yards in 2010.  
NFL record for most points in a season: 606. Manning threw a lot of touchdown passes in 2013, which means the Broncos scored a lot of points. Denver didn't just score a lot of points either, they scored the most points of any team in NFL history. Manning and the Broncos scored 606 points this year, breaking New England's record of 589 points set in 2007. There is some bad news for Denver though: only five teams in NFL history have ever scored over 550 points in a season and although all of those teams made the playoffs, none of them went on to win the Super Bowl.
NFL record for most games with four or more touchdown passes in a season: 9. Tom Brady's touchdown pass record wasn't the only record Manning smashed this year, he also smashed this record. Manning threw four or more touchdown passes in nine games this season breaking Dan Marino's record of six games (1984). That's right, before 2013, no quarterback had ever thrown four or more touchdown passes seven times in a season, Manning did it nine times. 
T-NFL record for most games with 400 or more passing yards in a season: 4. Manning hit or went over the 400-yard mark four times this season, tying Marino's record, which the former Dolphins quarterback set in 1984. Manning's season may have been more impressive though because he almost hit the 400-yard mark in two other games, throwing for 397-yards against Tennessee and 386-yards against the Colts. In 1984, Marino went over 400-yards four times, but other than those four games, he never threw for more than 340 yards, something Manning did a total of eight times in 2013.  
Manning and Marino are friends, so all of this record-breaking is OK: 
Peyton Manning's friendship with Dan Marino gives the Dolphins a unique edge, Jeff Darlington says pic.twitter.com/V7VqnM0f

— Andrés Ariel Cedeño (@andresariel507) March 8, 2012
T-NFL record for most 50-point games in a season: 3. The Broncos put up 50 points or more in three games this season, something that's only been done by four other teams in NFL history. The Broncos are in good company too. The 1969 Vikings did it and made it to the Super Bowl. The 1966 Cowboys scored 50 or more points three times and made it to the conference championship game. The 1950 Rams went over 50 points three times and made the title game. Now the bad news: The 1950 Giants lost in the first round of the playoffs and none of the four other teams won an NFL title. 
---
Follow John Breech on Google+ or you can even sometimes find him on Twitter