NFL VP of officiating: Wild Martavis Bryant TD vs. Bengals wasn't a catch
The NFL's vice president of officiating doesn't think Martavis Bryant's touchdown catch against the Bengals shouldn't have counted.
Bengals fans and Steelers fans will probably be arguing about this year's wild-card game for the rest of eternity, and just in case they didn't already have enough to argue about, Dean Blandino decided to throw some gas on the fire. 
During his weekly officiating video that was released on Friday, Blandino said that a third-quarter touchdown catch by Steelers wide receiver Martavis Bryant probably shouldn't have been ruled a catch. 
There's a reason Martavis Bryant's nickname is "Alien." This somersault TD catch is pure insanity. #PITvsCIN https://t.co/nswMny6nxq

— NFL (@NFL) January 10, 2016
"I don't think this is a catch. If I just had a blank slate and I could say, do you think it's a catch or not a catch? I would said no catch," Blandino said.
However, Blandino did point out that the officials on the field made the right choice to stick with the call that was made, which was touchdown. 
"The ruling on the field was a catch, and we have to see clear and obvious evidence that it's not a catch," Blandino said. "And I can't prove that he doesn't have the ball at that point pinned up against his leg with the right toe still on the ground. 
Basically, the call on the field didn't reveal a flaw in the catch rule, it revealed the limitations of instant replay. 
"This is the replay rule, it has to be clear and obvious to overturn," Blandino said. "The evidence [was not clear and obvious] and that's why the call on the field stood." 
Bryant's 10-yard touchdown catch came on second-and-goal from the Bengals' 10-yard line and gave the Steelers a 15-0 win in a game they'd win 18-16. 
This. pic.twitter.com/1xP5O9jhhs

— Pittsburgh Steelers (@steelers) January 10, 2016
During his video, Blandino went on to explain why the refs were correct when they made the decision to not overturn the call.
"The issue here is the evidence. Is there indisputable evidence to overturn the ruling on the field of a catch?" Blandino said. "It was ruled a catch on the field, so the basic premise of replay, since its inception, is the call on the field is presumed correct unless we have indisputable visual evidence that it is incorrect, then we can make a change. You watch the play live, and the question is going to be control. Initial control."
The biggest problem for Blandino is that the ball seemed to move. 
"And again the issue, did he have control with the right foot down? You're going to see the ball, there is some movement," Blandino said. "Slight movement does not necessarily mean loss or lack of control. He pins the ball against his leg there. Is the foot still down as he starts to go to the ground? The left foot comes down inbounds. Again, not indisputable."
If you're keeping score at home, Bengals and Steelers fans can now argue about Bryant's catch, why Joey Porter was on the field during an injury timeout, Vontaze Burfict's hit of Antonio Brown, Burfict's hit on Ben Roethlisberger, Adam Jones' penalty for bumping a ref, Wallace Gilberry bumping Porter, Mike Munchak pulling Reggie Nelson's hair and Ryan Shazier's hit of Gio Bernard, which Blandino said was legal. 
It should be a fun offseason for both fan bases.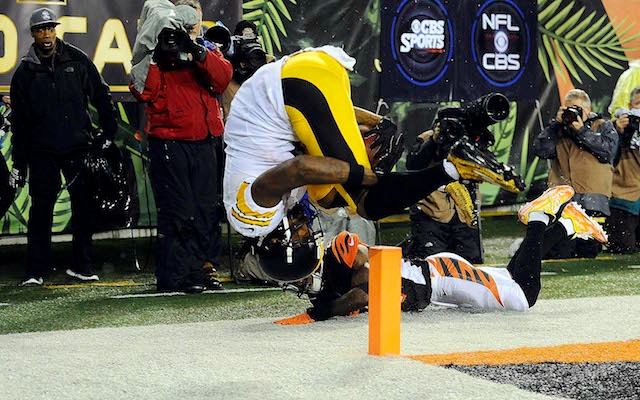 Pick Six Newsletter
Get the day's big stories + fun stuff you love like mock drafts, picks and power rankings.
Please check the opt-in box to acknowledge that you would like to subscribe.
Thanks for signing up!
Keep an eye on your inbox for the latest sports news.
Sorry!
There was an error processing your subscription.
Tributes poured in from all around the NFL for Bart Starr

This is the closest Pierre-Paul has come to giving an update on his condition

Someone forgot to tell Lamar Jackson a key piece of information heading into the offseason
No team has more than two players on the list, but the Browns and Chiefs both have two in the...

The Pro Football Hall of Famer passed away Sunday

Antonio Brown's lawn is out of control