Patriots-Seahawks preview: 49 things to know about Super Bowl 49
Here are 49 things you need to know when the Patriots and the Seahawks clash on Super Bowl Sunday.
In one of the most enticing matchups in NFL history, the top-seeded New England Patriots will take on the top-seeded Seattle Seahawks in Super Bowl XLIX on Sunday, Feb. 1 in Glendale, Ariz. Let's break down the matchup in both serious and non-serious fashion. Here are 49 things to know:
1. It might be the most even Super Bowl matchup of all time
There's room for this to change, but early in the two-week stretch preceding the Super Bowl, the majority of Las Vegas sportsbooks have a pick'em line set for Super Bowl XLIX. In other words, neither team is favored.
If that holds up, this would be the first Super Bowl in history without a favorite.
Lowest Super Bowl spreads
Super Bowl (year)
Favorite
Result
XLIX (2014)
None*
?
VII (1972)
Dolphins by 1
Dolphins 14, Redskins 7
XVI (1981)
49ers by 1
49ers 26, Bengals 21
XVIII (1983)
Redskins by 2
Redskins 38, Raiders 9
XLVIII (2013)
Broncos by 2.5
Seahawks 43, Broncos 8
2. The Patriots have played in both Glendale Super Bowls
They also played the New York Giants at University of Phoenix Stadium in 2007, losing in rather epic fashion. Who can forget this?
The Phoenix area also hosted Super Bowl XXX in Tempe in 1995, with the Dallas Cowboys beating the Pittsburgh Steelers 27-17 at Sun Devil Stadium. Arizona was supposed to host Super Bowl XXVII in 1992, but the league pulled the game out of Tempe when the people of Arizona voted against the approval and adoption of Martin Luther King Jr. Day as a state holiday.
3. It's an unstoppable force vs. immovable object
It's a cliche, and we're stating the obvious, but it can't be stressed enough.
The Patriots and their future Hall of Fame quarterback were the fourth-highest-scoring team in football during the regular season with 29.3 points per game, but they actually ranked second in football with 32.3 points per game from Week 5 forward.
Meanwhile, for the third season in a row, the Seahawks allowed the lowest point total in the NFL, surrendering just 15.9 points per game. Seattle also ranked first in terms of yards allowed and yards per play allowed.
What's most impressive about these two units is that nobody peaked as often as they did. In the regular season, nobody scored 40 as often as the Pats and nobody allowed 10 or fewer as frequently as Seattle.
Prolific Patriots, stingy Seahawks
Most games with 40+ points
Most games with 10 or fewer points allowed
1. Patriots (5)
1. Seahawks (6)
2. Colts (4)
2. Ravens (5)
2. Broncos (4)
3. Bills (4)
2. Packers (4)
3. Bengals (4)
That adage about peaking at the right time certainly applied this year.
The Patriots have scored 80 points in two playoff games and have won 12 of the 13 meaningful games they've played since the beginning of October (they lost to the Bills with nothing on the line in Week 17).
Meanwhile, the Seahawks are riding an eight-game winning streak that began when stud linebacker Bobby Wagner returned from a foot injury in Week 12. During those final six weeks of the regular season, the Seahawks surrendered only 6.5 points per game, which is an NFL record for that span.
Hard to believe the Patriots were just 2-2 entering Week 5 and the Seahawks were just 3-3 entering Week 7.
5. For the second year in a row, it's No. 1 vs. No. 1
This'll mark only the fifth time since the NFL expanded its playoff system to include 12 teams in 1990 that the top seeds from both conferences are participating in the Super Bowl. But that happened only three times in a 23-year span and has now happened twice in a row.
6. And for the second year in a row, the team with the best record will win the Super Bowl
Seattle and New England are both 14-4 including the playoffs. Everyone else in football lost at least five games this year.
7. Seattle's world-famous "Legion of Boom" secondary is in some pain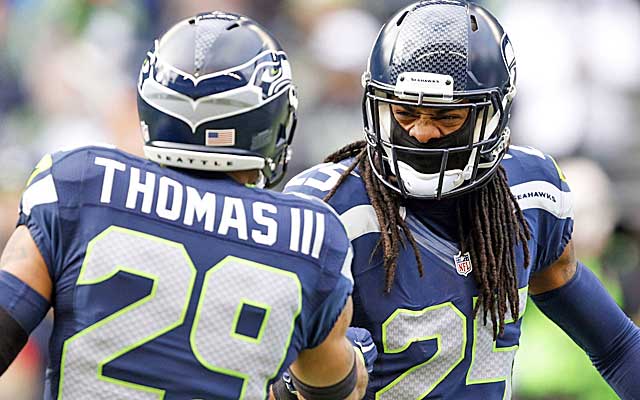 Had the Packers beaten the Seahawks last week, the football world would be focused right now on Aaron Rodgers' left calf. Instead, the injuries everyone is talking about ahead of this year's Super Bowl are to perennial All-Pro defensive backs Richard Sherman and Earl Thomas.
Sherman played much of the NFC Championship Game with one arm after spraining his left elbow, while Thomas played through a dislocated shoulder.
It certainly didn't seem to affect either guy's play, though, and there's little doubt they'll both suit up against the Patriots.
8. The Pete Carroll connection
By now you've likely heard that current Seahawks head coach Pete Carroll was replaced as the Patriots head coach by current New England mastermind Bill Belichick back in 2000. That move came only after Belichick suddenly walked away from the Jets' head-coaching gig he had inherited from Bill Parcells just one day before.
So technically, both Carroll and Belichick have coached the Jets and Patriots.
Even then, the differences between the two were quite transparent. In the Hartford Courant, Feb. 8, 2000:
"Like Bill Parcells on a bad day, Belichick is about as subtle as a knife at your throat. He said he doesn't know what Patriots discipline was like during the Pete Carroll era, and it doesn't sound as if he's going to waste a lot of time trying to find out. ... There are some coaches, Carroll being the latest casualty, who try to treat players as mature, responsible adults, so dedicated to the job that they will police and motivate themselves."
9. A quarter century ago, New England and Seattle stunk together
In fact, in 1992, the Patriots and Seahawks (then in the AFC West) were the two worst teams in the NFL by a wide margin. After both finished 2-14, they took quarterbacks atop the 1993 NFL Draft. New England wound up with top pick Drew Bledsoe while Seattle took Notre Dame's Rick Mirer.
At that point, Carroll was the Jets' defensive coordinator and Belichick was in charge of the Browns.
Within two years, the Patriots were 10-game winners, and within four years they were in the Super Bowl. At that point, Bledsoe was a two-time Pro Bowl selection and Mirer's tenure in Seattle was already over.
Now, just over two decades later, we're talking about two potential dynasties. But more on that later.
10. Tom Brady is going to make history regardless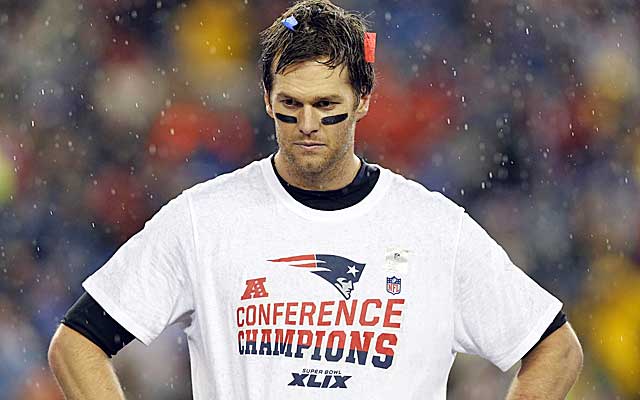 This will be Brady's third attempt to match Terry Bradshaw and Joe Montana with four Super Bowl victories. But so long as he decides to play next Sunday, he'll become the first quarterback in NFL history to start six Super Bowls (John Elway played in five).
As things stand right now, Mike Lodish, who lost four Super Bowls with the Bills before winning two with the Broncos, is the only player in NFL history with six Super Bowl appearances.
11. Russell Wilson can become the next Brady
What's so cool about this quarterback matchup is that Wilson is doing his best impression of the early part of Brady's career. If the Seahawks win this game, those two will be the only two quarterbacks in NFL history with two Super Bowls victories in their first four seasons. And Wilson is already about to surpass Brady as the youngest quarterback to start two Super Bowl games.
Of course, the Seahawks should win, because Wilson is a ridiculous 10-0 in his career against quarterbacks who have previously won Super Bowls.
12. But Wilson has to bounce back in a major way
Against Green Bay, he became just the second quarterback of the modern era to win a playoff game despite throwing four interceptions. He and the Seahawks were bailed out by the Packers, who were criminally conservative on both sides of the ball, as well as by some favorable late bounces.
But some credit does have to go to Wilson for putting on a cape and saving himself.
"In the first 56 minutes of the game, Wilson had three first downs, rushing and passing," writes Vincent Verhei of Football Outsiders. "After that, he had eight."
Russell Wilson vs. the Packers
Category
First 56 minutes
Rest of game
Completions-attempts
8-22 (36%)
6-7 (86%)
Yards
75
134
YPA
3.4
19.1
TD
0
1
INT
4
0
Passer rating
7
158.3
13. Bill Belichick is just screwing with us now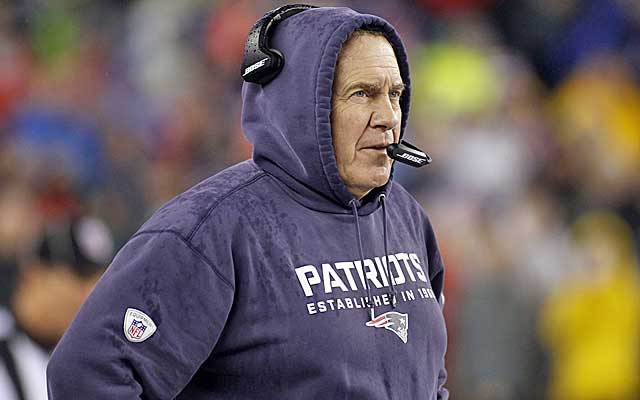 The Belichick legacy is also on the line. He's about to become the first head coach ever to coach six Super Bowls and can become only the second to win four. But the best part is that one of the most entertaining and innovative coaches in NFL history is serving up some classic wrinkles this postseason.
Belichick doesn't believe in phoning it in at any point, but he wouldn't have been able to afford to do that with this team. The 2014 Patriots are talented but not dominant. And so Belichick is finding new ways to get an edge.
Already in these playoffs we've seen him use only four offensive linemen with skill-position players declaring themselves ineligible in order to confuse opposing defenses. We've seen him use six offensive linemen with one declaring himself as eligible in order to create the same effect. We've also seen him call a risky wide receiver pass with his team trailing in the second half:
It's working. Receiver Julian Edelman has a touchdown pass and left tackle Nate Solder has a touchdown catch. That's just fun.
The man is the God of all football nerds, so don't be surprised if he has something else up his sleeve for Seattle.
"You don't know. No one knows," Solder said Monday of New England's offensive trickery. "There's all kinds of stuff we can pull out."
14. Then again, the Seahawks love trickery too
Carroll ain't afraid. This fake field goal resulted in a touchdown with Seattle down 16-0 in the second half against Green Bay.
Without that, the Seahawks probably aren't in this game.
15. Interchangeable Patriots
What's also rather beautiful about what New England does is that the Patriots seem to take supposed spare parts and turn them into Super Bowl cogs.
This is something Bleacher Report's Mike Tanier touched on after New England's AFC Championship Game blowout over the Colts. We saw it when the dynasty began over a decade ago with guys like David Patten and Kevin Faulk, and we're seeing it now with dudes like James Develin, LeGarrette Blount and Shane Vereen.
Develin is a fullback who had just one career touchdown before scoring against the Colts. Blount wasn't even on the New England roster in mid-November, but he scored three times while accumulating 148 yards on 30 carries in that victory. Vereen has 80 yards on seven catches in the playoffs.
Earlier in the season, we saw an anonymous back named Jonas Gray go for 201 yards and four touchdowns against Indianapolis. Hell, even Edelman was only a seventh-round pick in 2009.
This team is about so much more than just Brady and Rob Gronkowski and Danny Amendola. They find new players to rise from nowhere to play key roles on nearly a weekly basis. One week it's Vereen, another it's Brandon LaFell.
Who will it be on Super Bowl Sunday? Tight end Timothy Wright, who had two touchdowns in Week 12 against Detroit? Maybe Michael Hoomanawanui, who had four catches as part of the trickery in the divisional round? What about reserve back Brandon Bolden? Nobody knows with these guys.
16. The read-option could be a factor
It's a big reason why the Seahawks were able to come back against Green Bay. Per Grantland's Bill Barnwell, Seattle ran 10 read-option plays for 93 yards and two touchdowns during the fourth quarter and overtime of the NFC Championship Game.
Keep in mind that Wilson ran for 849 yards during the regular season, which among quarterbacks was the fifth-highest total in NFL history.
17. Two of the league's best secondaries go head-to-head
The Legion of Boom gets all of the attention, and rightly so. Even with those injuries, it's hard to argue that there's a foursome better than Sherman, Thomas, Kam Chancellor and Byron Maxwell. Those first three guys are truly elite players and Maxwell is a solid starter when healthy.
But don't forget about New England's underrated secondary. Before Sherman became known as the best cornerback in football, that undisputed title belonged to Darrelle Revis, who allowed opposing quarterbacks to complete just 51.9 percent of the passes thrown his way this season and has been beaten a total of three times in New England's past three games.
And the Pats have also got two-time All-Pro safety Devin McCourty, as well as physical former Seahawk Brandon Browner, who also has a Pro Bowl on his résumé.
The Patriots did an exceptional job covering T.Y. Hilton, Reggie Wayne, Hakeem Nicks and Donte Moncrief last Sunday, holding Indy's four receivers to just two total catches on 12 targets from Andrew Luck.
Revis was hardly even tested, No. 2 corner Kyle Arrington was lights-out against the deep threat Hilton and McCourty did a superb job over the top.
They're talented, they're healthy and they're deep. And if they can repeat that type of performance against a weaker Seattle passing game, the Pats should wake up Feb. 2 as Super Bowl champs.
18. Who says you need a good offensive line to win the Super Bowl?
The primary reason Brady struggled early this season? A lack of time in the pocket due to poor pass protection from a broken-down offensive line. Things did improve over the course of the season, but there's a reason why Brady had a yards-per-attempt average of just 7.1 while completing just 17 passes on throws that traveled 20-plus yards.
The tackles, Solder and Sebastian Vollmer, have bounced back after abysmal starts to the season, but Solder still surrendered six sacks and took nine penalties and they've suffered from a lack of continuity along the interior of the line.
They lost center Bryan Stork to a knee injury in the divisional round, forcing right guard Ryan Wendell to shift inside. Second-year undrafted free agent Josh Kline was forced to start in place of Wendell against the Colts. He actually fared OK, but that doesn't make up for the fact veteran left guard Dan Connolly has been a mess all season.
In fact, Pro Football Focus graded Connolly as the worst pass-blocking guard in the NFL during the regular season.
Now, with or without Stork, the Pats go up against a much better defense.
But things haven't been a whole lot better in front of Wilson, who according to PFF was the most pressured quarterback in the NFL each of the past two seasons.
Tackles Russell Okung and Justin Britt are penalty machines who lack consistency, and guards J.R. Sweezy and James Carpenter are no more reliable. Those four guys were penalized a ridiculous 31 times in 16 regular-season games.
When healthy, center Max Unger is a stud. But Unger missed the majority of the regular season due to injury and is just catching up now. He makes this line much better, but it's still hard to consider that unit to be anything but a liability.
During the final five weeks of the season, PFF ranked the New England and Seattle lines 25th and 26th in terms of pass-blocking efficiency.
19. LeGarrette Blount is New England's Marshawn Lynch
The running backs in this game are astonishingly similar.
The 28-year-olds are both battering rams who are sometimes impossible to take town. And they're faster than you'd expect for their size.
A recent example from Blount...
And from Lynch...
They're both playoff monsters. Blount just became the first player in NFL history to score three or more rushing touchdowns in two playoff games, while Lynch, Thurman Thomas and Terrell Davis are the only three players with four or more 130-yard postseason performances.
Top 10 playoff rushing performances since 2010
Back
Game
Yards
TDs
LeGarrette Blount
2014 vs. Colts
166
4
Marshawn Lynch
2015 vs. Packers
157
1
Arian Foster
2012 vs. Bengals
153
2
LeGarrette Blount
2015 vs. Colts
148
3
Arian Foster
2013 vs. Bengals
140
1
Marshawn Lynch
2014 vs. Saints
140
2
Arian Foster
2012 vs. Ravens
132
1
Marshawn Lynch
2013 vs. Redskins
132
1
Marshawn Lynch
2011 v. Saints
131
1
Ray Rice
2013 vs. Broncos
131
1
Among backs with at least 100 snaps, Blount and Lynch ranked first and second in the league in terms of yards after contact per rush.
Most yards after contact per rush, 2014
Back
Average
1. LeGarrette Blount
3.1
2. Marshawn Lynch
3.0
3. Arian Foster
2.8
4. Eddie Lacy
2.8
5. Jeremy Hill
2.8
Courtesy Pro Football Focus
20. Ultimate matchup (when the Pats have it): Gronk vs. the Seahawks' back seven
We've talked about how good that Seattle secondary is, but can anybody really slow down a healthy Rob Gronkowski? Look at how dominant the guy has been since the start of October:
Most productive tight ends between Week 5 and Week 17
Tight end
REC
YDS
TD
1. Rob Gronkowksi
69
977
9
2. Greg Olsen
63
754
4
3. Coby Fleener
41
665
6
4. Martellus Bennett
61
621
2
Chancellor's playing great, and Seahawks linebackers K.J. Wright and Bobby Wagner are solid in coverage. Still, per Football Outsiders, the Seahawks actually ranked a mediocre 18th in football when it came to covering tight ends this season.
21. Ultimate matchup (when the Seahawks have it): Lynch vs. the Patriots' front seven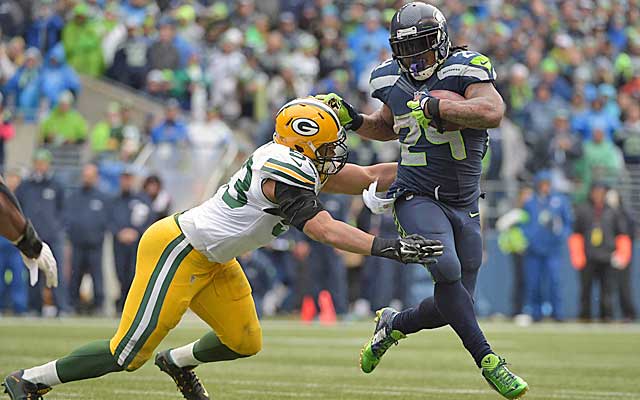 Lynch has six 25-yard runs during the playoffs in his career, which is more than any other back this century.
Most 25-yard playoff runs among active backs
Back
Total
1. Marshawn Lynch
6
2. Frank Gore
4
3. James Starks
3
4. LeGarrette Blount
2
But with Vince Wilfork, Jamie Collins and Dont'a Hightower, the Patriots have the ability to prevent Beast Mode from happening during the Super Bowl.
In fact, no defense in football allowed fewer 25-yard runs during the regular season.
Fewest 25-yard runs allowed, 2014
Team
Total
1. Patriots
1
2. Lions
2
3. Packers
3
4. Chiefs
3
3. Ravens
4
22. Annoying storyline of the week: Deflategate
The Patriots may or may not have deliberately taken the air out of footballs during the AFC Championship Game. You'll hear about this all week. Is it a story? Yes. Is it a Super Bowl story? Hell no. Obviously, no deflation will be happening during next Sunday's game.
Let's all forget about it for now. Both teams clearly deserve to be here.
23. New England's injury to watch: Bryan Stork
All the talk is about Sherman and Thomas, but watch Stork. The Patriots would probably rather not have to rely on Kline and would definitely prefer to see Wendell back in his regular spot.
But this is mainly about how good Stork has been. During the final seven weeks of the regular season, PFF graded him as the fourth-best center in the game.
Bryan Stork's rookie season
Category
First 9 games
Last 7 games
PFF grade
-10.1
5.4
Rank
37th
4th
It didn't appear as though Stork was close to playing against the Colts. We'll see how that right knee fares with two weeks to prepare for Seattle.
24. Seahawks breaking the post-Super Bowl curse?
During the first 39 years of the Super Bowl era, eight teams successfully defended their titles. In nearly a decade since the Patriots did that in 2004, zero have been able to accomplish the feat.
In fact, before Seattle beat Carolina in the divisional playoffs, a defending Super Bowl champion hadn't won a playoff game since 2005.
So Seattle has already broken one curse and now has a good chance to break the much bigger one, which would prevent us from reaching the longest stretch in NFL history without repeat champions (dating all the way back to when the Canton Bulldogs won back-to-back titles in 1922 and 1923).
25. Dynasty beating a dynasty?
That naturally leads to dynasty talk. What's a dynasty? Winning back-to-back titles probably isn't enough, considering that eight teams have accomplished that in the past half-century. But what about winning three in a four-year span?
Teams that have accomplished that in the modern era:
• The Packers, who won the NFL championship in 1965 and the first two Super Bowls after the 1966 and 1967 seasons.
• The Cowboys, who won titles in 1992, 1993 and 1995.
• The Patriots, who won in 2001, 2003 and 2004.
And then there are the Steelers, who won four Super Bowls in a six-year span between 1974 and 1979, and the 49ers, who won five in a 14-year span between 1981 and 1994.
Now here are the Seahawks, really the only team with a realistic shot at becoming this era's dynasty. And if they win this one, why not?
Wilson, Sherman and Chancellor are 26, Thomas and Bruce Irvin are 25, Michael Bennett is 29, Cliff Avril is 28 and Wagner is 24. This team is likely to get better before it gets worse. Maybe a lot better.
26. The turnover battle is, as always, a key
Last week, the Seahawks became the first team since the 1982 New York Jets to win a playoff game despite turning the ball over five or more times. They won't likely be so lucky in the Super Bowl.
That's because teams that win the turnover battle are 36-3 all time in the Super Bowl.
But that NFC Championship Game performance was an anomaly for the Seahawks, who since 2012 have turned the ball over less than everyone else in football ... except the Patriots.
In fact, during that span, these two teams have the best turnover rates in their respective conferences by massive margins.
Strongest turnover margins since 2012
Team
Margin
1. Patriots
46
2. Seahawks
43
3. 49ers
28
4. Bears
20
5. Packers
18
27. These teams have a Brandon Browner in common
But Browner's not the only Patriot who once played for Pete Carroll. Defensive tackle Alan Branch was a starter in Seattle in 2011 and 2012 and nose tackle Sealver Siliga spent some time last year on the Seahawks' practice squad.
Seahawks defensive tackle Landon Cohen, who was signed just two weeks ago, spent some time with the Patriots in 2010 and 2011.
28. On quiet Marshawn Lynch
He's not likely going to say much during Super Bowl week. Never does. And it'll be a story, because it should be. Lynch apparently feels slighted by the media, but the press represents the fans who buy tickets and made him rich and famous. Not only does ignoring the media violate league rules, but it's an indirect slap in the face to those who pay your salary.
If Lynch wants to fulfill his duties by giving the same nonsensical answer to every question thrown his way, fine. That's a shame, but there's nothing more we can do to get him to speak. The sad part is he can be an interesting, funny and engaging dude, but most of his newer fans will never know it.
29. Last shot for Kevin Williams?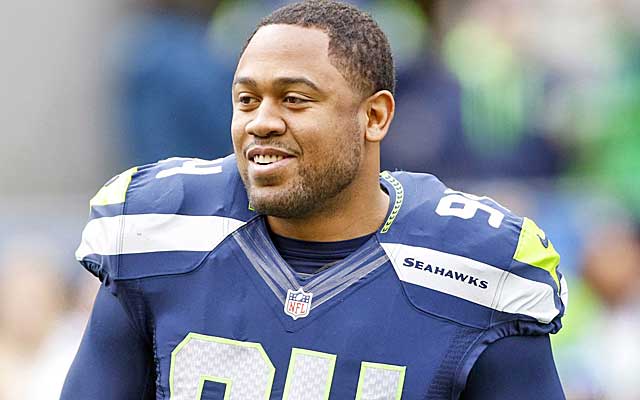 At 34, Kevin Williams is the oldest member of the Seahawks and the second-oldest player in this game (Brady is 37). The 12-year veteran defensive tackle picked the Seahawks as a free agent last offseason because he wanted a shot at a Super Bowl.
Now, as the replacement at nose tackle for the injured Brandon Mebane, Williams is playing a major role while out of his element in a new position.
"It's kind of unique how things happened," Williams said recently. "You come in to help contribute wherever you can, you lose one of your starting players to injury and you're moving to the nose. I'm just trying to do whatever I'm called upon to do and make plays."
Give the guy credit, because his list of destinations in the offseason came down to two teams -- Seattle and New England. So far, so good. But now the six-time Pro Bowl selection needs one more victory, otherwise he'll have made the wrong choice.
30. Who's this year's Malcolm Smith?
Last year, the relatively unknown Smith, who has just 11 career regular-season starts under his belt and played less than half of Seattle's defensive snaps against the Broncos, was a mega-surprise Super Bowl MVP.
Here, courtesy of Bovada, are the early odds for potential MVPs:
Super Bowl MVP odds
Player
Odds
Tom Brady
                3/2
Marshawn Lynch
             15/4
Russell Wilson          
    15/4
Rob Gronkowski             
9/1
LeGarrette Blount
         12/1
Richard Sherman
            25/1
Doug Baldwin  
              33/1
Kam Chancellor
             33/1
Julian Edelman
             33/1
Darrelle Revis  
            33/1
Earl Thomas    
             40/1
Bobby Wagner  
              50/1
Brandon LaFell
             66/1
Jermaine Kearse
            66/1
Byron Maxwell  
             66/1
K.J. Wright  
               66/1
Shane Vereen
               75/1
Danny Amendola
            100/1
Patrick Chung
              100/1
Jamie Collins   
            100/1
Dont'a Hightower
           100/1
Devin McCourty
             100/1
Rob Ninkovich  
             100/1
Luke Willson  
              100/1
Stephen Gostkowski
     150/1
Steven Hauschka
            150/1
Malcolm Smith  
             150/1
Field    
                  25/1
A tight end has never been Super Bowl MVP. Gronkowski certainly has a chance to change that this year, but my dark horse might be Seattle's tight end, Luke Willson.
And I'm not just saying that because he's a fellow Canadian.
31. Seahawks picking their own poison at right tackle?
If Britt can't return from a knee sprain, Alvin Bailey will once again start at right tackle for Seattle. Bailey's not very good, as Julius Peppers demonstrated here:
The problem is that neither is Britt, who was ranked seventh-to-last in the league by PFF in terms of pass-blocking efficiency.
The New England pass rush isn't special, but Hightower, Chandler Jones and Rob Ninkovich can still bring it.
32. TGFU
That's Thank God For Unger, who is the best offensive lineman Seattle has. In fact, despite playing 385 snaps, the two-time Pro Bowl pick was ranked by PFF as the fourth-best center in the game this season.
Back from an ankle injury, Unger was a thug run blocker against the Panthers and took care of business against Green Bay. They'll need him at his best again as he faces Wilfork.
33. About 36 percent of Seattle's roster didn't win the Super Bowl last year
Yeah, 19 of their 53 active roster members weren't on the team at this point last year. It's amazing how much turnover there is from year to year in this league.
34. Three players in this game weren't born in the United States
Willson is Canadian, as is Seahawks punter Jon Ryan. The only player from a different continent is Vollmer, who is German.
35. Don't count either team out
According to the Elias Sports Bureau, via ESPN, this will be the first Super Bowl between teams that came back from deficits of 14-plus points earlier in the postseason.
The Seahawks trailed the Packers 16-0 last week and the Pats were down 14-0 and 28-14 to Baltimore in the divisional playoffs.
36. The Patriots are slightly younger
The average age of the players on their roster is 25.2, whereas Seattle's comes out to 25.7. But at the start of the regular season, the Seahawks were actually slightly younger than New England. Both teams are younger than the league average.
37. Seattle's coach is older, but ...
According to Elias, this will be the first time two coaches above the age of 60 will meet in a Super Bowl.
Carroll turned 63 in the fall. Belichick turns 63 in the spring. Among NFL head coaches, only 68-year-old Tom Coughlin has those two beat.
38. Both teams owe something to the Kansas City Chiefs
Both New England and Seattle were upset by the Chiefs during the regular season, and it seems both received wakeup calls when that happened.
The Patriots fell to 2-2 with a 41-14 prime-time beatdown at the hands of KC. At that point, people were questioning Brady's abilities and wondering if an era was coming to an end. But then Brady got hot and the Pats have lost just one meaningful game since.
"I kind of thought that halftime of the Kansas City game was a little bit of a turning point for us in the season," Belichick said recently on sports radio WEEI, per ESPN.com. "We were behind and we certainly didn't come back and make a game of it, but I thought we really competed hard. I thought that was a good sign, because we went down there and had good expectations -- it was a Monday night game, everybody was ready to go out there and play well against a good football team and we didn't, we were down at the half, it was on the road, and the place was rockin'.
"But I thought that we really tried to compete and play hard all 60 minutes, even at the very end when we had no chance to win. I think that was a good sign from our team that we did that. Not that we played well, but we played hard."
Meanwhile, when the Seahawks lost to the Chiefs to fall to 6-4 in Week 11, they had tumbled three full games back of first-place Arizona. But they responded by dominating the Cardinals the following week and haven't lost since.
39. Is the man upstairs pulling for Seattle?
Not only did Wilson waste no time thanking God after Seattle pulled off a miracle comeback against Green Bay, but Wilson went one step further than boilerplate by suggesting that He actually created the drama by putting Seattle in that hole.
I found Wilson afterward, and asked him about the four picks, and going from the worst game of his life to the most exhilarating in the span of eight minutes of game time.

"That's God setting it up, to make it so dramatic, so rewarding, so special," he said, alone for a moment in the locker room before heading out for the night. "I've been through a lot in life, and had some ups and downs. It's what's led me to this day."
If I were a Packers fan, that'd really piss me off. But if I were struggling with something even marginally more detrimental than a sports loss, I'd be outraged. Yeah, the implication there is that there may be bigger fish to fry from up above, but what do I know?
Does God have a rooting interest in the Seahawks? Maybe. But if history is any indication, He doesn't remain on bandwagons very long. Maybe it's the Patriots' turn.
40. The end of the Madden curse?
Congratulations to Richard Sherman for the being the first NFL player to grace the cover of Madden and make the Super Bowl in the same season. Sherman had an All-Pro season, so even a Super Bowl loss combined with that sprained elbow wouldn't be enough to constitute a bite from the Madden curse.
41. It's rare for both Super Bowl quarterbacks to have previous Super Bowl experience
This is actually only the third time this century in which quarterbacks with previous Super Bowl experience will meet in the big game. The only other times that happened in the last 17 years was when Brady and Eli Manning faced each other in 2011 and Ben Roethlisberger and Kurt Warner met in 2008.
42. And for neither to be first-round draft picks
This also marks the first time in 10 years in which neither Super Bowl quarterback was a first-round pick. In fact, the highest-drafted quarterbacks in this game are backups Jimmy Garoppolo (62nd overall in 2014) and Tarvaris Jackson (64th overall in 2006). Wilson was selected 75th overall in 2012 and Brady famously went 199th overall in 2000.
* Hat tip to the Philadelphia Daily News for those last two nuggets
43. The West Coast has a 5-4 edge in Biggie vs. Tupac Super Bowls
This marks the 10th time a team from the Eastern time zone has played a team from the Pacific time zone with the Lombardi Trophy on the line.
The Oakland Raiders beat the Eagles in 1980, the 49ers beat the Bengals in 1981, the LA Raiders beat the Redskins in 1983, the 49ers beat the Dolphins in 1984 and the 49ers beat the Bengals in 1988.
The Steelers beat the Los Angeles Rams in 1979, the Buccaneers beat the Raiders in 2002, the Steelers beat the Seahawks in 2005 and the Ravens beat the 49ers in 2012.
So the pressure's on New England to rep the east side and even the all-time coastal Super Bowl series at five.
44. Advanced stat of the week
Football Outsiders rates every team in terms of efficiency using a formula called DVOA (defense-adjusted value over average). Then it takes that number and adjusts it so that earlier games in the season become gradually less important. The result is something called "weighted DVOA."
Seattle's weighted DVOA is 32.8 percent, which ranks first in the NFL. New England's is 31.4 percent, which ranks second. Nobody else in football comes in above 24 percent.
45. Under-the-radar stat of the week
Seattle was the most penalized team in the NFL during the regular season, but New England was nearly as bad. The Seahawks were penalized a league-high 8.0 times per game, while the Patriots ranked sixth at 7.4.
46. Other injuries to watch
We'll all be watching Sherman, Thomas, Britt and Stork, but here are some additional bumps and bruises:
Patriots: Browner has been dealing with a knee injury, Hightower hasn't been 100 percent due to a shoulder injury and LaFell has shoulder and toe injuries.
Seahawks: Defensive tackle Tony McDaniel has a shoulder injury.
47. Totally useless but sometimes fascinating historical notes
Some indisputable facts, most or all of which will have no impact on next Sunday's game:
• The Seahawks have won six of the past eight meetings to tie the all-time series at 8-8.
•New England is 3-4 in seven Super Bowls. Only Denver (five) has lost more.
•Seattle is 1-1 in two Super Bowls. It won last year but lost to the Steelers in 2005.
•The Patriots are 2-1 all-time in the state of Arizona, with that one loss coming in the 2007 Super Bowl.
•The Seahawks are 6-8 all-time in the Copper State but have won back-to-back games over the Cardinals at University of Phoenix Stadium.
•The NFC/NFL has won 26 Super Bowls while the AFC/AFL has won 22. The AFC won five of six earlier this century but the NFC has responded with victories in four of the past five years.
•Seattle and New England have never met in the playoffs.
48. But which city is cooler?
In case your team loses, let's give you a chance to say you live in the cooler metropolis. Just drop this on your football frenemies:
What Super Bowl city is the coolest?
City
Boston
Seattle
Winner
Best claim to fame
Mecca for higher education
Rain, Starbucks, grunge?
Boston
Celebrities
Mark Wahlberg, Jay Leno, Ben Affleck, Matt Damon
Kurt Cobain, Jimi Hendrix, Rainn Wilson
Boston
Hottest celebrity
Taylor Schilling (Orange is the New Black)
Bianca Kajlich (Rules of Engagement)
Tie
Last call
2 a.m.
2 a.m.
Tie
Nickname
Beantown
Emerald City
Boston
49. Prediction: The Pats prevail
It's just so damn hard to repeat these days, and I can't see Brady and Belichick losing a third consecutive Super Bowl. New England's slightly more experienced, has the better coach and quarterback and is even a little healthier. I think the Pats roll.
But it won't come easy, because they're always tight when Brady and Belichick are involved. Each of New England's five recent Super Bowl appearances have been decided by four points or fewer, and that trend should continue in Glendale.
Brad Gagnon has covered the NFL since 2007. You can also read his work at Bleacher Report, Awful Announcing and This Given Sunday. In order to sound more professional, he wrote this blurb in the third person. Follow him on Twitter. Or don't. It's entirely your choice.
Pick Six Newsletter
Get the day's big stories + fun stuff you love like mock drafts, picks and power rankings.
Please check the opt-in box to acknowledge that you would like to subscribe.
Thanks for signing up!
Keep an eye on your inbox for the latest sports news.
Sorry!
There was an error processing your subscription.
Our Latest Stories
Bell will play under the franchise tag for the second consecutive season

The NFL reportedly won't take any further action against Keim

The future Hall of Famer doesn't sound like he wants to chase a ring elsewhere
The Packers QB likes the idea of tying his value to a percentage of the cap, but good luck...

The move puts Cooks among the top wide receivers in the NFL in terms of salary

After a lengthy period of time away from football, the former second-round pick is back