The Patriots won their second Super Bowl in the past three seasons Sunday because Bill Belichick is the greatest coach in NFL history and Tom Brady is the best quarterback of all time. They won because they're the premier organization in all of sports.
Without Dont'a Hightower, though, neither of the Patriots' past two titles would've happened.
Hightower is the Patriots' unsung hero. He's the linebacker who made two game-altering plays in the Patriots' past two Super Bowls. But those plays won't be remembered due to the events that followed them.
Let's start with the Patriots' historic win over the Falcons on Sunday, when they overcame a 28-3 deficit by rattling off 31 unanswered, clinching their fifth Super Bowl in overtime. Of course, Brady deserves credit for his second half performance. Of course, James White deserves credit for his Super Bowl record 14 receptions. Of course, Julian Edelman deserves credit for his miraculous catch on the game-tying drive.
But the game turned on one play: Hightower's strip sack of Matt Ryan.
With roughly eight and a half minutes remaining in the fourth quarter, the Patriots trailed by 16 points. The Falcons faced a third-and-1, but chose to put the ball in Ryan's hands. That's when Hightower blew past Devonta Freeman, nailed Ryan, and forced a fumble that was recovered by Alan Branch.
After the Patriots fell into a 21-0 hole in the first half, they needed some sort of game-changing play -- an onside kick recovery, a Brady home-run ball, or a turnover. Hightower delivered.
If the Falcons had picked up that first down, there's no way to know how much time they would've burned before handing the ball back to the Patriots. Suddenly, the Patriots were in business at the Falcons' 25-yard line. They cashed that turnover into eight quick points. With 5:56 remaining, the Patriots cut the deficit to one score. They were alive.
They were alive because of Hightower. After the game, Belichick credited Hightower for turning the game around.
"I thought Hightower's sack was a huge play for us," Belichick said. "We really needed that."
Due to what transpired after -- the Patriots' first eight-point drive, the Falcons' inexcusable play calling, Edelman's catch, White's touchdown run, Brady's two-point conversion, and White's game-winning score -- Hightower's play will likely get lost in the shuffle. Just like how his play in Super Bowl XLIX against the Seahawks is almost always forgotten.
Everyone remembers Malcolm Butler's interception of Russell Wilson at the 1-yard line, which denied the Seahawks of what appeared to be a sure championship, but it's easy to overlook what Hightower did to force that interception. On the play before, Hightower prevented Marshawn Lynch from entering the end zone by tackling him with one shoulder while being blocked by Russell Okung. That's right, Hightower brought down Beast Mode with a shoulder.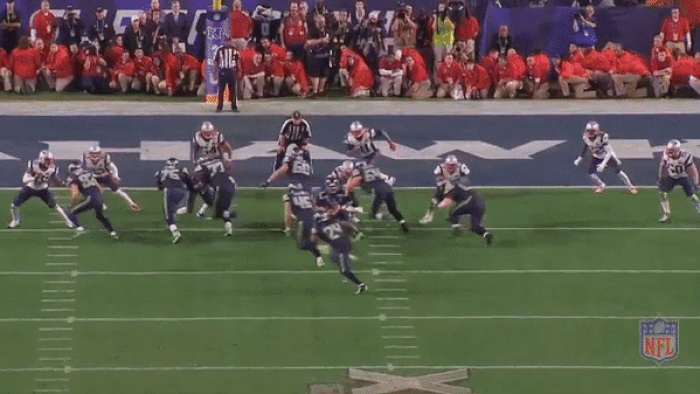 In NFL Films' behind-the-scenes look at that team, Patriots defensive line coach Brendan Daly called it an "unbelievable play." Another defensive assistant, Brian Flores, said the tackle was "the most unsung, but the biggest play in the Super Bowl." And here's how then-linebackers coach Patrick Graham described it:
"From up in the box, it looks wide open. I mean, it was wide open. I remember texting him two days later, I said, 'Have you seen this play?' I said, 'How in the world did you do this?'

He bench presses Okung off of him and he tackles Lynch with his shoulder."
Via NFL Films: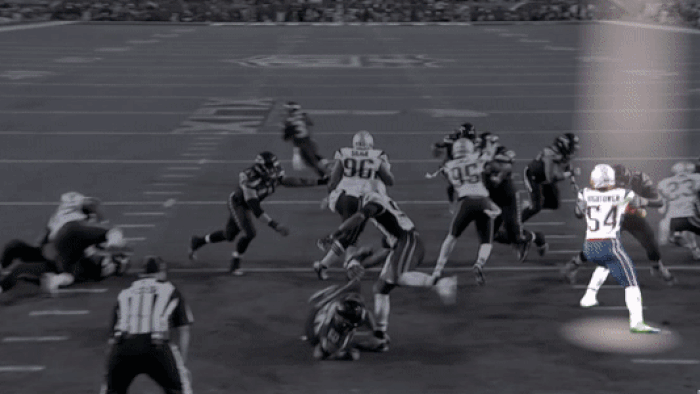 We all know what happened next: The Seahawks didn't hand the ball to Lynch again and Butler made arguably the greatest play in Super Bowl history, which -- along with the Seahawks' decision to throw the ball and Brady's two previous fourth-quarter touchdown drives -- hid Hightower's contributions.
To be clear, Hightower definitely didn't make the defining play of either game. His plays wouldn't have mattered if not for the heroics of others after. A wide number of players contributed to each win, because it takes an entire team to win a Super Bowl. But without Hightower, the Patriots likely don't win either game.
Hopefully, history doesn't forget about Hightower and those two plays.