Quest for the Stanley Cup: Last two series start, hearing for Ference
The final two series begin in the East on Thursday while the first Game 2s come in the West. Plus, a look at the top villains.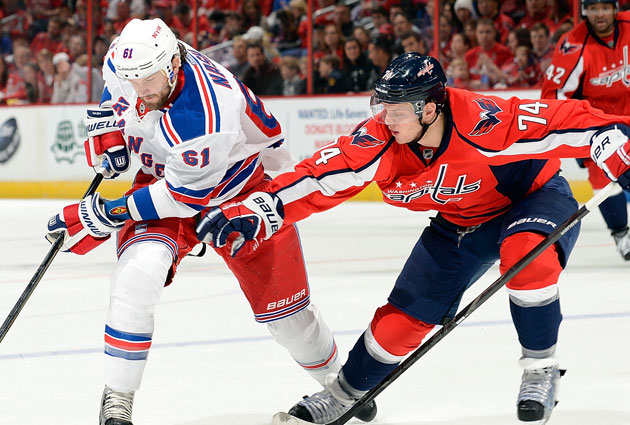 More NHL Playoffs: Scores | TV Schedule | Expert Picks | Odds | Mock Draft | Rumors
First Star Game of the Day


Game 1, N.Y.  New York Rangers at Washington, 7:30 p.m. ET (NBCSN): The more I look at this series on paper before it begins, the more I love this matchup. You have two very hot teams coming into the postseason who have been frequent playoff opponents in recent seasons and with some star power.
They are teams with similar profiles coming into the playoffs, but it's amazing to me how the perceptions seem so different. The Rangers are once again a pick by many people to get out of the Eastern Conference, citing a late-season surge that they have finally figured things out. Meanwhile, the Caps don't get that same respect because they played in the Southeast Division. Never mind that the Rangers played their last seven games against non-playoff teams.
That's not to say the Rangers aren't going to be in this series. Quite the contrary. It should be a very good series with some intriguing individual and unit matchups. At the least, it should be a more entertaining series than last postseason, when they had a block party every night.
They have had to wait a long time for this series to get started -- it will be the last to begin -- so you figure they will each be revved up and ready to go. The question is if that will lead to a physical, penalty-filled game. If it is, it most certainly favors the Washington Capitals with their power play and the home-ice advantage.
Second Star Game of the Day


Game 2 (STL 1-0), Los Angeles at St. Louis, 9:30 p.m. ET (CNBC): Game 1 had the dramatic flair with the finish, but it didn't really live up to my expectations of how it would go. That's because the St. Louis Blues absolutely dominated the game. The loss might have been tough to swallow for the Los Angeles Kings given how the final play went in overtime, but it was deserved. Or, more appropriately, the Blues deserved the outcome they had.
They were simply everywhere, hitting the Kings without mercy despite the fact that they were the team controlling the puck most of the time. Their forecheck pressure was excellent from the start, and they were keeping the action largely in the offensive zone. It was damn impressive.
The trick for the Blues will be matching that intensity. You know the Kings will not come out and let what happened to start Game 1 to happen again in Game 2. They are the champs and are still an excellent team that had St. Louis' number until Game 1, which snapped L.A.'s eight-game win streak vs. the Blues.
For L.A., the problem wasn't Jonathan Quick at all, even if he gave the game away on his stick. If it weren't for him, the game wouldn't have been in overtime in the first place. They must do a better job of exiting their own zone and handling the St. Louis forecheck. They are still all right despite that first loss. The goal for an away team is always to earn a split in the first two. That's still achievable.
Third Star Game of the Day


Game 1, Ottawa at Montreal, 7 p.m. ET (CNBC): Before this series begins, I really have no idea how it's going to play out. To me, it has the greatest potential to be a seven-game series. So here comes a sweep!
We have the always interesting situation of a very strong defensive team (the Ottawa Senators ) vs. a strong offensive team (the Montreal Canadiens ). Whichever wins the battle should be in position to make the opening salvo in this series.
Really though, this is going to be all about Carey Price and if he is finally back on his game. Because we can almost take for granted that the man in the opposing cage, Craig Anderson , will be superb. He has been nothing short of that all season long.
The Bell Center is as big and loud of a building as there is in the NHL, but I'm not convinced home-ice advantage will mean as much in this series with them being near neighbors in eastern Canada. It will come down simply to whom the better team is. And with the way each has played coming into this series, I'm not sure which team that is.
Honorable mention


Game 2 (ANA 1-0), Detroit at Anaheim, 10 p.m. ET (NBCSN): Game 1 in Anaheim on Tuesday night was another great example of what playoff hockey should look like. It was tight, tough and tense. It had really good goaltending too, a necessity in the Stanley Cup playoffs.
If the Detroit Red Wings are going to get that road split, they have to find a way to get into the offensive zone a little easier and in a more effective fashion. They finished Game 1 with only 22 shots on net. An average of 7.3 per period isn't going to get it done at this time of year. Unless you're the defending team, that is.
Just because this game takes Thursday's honorable mention doesn't mean it won't be excellent hockey. There is so rarely anything but excellent hockey in the playoffs. Plus, it has Teemu Selanne and Pavel Datsyuk . That should be enough reason for anybody to watch.
Snap Shots
•  The Canadiens could be feeling a lot of pressure with their high seed and slumping finish. They don't feel any. (Ottawa Sun)
•  Yup, the Phil Kessel criticism is already in full effect. The Boston Bruins are in his head is the angle today. (Boston Globe)
•  Game 1 impressions from Vancouver on the Canucks? Not so good. Tony Gallagher writes: "Let's put it this way, when your best skater after Dan Hamhuis is Mason Raymond , you're most assuredly in for a long night and most likely a short series." (The Province)
•  There is hope that Marc Staal will be able to play vs. the Capitals, it just doesn't appear like it will be in Game 1. (ESPN New York)
•  Andrew Ference of the Bruins has a hearing on Thursday for an elbow delivered to Mikhail Grabovski on Wednesday night. (John Shannon)
Five for Fighting
Every day, we'll have a top-five list that is pretty self-explanatory, all in this man's opinion. Today: Top five "villains" in the playoffs.
No. 5, John Tortorella: The rare appearance by a coach. But if past postseason press conferences are any indication, he fits the bill. Though I think most enjoy his "villainous" behavior.
No. 4, P.K. Subban : I'm not sure I entirely get it, but Subban is not a favorite of many on the ice. He's physical and sometimes borderline out there but, perhaps more important, is that he scores. Good mix for a villain, I suppose.
No. 3, Dustin Brown : He's the captain of the champs, and he's a big, power forward who often toes the line between hard and clean.
No. 2, Matt Cooke : Of course, Cookie is going to make it. He will never be able to completely drop his reputation, especially if the Pittsburgh Penguins can meet the Senators in the next round.
No. 1, Raffi Torres : He will probably never get over the stigma of that 25-game suspension from last postseason. However, he has been a pretty effective player for San Jose.
The 32-year-old forward tells the media he expects to be back on the ice for the Devils op...

It seems it's all as wild as it sounds, with Canadian actor Zack Ward heading a 'West Coast...

Lots of moving parts may be the biggest hurdle for Carey Price and Co., a defensively geared...
The Penguins have some fun with the names of some Ducks linemen

Rookie Tyler Wong scores a hat trick to lift the NHL's newest team in its exhibition debut

Depth is a concern, but Edmonton is all in on its young, speedy stars with Stanley Cup pot...