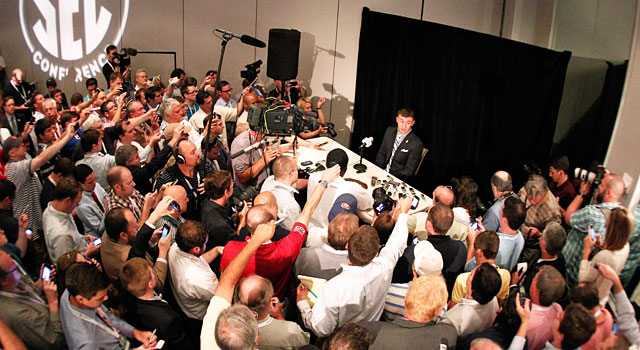 Welcome to college football's mini-version of Super Bowl media days.
Nothing in college football compares to the spectacle of SEC Media Days. It's where football and absurdity meet -- and absurdity usually prevails. What used to be a quaint affair for reporters to generate future stories in the summer months became an all-out media blitz.
The SEC added one more day this year, meaning there's an extra day for coaches, players and fans to make my annual list of "They Said What at SEC Media Days?" Here are the best quotes from the past 13 years since the event moved to Hoover, Ala.
"(Saban is) a winner, he just does what he wants to do. He's kind of like Hitler. He's a dictator. He brought us back to the top and I figure we're going to be here for a while. Money well spent."
— Alabama fan Lee Allen in 2013 on Crimson Tide coach Nick Saban during his seventh straight year waiting for autographs in the hotel lobby.
"We appreciate our friends from Ohio educating us on NCAA rules. They certainly know a thing or two about it."
— Florida coach Will Muschamp in 2013 on Ohio State alleging that a Gators assistant violated NCAA rules during a non-contact period. Ohio State was on NCAA probation in Urban Meyer's first season after he left Florida in 2010.
"Missouri. My own fans."
— Missouri quarterback James Franklin in 2013 when asked which SEC school has the rudest fans. The often-criticized Franklin then helped Missouri surprisingly win the SEC East.
"He's scared every time we play them. I know he's probably listening to this right now, but I'm just telling the truth, man."
   — South Carolina defensive end Jadeveon Clowney in 2013 about Clemson quarterback Tajh Boyd. Clowney also said Georgia QB Aaron Murray was scared of him. Boyd threw two INTs and no TDs vs. the Gamecocks in 2013, and Murray went for 309 yards and 4 TDs.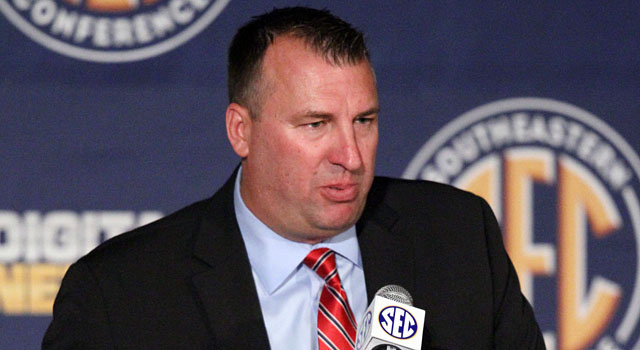 "I'm not a comedian."
— Arkansas coach Bret Bielema in 2013 when asked about Auburn coach Gus Malzahn's statement that he thought some SEC coaches were joking that they think the hurry-up offense leads to more injuries.
"I guess I feel like Justin Bieber or something."
— Texas A&M quarterback Johnny Manziel in 2013 on the mob scene of cameras surrounding him in Hoover. A year later, Manziel retweeted a picture of himself at a party with Bieber.
"You ever wake up and you just want to dance? Y'all never do that? You just wake up in a happy mood. You come to a realization of life that it won't last that long, so you take advantage of every second of life."
— Florida defensive lineman Dominique Easley in 2013. He also said he dances to Tennessee's fight song "Rocky Top" even though he finds it annoying, and thought Bear Bryant was a cartoon character.
"They've also got prettier girls, the air's fresher and the toilet paper's thicker."
— Missouri wide receiver T.J. Moe in 2012 on the SEC compared to the Big 12 after the Tigers changed conferences.
"Well, certainly! Do I look stupid? Don't answer that question!"
— Arkansas interim coach John L. Smith in 2012 when asked if he wants to remain coach for more than one year. Smith was one-and-done after a 4-8 season.
"Everybody talks to me and acts like I didn't know what I was getting into when I took the job." 
— Texas A&M coach Kevin Sumlin in 2012 about critics who questioned how the Aggies would fare in the SEC. Texas A&M went 11-2 overall and defeated eventual national champion Alabama behind a Heisman Trophy quarterback.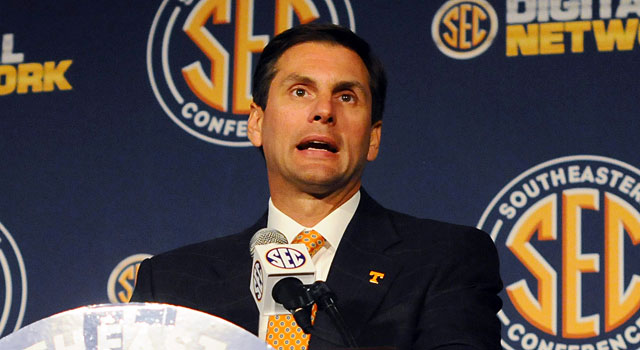 "It's been a tough four years at Tennessee and I know the SEC has enjoyed taking advantage of our tough times. But you're not going to have Tennessee to kick around anymore."
— Tennessee coach Derek Dooley in 2012. The Vols went 1-7 in the SEC, including a 41-18 loss to Vanderbilt, and Dooley was fired.
"I'm sure he would, maybe if he could do it over again, he would have followed up a few things. But don't take away all this guy did, and to sit there and blame him for all this, I think is wrong."
— Missouri coach Gary Pinkel in a rare defense of Joe Paterno in 2012 one week after the Freeh Report criticized Paterno for his role in the Jerry Sandusky child sex-abuse scandal. A Missouri state representative said Pinkel's defense of Paterno was indefensible.
"But you know, there are other coaches in the league, like Steve Spurrier, that are older than me, that I look up to, that are my mentors, that I really learn a lot from, that I really want to try to be like. In fact, I was even going to consider wearing a visor on the sidelines this year. I was afraid I'd throw it."
— Alabama coach Nick Saban in 2012, three months after Spurrier said Saban needs to win elsewhere besides Alabama to become one of the greatest college football coaches.
"Hope he hurries up. I've got to go."
— Unidentified photographer as he waited in 2012 to use the second-floor restroom occupied only by Alabama coach Nick Saban. Two security officials blocked the entrance.
"Told my wife as I was leaving, 'You know what, I've been to this thing 20 years now.' But you guys have been here 30, 40 years, some of you. They don't fire media people, we found that out." 
— South Carolina coach Steve Spurrier in 2012, amid an environment filled with media layoffs. The remark drew audible groans from media members.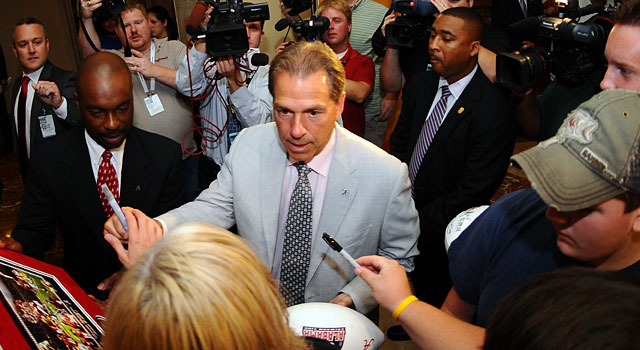 "It's like I went to church and God told me He didn't approve."
— Alabama fan Eric Blackerby, wearing an "I Hate Auburn" T-shirt in 2011, when told Nick Saban said that's not how Crimson Tide fans should treat opponents. This came not long after Harvey Updyke poisoned Auburn's trees. Blackerby later apologized to Saban, who responded, "All right."
"I'll make this real clear. The NCAA, on more than one occasion, has said that Auburn has done nothing wrong in the recruitment of Cam Newton. Nothing's changed." 
— Auburn coach Gene Chizik in 2011 when told that Danny Sheridan said on Paul Finebaum's radio show that his NCAA sources thought they found a "third-party bagman" who helped recruit Newton to Auburn. Nine of the media's 22 questions to Chizik in the main interview room were about the investigation by the NCAA, which later cleared Auburn.
"I could get to 16 (teams) in 15 minutes."
— SEC Commissioner Mike Slive in 2011 amid rumors of Big 12 dissatisfaction. Slive needed another three months to officially get to 14 teams.
"If I told some of these ladies what they put in that lipstick right there, oh, my goodness, because I de-beaked, blood tested, vaccinated (turkeys). I done it all. It was pretty special."
— Vanderbilt interim coach Robbie Caldwell in 2010 on his first paying job being on the inseminating crew at a turkey farm.
"I don't think it's anything but greed that is creating it right now on behalf of the agents. I hate to say this, but how are they any better than a pimp? I have no respect for people who do that to young people. None. How would you feel if they did it to your child?"
— Alabama coach Nick Saban in 2010 on a rash of agent-related NCAA violations in college football, including Crimson Tide star Marcell Dareus.
"A head-coaching change took place at Tennessee when Derek Dooley's predecessor left to return to his western roots. I want to welcome coach Dooley back to the SEC. And when I say welcome, I mean welcome."
— A smiling SEC commissioner Mike Slive in 2010 in a not-so-subtle jab at the departure of Lane Kiffin, who was reprimanded by the SEC before even coaching a game. Kiffin returns to the SEC in 2014 as Alabama's offensive coordinator.
"Do I love every single thing I did? No, but it needed to get done to get where we need to be."
— Tennessee coach Lane Kiffin in 2009 on his controversial remarks that helped him get reprimanded by the SEC. Kiffin departed for USC after one year, leaving behind some NCAA violations for Tennessee to clean up.
"I apologize to Tim Tebow. We screwed it up pretty badly."
— South Carolina coach Steve Spurrier in 2009 on his director of football operations "mistakenly" putting Ole Miss' Jevan Snead as the preseason All-SEC quarterback over Tebow. The coaches' preseason All-SEC team is no longer released during media days.
"I think y'all are stunned right now. Y'all can't even ask a question."  
— Florida quarterback Tim Tebow confirming in 2009 that he's a virgin after being asked by a media member.
"All I Want 4 My Birthday is to Meet Tim Tebow."
— A sign held by Emma King, a 7-year-old Hoover girl, in The Wynfrey lobby in 2008. Tebow didn't stop for anyone when he arrived, causing Emma to sob uncontrollably in her mother's arms. When Tebow learned what happened, he summoned the girl and her family to a private meeting for some photos and autographs.
"I turn around and Matthew Stafford punches me in the face, telling me you don't hit women. Then the guy who transferred to Delta State, (former Georgia quarterback) Blake Barnes, jumps in. It was crazy. I texted (Stafford), 'I'm dreaming about you.' I haven't heard back."
— Kentucky wide receiver Dicky Lyons, sharing in 2008 a nightmare he had involving his fiancee and Georgia star quarterback Matthew Stafford in a bar.
"These are great fans that have great passion about the Southeastern Conference that are not interested in that kind of BS."
— Tennessee coach Phillip Fulmer when he got served at media days in 2008 with a subpoena to testify about a lawsuit brought by a former Alabama booster against the NCAA.
"I'm not going to the club as much. I'm not going to go out and get hammered so much. So he won't go out. If he can see, 'OK, there's better things to do than just go out and get drunk and go to the club... You can go to the club, you don't have to be drunk in the club. That's a thing I've learned from being at Auburn so long and coming up under great guys like Reggie Torbor and Jason Campbell."
— Auburn defensive end Quentin Groves in 2007 on mentoring teammate Tray Blackmon, who was arrested the previous year for public drunkenness and underage drinking.
"Appreciate the target you put on my back. Last time you did that, you almost got me fired."
— Auburn coach Tommy Tuberville in 2006 on the media making the Tigers the overwhelming favorite to win the SEC. They finished second in the West. Tuberville, who barely survived front-runner status in 2003, was forced out in 2008.
"I learned it doesn't pay to make cute remarks."
— South Carolina coach Steve Spurrier, declaring in 2005 he had toned down his act upon returning to the SEC.
"You can talk about my coaching if we lose. You can talk about my play-calling in games. You might talk about my physique if you chose to stoop that low, but 'coward' is way over the line. The same people that used the space to call me a coward have used that same space to talk about cleaning up the SEC from cheating."
— Tennessee coach Phillip Fulmer when he skipped media days in 2004 to avoid being served a subpoena over his role in the NCAA's investigation of Alabama.
"My appreciation for Lizzy is she's the true unconditional love of my life. She's the only fan I know who treats me exactly the same whether we win or lose."
— LSU coach Nick Saban in 2004 after his dog wandered around the interview rooms. The dog had been in Saban's hotel room, bolted when housekeeping arrived, and made her way onto the elevator. Some quick-thinking reporters jotted down Saban's home phone number off Lizzy's collar.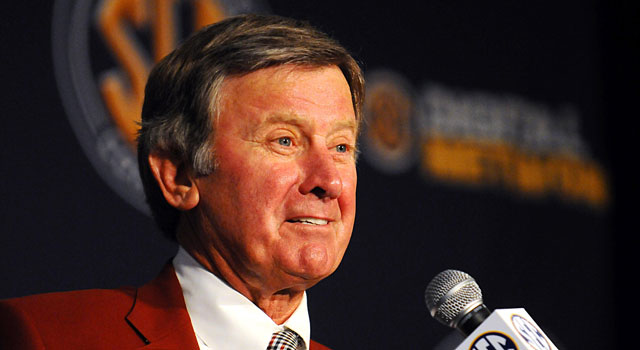 "Those of you who think he will not win in the NFL, you're going to look bad. He will win in the NFL."
— South Carolina coach and future ESPN analyst Lou Holtz in 2002 on Steve Spurrier, who promptly went 12-20 in two years with the Washington Redskins. That's slightly better than Holtz's 3-10 NFL record.
"I know the old guy is gone but I can't tell you who the new coach is. I don't watch television. All they talk about is bad things on television."
— Arkansas defensive tackle Jermaine Brooks in 2002 on Ron Zook replacing Steve Spurrier at Florida. Brooks was kicked off the team a couple months later after police seized 10 pounds of marijuana, $16,000 in cash, three rifles and three handguns at his home.
"They thought I was Steve Martin. They all jumped out, wanted me to sign (autographs). And they all said, 'Hollywood! Hollywood!' So, I jumped out and had my picture made with them and signed a few 'Steve Martins.'"
— Vanderbilt coach Bobby Johnson in 2002 on being mistaken for the actor by Japanese tourists riding a bus in San Francisco.
"If you're going to boo, boo at the television set. Don't boo at the field. When we hear the boos, we get down. When 30,000 are cheering and 50,000 are booing, the boos win out."
— Alabama linebacker Victor Ellis, requesting in 2001 that fans lighten up after the Tide's 3-8 season.
"Jon Hoke's going into his third year. I think he's learned a lot. I hope he's going to be smarter."
— Florida coach Steve Spurrier in 2001 on his defensive coordinator, whose unit ranked eighth in the SEC the previous year. Hoke wised up and the Gators' defense led the SEC in 2001.
"If I'd known I was going to spend our wedding anniversary at SEC Media Days, our marriage probably wouldn't have lasted this long."
— Peggy Sherrill, wife of Mississippi State coach Jackie Sherrill, as told by her husband in 2001, the first year this annual spectacle moved from downtown Birmingham to the suburbs of Hoover.