Eight teams could play for Lohse, but Brewers should sign him
Milwaukee is a World Series contender with one more top-flight starter. However, GM Doug Melvin said they want to look at all their young guys now (and don't want to give up the No. 17 pick, either).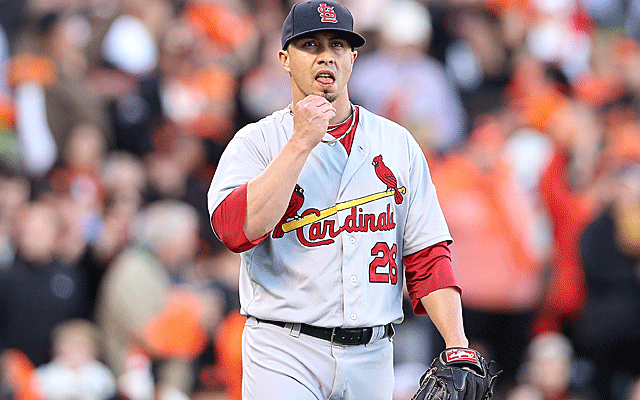 If they add Kyle Lohse, the Brewers might have the starting pitching to make them a serious title contender.
(Getty Images)
MARYVALE, Az. – Of all the teams that could make sense for star free-agent pitcher Kyle Lohse -- and the Red Sox, Orioles, Rangers and Angels are among those that could -- perhaps no team makes more sense than the Brewers.
Milwaukee returns one of the best hitting teams in baseball, a squad with a balance of power and speed. If they added Lohse, they might have the starting pitching to make them a serious World Series contender.
Milwaukee led the National League last year in both home runs and stolen bases, a rare quinella. Regardless, there are still way too many questions about the rotation, and especially its inexperience, to seriously consider them a threat to unseat the Reds and Cardinals in the National League Central.
There are four questions, to be precise. There is ace Yovani Gallardo, a budding star, then come the four questions.
"I believe in our young pitchers, I really do. But I have no doubt [Lohse] would help any team he signed with,'' Brewers star Ryan Braun said about whether they should sign Lohse.
Milwaukee finished last season on a 29-13 run in their last 42 games to go 83-79, perhaps providing a slightly optimistic sense of where they stand. Following Gallardo in the rotation will be four of the quintet of Mike Fiers, Wily Peralta, Marco Estrada, Mark Rogers and Chris Narvesen, the only one over 30. It isn't an untalented group by any means, but it doesn't appear to resemble a rotation for a team built to win now.
As many as eight teams have been linked to Lohse. But the Brewers are the ones who need him most.
The Brewers have been in talks with Lohse's agent Scott Boras, but those talks seem to have been going on awhile and obviously haven't yielded anything concrete to date. Club owner Mark Attanasio, who's done a terrific job building the Brewers into a must-see event in Milwaukee, has been involved, a Brewers person said, suggesting the seriousness of the situation. However, the up-to-the-minute stance seems to be that they are considering their kids first.
Word is, the Brewers have a bit of financial flexibility, but they are also said to be reluctant to surrender their first-round draft choice, the No. 17 choice overall, which would be required of them should they sign Lohse. Lohse's free-agent fortunes have been hurt as one of nine players who received and rejected his original team's $13.3-million qualifying offer. The rules now require any team that doesn't have one of the first 10 picks to surrender its first-round pick to sign him.
"Things change. You never know. But at this point, we want to look at our [young] guys first,'' Brewers general manager Doug Melvin said. "I'm not opposed to giving up a first-round pick if it's a 30-year-old guy you give a three- or four-year deal to.''
But Lohse is 34, so Melvin isn't anxious to do it. "You have to find out about your guys,'' Melvin said. "You just can't afford to give up your draft picks, especially first rounders.'' Melvin didn't disagree that pick 17 comes with no guarantees, but he mentioned that Cole Hamels was a No. 17 and CC Sabathia (an ex Brewer) was a No. 18.
Some others around the organization seem more intrigued by the possibility of a one-two punch of Lohse and Gallardo, so as Melvin said, you never know. As Melvin suggested, no Brewer person can be sure what the kids will provide, even if Fiers and Estrada did go over 175 innings last year (including the minors), and Fiers and Estrada had impressive strikeout-to-walk ratios.
Brewers manager Ron Roenicke, questioned about whether he was comfortable with the current rotation, rather candidly said, "I don't know ... You have different comfort levels coming into a season, and they change all the time.''
One way to change the comfort level would be to see big springs from several of the kids. The other, easier route would be to sign Lohse, who's been a monster in the division the last two years, going 7-1 against the National League Central last year. Overall, he was 16-3 with a 2.86 ERA for St. Louis.
"Facing him the last couple years, he's one of the more challenging guys,''' Braun said. "He's one of those guys who continues to reinvent himself. He's throwing changeups inside now, and sliders on both sides of the plate. He competes his [butt] off.''
For now, Lohse remains on the sidelines, the best free agent who's still free. He didn't sign until March 14, 2008, his first year with the Cardinals, then was lights out in April anyway. So he may not be in quite the rush one might imagine.
"Obviously, he'd be a great addition to any team. [But] if this is our team, we're pretty excited about it,'' Brewers first baseman Corey Hart said. "If we signed Lohse, it's obviously a bonus. He's one of the best pitchers the last few years. But we like our guys.''
It's a bit of a shock the pitcher who was the Cardinals' ace is still available. The rival Brewers are the perfect team that should take advantage of the unusual situation. A three-year offer should get it done at this point.
Here's a look at the most likely Lohse players …
Brewers. With Lohse, they look like a bona fide contender. The payroll is down slightly from last year and the team is said to have a little spending money.
Indians. It's hard to count them out of anything now. Had an exceptionally busy offseason. Wouldn't be required to give up a first-rounder, just as they weren't with the Nick Swisher and Michael Bourn signings.
Rangers. They might need one more starter, especially if Colby Lewis suffers any setbacks or Joe Nathan isn't what they expect (he's sidelined now only for precautionary reason). They have the money, but in the end other teams seem to like Lohse more. They'd have to give up a draft choice but did acquire one already, with Josh Hamilton's signing with Los Angeles of Anaheim.
Red Sox. They look like they could use another set starter, and Felix Doubront is off to a slow start this spring (technically, so is Clay Buchholz).
Angels. They are a terrific team with an imposing lineup, but the rotation was weakened with the departures of Zack Greinke, Dan Haren and Ervin Santana (Tommy Hunter, Joe Blanton and Jason Vargas are in).
Orioles. They have as many as 12 possible starters but could use a No. 1 or 2. Another team that doesn't want to give up the draft choice, though.
Yankees. Word is "no chance.'' But if Phil Hughes' back injury lingers, who knows?
Cardinals. It would likely take a setback by one or two of their veteran starters or weak spring by their vaunted trio of young starters.
The Angels knew about the first-degree sprain and still wanted to sign the potential ace, of...

The run on relievers continues with two more signings

The Yankees added Giancarlo Stanton in a blockbuster trade, though they now have openings at...
Smyly is currently on the mend from Tommy John surgery

Could Greinke really wind up in Texas?

The Orioles, Blue Jays and Rays have star players they should use toward rebuilding for the...