NL Rookie of the Year Watch
In revisiting where the races for prominent postseason awards stand, it's time to turn to the two-horse race that is the battle National Rookie of the Year.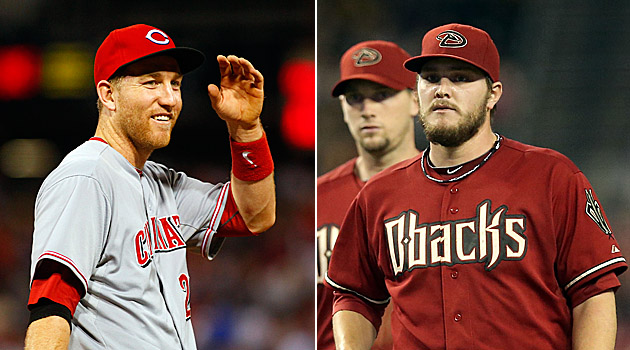 With several in the background, it still looks like Frazier vs. Miley. (Getty Images)
In revisiting where the races for prominent postseason awards stand, it's time to turn to the two-horse race that is the battle National Rookie of the Year. An added wrinkle? They faced each other Tuesday night.
Frontrunners
Todd Frazier, Reds: He had the better game Tuesday night, but head-to-head battles don't matter here. What does matter is Frazier continues to be paramount to the Reds' continued winning without Joey Votto. He is now hitting .295/.355/.555 with 22 doubles, six triples, 18 homers, 62 RBI and 48 runs in 375 plate appearances. On a team sporting the best record in baseball, that's a pretty good bet to win Rookie of the Year.
Wade Miley, Diamondbacks: He continues to exceed expectations this season, even as his team underachieves. Miley is now 14-9 with a 2.85 ERA in 158 innings. If the voting happened right now, he'd probably finish a strong second.
More from Eye on Baseball
Stock Rising
Yonder Alonso, Padres: As was correctly pointed out to me on Twitter after our initial look at NL Rookie of the Year candidates, I should have included Alonso. He's hitting .274/.343/.395 while playing half his games in a radical pitcher's park.
Wilin Rosario, Rockies: He sports a low .297 on-base percentage, but we cannot ignore Rosario's 22 homers and 56 RBI in just 310 plate appearances. That's power efficiency.
Status Quo
Zack Cozart, Reds: As "status quo" suggests, nothing has changed with Cozart. He's a low on-base guy with some pop and excellent defense for the best team in baseball. He's also behind a teammate, so his chances of making noise here aren't great.
Norichika Aoki, Brewers: Very good player who figures to finish around fifth in the voting if things continue on this path.
Matt Carpenter, Cardinals: Just as I said last time, he's a solid player when in the lineup. He's just not in the lineup enough to be a serious contender for this award.
Stock Falling
Bryce Harper, Nationals: He's mixed in some good games, but overall hasn't found a way to bust loose again. That being said, anyone drawing negative conclusions about Harper's career path based upon the rough stretch is an absolute moron (and I'd gather incredibly biased against Harper for whatever reason). The percentage of players in the history of baseball who could have done what Harper is doing at age 19 is absurdly low. Not being in strong contention for Rookie of the Year isn't a big deal for his future.
Mike Fiers, Brewers: He's got real good numbers overall, but Fiers is 1-2 with a 9.88 ERA and 1.83 WHIP in his last three starts. His most recent outing -- a 10-strikeout victory -- was encouraging, but he has an uphill battle to win this thing.
Anthony Rizzo, Cubs: As I said last time, Rizzo may well be the best player on here right now -- or at least second after Frazier -- but he's only going to end with about a half-season of work. When that's the case, a player needs to post superhuman numbers to win. Rizzo is "only" posting good numbers.
For more baseball news, rumors and analysis, follow @EyeOnBaseball on Twitter, subscribe to the RSS feed and "like" us on Facebook.
Colon wants to break a Dennis Martinez record

The Twins have been rumored to be interested in Darvish all winter

Rolen is one of the best third basemen of all time, but you wouldn't know it based on this...
Neither Josh Donaldson nor Brian Dozier have talked about a new contract extension

Francisco leads the Dominican Winter League with seven home runs

Thome deserves enshrinement and here's why the case against him does not hold up