Potential trade fits for Brandon Phillips
The Reds are reportedly open to trading Brandon Phillips. Here are eight teams that could be in the mix, some more than others.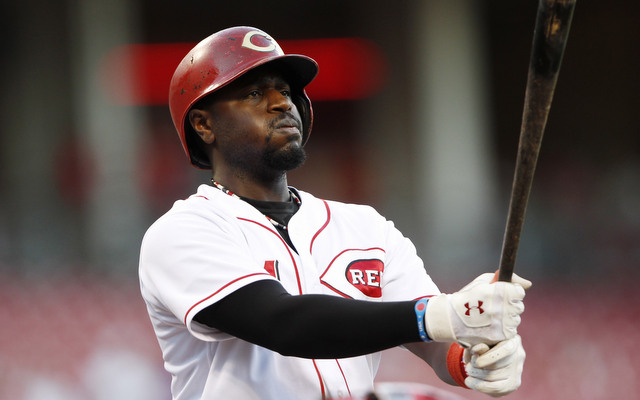 Over the weekend we learned the Reds will shop second baseman Brandon Phillips this offseason with every intention of trading him. Apparently CEO Bob Castellini is not happy with the "slap in the face" comments Phillips made about his contract over the summer. Can't say I blame him.
At age 32, Phillips' production has slipped in recent years but he remains a solid second baseman. His .261/.310/.396 batting line in 2013 was right in line with the .263/.323/.387 league average at the position. Phillips is still a very good defensive player, so the combination of league average offense (relative to position) and above-average defense makes him a slightly above-average player overall.
The biggest hurdle in any trade involving Phillips will be his contract. He is owed $50 million through 2017 thanks to that slap in the face he signed before the season. Unless the Reds are so motivated to move him that they are willing to eat some of the money left on his deal, any team that acquires Phillips will need to have fairly deep pockets.
With that in mind, let's look at some possible fits for the long-time Reds' second-sacker. These are the teams with an obvious need at second base, some money to burn and a decent prospect or two to send to Cincinnati. They're all at least reasonably close to contention as well -- there's no reason for a rebuilding team to acquire a player like Phillips. Here's the (alphabetical) list:
Dave O'Brien of the Atlanta Journal-Constitution says the Braves are open to acquiring Phillips as long as the Reds take Dan Uggla as part of the package in return. That seems like wishful thinking on Atlanta's part, but if they do manage to find a taker for Uggla and the two years, $26 million left on his contract, Phillips would make some sense for them. He and Andrelton Simmons sure would be a fun double play combination.
Brian Roberts' contract has finally expired and the Orioles are on the cusp of being a perennial playoff team. Second base is arguably their weakest position and Phillips would help offset some of the production they'll lose if Manny Machado has to open the season on the DL due to his knee injury. Baltimore has to start thinking about long-term contracts for Chris Davis and Matt Wieters though, so perhaps they don't want to take on a contract commitment like Phillips'.
Both Jhonny Peralta and Omar Infante are free agents this winter and owner Mike Ilitch is very willing to spend money to improve his ballclub. This might be the ideal spot for Phillips, who would blend in as a complementary piece rather than be miscast as a middle of the order hitter. The Tigers will install Jose Iglesias as the everyday shortstop and adding Phillips at second would greatly improve the club's infield defense.
If the Royals are willing to spend the cash -- they have to work on signing James Shields to a new contract at some point soon -- they'd be an obvious fit for Phillips. Chris Getz and Johnny Giavotella aren't cutting it, and, after winning 86 games and finishing a handful of games outside a wild-card spot, the club is likely looking to do whatever they can to improve their chances for 2014. Adding a legitimate second baseman is one of the easiest ways for them to do that.
The only way the Yankees would get involved is if Robinson Cano surprisingly signs elsewhere, which I don't think will happen. If it does though, Phillips figures to be on the team's radar as a replacement.
This would require some other moves since San Francisco's infield is pretty well set. If the team trades Pablo Sandoval -- Nick Cafardo of the Boston Globe says the Giants would listen to anyone who has interest -- they could slide Marco Scutaro over to third and use Phillips at second. They could also stick Brandon Belt in left field, slide Sandoval to first and Scutaro to third to open up second base. That seems unlikely though.
The Blue Jays made a lot of moves last winter but the one position they didn't really address was second base, as both Emilio Bonifacio and Maicer Izturis failed to produce. GM Alex Anthopoulos has a history of trading for players who have fallen out of favor elsewhere (Colby Rasmus, Brett Lawrie and Yunel Escobar, most notably), something Phillips has certainly done in Cincinnati. Toronto appears to be one of the most likely destinations.
Anthony Rendon was mighty impressive late in the season, but there continues to be chatter about the Nationals moving him back to his natural third base position with Ryan Zimmerman taking his throwing issues over to first. That would require a trade of Adam LaRoche as well, and whenever you have this many moving parts, the situation is unlikely.
Yelich's agent recently asked the Marlins to trade him before the spring

I've only been in the BBWAA three years, but here's what my ballot would've looked like this...

In the last two votes, Clemens has gained nearly 17 percent in Hall of Fame voting
The results of the BBWAA Hall of Fame vote are revealed Wednesday, Jan. 24

Does the Jackson signing mean the Giants are out on Lorenzo Cain?

Acuna edged out Shohei Ohtani and Vladimir Guerrero Jr.