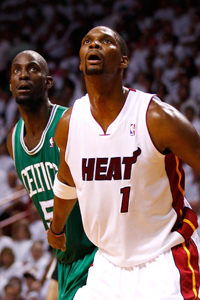 Heat will not start Chris Bosh during Game 1 of The Finals. 

(Getty Images)
OKLAHOMA CITY -- One of these days he will get the starting call. Maybe.
Shortly before tip-off, the Miami Heat announced that All-Star forward Chris Bosh will not start Game 1 of the 2012
NBA
Finals against the Oklahoma City
Thunder
at Chesapeake Energy Arena on Tuesday.
Heat coach Erik Spoelstra will start guards
Mario Chalmers
and
Dwyane Wade
and forwards
LeBron James
,
Shane Battier
and
Udonis Haslem
, the same starting lineup he used during Games 5, 6 and 7 of the Eastern Conference finals against the Boston Celtics. That was Miami's sixth starting lineup of the 2012 postseason.
Spoelstra did not reveal the decision during his pre-game comments.
"There won't be any surprises on who I play," he said. "I considered everything, gave it a great deal of thought, and talked to everybody. We're not holding any secrets right now. It's just about our guys focusing on the game plan. The eight guys that are going to play will not be a surprise."
During all five games against the New York
Knicks
in the first round, Miami started Chalmers, Wade, James, Bosh and Haslem. The Heat used the same lineup in Game 1 against the
Pacers
. In Game 2 against the Pacers, Miami went with Turiaf, James, Wade, Haslem and Chalmers. In Game 3 against the Pacers, Miami started James, Wade, Chalmers, Battier and center 
Dexter Pittman
. In Games 4, 5 and 6 against the Pacers and Games 1, 2 and 3 against the
Celtics
, Miami started James, Wade, Chalmers, Battier and Turiaf. In Game 4 vs. the Celtics, Miami started James, Wade, Chalmers, Battier and center 
Joel Anthony
.
Bosh joked after the Game 7 victory that he was "99.2 percent" healthy and has said previously that he feels like he can play with "no limitations." At the same time, he's said that he's fine playing as a starter or as a reserve.
"I just want to play," he said last week. "It doesn't matter to me. I think we feel confident in whoever we put out there. And no matter what the rotation is and what the lineup, we're good enough to get the job done."
In an unexpected twist following Game 7 against the Celtics, James stressed Bosh's value in a reserve role and seemed to indicate that Bosh might be used in a reserve role. 
"It's huge," James said of Bosh's impact off the bench in Game 7 against the Celtics. "It's something we haven't had. We haven't had that type of activity, that firepower off the bench since we got here. It's unique. It's very unique that CB is coming off the bench, but it may be something great for us."
Indeed, Miami's bench -- aside from Bosh -- has had little to no impact during the playoffs. The Thunder, meanwhile, have the NBA's Sixth Man of the Year, 
James Harden
, plus veterans 
Derek Fisher
 and 
Nick Collison
.
James mentioned Harden by name when asked to elaborate on Bosh's impact off the bench after Game 7.
"We've played some good ball," he said. "It doesn't matter who starts or who finishes the game. James Harden doesn't start, but he's always on the court at the end of the game. Jason Terry doesn't start, but last year in The Finals he was in the fourth quarter every game. CB didn't start tonight, but he was in the fourth quarter. It doesn't matter who starts, or finishes the game, it's who is being productive. That's what it all boils down to."
Spoelstra refused to offer any additional details when prodded briefly about James' comments on Monday.
"I consider everything," he repeated. "We had to make a lot of adjustments when Chris went out. We had to make some adjustments when he came back in. That's all part of it. It's survival in the playoffs. There's no excuses. We've had to re-invent ourselves in the process, and we think we've improved during that reinvention."
The Thunder have used just one starting lineup during the playoffs: guards 
Russell Westbrook
 and
Thabo Sefolosha
, forwards 
Kevin Durant
 and 
Serge Ibaka
, and center 
Kendrick Perkins
.