Report: LeBron James' agent pushing for return to Cleveland
Cavaliers suddenly confident they can get the King to return home after leaving in The Decision in 2010.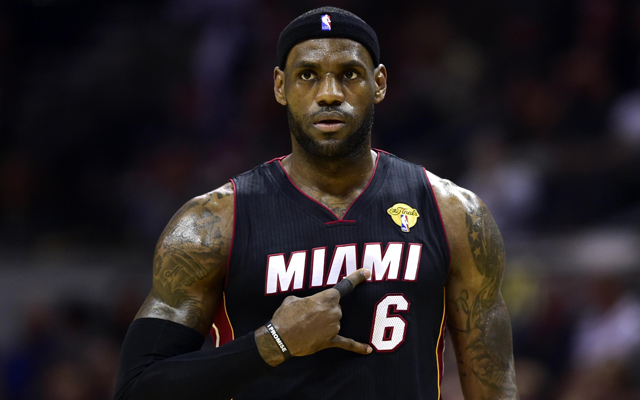 More on LeBron: James' free agency page | Doyel: NBA revolves around LeBron
Yahoo Sports reports that the agent for LeBron James, Rich Paul, is pushing his client towards returning home and joining the Cleveland Cavaliers. 
Rich Paul, the president of Klutch Sports, has been funneling belief into the organization that the Cavaliers are in strong position to lure James from the Miami Heat, sources told Yahoo Sports.

For years, Paul has confided to people that bringing back James to Cleveland has been something of a mission for him, and he's encouraging Cavaliers officials to offer no restraint in the recruitment of James, sources said.
via How LeBron James' agent has given Cavaliers hope of King's homecoming - Yahoo Sports.
Meanwhile, on the Cleveland side, ESPN reports that the Cavaliers genuinely believe they have a real shot at this thing, with a pitch built around young talent and roster flexibility. 
After more than two years of planning, the Cleveland Cavaliers believe they have LeBron James legitimately listening to their pitch to leave the Miami Heat and return to his home state in free agency, according to sources close to the process.

There has yet to be a firm indication that James actually is ready to leave Miami after four years and two championships with the Heat, but sources told ESPN.com that the four-time MVP is increasingly considering the Cavaliers as an option as he moves into the final stages of deciding which team to sign his next contract with.

LeBron James is becoming more interested in the Cavs' free-agency pitch, according to sources.

James' agent, Rich Paul, has already sat down with Cavaliers owner Dan Gilbert in what is regarded as the first formal step toward trying to shrink the gulf between James and Gilbert after the ocean of hard feelings stemming from James' departure from Cleveland in 2010 to sign with the Heat.

Sources say that the Cavs' pitch made to Paul last week -- which they also hope to make this week to James in their own face-to-face meeting -- revolves around Kyrie Irving and the other young prospects they have, in addition to the numerous options Cleveland possesses to add to the roster over the next year.
via Cleveland Cavaliers believe LeBron James is receptive to their free-agency pitch, according to sources - ESPN.
Ken Berger of CBSSports.com reports that James is set to sit down with Heat president Pat Riley this week. 
LeBron James and Pat Riley are on the verge of a face-to-face meeting to discuss the superstar's free agency, a league source confirmed to CBSSports.com on Sunday night.

James and his agent, Rich Paul, are working to schedule the sitdown with the Heat president in the next two or three days days, said the person familiar with the details. USA Today first reported the plans.

With James weighing his free-agent options, and with uncertainty about the futures of fellow free agents Dwyane Wade and Chris Bosh, James and Riley have much to discuss -- and in some ways, not much at all. Given the team's salary-cap constraints, Riley has thus far been unable to secure any roster additions that would enhance the team's chances of keeping the Big Three together.

In the meantime, James' agent has spoken with the Rockets, Mavericks, Lakers, Cavaliers and Suns as he gathers information for the four-time MVP. Teams that have had discussions with James' agent have been told that James may be prepared to meet with them in person this week.
via LeBron James, Pat Riley planning sitdown to discuss free agency - CBSSports.com.
The whole situation points to an interesting power play by Rich Paul, who is extremely new to this whole process and oh, by the way, is from Ohio. 
James returning to Cleveland would be a trendset in several ways. It would be opting for young talent over veteran talent. A small market over a bigger one (and even bigger options). Going back to a city that has a history of failure and misery, part of which he was involved with. He'd be hailed as a hero by both Ohioans and general sports moralists for undoing the damage he did in 2010. There will be some backlash, there always is, but nothing like what 2010 was like. 
On the other hand, now that the expectation has been set... can you imagine if James leaves Cleveland hanging again? If he turns them down for a second time? It was one thing when it was "maybe he could come back." But the past 48 hours have seen fans chasing air plane flight paths and multiple reports that Cleveland's all of a sudden in the driver's seat.
James has been silent through it all. No meetings with him. No one's even spoken with the King. He's a phantom. If he's not planning on going back, he had better do something to temper those expectations because it certainly looks like Rich Paul is setting up the expectation he's going back. 
James has his choice of a team whose core went to the Finals four straight years and won two titles, Houston which has James Harden and Dwight Howard, the Lakers with all their star-studded history and proximity to the entertainment industry, going home to Cleveland, and anywhere else he wants. But one thing is becoming clear. His efforts to stay out of the spotlight and avoid the circus of 2010 have failed. The circus has come to him, whether that's a product of his agent or social media or whatever. It's time for the King to speak, make his decision, and put this chaos to rest. It's only going to get more out of hand from here. 
CBS Sports HQ Daily Newsletter
Get the best highlights and stories - yeah, just the good stuff handpicked by our team to start your day.
Please check the opt-in box to acknowledge that you would like to subscribe.
Thanks for signing up!
Keep an eye on your inbox for the latest sports news.
Sorry!
There was an error processing your subscription.
Young finished with 35 points on 13-of-23 shooting, and also added 11 assists

Ingram, Rondo and CP3 all earned multi-game suspensions for their role in the Saturday night...

The former MVP will not be under any minutes restriction
Chris Paul and Rajon Rondo certainly have plenty to answer for as the NBA sorts through video...

The possibility of playing alongside Kristaps Porzingis is intriguing to Kyrie Irving

SportsLine's Mike McClure, a DFS pro with almost $2M in winnings, gives optimal lineup adv...