2013 NFL season preview: Seattle Seahawks
It's perfectly reasonable to expect Seattle to earn dougle-digit wins and a potential Super Bowl appearance this season. Here's a preview of the 2013 Seahawks.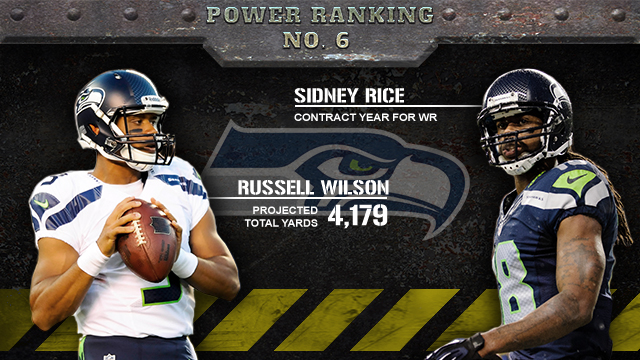 If Harbaugh and the 49ers are Russia, Pete Carroll and his pleated khakis are American as they come in this Cold War. Also American: running up the score and everything about this.
Seattle stunned plenty of people last year with their strong performance, one which only got better as the season wore on. After scoring just six points in a loss to the 49ers in Week 7, Seattle averaged 32.9 points per game in their final nine games, including a pair of 50 burgers they hung on the Cardinals and Bills in Weeks 14 and 15. The Seahawks eventually finished with the No. 1-ranked offense in Football Outsider's weighted DVOA for 2012.
GM John Schneider and Pete Carroll didn't sit on their laurels though: they got real aggressive this offseason, trading for Percy Harvin and making free-agency splashes -- including the additions of Michael Bennett and Cliff Avril -- in order to try and put the Seahawks over the top in a loaded NFC West. Things haven't gone perfectly (Harvin's injured hip will mean he misses most of the season) but the Seahawks still have monster expectations for 2013, starting with taking down the 49ers for the division crown.
Offense:
Much like the 49ers, there's a heightened excitement for what the Seahawks can do on offense in Russell Wilson's second full year of starting under center. And just like the 49ers, the Seahawks might disappoint a little as they remain likely to be a run-oriented team. Look at their first selection in the 2013 NFL Draft; Seattle snared Texas A&M running back (and captain of the Most Masculine Name Team) Christine Michael in the second round (they traded their first rounder for Harvin) despite already having Marshawn Lynch and Robert Turbin on the roster.
Seahawks' Rivals: NFC West


2013 Preview • Schedule
Cardinals @ Seahawks: 12/22 (4:05 p.m. ET)
Seahawks @ Cardinals: 10/17 (8:25 p.m. ET)


2013 Preview • Schedule
Rams @ Seahawks: 12/29 (4:25 p.m. ET)
Seahawks @ Rams: 10/28 (8:40 p.m. ET)


2013 Preview • Schedule
49ers @ Seahawks: 9/15 (8:30 p.m. ET)
Seahawks @ 49ers: 12/8 (4:25 p.m. ET)
The Seahawks led the league in rushing attempts in 2012 with 536 and yet were dead last in passing attempts with 32. By comparison the Patriots, second in rushing attempts with 523, were fourth in passing attempts at 641. People sleep on it because of Wilson's growth, but the focus of Seattle's attack in 2013 will be Beast Mode getting the rock and mauling would-be tacklers with his violent running style.
Don't sleep on the 'Hawks passing game though. Wilson is as efficient and accurate as a fourth-year veteran, not some upstart rookie who fell in the draft because of height concerns. He runs the offense like a premiere NBA point guard, constantly in control of both the passing attack, his own reads and even his improvisation. Wilson isn't surrounded by superstars (at least not with Harvin injured) but Sidney Rice is a capable downfield threat and Golden Tate is a potential breakout candidate in 2013. Doug Baldwin is no slouch and Jermaine Kearse has excelled in the preseason thus far.
Defense:
Carroll's hallmark is his defense and, more specifically, his tall, athletic, shutdown corners in Richard Sherman and Brandon Browner. Browner's a bit overrated because of the Seahawks defense as a whole, but he's a high-quality corner who excels next to Sherman, the top corner in the league during 2012. Following an offseason filled with smack talk, we'll find out just how many checks Sherman's mouth wrote in the past year and whether he's capable of cashing them. Antoine Winfield could end up being a snaky smart veteran addition for Seattle, particularly if he boosts their already impressive rep against the run. The Seahawks secondary is rounded out by one of the best safety combos in the NFL featuring Earl Thomas and Kam Chancellor.
More young talent fills the front seven as well. Bobby Wagner is one of the top up-and-coming linebackers in all of the NFL. K.J. Wright is no slouch. The linebacking corps will be solid this coming year. The real question lies with the defensive line, which may be the swing factor for Seattle. There's plenty of talent up front for the Seahawks, but the question is how the talent shakes out, particularly at defensive end. Chris Clemons suffered an ACL injury on the train wreck that was Fed Ex Field during the Seahawks playoff victory over the Redskins late last year; if he comes back healthy he's the top end on the team.
Bruce Irvin's a sack-generating specialist stud, but he'll miss the first four games of the season because of suspension. Michael Bennett and Cliff Avril are low-risk, high-upside free-agency steals that could pan out. There are concerns with Bennett's health and Avril standing up against the run. But -- and we haven't even mentioned Red Bryant -- this is a DEEP rotation on the defensive line. If it works out the way Seattle hopes we're going to see another very impressive season from the Seahawks defense.
Final thoughts:
Few people were as high on the Seahawks as I was last year. I pegged them for a division title, a playoff win and a Russell ROY award. Those predictions didn't all hit but they were a lot closer than to it than most people expected. The expectations of the general public this year are vastly different: I've seen several big-name media people pick them for a Super Bowl victory. Reaching high expectations is, quite simply, much more difficult than exceeding low ones.
The Seahawks are certainly capable of hoisting the Lombardi Trophy this year and heading into 2013 look like one of the truly elite contenders in a loaded NFC. If their young talent continues showing the growth it did into 2013 there's nothing holding them back from the highest reaches of the NFL. My expectation is that worst case we're looking at a double-digit victory team that has a chance to secure home field advantage in the playoffs, which means that Seattle is absolutely a Super Bowl contender in 2013.
More 2013 NFL season previews: Select a team
AFC North
AFC South
AFC East
AFC West
NFC North
NFC South
NFC East
NFC West
After an injury to Trevor Siemian, Brock Osweiler entered the game and helped the Broncos to...

The 32-year-old running back is done for the year

Brandon Williams was involved in a scary situation in the first half against Denver
The Broncos are turning back to Osweiler after an injury to Siemian

The Cowboys legend admits he's not on 'great' terms with the Cowboys suspended running bac...

Here's the latest information on injured Steelers linebacker Ryan Shazier