Pete's Pics: A closer look at Slauson's hit on Cushing
Pete Prisco goes to the telestrator to break down film from Week 5's NFL action and comes out of it with several observations. This week, take a look at Matt Slauson's season-ending hit on Brian Cushing and decide for yourself whether it was clean or dirty.
Was Matt Slauson's block on Houston linebacker Brian Cushing illegal?

You decide.

As you can see on the pictures that follow, Slauson, the Jets' right guard, went low on Cushing after he initially missed him with his first block. In the first picture, you can see Slauson dove at Cushing's knee. In the second picture, you can see Slauson cutting him down with the block, and moments later, Cushing grabbed his knee.

Cushing's season is over with a torn ACL and Slauson opened himself up to questions about whether the play was dirty or not.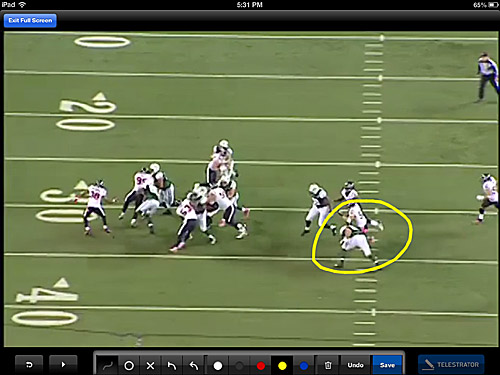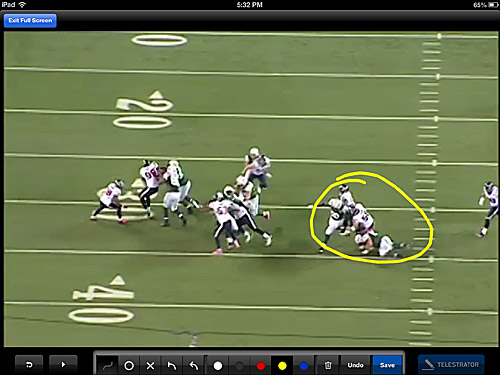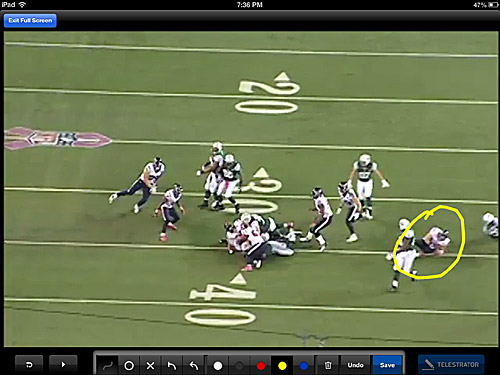 Ravens' defensive struggles

In my After Further Review column, I highlighted a 25-yard run by Jamaal Charles to show how the Baltimore defense was struggling. But I had a lot more evidence to reveal. Here are some other runs.

This first set is an 8-yard run by Chiefs running back Jamaal Charles. As you can see by the first picture, the Chiefs did a great job on the Ravens down linemen, getting a hat on a hat. That left Ray Lewis (blue circle) free to get to the football. But as the second pictures shows, Lewis overran the play and Charles cut behind him for a nice run. Lewis made the tackle, so on the stat sheet it looks good, but it was eight yards down the field.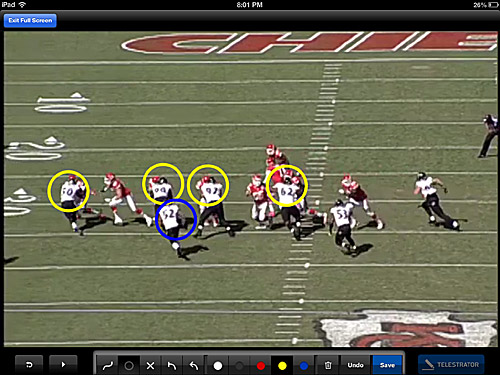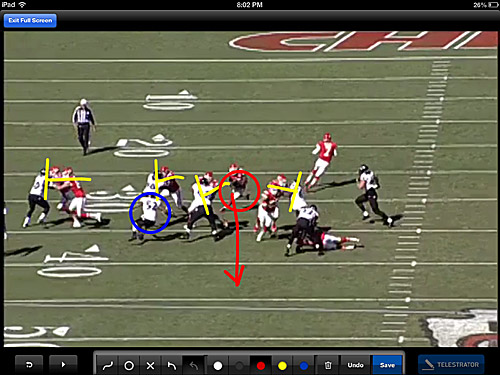 The second set shows a 17-yard run by Charles. As you can see by the first picture below, the Chiefs did another good job of handling the down linemen. That left Lewis and linebacker Dannell Ellerbe to fill in and make the tackle. But as you can see, Chiefs tight end Steve Maneri got a body on Lewis (blue circle), while center Ryan Lilja got out on Ellerbe. In the second shot, you can see Lilja blew up Jameel McClain and Maneri was all over Lewis (blue circle), which created a huge lane for Charles to run.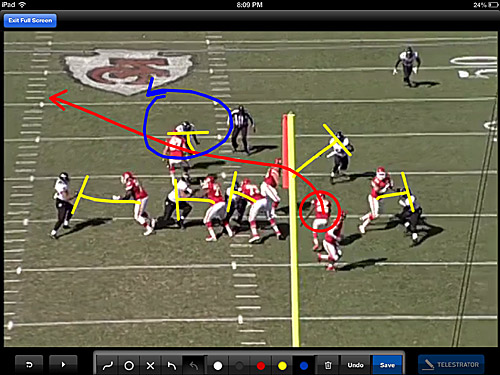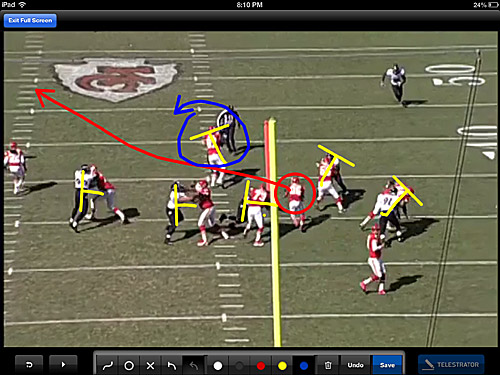 Vernon Davis' wheel route

Vernon Davis had a 53-yard catch last week against the Bills. It was a wheel route -- a route that takes a lot of time to run. Here's the play in the pictures below.

Davis, in the yellow circle, is matched in man coverage with safety George Wilson. He is inside, but ran and out route and Wilson ran with him. You should also notice the wall in front of Alex Smith. He wasn't pressured at all.  The second shot below shows Davis well behind Wilson and Smith firing a shot down the field for the big play. Davis is really emerging as a top-level tight end, but these types of routes are also indicative of an offensive line that is playing at a high level.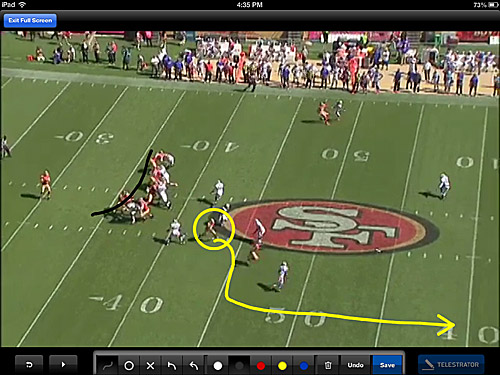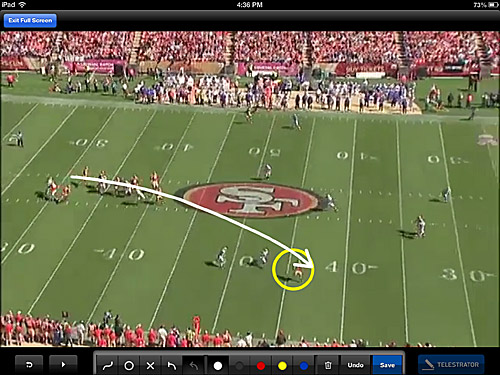 Atlanta adjusts to double coverage

The Falcons didn't panic when the Redskins doubled the outside receivers early last week. They just kept feeding tight end Tony Gonzalez.  In each of the two pictures below, you can see Julio Jones and Roddy White doubled, with Gonzalez (blue circle) one-on-one. He had catches on both of these plays and had 13 for the game. The Redskins eventually stopped the doubling outside, which led to big plays by Jones in the second half.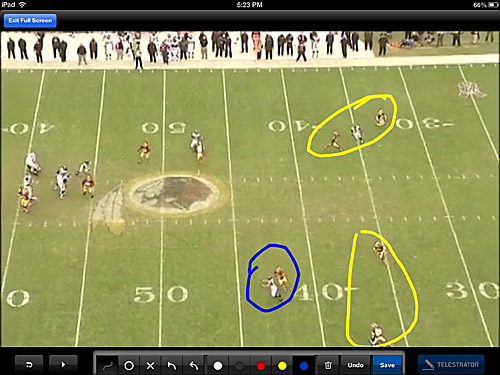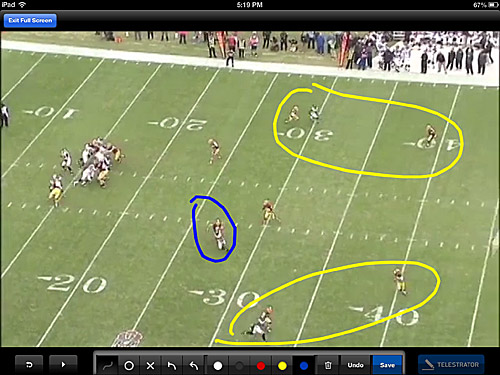 Atkins draws blockers out of Johnson's path

Bengals defensive tackle Geno Atkins might be the best insider player in the league. He is a force. He had a sack last week against Miami, but as the play below shows he's responsible for others as well.

This is in the first quarter of the game with Miami. Atkins (yellow circle) is lined up on guard Richie Incognito. At the snap, he made a hard outside move toward tackle Jake Long. End Michael Johnson (red circle) came around Atkins as both Incognito and Long went to block Atkins. That gave Johnson an easy path to dump Ryan Tannehill.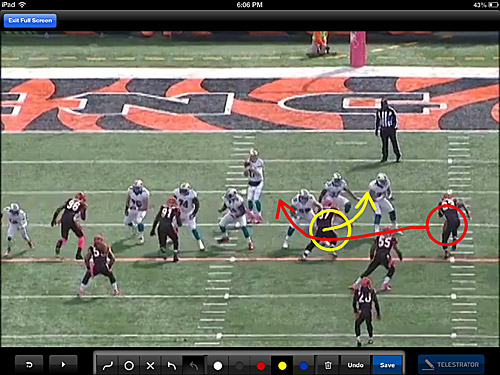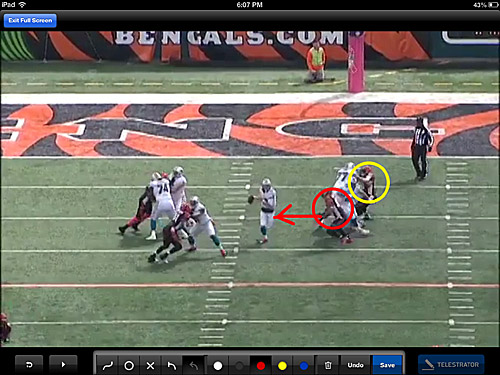 The Titans are getting ready to unveil a uniform that won't be 'anything close' to any other...

The NFL announced on Friday that 32 compensatory draft picks have been awarded to 15 teams
Jonathan Martin's old high school was forced to close on Friday after he appeared to threaten...

It doesn't look like the Jaguars will be making any front office changes anytime soon

The Buccaneers quarterback received a citation after causing a car wreck February 13