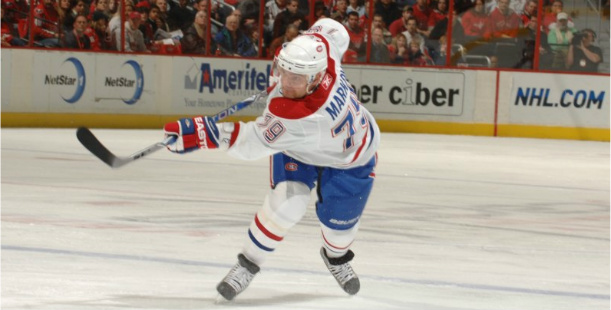 Andrei Markov scored his first goal since 2010 on Tuesday night. Then he scored another one. (Getty Images)
More NHL: Scores | Standings | Power Rankings | Odds | Fights | Stats | Rumors
This is best of the NHL, a look at the best plays, performances and players around the league on a nightly basis.
Best of the NHL: Jan. 22, 2013
When he's been healthy, Andrei Markov has been a big-time difference-maker in the Montreal Canadiens' lineup.
The problem for Markov and the Canadiens has been the fact that he's never healthy, having appeared in just 66 games since the start of the 2009-10 season. That includes just 21 since the start of 2011, a stretch that saw him score just one goal.
Entering Tuesday's game against Florida, Markov hadn't found the back of the net since Nov. 9, 2010. That's a long time for Montreal's top defenseman. That drought ended during Montreal's 4-1 win when Markov scored two goals, played more than 23 minutes (in all situations -- even strength, power play and penalty kill), and recorded four shots on goal to help the Canadiens claim their first victory of the season.
Injuries on the blue line decimated the Canadiens last season, and having a healthy Markov would be a huge plus in 2013. At least for however many games that he's able to play, that is.
Hit of the night:

Jordin Tootoo
After tormenting Detroit Red Wings fans as a member of the Nashville Predators the past few years, Jordin Tootoo played his first home game at Joe Louis Arena on Tuesday night and impressed his new supporters with this crushing hit on Stars defenseman Philip Larsen.
The Chicago Blackhawks held off the St. Louis Blues and picked up a 3-2 win at the United Center. It was a fantastic game between two top contenders in the Western Conference, and the Blues nearly came back to tie it late. In a one-goal game, there is always a fine line between winning and losing. In this game, that line just happened to be Duncan Keith's face. He used it to keep this puck from going into the net.

We know the Red Wings' defense is going to have its problems this season, but their offense should still be good enough to get them into the playoffs, even if they haven't totally broken through yet on the scoreboard. That includes Tuesday's 2-1 loss to Dallas when they were nearly shut out for the second time in three games.
But it wasn't due to a lack of chances, especially in the third period.
The Red Wings fired 40 shots at Stars goalie Kari Lehtonen, some of them high quality chances in the third period, but they couldn't beat the Stars goalie until Damien Brunner put home a meaningless goal with 3.4 seconds to play.
That goal kind of stinks for fantasy owners who have Lehtonen and were hoping for the extra points, but it was an outstanding performance from the goalie whom the Stars made a huge financial investment in this past summer.
This might be the only time that Tom Pyatt appears in this section, but here he is.
I'm not sure what's better about this play: The incredible cross-ice saucer pass from Vincent Lecavalier or the hand-eye coordination from Pyatt to knock it out of mid-air past Carolina's Cam Ward to give the Tampa Bay Lightning an early 1-0 lead during their 4-1 win.
For more hockey news, rumors and analysis, follow @EyeOnHockey and @Agretz on Twitter and like us on Facebook. Also, subscribe to our YouTube Channel.