Beef to Jean-Claude Van Damme: Journey down the rabbit hole
You can go from Twitter beef to Jean-Claude Van Damme with the greatest of ease. You just need to know how to journey down the rabbit hole.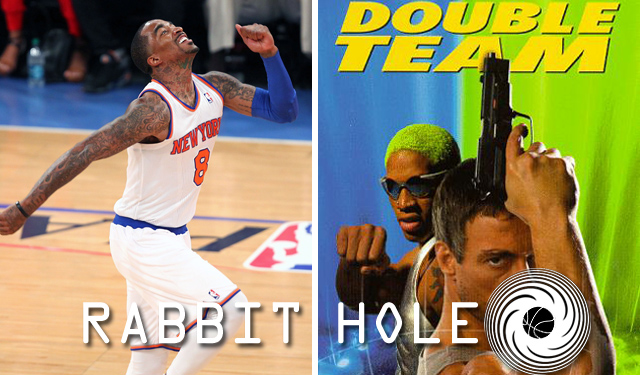 What's beef? Beef is when you have two NBA players fighting over some tweets because one made fun of the other's brother/teammate. At least, that's what beef means in today's NBA. It used to mean something more with off the court scuffles and all kinds of words being exchanged. To kill some time on this lovely Friday, we'll take a look at some of my favorite beef from the past, including improbable situations that would probably never happen today. That should take us nicely into my favorite action star of all time.
Let's journey down this week's rabbit hole, shall we?
First Stop: We've got Twitter beef!
It's going to be hard for the NBA to top the J.R. Smith, Brandon Jennings Twitter beef story this month. There is too much hilarity involved. It all started when Detroit Pistons point guard Brandon Jennings found out/realized Chris Smith (J.R.'s brother) is on an NBA roster. This has been a bewildering factoid for New York Knicks fans all year but to see an NBA player have the same reaction is kind of amazing.
"Wait wait wait JR smith brother is in the NBA but @PoohJeter & @BBROWNLAU isn't. Call me hater but not Rollin!!!" -- Brandon Jennings' Twitter account.
Jennings later deleted that tweet but the damage had already been done to the Smith family. J.R. started defending his brother and challenging Jennings for popping off on the subject and then deleting his tweet. If Jennings was going to say something along those lines in promotion of his friends Pooh Jeter and Bobby Brown (Cal State Fullerton Bobby Brown not It's MY Prerogative Bobby Brown), Smith wanted him to leave it up there like your hands after you make a big three.
No respect for these lil kids who pop at the mouth on twitter an then want to delete they tweets! #GrowUp! #ManUp! @TheOnlyCSmith0 #Facts!

— JR Smith (@TheRealJRSmith) November 14, 2013
What's curious is Jennings deleted the initial tweet but retweeted Bobby Brown and Pooh Jeter responses thanking him for the support while adding, "I'm just keeping it real." 
"@BBROWNLAU: All day bro!!!RT @PoohJeter: Thanks for the support bro @BrandonJennings ?" #Day1 I'm just keeping it real

— BRANDON JENNINGS (@BrandonJennings) November 14, 2013
Throughout all of this, I really just feel bad for Chris Smith. He's probably someone that has worked incredibly hard to be in the position to even receive a nepotism roster spot on an NBA team. You have to be really good and really dedicated to have that happen. Now, he's not NBA good and most people around the league would confirm that. But he still has just been trying to live out his dream of playing in the NBA.
It's weird that James Dolan is so committed to the Smith family but I'm glad he is. We wouldn't have had our latest NBA beef if it weren't for JD and the Straight Shot.
Really weird beef between NBA players
The first thing I typically think of when I think of NBA beef is the fight between Chris Mills and Bonzi Wells back in 2002. The 2002-03 season was the first season in which I had NBA League Pass and the night of the Mills-Wells fight was a crazy night of basketball. We were roughly a month and a half into the season when all hell broke loose in the eyes of an NBA fan watching games with a friend on a Friday night in December. 
On this night, we had the Detroit Pistons in overtime outlast a Cleveland Cavaliers team that had Ricky Davis put up 42 points, eight rebounds, and seven assists (maybe that's why this night was so memorable to me). Corliss Williamson made the game-winner with seven seconds left and Jumaine Jones missed the game-winner at the buzzer. We also had Robert Traylor tip in the game-winner against the Sonics in another overtime win for the Hornets. 
And the crème de la crème was a Warriors-Blazers game that ended with some big shots. Rasheed Wallace hit a game-winning fadeaway jumper against the Warriors in Oakland and right after the shot went through, we had an all-out brawl. Wells and Mills were tangled up and started jawing at each other. Then Troy Murphy started swinging at the Blazers right before Ruben Patterson started swinging at Murphy.
A Warriors fan threw gum at Rasheed Wallace, causing Wallace to start climbing the up the tunnel barrier to yell at him. We were a thrown beer away from the "Jail Blazers" doing what the Indiana Pacers did at the Palace of Auburn Hills. Sadly, the NBA has made sure there isn't any video of this fight but the legacy lives on in the minds of those who saw it. This is where the story becomes infamous because Chris Mills parked his car in front of the Blazers' team bus. From Philly.com:
Wells was suspended two games on Saturday by the league for throwing a punch at Mills after Friday night's game, which the Blazers won, 113-111, on Rasheed Wallace's last-second jumper. The altercation started a brawl involving players from both sides, and Wallace was fined $15,000 for trying to go after a fan who had thrown a wad of gum at him.

After the teams left the floor, Mills reportedly tried to get into the Blazers' locker room but was restrained. Later, witnesses said Mills parked his car in front of Portland's bus, then got out with several friends and challenged the Blazers.

"Guys were trying to break it up," Golden State's Jason Richardson said. "It was a bad scene, a lot of people could have got hurt. But the league looked at the tape, they saw what guys were trying to do. No one was out there looking for a fight."
Ask anybody that's been around the NBA for quite a while and they'll confirm the rumors that Chris Mills is not somebody you ever wanted to have mad at you. He's kind of in that Charles Oakley range. 
The night was so memorable for those perusing NBA League Pass on the dials. It was overtime thriller after overtime thriller. There was even a Kobe Bryant-Allen Iverson duel in another overtime game that night. And it all seemed to end with Chris Mills parking his car in front of a bus and challenging an entire team to go a couple rounds with him and his friends. It's a little bit more intense than throwing some 140-character barbs at family members.
Jay Z and DeShawn Stevenson beef was kind of hilarious
You know the old saying that our grandparents said to us over and over. "Keep your friends close and rap moguls even close." That's what LeBron James has done during his illustrious career in the NBA. He's befriended some pretty important people in the world, one of them being Jay Z who went from Brooklyn rapper/drug dealer to a phenomenally successful businessman with his hand in just about everything. Even though LeBron can probably arrange anything he wants in this world, it's still probably good to have someone as successful and iconic as Jay Z as your friend. 
During the 2008 playoff series between the Washington Wizards and the Cleveland Cavaliers, LeBron and DeShawn Stevenson were talking a little trash to each other. Stevenson was attempting to get under James' skin by talking a lot of trash and being very aggressive with him. At one point, James said there wasn't a reason to respond to Stevenson's comments because it "would be like Jay-Z saying something bad about Soulja Boy." This caused Soulja Boy to attempt to hit the snooze button on his 15 minutes of fame by going to the playoff series and supporting Stevenson against James.
That's not even the weird part. OK, that is the weird part but there are multiple weird parts here. For some reason, Jay Z backed up his friend LeBron and made a diss track that he played at a club in Washington D.C. during the series. Remember that Jay Z was a part owner of New Jersey Nets back then and was essentially ripping a player in a playoff series that didn't involve the team he had a stake in.
Here's the diss track that he recorded (explicit lyrics have been muted in this version):
Again a part owner of a team recording a track to rip a player in a playoff series not involving the part owner's team. It's almost too perfect.
Bonzi Wells thinks his team played like trash
Before we keep moving down the beef aisle of this rabbit hole grocery store, while looking up video of the Mills-Wells kerfuffle I found this post-game interview of Bonzi Wells when he was with the Rockets. He didn't think very highly of his team's performance in the fourth quarter of that game.
The Rockets ended up losing that game because of a 37-15 fourth quarter by the Warriors to give them the 112-95 victory. Bonzi had three turnovers in the fourth and the Rockets only shot 21.1 percent from the field while giving up 58.3 percent shooting in the final period. That does resemble a trash fourth quarter. 
Also, you can file this under "what a weird video to make" category with a tutorial on how to create Bonzi Wells in NBA 2K12.
One more tangent within this tangent
Speaking of Rasheed Wallace, did you remember that he made the game-winning shot in the 1996 Schick Rookie Game? It was kind of a wild finish with Sheed grabbing an offensive board for the game-winning shot and then Alan Henderson fouling Joe Smith on a made game-winning shot that didn't happen until right after the buzzer.
It's still not as iconic as this Rasheed Wallace moment though when he dropped the buzzer-beater from beyond half court.
Sheed probably deserves his own Rabbit Hole post some day soon. Maybe even a week of them.
Will we ever have another Dennis Rodman wrestling Karl Malone type of NBA situation?
Karl Malone and Dennis Rodman are both Hall of Fame basketball players. Malone is the second all-time leading scorer in NBA history and was inducted into the Hall in 2010. Dennis Rodman is one of the greatest defenders and rebounders of all time. He was inducted into the Hall in 2011. THESE TWO GUYS WRESTLED DURING THEIR NBA CAREERS IN AN ORGANIZED WRESTLING EVENT!
Fresh off of their 1998 NBA Finals showdown, they took to the ring in July of 1998 to be part of a tag team match with Rodman siding with Hulk Hogan and the Mailman siding with Diamond Dallas Page. This was spurred on by Rodman taking up professional wrestling when he was suspended at the end of the 1996-97 season following an incident in which he kicked a cameraman on the baseline. 
This would be like if Ron Artest finally got that Circuit City job after being suspended for the Malice at the Palace in 2005, except he started body slamming customers that needed to know how long of an HDMI cable they'd need for their new TV. The match lasted 23 minutes, but he's a condensed version of it.
There is so much going on here; I don't know where to begin.
- Karl Malone's purple leather pants
- Dennis Rodman may have knocked himself out trying to give Page a shoulder after leap frogging him twice.
- Hogan yelling, "Let's see who the master is" while he's choking Malone.
- On TV, someone has actually exclaimed the words, "diamond cutter on Rodzilla."
- I guess Hulk Hogan is the Michael Jordan of Karl Malone's wrestling career or something.
- Sandwiched in between years in which Karl Malone won the NBA MVP (1997 and 1999) he had a professional wrestling match. Your move, LeBron.
Double Team
Do you remember the Jean-Claude Van Damme movie from 1997 called "Double Team" by any chance? If you haven't seen it, perhaps this 30-second commercial trailer will entice you to fire it up on Netflix. 
Don't have any idea what the movie is about after that trailer? Honestly, I'm not sure that watching the entire movie will give you much more clarity. It's one of the ultimate bad movies that I'd love to live-tweet on any given day. There are a ton of basketball word play moments. There's Dennis Rodman wearing weird stuff. It really has it all. If you don't have time to watch the entire movie, YouTube has the gist of it in a 10-minute video. 
This is why the internet was invented.
Oh and in case you missed it, the writers, producers and director of this movie really thought they needed product placement with Coke vending machines at a Coliseum type of structure to block the good guys from a raging fiery death down the corridor. This was a decision that was made and passed through multiple channels before the final product was passed on to the public.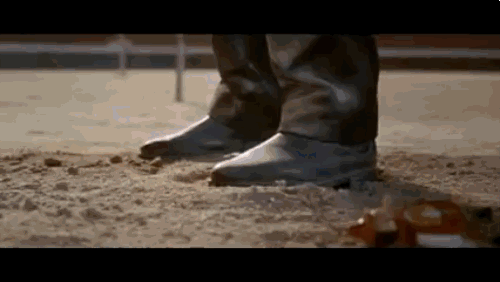 Jean-Claude Van Damme is a hero
JCVD was probably my favorite action star when I was growing up. I loved the roundhouse kicks and him doing the splits in "Cyborg" before he kills a bad guy from above. He had a long list of fantastic action movies that were as good as anything that was out there in that genre. But he wasn't just a fighter. 
He was a lover... of dance. Check him out in the background of the 1984 movie "Breakin" before he got his big break. 
That's not all. The movie "Kickboxer" has him drunkenly dancing before he drunkenly fights off random bad guys. It's always a crowd pleaser.
Now he's a lover of Volvo's incredible steering technology.
Can we get a "Hard Target 2" next year?
We've got all the scores, highlights and news for Thursday night

The Sixers big man got his first All-Star selection -- and maybe some revenge -- on Thursd...

It appears some players are not entirely taking the All-Star voting process seriously
There were some weird discrepancies between the fan, media and player votes

LeBron and Steph will be the captains for the 2018 NBA All-Star Game

Arron Afflalo was involved in an altercation with Timberwolves big man Nemanja Bjelica on...