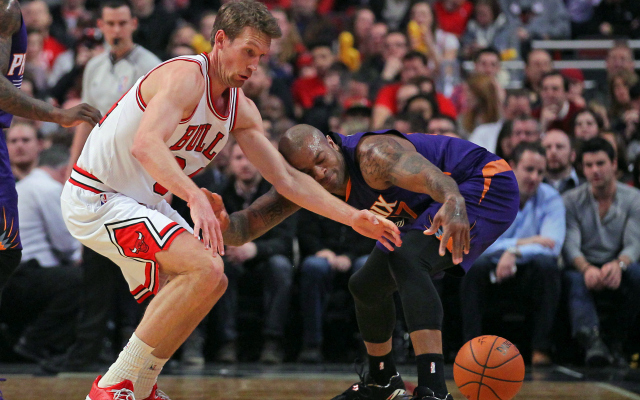 GAME OF THE NIGHT -- BULLS 112, SUNS 107
: On the second night of a back-to-back, Chicago bounced back from its loss in Detroit to beat the Suns. Phoenix really could have used a win here -- it has now lost seven of its last eight games and is 1.5 back of the eighth-place Thunder (more on them later). 
The Suns hung in there despite allowing Pau Gasol to score 22 points on 13 shots and grab 14 boards. Joakim Noah, who spent pregame rapping Migos lyrics, had one of the best 1-for-5 games you'll see, finishing with 12 rebounds and eight assists. Down the stretch, P.J. Tucker and Eric Bledsoe hit timely shots but then Gasol schooled Alex Len:
A Markieff Morris 3-pointer kept Phoenix alive after that, but Derrick Rose hit a couple of free throws, Bledsoe badly missed a 3 and that was that. Three cheers for Archie Goodwin, who had his second straight 12-point game after sitting on the end of the bench for most of his Suns career. He made six of his eight shots.
If you were wondering, Brandon Knight came off the bench for Phoenix. He played 25 minutes, scoring 13 points and dishing five assists. You have to imagine he'll be moved into the starting lineup at some point soon.
JIMMY BUCKETS SAYS NO EASY BUCKETS
: How often do you see someone block a lob pass? Because that's what Jimmy Butler did to Tucker, stifling what should have been an easy alley-oop on a fast break.
THAT'S CHEMISTRY
: Noah and Taj Gibson are in their sixth season together, so you're going to see stuff like this big-to-big alley-oop. Fun.
OK, OKC
: The Hornets aren't exactly a powerhouse, but the Thunder -- without Kevin Durant, who sat because of right foot soreness -- looked pretty good with their new additions in a 110-100 win. Kyle Singler and Enes Kanter started in place of Durant and Steven Adams and didn't look out of place. Russell Westbrook dominated with 33 points, 10 assists and seven rebounds.
This is just a much deeper team now. D.J. Augustin had 12 points in 23 minutes off the bench. Mitch McGary played just 15 minutes but managed to contribute nine points, 10 rebounds, an assist, two blocks and two steals. Kanter had 10 points and 13 boards, plus he had a key stop on his former mentor, Al Jefferson, late in the game. Of course, Dion Waiters only shot 4-for-15 from the field, but that didn't hurt too much this time.
OKC is on a five-game winning streak and has won seven of its last eight. 
MO MONEY
: In his first game for Charlotte, Mo Williams had a team-high 24 points and 12 assists, making five of his 10 3-pointers. For a team that desperately needed his scoring and spacing, this is encouraging. Defense is going to be an issue with him, but he makes sense with the Hornets. 
CHARLOTTE'S RIM IS NOT PROTECTED
: Watch McGary stroll through the lane untouched for a jam:
UGHHHHH
: Anthony Davis reaggravated his right shoulder injury from before the All-Star break, and he had to leave the Pelicans' game against Miami during the first quarter. This is the worst.
A little bit later, Ryan Anderson sprained his right knee. NOT GREAT, BOB.
NOT HOT HEAT
: Miami couldn't even keep close with New Orleans despite what happened to Davis and Anderson. Goran Dragic went 0-for-5 in his first half in a Heat uniform (but had 10 points in the third quarter), and Dwyane Wade had a tough shooting night in a 105-91 Pelicans. Mario Chalmers, of all people, had 20 points on 13 shots, but this was generally a bummer. Eric Gordon (24 points, 6-for-11 3PT) and Omer Asik (15 points, nine rebounds) gave Miami all sorts of problems. 
YOUR HASSANITY UPDATE
: The line: 11 points, 16 rebounds, five blocks, 5-11 FG, 30 minutes. And then there was this:
Hassan Whiteside leaves the locker room wearing a t-shirt that says "Trying to get my 2K rating up."

— Ethan J. Skolnick (@EthanJSkolnick) February 22, 2015
C'mon, man.
NORRIS DAY
: The American Airlines Arena crowd gave Norris Cole a very nice ovation when he checked in for the Pellies. 
LINE OF THE NIGHT -- TIE: COREY BREWER/JAMES JOHNSON
: Corey Brewer scored 51 points in a game last year, so I suppose we shouldn't be that surprised when he puts up numbers. Still, he's not exactly the Rockets' No. 1 option, and he dropped 26 points on 12-for-19 shooting on the Raptors, adding 10 rebounds, two assists and five steals in 35 minutes. 
Meanwhile, Toronto forward James Johnson has played extremely well since coming back from a hamstring injury, but this was something else. Johnson had 27 points on 10-for-16 shooting, plus five rebounds, four steals and four blocks in 35 minutes in Houston.
WHAT ABOUT THE REST OF THE RAPTORS?
: Unfortunately for Toronto, Johnson was pretty much on his own. The Raptors shot 32.5 percent as a team and missed 14 of their 18 3-pointers. They turned the ball over 23 times and made just 25 shots. The Rockets won 98-76 even though they were pretty darn sloppy themselves. 
WELP
: It wasn't exactly the League Pass night of the year. In the late game, the Clippers led Sacramento by as many as 37 points en route to a 126-99 blowout victory. The Kings is trying to run under George Karl, but they're going to have to play some defense, too. Austin Rivers (!) had a career-high 28 points, J.J. Redick had 24, Jamal Crawford had 23. The Clippers are 37-19, which is the same record they had after 56 games last year.