Earlier this season, Atlanta Hawks swingman Kent Bazemore made a bold prediction, telling CBS Sports that Kobe Bryant would come through with a 50-point game in his final season. With just two games left, it's looking unlikely -- Bryant laughed off Shaquille O'Neal's challenge to do it in his final game. As Bryant's career comes to a close, let's take a look back to when 50-point games seemed to come easily to him. 
In March 2007, Bryant reached that mark four straight times in the course of a week. There is only one other player to score 50 points four games in a row, and his name is Wilt Chamberlain.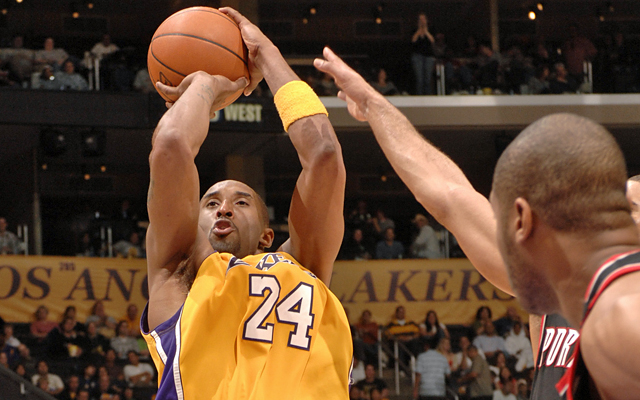 Background: In 2006-2007, the Lakers' roster was not exactly stacked. The streak happened a couple of months before Bryant's trade demand and 11 months before Pau Gasol arrived in Los Angeles. Andrew Bynum, just 19 years old, was in his second season. Luke Walton was the Lakers' third-leading scorer. And two important things preceded the 28-year-old Bryant catching fire.
First, Bryant was suspended one game earlier that month for hitting Minnesota Timberwolves guard Marko Jaric in the face. This was his second such incident of the season -- in January, he had been suspended a game for doing the same to San Antonio Spurs guard Manu Ginobili. Later, after Bryant's fourth 50-point game, Lakers coach Phil Jackson told reporters that he thought the suspension was motivation. Bryant agreed.
"The thing that was frustrating for me was people were talking about, 'He's a dirty player,' which, for me, is pretty insulting," Bryant said. "To have people talking about something else besides that -- it's a much better feeling."
Second, before Bryant's remarkable run, Los Angeles was on a seven-game losing streak, the longest of Jackson's coaching career. Lamar Odom and Walton had both been out of the lineup, and some of those games were rough. The night before the start of the streak, the Lakers lost by 27 points in Denver. That one came after a 36-point loss at home to the Dallas Mavericks. 
Bryant was at the height of his powers, and the Lakers absolutely needed him to be. All four of the games in this streak were close, so none of Bryant's 225 points were accumulated in garbage time. Most important to Bryant: all of those 225 points came in wins. 
Game 1: March 16, 2007, vs. Portland Trail Blazers (65 points):
After that blowout loss against the Nuggets, the Lakers didn't arrive back home until 6 a.m. local time. Their chartered plane had to turn back 15 minutes after takeoff because of limited cabin pressure, and their replacement plane didn't leave until 4:30 a.m. Denver time. Bryant, though, joked that the plane ride was "awesome" -- he had the opportunity to sleep in.
Bryant made 23 of his 39 shots, including 8-for-12 from 3-point range, to get to 65 points. In the second quarter of Los Angeles' 116-111 overtime win, he stole the ball from Brandon Roy, who immediately fouled him to prevent a fast break. Bryant, a good few feet beyond halfcourt, shot the ball anyway and banked it in. Sadly, it didn't count.
Twenty-four of Bryant's 65 points came in the fourth quarter, and he had nine more in overtime. In a 14-minute span, he scored 33 points on 11-for-13 shooting, including 5-for-5 from 3-point range. When people talk about Bryant being able to will his team to a victory, this is what they mean.
"My daughter is outside waiting for me, and I'm sure she doesn't give a damn about what just happened. She just wants to watch Care Bears," Bryant told reporters. "I'm just happy we won. We needed to get this one."
Odom, however, told reporters that Bryant had given him another story to tell his kids. I'd like to know how he planned to describe the moment in overtime where Bryant caught the ball in the corner, was double-teamed by Roy and LaMarcus Aldridge, then hit a turnaround 3-pointer off the dribble with Aldridge's hand in his face. 
"Kobe Bryant made big shots. He made tough shots," Blazers forward Zach Randolph told reporters. "If he would have missed one, it probably would have given us a chance."
Game 2: March 19, 2007, vs. Minnesota Timberwolves (50 points):
Bryant picked up where he left off two days earlier, scoring 14 points in about eight minutes to start the game. The Lakers led by as many as 17 points in the first quarter, but the Wolves hung around and made a run in the fourth. 
Bryant got to the basket whenever he wanted, but again his best highlights were from long range. He hit one 3-pointer with Kevin Garnett allowing him almost no space to get a shot off, and he hit another off the dribble at the end of the third quarter over both Trenton Hassell and Mike James. He finished 17-for-35 from the field en route to his 50-point effort, capping the night off with a two-handed dunk on a fast break.
"I'm just being more aggressive at both ends of the floor," Bryant told reporters after the 109-102 win. "At this point in the season, it's important that I stress the sense of urgency that we have to have, and the type of emotion and energy that you have to play with."
The game lifted Bryant's scoring average to 30 points per game, overtaking Carmelo Anthony as the league leader. 
"We should have trapped him earlier," Garnett told reporters. 
The best part: After Bryant scored 115 points in two games, Jackson was asked if he thought that Bryant would continue to carry Los Angeles like this.
"I have no idea," Jackson said. "Don't ask me those kinds of questions. I cannot be a seer. I think with Luke and Lamar back in the lineup, we have more offensive firepower."
Game 3: March 22, 2007, at Memphis Grizzlies (60 points):
 
In the second half, Bryant's brilliance was overshadowed by March Madness: the University of Memphis was playing in the Sweet 16, so the FedExForum showed crunch time of that game on the jumbotron. The crowd's reaction was distracting, so officials put a stop to it. 
It's hard to believe that happened during a game like this. Not only did Bryant score 60 points on 20-for-37 shooting, it went right down to the wire. Gasol had 35 points and 15 rebounds for Memphis, and Mike Miller added 33 points and seven assists. Late in the third quarter, the Grizzlies had a five-point lead. The final score was 121-119.
This might have been an even better all-around performance than the Portland game. In the first quarter, Bryant drove baseline and threw down a vicious, one-handed reverse dunk. He hit floaters and fadeaways, and he rose for a huge alley-oop dunk from Shammond Williams. Near the end of the first half, he caught the ball five or six feet beyond the arc on the right wing, then launched a Stephen Curry-like 3-pointer before a double-team could get there. It went in. 
"When he gets going like that there's not a whole lot you can do," Miller told reporters. "That's why Kobe is who he is. He doesn't get tired. He's in great shape. He's got his foot on the accelerator the whole game."
 Bryant said that he wasn't taking difficult shots, and his teammates were doing a great job of passing and screening for him. That was partially true. He also called it a "tremendous honor" to join Chamberlain, Elgin Baylor and Michael Jordan as the only players to score 50 points in three straight games. 
"It's a blessing to be on the court with him," Odom said.
Game 4: March 23, 2007, at New Orleans Hornets (50 points):
Leading up to the game, Hornets guard and former Laker Jannero Pargo told his teammates that they couldn't let it become the Kobe show. 
"You don't want to get beat by one guy," Pargo said. "If three guys have a great game and they beat you that's fine. But you don't want to lose a game to one guy just dominating the whole game."
Easier said than done. Bryant dropped 50 points on 16-for-29 shooting, including 17 points in a dominant third quarter. Early in that quarter, he used a screen from Kwame Brown behind the 3-point line, then hit a should-be-impossible 3-pointer off the dribble over the outstretched arms of Tyson Chandler and Devin Brown. Minutes later, he blew by Chris Paul, hopped into the lane and hit a floater over Chandler. On the next possession, he hit a contested corner 3 and then high-fived a courtside fan. 
"I went over to the sideline and I said ... watch this 3, I've got a 3 for you," Bryant said. "Then I knocked down a 3 and gave him a high-five."
And here's my favorite story from his whole incredible streak: New Orleans coach Byron Scott told reporters that, when watching film of Bryant's recent games as preparation, he found himself rewinding just to marvel at the way he was shooting. According to ESPN's recap, Scott "looked like Bryant's fan in the hallway outside the locker room after the game, giving his former teammate a prolonged hug." Some things never change.
"He's just so good, Scott told reporters. "He's such a competitor and he lives in the moment. This is the moment right now with a playoff-type atmosphere. We knew he was going to come out and play like that."
The aftermath:
KOBE'S 50-POINT-GAME STREAK IN 2007
Date
Team
SCORE
MIN
FG
3P
FT
REB
AST
BLK
STL
PTS
MARCH 16
W 116-111
50
23-39
8-12
11-12
7
3
0
3
65
MARCH 18
W 109-102
45
17-35
4-9
12-14
5
3
0
3
50
MARCH 22
W 121-119
45
20-37
3-7
17-18
6
4
0
0
60
MARCH 23
W 111-105
47
16-29
2-5
16-16
7
1
1
0
50
On March 26, a day after the streak ended with a 43-point performance in a two-point win over the Golden State Warriors, ESPN's Jemele Hill wrote that Bryant was a better player than Michael Jordan and should be named MVP. That same day, Yahoo Sports' Steve Kerr -- yes, Yahoo Sports' Steve Kerr -- wrote that "it may be time to debate whether or not he's the most complete offensive player in the history of the NBA." Both Hill and Kerr followed up by addressing some of the many, many emails they received on the subject four days later. 
Bryant wound up averaging 40.4 points that March, including a 53-point game against Houston a week after the end of the streak. He had two more 50-point games in April, and he finished third in MVP voting behind Dirk Nowitzki and Steve Nash while averaging a league-best 31.6 points. The Lakers snuck into the playoffs with a 42-40 record, losing to the Phoenix Suns in five games in the first round. In his prime, Bryant wanted much more, hence the offseason trade demand. 
It's unlikely that anything like this will ever happen again, even with Curry breaking all sorts of records. Bryant's minutes totals over those four games were 50, 45, 45 and 47 -- with the exception of Jimmy Butler under Tom Thibodeau, players just don't do this in the regular season anymore. And even if someone was to be pushed like that, what are the chances that he would have Bryant's skills and mentality? 
"He just smells blood in the water," coach Phil Jackson said, via the Seattle Times. "He's going to go after them. That's what you see and admire in Kobe is that he's going to attack. He's going to be in that mode and he's going to continue to go at a team until you stop him."
Back then, nobody could.