The Philadelphia 76ers were a historic tanking team. They made deals mid-season and ended up on a 26-game losing streak, something only one other team in NBA history has ever done. But the masterpiece that Sam Hinkie had been putting together for nearly a year wasn't going to be outdone at all. Anybody can come in and tank for an entire season but it takes onions to attempt to build a playoff team before pulling the plug on a very attainable goal in order to keep a top 8 protected pick.
Enter Joe Dumars: a man whose ineptitude knows no bounds. This is a man who gave Charlie Villanueva and Ben Gordon a combined $95.7 million in one offseason following the dismantling of a perennial contender. This is an executive who then traded Gordon to the Charlotte Bobcats in order to get himself some cap flexibility a year earlier. This is a man who then threw $78 million at Josh Smith and Brandon Jennings this past summer in an attempt to make the Pistons a playoff team.
That's after years of watching those two players consistently take jumpers that made their own fans audibly say, "No!" when the shots would go up. You think you know what tanking is, Sam Hinkie? You can imagine the incompetence and allergy to winning Dumars has developed over the years running this Pistons team. He may not be around the team much longer but his impact will be felt for years to come. Your 26-game losing streak is fleeting but a Pistons debacle seems like forever. Just ask their fans.
Don't forget; the winner gets Master P's gold tank and the best lottery odds: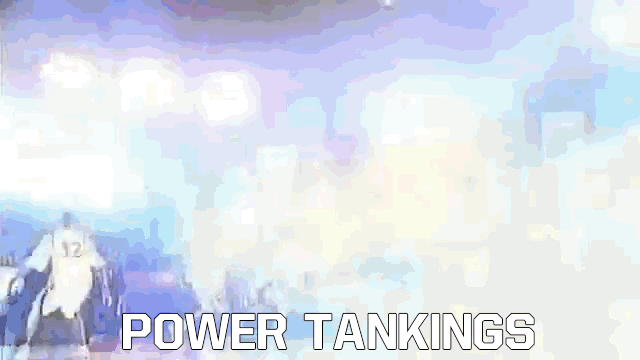 Here are the Week 23 Power Tankings:
Record: 26-47 (1-3 last week), Net Rating: -4.1 points per 100 possessions
The Detroit Pistons will not be denied unless you're denying them a victory over a team on the brink of making futility history and they'll very much take some denial to go with that loss. Because of a trade back in 2012 that swapped Ben Gordon for Corey Maggette, the Pistons owe the Charlotte Bobcats a first round pick. Because Joe Dumars is like watching Mr. Bean run an NBA team, that pick is only top 8 protected in this year's draft. Despite being within striking distance a couple weeks ago when it comes to the playoffs in the East, the Pistons have fallen like Olympus. 
They've won just four of their previous 20 games with the capper coming in a 25-point loss to the same Philadelphia 76ers team that was on a 26-game losing streak. You can try to explain to me how the Pistons aren't tanking and would never do that. Or you can look at this .gif from early in the loss to the Sixers: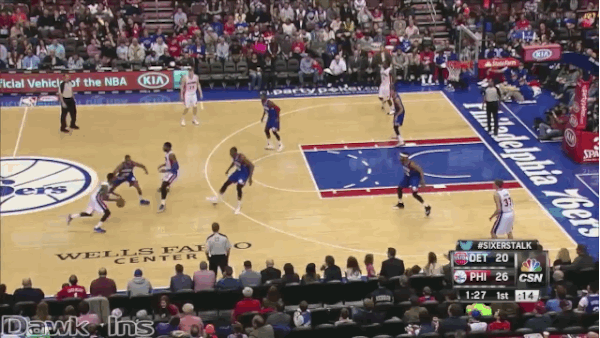 Record: 16-57 (1-2 last week), Net Rating: -11.1 points per 100 possessions
So they did it! The Sixers tied the worst losing streak in NBA history before blowing out the Pistons in hilarious fashion. Tony Wroten was slinging the ball all over the place and the team and fans celebrated like the win really meant something because, honestly, it did. As much as we like to poke fun at the Sixers' season so far, nobody actually wants to lose to the historically most inept team in NBA history. That's what they would have been had they outright lost the most consecutive games in NBA history. Not that there is much pride to take in tying the record, but they showed pride, fought, and got out of a spiral.
The amazing thing remains throughout all of this that they still haven't caught the Bucks for the worst team in the NBA. The good news is the Pistons face the Bucks Monday night and the Pistons are just desperate enough to drop this one too.
Record: 14-59 (1-2 last week), Net Rating: -8.8 points per 100 possessions
The win over the Los Angeles Lakers this week is probably what kept them from dropping the Sixers back to third in Power Tankings. Their ability to maintain the worst record in the league even during a historic losing streak from the team trying to catch them is the stuff legends are woven from. They went 6-21 during the Sixers' streak, just bad enough to maintain a two-game lead, which also highlights just how horrendous they were prior to late January.
They're also sitting Ersan Ilyasova with an ankle injury that apparently doesn't need surgery but will keep him out for the rest of the 2013-14 regular season. That's a great move by the Bucks in terms of Power Tankings. Had they not outlasted the Lakers this past week, that move would have put them second behind the Pistons. "We have a guy with an injury and the injury isn't bad enough to require surgery but we want to be bad enough to maintain our lottery position."
Record: 23-51 (0-4 last week), Net Rating: -8.5 points per 100 possessions
Gordon Hayward on the end of the season coming soon: "I think we all realize how close it is. And that's something we're trying to keep out of our minds. We're just trying to take it game by game. We all have a lot to prove. We have a lot of improving to do. We can't look to the summer yet, but we realize how close it is."
This Jazz team is locked in for finishing out the season the right way. Fan Appreciation night in Utah will be April 14th when they host the Lakers. First 10,000 fans should get an ether rag and one of those old McDonalds' Team USA plastic cups they sold back in 1992 for the Summer Olympics. Either that or the chance to dunk on Greg Ostertag with the trampoline squad.
Record: 23-50 (0-3 last week), Net Rating: -5.2 points per 100 possessions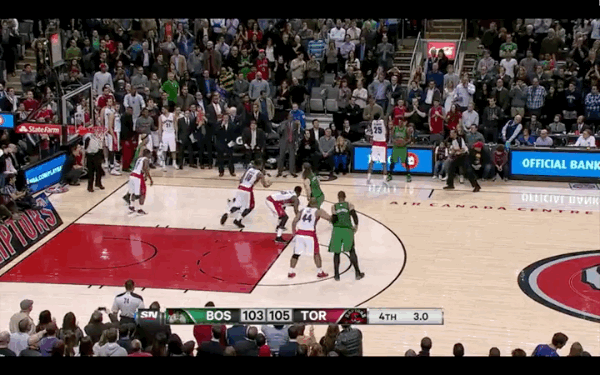 Down two points with three seconds left and a chance to delay the playoff clincher for the Toronto Raptors and this is the shot the Celtics got. Danny Ainge continually downplaying this draft's importance is the 90-minute setup to Sullinger taking this shot as the shocking twist in an M. Night Shyamalan movie. This is essentially Lady in the Water and none of us should have to pay to watch it.
Record: 25-48 (2-2 last week), Net Rating: -6.1 points per 100 possessions
I haven't been covering NBA games in-arena for all that long but this is my fifth season as a credentialed member of the media. I've seen a couple hundred games live in these five years, which is a decent chunk of professional sporting events to get to go to. In my five years, I've seen some pretty horrendous basketball, considering I was in Sacramento those first two years and have been in Minneapolis the past three. I got to see this Lakers team come to town on Friday night.
I've seen some lethargic play in my time, but I've never seen a player appear to care less in person than I did with Kendall Marshall. Maybe I just caught him on a bad night? He's had a rough month of March, shooting 30.3 percent from the field and 3-point range to go with 25.0 percent from the free throw line. He bounced back Sunday against his old Suns team, but that game in Minnesota left me wondering how invested he is in his own NBA career. The joys of seeing a horrendous team on a random road night last in the season.
Record: 21-53 (2-1 last week), Net Rating: -5.1 points per 100 possessions
Aside from the free throw line, I'm not sure we've seen much growth from Nikola Vucevic from last season to this season. Last season, he showed that he could rack up some individual numbers if he was given the time Doug Collins didn't want to give him in Philadelphia. This season, he hasn't improved much from last year but he at least showed that his second season improvement wasn't a fluke. He's essentially putting up the same numbers this time around.
So at worst, you're getting a double-double machine who can be a decent defender? How many teams would take that type of player? That's what makes his impending contract extension talks really interesting for the future of Orlando's cap space. What will Orlando have to offer him to keep him from hitting restricted free agency? Are they willing to do that to prove they won the Dwight Howard trade? Could it cripple their cap down the road? 
Record: 25-48 (0-3 last week), Net Rating: -2.9 points per 100 possessions
The Kings remain impressively competitive this season and they almost pulled off the upset in Dallas on Saturday. They were down three points when Quincy Acy corralled a rebound, threw an outlet pass, and the Kings dribbled up the court with five seconds left and put up a game-tying attempt. This is what a non-tanking team would do, right? That's what they want you to think. 
Acy's pass went to Travis Outlaw, who was on the floor in a clutch situation. In fact, Acy was on the floor in this situation along with Ben McLemore, Rudy Gay, and Ray McCallum. Due to injuries, McCallum played the entire 48 minutes as Isaiah Thomas is out with some sort of alleged thigh contusion. But Acy and Outlaw on the floor in crunch time when you need a clutch 3-pointer? And Outlaw ended up taking that three? I see right through you.
Record: 30-45 (3-1 last week), Net Rating: -4.4 points per 100 possessions
I'm not even sure I feel good about keeping the Cleveland Cavaliers in the Power Tankings with the week they've had. They took the Kyrie Irving injury in stride, which may be the first thing they've taken in stride all season long. They're only 2.5 games out of the 8-seed in the East with seven games to play. However, they're four games back in the loss column. It would take a pretty significant collapse from an Atlanta Hawks team that is basically an infirmary right now and the New York Knicks who could KnicksTape at any time and break the door wide-open for the improbable.
More likely than not, the Cavs fade into the abyss of the lottery but it was fun to see them beat the Raptors and Pacers in the same week in which they could have been throwing in the towel on a nightly basis.
Record: 36-36 (2-2 last week), Net Rating: +1.8 points per 100 possessions
Not sure they can actually make it past any point other than being a team to keep an eye on the past few games of the season. They're 4.5 games ahead of the New Orleans Pelicans with 10 to play. The likelihood of them being able to tank out enough games to move up to the 12th pick in the draft is low. Instead, they'll have to hold on to whatever team ends up 14th in the lottery odds process doesn't hit on that 1.8 percent chance of moving into the top 3, which would then move the Wolves to 14th and the pick to Phoenix.