2014 NFL Training Camp Battles: Who will help Sam Bradford?
A look at the key NFC West training camp battles.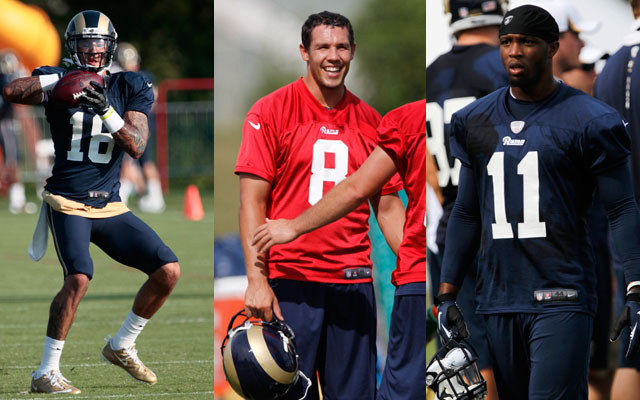 More NFL: Photos |   Videos & GIFs |  Stories | Training Camps |  Manziel watch 
The big, bad NFC West is going to be fun to watch again in 2014. It's unquestionably the best division from top to bottom, with the Seahawks (defending Super Bowl champions), the 49ers (three-straight NFC Championship Games), Cardinals (10 wins last year) and underrated Rams (best pass rush in the NFL). Fighting for roster spots around these parts won't be easy.
CAMP BATTLES TO WATCH: NFC WEST
SEATTLE SEAHAWKS
Key Battle: Michael Bowie vs. Justin Britt, RT
The Jets snagged Breno Giacomini in free agency this offseason, opening up the right tackle spot in Seattle, a pretty critical position in Seattle given their dependency on running the ball.
Bowie's a seventh-round draft pick from 2013; the second-year player's got versatility on the right side and eight starts in nine appearances last year.
Britt's a second-round pick who played left tackle at Missouri his final year but sports the ability to step in on the right side if needed. If Tom Cable is calling you nasty ... you nasty.
"He's an ornery, nasty guy that plays the game the right way," Cable said following the draft.
And man does he sound like a Pete Carroll "guy."
"He's another really tough kid," Carroll said. "He's got a really good attitude, love his mentality for playing the position. He's got all of the qualities – he's a big, long, tough, strong guy. He's going to fit in just right."
Predicted Outcome: Britt in the upset, if only because the Seahawks don't care about running rookies out there or doing things differently (starting guard J.R. Sweezy was a defensive lineman in college).
Other Battles to Watch: Robert Turbin vs. Christine Michael, RB ... Who's gonna backup Marshawn Lynch (and, ostensibly, ease his load as he ages?). Turbin's been the backup but the team invested heavily in Michael, who has the athleticism and strength to become a feature back in Seattle's power run game.
SAN FRANCISCO 49ERS
Key Battle: Chris Culliver vs. Chris Cook
The Niners need to improve a secondary that's leaked in recent years. Safety Eric Reid would be a breakout candidate ... but he already broke out in his first year and 2014 rookie Jimmie Ward will be a very interesting addition, depending on how he makes the transition to nickelback.
Tramaine Brock is a lock to start at the first cornerback spot, but after that Cook and Culliver should battle out to see who lines up on the other side of the field.
Culliver played substantial minutes during their Super Bowl run two years ago, but suffered a torn ACL during training camp last year and missed 2013.
Cook spent the past four years with the Vikings, but has yet to record his first career interception.
Predicted Outcome: Culliver takes the gig, provided he's healthy enough.
ARIZONA CARDINALS
Key Battle: Bradley Sowell vs. Bobbie Massie vs. Nate Potter
With the addition of Jared Veldheer in free agency the Cardinals finally have some upside -- and hopefully, consistency -- at the left tackle spot. Levi Brown (drafted ahead of Adrian Peterson!) occupied the position for many years in unimpressive fashion.
Add in "bonus" first-round pick Jonathan Cooper coming back from injury and suddenly the left part of the Cardinals line could be a strength. Not so much on the right side of things.
Sowell stepped into the left tackle position in 2013 when Arizona dealt Brown to the Steelers, Massie is probably the favorite and Potter is ... "the smartest."
"We're going to keep throwing those three guys out there and see who comes out on top," Bruce Arians said recently. "Bobby has done very well, Bradley is inconsistent and Nate is probably the smartest of the three. It's just a matter of physically holding up. Again, you wait for pads for all that stuff."
Predicted Outcome: Massie gets the gig. He's the most physically talented, is leading the competition and can maul more on the right side than he would if he were on the left.
ST. LOUIS RAMS
Key Battle: Tavon Austin vs. Chris Givens vs. Austin Pettis vs. Kenny Britt vs. Stedman Bailey vs. Brian Quick, WR
That's a whole lot of names on the wideout depth chart for the Rams, huh? St. Louis has spent the past few years looking to acquire viable targets for Sam Bradford (include tight end Jared Cook as well) and while none of those guys are pure "No. 1" wide receivers, there's certainly some hope they can emerge as an impressive collection of players.
Austin's the 2013 first-round pick who was underutilized for most of last season; he had his moments (notably a mammoth Week 10 game against the Colts where he had nearly 300 total yards receiving and returning) but wasn't worth what the Rams gave up to acquire him. He's a theoretically "modern" wide receiver and will see the field. Maybe.
Givens/Pettis/Quick are the oddest little collection aren't they? Like small-school drafted trinkets on a wide receiver charm bracelet or something.  Quick has the upside of an early second-round pick from a small North Carolina school. Givens is the same thing except he was taken in the fourth round and has actually produced. (And, hence, the best bet for continued success here.) Pettis
Britt is a former star under Jeff Fisher with more red flags than a referee convention. It's impossible to expect anything of substance from him but he does have a good history with his current coach and gobs of upside.
Bailey's the sneaky guy here, for my money. Didn't have a monster rookie year or anything (17 catches, 226 yards) but he put up good numbers down the stretch with Kellen Clemens under center.
Predicted Outcome: Givens and Pettis nab the starting rolls with Austin in the slot, which may be problematic (for Austin) since we're going to see a lot of running from the Rams after they drafted Greg Robinson to pave holes for Zac Stacy. For as hodgepodge as this group feels it could actually end up being pretty productive and/or interesting for Sam Bradford.
With their 2017 season basically over, it's time for Texans fans to turn their attention to...

Now 10 different players have intercepted Tom Brady multiple times in one game
Brady lofted it between two defenders and Lewis snatched it with one hand

Lawrence says the NFL should protect pass-rushers like it protects quarterbacks

With their 2017 season basically over, it's time for Redskins fans to turn their attention...