NFL MVP Projection: Lions WR Calvin Johnson shoots up the list
The NFL MVP Projection list welcomes two new players this week: Bengals quarterback Andy Dalton and Lions wide receiver Calvin Johnson.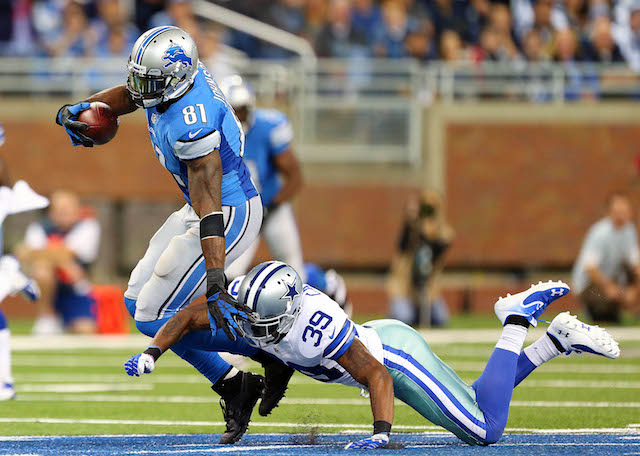 We've officially reached the midpoint of the NFL season and if you've been reading the MVP Projection since Week 1, you'll notice that nothing's really changed. Peyton Manning was on top of the list in Week 1 and he's on top now. 
Actually, a few things have changed though. We have two newcomers to the list this week: a red-headed quarterback and a transformer. Here's two hints on who those players are: the red-headed quarterback is not Jeff Garcia and the transformer is not an autobot. 
This list only looks at the MVP Award, but if you want to know who our midseason defensive MVP is or who our midseason offensive rookie of the year is, be sure to check out our midseason midtacular here. Midtacular's not a word, is it?
Anyway, lets get to the projection, where I promise not to make up any more words. 
MVP Projection
1. Broncos quarterback Peyton Manning: Manning threw three interceptions against Washington on Sunday and the Broncos still won by 24 points. Too bad Peyton seems to be the only Manning who can get away with winning after a three pick game. If the Giants won every game this season where Eli threw three interceptions, they probably would've clinched the NFC East by now. 
2. Colts quarterback Andrew Luck: Here's a weird fact for you: Luck and the Colts were the only AFC South team to win a game in October. Luck was on a bye last week, that's why I'm resorting to giving you weird facts. Another weird fact: Andrew Luck likes oatmeal with strawberries in it. Again, Luck was on a bye, weird facts are all you're getting.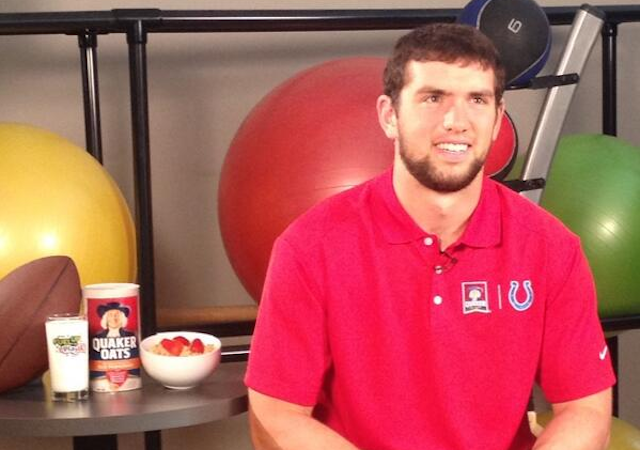 3. Saints quarterback Drew Brees: Since 2011, there have only been a total of seven games in the NFL where a quarterback throws five or more touchdown passes and no interceptions. Brees has three of those performances, including one on Sunday in the Saints' 35-17 win over Buffalo. If Brees has eight more of these types of games, he might overtake Manning in the MVP race. 
4. Bengals quarterback Andy Dalton: On the MVR list (Most Valuable Redhead), Dalton stands alone at No. 1. Unfortunately for Dalton, this MVP projection includes players of all hair colors, so he's not No. 1 overall. Dalton has been on fire (pun intended) lately. Over the past three weeks, here's list of quarterbacks that have thrown more touchdown passes than Dalton: No one. Dalton's 11 touchdown passes since Week 6 are two more than Peyton Manning's nine over that same span. Dalton's 1,034 yards over the past three weeks trails only Manning (1,034) and Matthew Stafford (1,093). 
5. Lions wide receiver Calvin Johnson: Megatron's on this list because he made NFL history in Week 8 and if you make NFL history, I'm probably going to put you on this list. Johnson totaled 329-receiving yards in the Lions 31-30 win over the Cowboys, an NFL-record for four quarters. I know what you're thinking, 'WHAT ABOUT FLIPPER ANDERSON AND HIS 336-YARD NFL RECORD?' The answer to that is simple: Anderson's record was set in an overtime game. After four quarters of play, Flipper only had 296-yards. Sorry to all of you Flipper fans for bringing that up. If it makes you feel any better, I'm being Flipper for Halloween -- not the former NFL player though, Flipper the Dolphin. 
6. Chiefs linebacker Tamba Hali: Chiefs quarterback Alex Smith threw two touchdown passes in the entire month of October, so we know the Chiefs aren't exactly winning because of him. Kansas City's winning because of Jamaal Charles and the defense. I'm choosing not to reward Charles yet, instead I'm rewarding the Chiefs defense and Hali for only giving up an NFL best 12.3 points per game this season. When you're only giving up 12.3 points per game, you can stay undefeated with only two monthly touchdown passes from your starting quarterback. 
7. Packers quarterback Aaron Rodgers: Rodgers outperformed Christian Ponder on Sunday, to the surprise of exactly zero people in the world. Here's something you might find surprising though: Rodgers' 31-yard rushing total in Week 8 was more rushing yards than Marshawn Lynch, Le'Veon Bell or Willis McGahee had. 
8. Colts linebacker Robert Mathis: Mathis spent his bye week watching the Indiana Pacers play. The Pacers scored 97 points in a win over Orlando, which is funny because that's how many sacks it seems like Mathis is on pace to get this season. OK, that's an exaggeration, he's not on pace for 97 sacks. Mathis does have a league-leading 11.5 sacks through seven games though, putting him on pace for an NFL-record 26.3 sacks.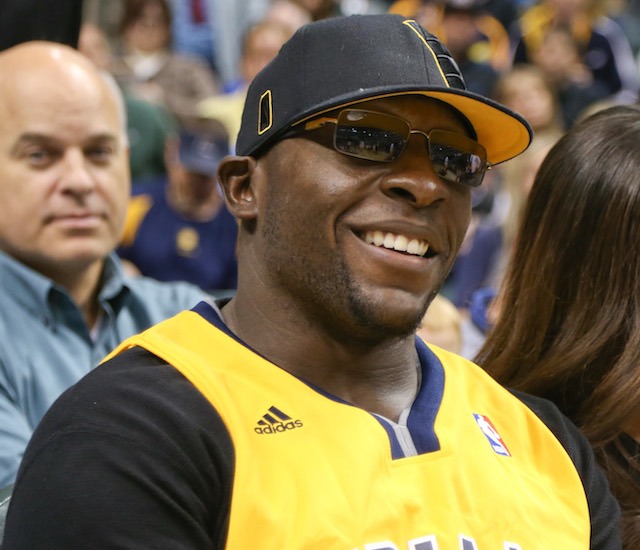 Did I leave someone off the list? Is there another red-head that should be here? Are you related to Flipper Anderson and want to explain to me why overtime records count too? Let me know in the comment section or on Twitter.
---
Follow John Breech on Google+
Grab some turkey and get ready for this NFC North showdown

SportsLine's top NFL and college football experts pick a 4-team parlay that pays 10/1

After an epic collapse against the Saints, the Redskins are hoping to right the ship
Brice Irvin is not a happy camper right now

Linda Del Rio is not happy with the president

The former New Orleans Saints wideout leads the NFL in 40-yard catches with New England