Heading into the 2014 season the Browns likely will have a training camp battle to see which quarterback will lead the team into the future.  Brian Hoyer, who went 3-0 for Cleveland last season will likely compete with No. 22 overall pick Johnny Manziel for those honors.
Manziel clearly will be the franchise quarterback -- even if the team is doing everything it can at this point to downplay Manziel's track -- and the former Texas A&M star is confident in his abilities to turn around the fortunes for Cleveland.
After all, this is what he said in February about the possibilities that the Browns would draft him:
"If something happens, and it's the Cleveland Browns, I'm going to pour my heart out for the Dawg Pound and try to win a Super Bowl for Cleveland. I don't care if they've had 20 starting quarterbacks since 1999. I'm going to be the 21st and the guy that brought them the Super Bowl."
Manziel is certainly right about one thing. Since Cleveland was awarded the Browns again in 1999, the team has used 20 starting quarterbacks. Quite a few were drafted in the first round, others were taken as late-round fliers. Some were acquired with a trade, and others came via free agency.
But what do they all have in common? They all failed to becomes a long-term answer at quarterback. Maybe Manziel is the answer. Maybe Hoyer can hold off Manziel for the next few years. Maybe the next Browns savior hasn't even been born yet.
Until then, let's revisit the past Cleveland quarterbacks and rank them from worst to best using a proprietary formula of expectations, time spent in a Browns uniform, good intentions and other variables only I'm privy to. You might be surprised who's No. 1, and you might be surprised where Tim Couch ultimately landed. Enjoy this trip down Browns QB Memory Lane.
20. Brady Quinn, 2007-09, drafted by Browns 22nd overall in 2007, 3-9 as a Browns starter: Before there was a Johnny Manziel drafted at No. 22 and before there was a Brandon Weeden drafted at No. 22, there was Brady Quinn. Who was rafted by the Cleveland Browns at No. 22. At one point, Quinn was considered a possibility to go No. 1 overall (no, really, he was), but instead, he had to be saved by Cleveland, which traded back into the first round and gave up a first- and second-round pick to snag him. Although he had weapons in running back Jamal Lewis, receiver Braylon Edwards, tight end Kellen Winslow and left tackle Joe Thomas, Quinn simply didn't play well enough to remain as the starter. But say this for Quinn: for six years after he was drafted, he still had an NFL job. Quick, say something nice: "We didn't expect Brady Quinn to fall as far as he did [in the draft] We started calling teams at No. 12. We had Brady rated very high on our board, just not top three." -- GM Phil Savage, 2007
19. Brandon Weeden, 2012-13, drafted by Browns 22nd overall in 2012, 5-15 as a Browns starter: There have been so many jokes about Weeden's age and about his losing ways and about THIS ...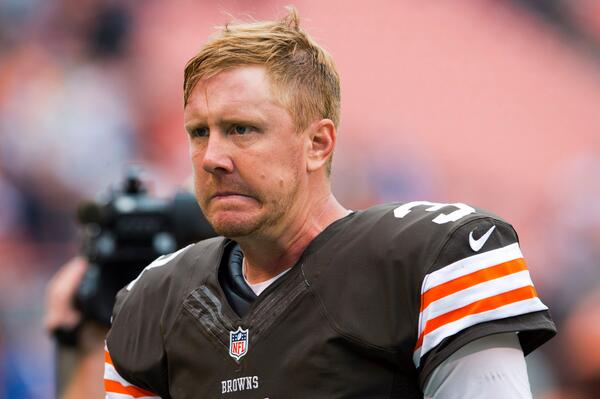 ... that I hope you don't forget that he wasn't THAT bad as a rookie. Yeah, he wasn't in the same league as fellow 2012 draftees Andrew Luck and Robert Griffin III -- or even Ryan Tannehill -- but if you looked closely, Weeden's performance could have led to some kind of optimism heading into 2013. But he was atrocious last year, and the Browns couldn't get rid of him quickly enough this offseason. Now, we'll see if he can make the Cowboys squad. Quick, somebody say something nice: "He's got a strong arm, he's accurate, he's smart and picking up the offense was nothing for him." -- GM Tom Heckert, 2012
18. Luke McCown, 2004, drafted by Browns in fourth round in 2004, 0-4 as Browns starter: He didn't last long in Cleveland, as the Browns traded him to Tampa Bay after the season. But Butch Davis was a fan of McCown going back to high school, and he thought Josh McCown's younger brother could help. And McCown had the chance to do so with Jeff Garcia battling a shoulder injury (as well as Browns management) midway through the season. But he completed less than 50 percent of his passes to go with four touchdowns, seven interceptions and a 52.6 quarterback rating. Quick, somebody say something nice: "We believe enough in him to bring him in here, groom him, and see where his athleticism and expertise takes him." -- coach Butch Davis, 2004
17. Ty Detmer, 1999, traded to Browns by 49ers, 0-2 as Browns starter: One of the most prolific quarterbacks in NCAA history, Detmer had a successful 1996 season as the Eagles starter, going 7-4 and helping the team to the playoffs. By 1999, he was supposed to be a mentor to No. 1 overall pick Tim Couch. Detmer started the first game of the season and then gave way to Couch. For all of that, Detmer made $3 million for the season. Not too shabby for him. Quick, somebody say something nice: "He's been in the league for a long time, and he could do nothing but help me. I could learn a lot under him." -- QB Tim Couch, 1999
16. Spergon Wynn, 2000, drafted by Browns in the sixth round in 2000, 0-1 as a Browns starter: He only played two years in the league, and he started a total of three games (one for Cleveland and two for the Vikings in 2001). In his one start for Cleveland, he led the team to a 48-0 loss to the Jaguars. His tenure with the Browns was short and forgettable. Quick, somebody say something nice: "I have a great deal of faith in Spergon. But I think the worst thing in the world is to throw a quarterback in when he's not quite ready." -- coach Chris Palmer, 2000
15. Doug Pederson, 2000, signed as free agent, 1-7 as a Browns starter: Pederson first entered the NFL in 1993 and didn't actually start an NFL game until 1999, where he led the Eagles to a 2-7 record and then considered retiring. Instead, he signed with Cleveland and was even worse there, winning just once in eight tries for the 2000 Browns. His one win with the Browns? Beating Bill Belichick and the Patriots. After Cleveland didn't work out, Pederson returned to the place where he had already spent much of his career: as Brett Favre's backup in Green Bay. For the final four years of his career, Pederson never started another game, but he's currently fulfilling a big role in the league: he's the Chiefs offensive coordinator. Quick, somebody say something nice: "Facing Doug is going to be a challenge for us because he knows our defense so well. He knows our schemes. He may know our checks. He wants to win just as badly as we want to win. He's going to do anything he can to give his team an edge." -- Eagles CB Troy Vincent
14. Bruce Gradkowski, 2008, signed as a free agent, 0-1 as a Browns starter: Did you forget Gradkowski ever played for the Browns, like me? You'd be forgiven if you had. He only played two games for Cleveland, and in the one contest he started, he went 5 of 16 for 18 yards and two interceptions. Let me repeat that: he attempted 16 passes, and he accumulated 18 passing yards. He had a passer rating of 1.0. That, my friends, is not a joke. Not surprisingly, the Browns lost 31-0 in that game to the Steelers. Considering Gradkowski was the fourth-string quarterback, it obviously wasn't supposed to be this way for Cleveland. Luckily, it never was again. Quick, somebody say something nice: "He's a pretty heady quarterback. I think he's really excited to be able to start again in the NFL and see what he can do." -- coach Romeo Crennel, 2008
13. Ken Dorsey, 2008, traded from the 49ers, 0-3 as a Browns starter: After going a combined 2-8 as a starter for the 49ers in 2004-05, Dorsey signed with the Browns and then threw just one pass overall in 2006 and 2007. But in 2008, he was called into duty for three games when Brady Quinn and Derek Anderson were hurt, and Dorsey managed to throw zero touchdowns against seven interceptions. That would be the end of Dorsey's NFL career, but he remains in the league as the Panthers quarterbacks coach. He's gotten good reviews for his work with Cam Newton. Quick, somebody say something nice: "Ken is a very passionate person, especially looking back at his career (and) his resume, being so successful. For him, he's done everything on his own. For our relationship to cross paths as early as it did was just an added dimension." -- Panthers QB Cam Newton, 2013
12. Colt McCoy, 2010-12, drafted by Browns in third round in 2010, 6-15 as a Browns starter: I always felt like McCoy got a bit of a bad deal in Cleveland. He was drafted in the Eric Mangini era, and it seemed like he never got a fair chance to earn the long-term starting job. He played so well at the University of Texas, and then, he just never seemed to do enough to keep himself as the No. 1 guy. Then, the Pat Shurmur crew drafted Brandon Weeden in 2012, and that was pretty much it for McCoy's chances with the team. At this point, it doesn't appear that McCoy will ever be an NFL starting quarterback. And I guess that's probably the right call. Quick, somebody say something nice: "Of the top four quarterbacks taken in the 2010 draft, McCoy could be in the best position to succeed." -- The Sporting News, 2010
11. Jeff Garcia, 2004, signed as a free agent, 3-7 as a Browns starter: Clearly the most-accomplished Cleveland quarterback in the past 15 years, Garcia was a four-time Pro Bowler who was good at the beginning of his career and good at the end of his career. He wasn't so good in Cleveland, though. Garcia was the end of the Tim Couch era, and even at the age of 34, Cleveland signed him to a four-year deal worth $25 million. Considering it was thought that Garcia would sign with the Buccaneers, this was a coup for Cleveland. Too bad Garcia, whose season was cut short by a knee injury, didn't perform like he had when he was a 49ers standout. Quick, somebody say something nice: "When Jeff became available, we felt like it really was a good move for our football team. He brought leadership, he brought some charisma and a proven performer who had won. He has at least met, if not exceeded, all our expectations." -- coach Butch Davis, 2004
10. Kelly Holcomb, 2002-04, signed as a free agent, 4-8 as a Browns starter: Playing behind Peyton Manning in Indianapolis, Holcomb signed with the Browns in 2001 in order to try to supplant Tim Couch as the full-time starter. By 2003, Holcomb had finally done so, and though he didn't lead Cleveland to many wins, his statistics (a 63.7 completion percentage, 26 touchdowns against 21 interceptions, an 83.3 quarterback rating) actually are pretty decent. But the Browns brought in Jeff Garcia in 2004, and that season marked the end of both their tenures in Cleveland. Quick, somebody say something nice: "I think every quarterback needs that, somebody who's smart that you can bounce ideas off of. Kelly was great from that standpoint. ... I've missed him since he's been gone." -- Indianapolis QB Peyton Manning, 2003
9. Charlie Frye, 2005-07, drafted by Browns in the third round in 2005, 6-13 as Browns starter:  He grew up in northern Ohio, and Frye so badly wanted to bring Cleveland a Super Bowl. It didn't end well. After less than one half of football in the 2007 season-opener, Romeo Crennel benched him in favor of Derek Anderson (moving then-heir apparent Brady Quinn up to the No. 2 quarterback spot) and then was traded away less than 48 hours later (Frye would start just four more games in his career). Alas, some people, like @hartmatt9 never forget and last month posted this traveling Factory of Sadness photo: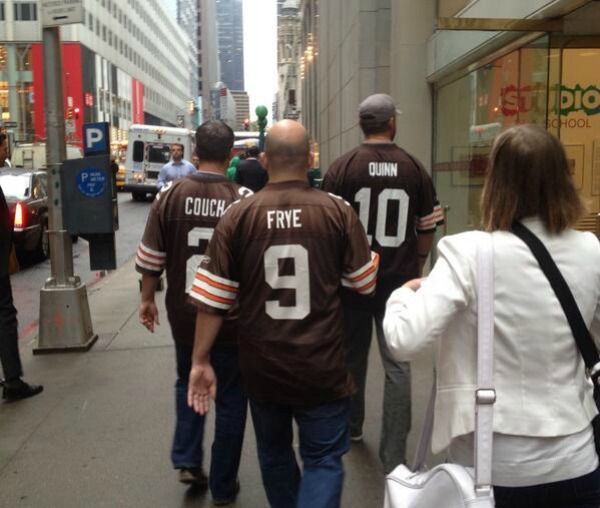 Quick, somebody say something nice: "Charlie is a competitor and we bring out the best in each other. We bonded and built a trust together that I hope translates on the field." -- tight end Kellen Winslow, 2008
8. Seneca Wallace, 2010-11, traded from the Seahawks for a sixth-round pick, 1-6 as a Browns starter: The Browns thought enough of Wallace to give him a three-year deal worth $9 million in order to back up Colt McCoy before the 2011 season. And it made (a little) sense, because you could see some of the possibilities Wallace could bring to the team. But in reality, Wallace couldn't surpass McCoy for a job for two-straight years, and eventually, Cleveland released him after an uneven tenure. Quick, somebody say something nice: "I'm a Seneca fan. He's a West Coast quarterback. I'm not thinking about the wildcat. He can line up under center. He's done it for a lot of years in this system." -- coach Pat Shurmur, 2011
7. Thaddeus Lewis, 2011-12, claimed on waivers from Rams, 0-1 as a Browns starter: For the briefest of moments, Lewis provided a spark, completing 68.8 percent of his passes for 204 yards, a touchdown and an interception in a 14-point loss to the Steelers. But that was the only game Lewis, who was the third-stringer behind Brandon Weeden and Colt McCoy for most of that year, played that season. And he soon moved on to Buffalo, where he proved that if somebody actually gave him an extended chance to play, he might produce some good moments. Quick, somebody say something nice: "He's been preparing himself to play all year even though he wasn't on the active roster. What we expect is that he goes out and plays winning football." -- coach Pat Shurmer, 2012
6. Jason Campbell, 2013, signed as free agent, 1-7 as a Browns starter: Already, Campbell had flamed out with the Redskins, Raiders, and Bears, and when he arrived in Cleveland, the then-31-year-old was set to take over for Brandon Weeden -- who had already lost his starting job once -- in the middle of last season. Campbell actually performed adequately -- or, at the very least, considerably better than Weeden -- but that didn't help him keep his job after the season. Quick, somebody say something nice: "He's going to help us. He's played well when he was healthy, and he's shown he can be a trooper and take a pounding and still come back. So I'm happy for him, and he's going to give this team a big boost." -- LB D'Qwell Jackson, 2013
5. Trent Dilfer, 2005, traded from the Seahawks, 4-7 as a Browns starter: After playing 11 years in the NFL, Dilfer was traded to Cleveland where it was thought he could mentor rookie Charlie Frye. But Dilfer and offensive coordinator Maurice Carthon didn't get along well, and after Carthon was fired, Dilfer said, "I didn't think he was very good from the second I got there. I think there's people that are good at what they do, and people that aren't." Dilfer wasn't great -- though he recorded a career-best 59.8 completion percentage -- but he wasn't terrible either. It was clear, though, Dilfer had no interest in returning to Cleveland in 2006, and instead, the Browns traded him to the 49ers. If you'd like to watch Dilfer's highlights from the 2005 season, somebody went through the trouble of making a 10-minute video for YouTube. Confession: I only watched the first 30 seconds.
Quick, somebody say something nice: "No. 1, he is a winner. It is documented. You can go back through the years. That's a fact. No. 2, he is a tremendous man. When you look at the mountain top highs and valley lows he has experienced, he has stayed true to the person he is and resolute throughout his career, both on and off the field. I don't think there's a person we could bring to our team that has experienced more things than Trent Dilfer. -- GM Phil Savage, 2005
4. Tim Couch, 1999-2003, drafted No. 1 overall by the Browns in 1999, 22-37 as Browns starter: Yes, Couch is remembered as one of the biggest No. 1 busts in NFL history, but he actually had a few decent results in Cleveland. In 2001 and 2002, he combined to go 15-15 as the starter while completing 60.8 percent of his passes for 5,882 yards, 35 touchdowns and 39 interceptions. Sure, they're not Hall of Fame numbers, but they're also not ghastly, even if the Browns gave Couch a $48 million contract. And certainly not the worst No. 1 pick of all time. Put it this way: between Couch and JaMarcus Russell, it's safe to say most of us would rather have Couch as our quarterback. What about Couch vs. David Carr? Yeah, I'd go with the former, too. Oh, and there's this little nugget. Since the Browns returned to the NFL in 1999, they've been to the playoffs exactly one time. You know who led them there? Tim Couch. The bad part: Couch broke his leg in the final regular-season game that year and couldn't play in the postseason. Quick, somebody say something nice: "After just one performance to rave national reviews, the Tim Couch Show may be ready to open in Cleveland for an extended run." -- Associated Press, 1999
3. Jake Delhomme, 2010, signed as a free agent for $7 million (!), 2-2 as a Browns starter: Ask the Panthers about Delhomme, because for a few seasons during the last decade, he played some wonderful football in Carolina. Three times, he led the Panthers to double-digit wins, and he made the only Pro Bowl of his career in 2005. Unfortunately for the Browns, he was 35 when he signed with Cleveland and after starting the season as the team's No. 1 quarterback, he suffered a high ankle sprain in Week 1. In the four games he started, he completed 62.4 percent of his passes but he also tossed seven interceptions vs. two touchdowns. Ultimately, he was deemed too expensive to retain, and the team decided instead to keep Seneca Wallace going into 2011. Quick, somebody say something nice: "Jake is the classiest guy on this team and in this organization. We're really close. I wouldn't be playing as well as I am now without Jake." -- QB Colt McCoy, 2010
2. Brian Hoyer, 2013, signed as free agent, 3-0 as a Browns starter: The sample size is infintesimal, but the results have been there for Cleveland. Every time Hoyer starts, the Browns win. And with Hoyer leading the way, Cleveland, at one point in 2013, was tied for first place in the AFC North. Then, Hoyer tore his ACL, and the Browns season blew to smithereens. And now Hoyer has the unenviable task of beating out Manziel for the starting job in 2014. But if Hoyer doesn't, know this. The Browns still would have a solid backup quarterback. Quick, somebody say something nice: "I think Hoyer has all the traits you need, in terms of leadership, toughness, arm strength, ability to move the team." -- GM Mike Lombardi, 2011
1. Derek Anderson, 2006-09, claimed off waivers from the Ravens, 16-18 as a starter: Want to see something cool yet extremely rare in the Browns organization? Look at Anderson's stats from the 2007 season, when he was playing in his second year in the NFL.
| Year | Age | Tm | Pos | G | GS | QBrec | Cmp | Att | Cmp% | Yds | TD | Int | Y/A | AY/A | Y/C | Y/G | Rate | QBR | Sk | Yds | AV |
| --- | --- | --- | --- | --- | --- | --- | --- | --- | --- | --- | --- | --- | --- | --- | --- | --- | --- | --- | --- | --- | --- |
| 2007* | 24 | CLE | QB | 16 | 15 | 10-5-0 | 298 | 527 | 56.5 | 3787 | 29 | 19 | 7.2 | 6.7 | 12.7 | 236.7 | 82.5 | 62.09 | 14 | 109 | 14 |
See the 10-5 record? The league-leading yards per completion? During that season, Anderson was a damn near superstar for the Browns, leading them to one of only two winning seasons since the team was reintroduced into the league. He eventually lost his starting job to Brady Quinn, and by the end of his tenure, the relationship between he and the city of Cleveland grew ugly. And when he was released in 2010, here's what he wrote in an email to a newspaper, "The fans are ruthless  and don't deserve a winner. I will never forget getting cheered when I was injured." Quick, somebody say something nice: "I really like Derek and I really liked the way that he handled himself. I like the way that he's worked. I've enjoyed getting to know him.." -- coach Eric Mangini, 2009