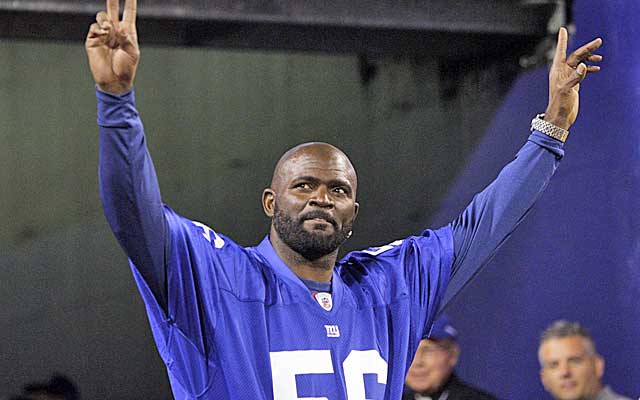 The passing of Hall of Famer Deacon Jones overnight Monday got me thinking about the best pass rushers of all time. Jones certainly is one of them, but where does he rank?
On my list, he's second.
The best is former New York Giants linebacker Lawrence Taylor. He redefined the way the game is played. He had speed, power, explosiveness and he rang up 132 1/2 career sacks, even as he battled off-field demons.
Taylor not only is the best pass rusher ever, he's also the gretaest defensive player of all time.
Here's how I rank the best-ever pass rushers, taking into account that sacks weren't an official NFL statistic until 1982. That means men like Deacon Jones, Coy Bacon and Al "Bubba" Baker didn't get their sack totals rung up as real stats.
1. Lawrence Taylor, LB, Giants: He played as violent a game as there was off the edge. Can you imagine him with today's rules? Teams had to create special schemes just to block him.
2. Deacon Jones, DE, Rams, Chargers, Redskins: He was the head-slap king, which helped him beat offensive tackles. That is illegal now, but his speed still would make him one of the best ever. He played before sacks became a statistic, but he would be right near the top.
3. Bruce Smith, DE, Bills, Redskins: I put him in the third spot ahead of Reggie White because I think he was a better pure pass rusher, even if he might not have been a better player. He is the all-time leader in sacks.
4. Reggie White, DE, Eagles, Packers, Panthers: He was big and powerful and had 198 sacks in his career. White could beat a tackle with his speed and his amazing power.
5. Richard Dent, DE, Bears, 49ers, Colts, Eagles: It took him a while to get into the Hall, but I didn't understand why. He was the guy on that great Bears defense who had to be blocked.
6. Gino Marchetti, DE, (Dallas) Texans, Colts: He was a smaller pass rusher who used his quickness to go to 11 Pro Bowls. He later went on to become a hamburger-chain owner.
7. Derrick Thomas, OLB, Chiefs: When he died at only 33, still with plenty of football to play, he had 126.5 sacks. He got them in bunches with his speed off the edge.
8. DeMarcus Ware, OLB, Cowboys: Think it's too high? He has seven double-digit sack seasons in his eight years in the league. He will be much higher on this list in a couple of years.
9. Chris Doleman, DE, Vikings, Falcons, 49ers: He is fourth all time with 150.5 sacks, including 21 in 1989.
10. Kevin Greene, OLB, Rams, Steelers, 49ers, Panthers: He is third all time in sacks with 160 and he had 10 double-digit sack seasons.
Just missed: Doug Atkins, Jason Taylor, Michael Strahan, Charles Haley, Leslie O'Neal, Mark Gastineau, Willie Davis and Jack Youngblood.