The San Francisco 49ers have a quarterback problem -- without a simple solution.
They have what amounts to three options with justifiably disgruntled former starter Colin Kaepernick: trade him, release him before his $12M salary becomes guaranteed in April, or keep him around even though he doesn't want to be there. None of them, frankly, is ideal given the extent of his strained relationship with the organization, his status recovering from three surgeries performed in 2015, and the fact that even if the franchise is able to pull off a trade under those circumstances, the return is likely to be limited.
When things erode to this point between an organization and a former franchise cornerstone -- especially one who plays the most important position in all of pro sports -- and it becomes this public and widely-known around the NFL, it's generally virtually impossible.
The 49ers can speak all they want about their desire to keep Kaepernick, who led them to a Super Bowl just a few years ago, and can talk in circles about tampering rules and CBA rules and all that good stuff. They need to try to sell their desire to have this quarterback be their guy, now -- though new coach Chip Kelly certainly skirted that topic repeatedly during is introductory press conference -- if only to preserve whatever trade leverage might be possible. They'd love to get something of note for him, but that could prove to be a pipe dream. The clock is ticking on them, Kaepernick is probably a few months away from being able to do real football activities, the league year starts in less in 10 days, and regardless of which option they end up choosing with Kaepernick, any outcome will likely be less than ideal.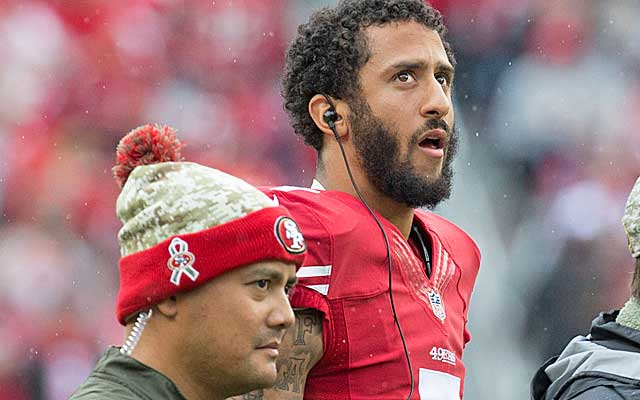 Let's start with the trade front.
First of all, the injury situation, and Kaepernick's inability to pass a physical anytime soon, complicates the ability to complete a trade before the quarterback's 2016 guarantees kick in. His ability to be ready for critical offseason work, within a new system, would be in doubt. The 49ers themselves crippled his trade value by benching him midseason, before his injuries were fully discerned, in place of trying to resuscitate Blaine Gabbert's career (only, well, that would imply that he had an NFL career prior, which might be overstating his tenure in Jacksonville).
Add to that Kelly's reluctance to endorse Kaepernick early in the offseason -- though the 49ers seem to be trying to put that genie back in the bottle now -- and the fact that it is widely known that Kaepernick wants permission to seek a trade, and, well, it's not exactly like this front office is dealing from a position of strength here.
Furthermore, there is the matter of which teams would be willing to make this trade under normal circumstances, much less the unusual ones in place here. The Jets don't want anything to do with this situation and are working hard to bring Ryan Fitzpatrick back. The Redskins will franchise Kirk Cousins to keep from losing him. The Eagles are trying to keep Sam Bradford and have Chase Daniel lined up behind Door No. 2 if need be. The Browns have the second-overall selection, their pick of any passer in the draft, and they just hired a quarterback-whisperer head coach. Oh, yeah, they also have a veteran already under contract in Josh McCown. Signing Kaepernick to a cheap look-see deal later in the spring would be one thing (coach Hue Jackson did like him out of the draft), but trading for him is quite another. The Texans, from everything I have heard, and plenty of other reporters as well, are not inclined to deal for Kaepernick, though if he is healthier and on the open market down the road, perhaps he piques their interest. The Broncos want Brock Osweiler back.
No one is trading for Kaepernick under his current deal to be a back-up, so rule out the Cowboys or Chargers or Saints or Cardinals or any other team you think might be looking for a QB of the future in the coming months. And after getting redshirted last year, Kaepernick is looking to play to establish his worth for his next deal, so renegotiating to a backup deal to facilitate a trade to a team like that might not make much sense for him. The Bills, who are dating but not marrying Tyrod Taylor and do have Kaepernick's former offensive coordinator on staff, have too many cap issues as it stands to take on his $16M cap hit on his current deal, anyway.
So, as best I can tell, that leaves the Rams. And that would make some sense, and few people love a reclamation project more than Jeff Fisher. Despite all of the accolades being heaped upon Case Keenum -- yes, that Case Keenum -- this team has a big quarterback problem and Nick Foles is a large part of that problem (with that crazy contract extension), and anything but the solution. So, could they do it? Sure. Would they need to trade for him to get him? And do so before April 1 and thus pick up all of Kaepernick's guarantees before he is even healthy, instead of just sign a guy like, say, Robert Griffin III? Seems like a stretch.
Fact is, there are so many middling guys available now or in free agency, coupled with the looming reality that between four and five quarterbacks are about to be drafted in the first round, and the market simply is not robust. Add in the reputation that Kaepernick has for being a little distant and aloof with teammates and his declining play since his historic hot start, and this is a tough, tough sell right now. Not impossible, but quite difficult. Just ask the Redskins how much they could get for RG3 these days. It's slim pickings at best, and no pickings at worst.
Most teams would be inclined to see if the 49ers go ahead and do what many of them believe is inevitable, and select option No. 2 -- release Kaepernick before his guarantees trigger. Obviously, this means a former second-round pick who at one point seemed like one of the most dynamic quarterbacks in the NFL is walking out of your building with zero compensation at age 28. And if he goes somewhere else and gets back to peak form, and if the 49ers end up with a combination of Bradford and Gabbert and keep stumbling along at the bottom of the NFC standings, well, the airspace over Levi's Stadium will be filled with more planes carrying pointed messages to management.
Well, then, why not just keep him?
If only it were so easy.
The 49ers have done plenty to help poison this relationship as well, especially to those close to the quarterback, and I have long reported this relationship is basically beyond repair. Kaepernick believes the team leaked false information about the extent of his injuries, misled him about his future with them, and were more or less smearing him at times last season. His biggest benefactor, Jim Harbaugh, went through a similar ugly divorce with the team about a year ago, and with his exit so went Kaepernick's primary advocate.
Trust has eroded and if the 49ers are as interested in repairing this relationship as well they claim to be, they have a funny way of showing it. There was nothing stopping Kelly, or anyone else, from flying out to Colorado during all of these weeks the quarterback has been rehabbing all day long from his multiple surgeries to start rebuilding bridges … but that didn't happen. Sure, there have been some little conversations here or there, but nothing that would go to any degree to actually trying to restore a bond. Not close.
Hence the desire for a trade -- which comes as no surprise to anyone who has been watching this space since about November, a development that only now makes the odds of actually pulling off a trade even more remote. Most teams I spoke to in the quarterback market already believed the 49ers had every intention of trading him anyway, despite their recent public sentiments, and let's just pretend for a minute that they really are all about keeping Kaepernick.
Let's play that one out. There are already issues between him and their medical team following how his shoulder injury was handled. Now he's got to get fully cleared and get both parties on the same page about that. Regardless, given the bad blood and how this has played out, I'd suspect Kaepernick would continue his rehab in Aspen for as long as he sees fit -- which could be months more. So the starting quarterback could very well spend all spring away from OTAs and mini-camps under the new coach as he implements a new system. If you were him, would you show for "voluntary" work given all that has transpired. And Kelly's first weeks on the job are dominated by talk about a key player who is not there and all the while he's set to make $12M. And let's not pretend ownership and management is all Team Colin, because these are the same dudes who were squabbling with him last season while everything devolved.
Yup, Option No. 3 ain't exactly all rosy, either.
The time for Kelly to really go to work on winning over Kaepernick has basically passed -- again, assuming that was ever even something this franchise had in mind -- and with April 1 looming, time is running out. Which brings us to the outcome that was probably most likely all along. Kaepernick wants out now, so he could hit the market on March 9 when the market opens to try to find the best team and contract possible, hence the trade demand. And the 49ers could squat on him until the end of March, wait for teams to blow their free agent budgets and sign the other quarterbacks and get deep into their meetings and visits with the quarterbacks in this draft, and then cut a still-injured Kaepernick just before his 2016 contract becomes guaranteed with his options elsewhere even further limited.
If this relationship is truly in the woeful condition that many around the NFL believe it is, then perhaps that is the most fitting ending to this saga of all. Sometimes, it's not just business. Sometimes, things get a little more personal.