National Signing Day Checklist: SEC
As National Signing Day approaches, we take a closer look at individual team needs and a quick overview of who is likely headed to the respective program.
As Wednesday's national signing day approaches, we take a closer look at individual team needs and a quick overview of who is likely headed to the respective program. Here's a look at the SEC: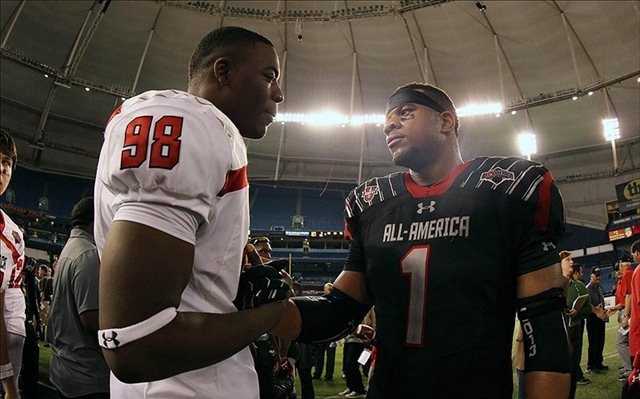 Ole Miss could land two five-star defensive ends in Chris Jones (left) and Robert Nkemdiche. (US Presswire)
WEST

Alabama Crimson Tide -- Needs: QB, OL, DB. Current 247Sports team class rank: 1.
"Needs" is a highly subjective term where the two-time defending national champions are concerned, and even if you assume those needs are there, a 2013 class headed for the No. 1 ranking on signing day -- again -- should fill them as well as they can be filled. Nick Saban has to particularly like juicing the battle to become AJ McCarron 's successor with early enrollees Cooper Bateman (a four-star from Utah) and Parker McLeod, and rebuilding his offensive line depth with the four-star likes of Grant Hill, Leon Brown and Brandon Hill . Adding five-star OT Laremy Tunsil to that mix would be another big boost, and after earning a recommitment from five-star LB Reuben Foster Monday night, the Tide have momentum. (What else is new?)
If there's any place where the Tide might actually need to close strong, it's at safety, where Robert Lester graduates and top-30 recruits Tony Conner and Vonn Bell remain on the board.

Arkansas Razorbacks -- Needs: QB, OL, DB. Current 247Sports team class rank: 32
After the 4-8 disaster of 2012 and with plenty of major contributors on both sides of the ball departing, Bret Bielema has his work cut out for him in Fayetteville. Job 1 is finding the sort of passer who can make his preferred ground-pounding offensive approach semi-balanced, and hometown four-star QB Austin Allen could fit the bill. But Bielema's Badgers success started up front, where guard Reeve Koehler, tackle Dan Skipper, and JUCO Johnathan McClure will look to upgrade the level of beef on the Hog offensive line, and four-star guard Denver Kirkland would be another big addition. Expect Hog fans to be most excited, however, about five-star RB Alex Collins, who surprisingly took Arkansas over his hometown Miami Hurricanes -- and given Bielema's track record with tailbacks, that's not without reason.

Auburn Tigers -- Needs: DL, LB, WR. Current 247Sports team class rank: 18
The 3-9 Tigers need reinforcements almost everywhere, but Gus Malzahn should be able to cobble together a productive offense regardless of the talent on hand, which should make acquiring top-notch defensive talent the new staff's first order of business. Malzahn and Co. are off to a good start by sewing up the commitment of five-star defensive end Carl Lawson and flipping safety Khari Harding from Arkansas, but holding onto four-star end Tashawn Bower and landing five-star DT Montravius Adams would make it a great start.

LSU Tigers -- Needs: DL, QB, DB. Current 247Sports team class rank: 4
LSU's staggering wave of early departures for the NFL Draft has gutted the defense of much its depth, but another outstanding class for Les Miles should provide some immediate help; corners Tre'Davious White and Jeryl Brazil are both among the top 15 CBs nationally, Kendell Beckwith should be a major playmaker at linebacker, and holding onto the commitment of Memphis DE Frank Herron would be another big win. On the other side of the ball, after striking out at the QB position entirely in 2012, this go-round the Tigers have two blue-chip pocket passers already enrolled in Hayden Rettig and Anthony Jennings.

Mississippi State Bulldogs -- Needs: WR, DB, DL. Current 247Sports team class rank: 21.
All Bulldog eyes are on DE Chris Jones, the No. 2 overall prospect in the country and a State commitment since last June who set off a Mississippi firestorm (and, according to Jones, triggered a handful of death threats) by visiting Ole Miss. Jones would be a gigantic boost to one of the weakest pass rushes in the SEC, but Dan Mullen is also looking to address holes at receiver (Jeremey Chappelle, Donald Gray) and in the secondary (four-star Ashton Shumpert, Gabe Myles) after major losses from the 2012 squad.

Ole Miss Rebels -- Needs: DL, QB, WR. Current 247Sports team class rank: 9
Resurrecting the woebegone Rebels from the SEC West cellar to Egg Bowl champions and a winning season was a heck of a debut for Hugh Freeze, but his initial follow-up -- making Ole Miss into the story of the 2013 recruiting season -- might be even more impressive. It's not out of the question for Freeze to haul in all three of the top three players in the country in Tunsil, Jones and consensus No. 1 overall recruit Robert Nkemdiche. That all three play along the line-of-scrimmage -- where the Rebels could stand to be more physical, on both sides of the ball -- is a bonus for Freeze, but with players like DT Lavon Hooks already in the fold and DE Elijah Daniel likely to sick to his commitment, the Rebels are poised for a huge step forward regardless of what Jones and Nkemdiche decide. Thanks to the likes of WR Laquon Treadwell and RB Kailo Moore, they won't hurt  for new offensive playmakers, either.

Texas A&M Aggies -- Needs: DL, LB, WR. Current 247Sports team class rank: 6
Add Texas roots to the chance to play in the SEC alongside the first-ever freshman Heisman winner and a small 2012 class that opened up extra space for 2013, and what do you get? One of the top classes in the country, currently 32 players strong, and the best in College Station in years (and arguably ever). That goes double where the offensive skill positions are concerned; five-star WR Ricky Seals-Jones is one of six four-star-or-better wideouts committed to the Aggies, with mutliple blue chips arriving at QB and RB as well. But Kevin Sumlin isn't neglecting his defense, with eight four-star defenders -- led by defensive tackle Isaiah Golden -- also ready to sign.
EAST

Florida Gators -- Needs: WR, DL, OL. Current 247Sports team class rank: 2
The polar opposite of Texas A&M, the Gators seemed woefully shy of offensive playmakers at times in 2012, but that shouldn't be a problem once the 2013 class is in place. Kelvin Taylor is a five-star tailback among the top players in the class; WR Ahmad Fulwood should be the big-play target the Gators have lacked for what seems like years now; and fellow four-star WRs Demarcus Robinson and Alvin Bailey should have a shot at contributing right away, too. But not surprisingly for a Will Muschamp team, there's even more depth on the defensive side of the ball, led by five-stars Vernon Hargreaves III at corner and Alex Anzalone at outside LB. The Gators should have a quiet signing day, but given where they already sit, they don't need to make any noise.

Georgia Bulldogs -- Needs: DL, LB, DB. Current 247Sports team class rank: 10
The Bulldogs' class is unusual for them both in that it's a big one -- 30 players -- and that it currently lacks quite as many high-end prospects as usual; Mark Richt has only five current commits receiving a grade of 93 or higher from 247Sports, compared to eight for their Florida archrivals and six for Ole Miss. That's not say there's not depth here, especially on defense -- early enrollees Tray Matthews at safety and John Atkins at nose tackle should each see the field right away -- or some eye-popping talent, starting with potential Aaron Murray heir apparent Brice Ramsey. Still, landing Laremy Tunsil or Montravius Adams for the class's first five-star (or beating out Alabama for RB Alvin Kamara) would be an awfully nice cherry on the top of UGA's 2013 sundae.

Kentucky Wildcats -- Needs: ... uh, everything. Current 247Sports team class rank: 46
It's no surprise that a defense-first coach like Mark Stoops is looking to shore up the Wildcats' porous stop unit first. DE Za'Darius Smith and CB Nate Willis are leading an infusion of JUCO talent, with Stoops looking east to Ohio and south to Florida for the likes of DE Alvonte Bell and CB Jaleel Hytchye. But the star of the class appears to be athlete (and likely safety) Marcus McWilson, plucked away from Nebraska. Next step: finding some game-changers on offense to go with JUCO WR Javess Blue.

Missouri Tigers -- Needs: OL, DL, RB. Current 247Sports team class rank: 40.
First the good news: the Tigers are going to get some immediate help on a defensive line that will need it after the departure of Sheldon Richardson , with four-star defensive tackle Josh Augusta, DT Antar Thompson and DE Marcus Loud all on the way. Four-star RB Chase Abbington could be welcome addition, too, if Henry Josey can't recover from his knee injury. The bad news is that there's no apparent Richardson, Dorial Green-Beckham or other headliner to propel what's already a smallish class (certainly by SEC standards) up the team rankings. That's no reason to panic -- Gary Pinkel has had plenty of success with less-highly-regarded players in the past -- but landing one or two more big fish on signing day would still be a big help, particularly along the injury-ravaged offensive line.

South Carolina Gamecocks -- Needs: RB, DL, WR. Current 247Sports team class rank: 16.
Assuming last season's deep crop of linebackers helps replace the Gamecocks' losses in that unit, the biggest need for Steve Spurrier might be finding a new batch of skill position threats after losing Marcus Lattimore , Ace Sanders  and Kenny Miles ; expect four-star tailback David Williams to get a shot at the playing rotation immediately, and WR Pharoh Cooper could see some catches as a freshman. Elsewhere, the Gamecocks have stocked up along the line of scrimmage, led by DT Kelsey Griffin, run-stuffing LB Larenz Bryant and five offensive linemen. Aside from tinkering at the edges, the Gamecocks appear set for a low-key signing day ... just the way Spurrier likes it.

Tennessee Volunteers -- Needs: DB, WR, QB. Current 247Sports team class rank: 27.
Not to kick a program when it's down, but Butch Jones hasn't yet had anything like the recruiting impact both Lane Kiffin and Derek Dooley had upon their arrivals on Rocky Top. Given Kiffin's and Dooley's results away from the trail, maybe that's not the end of the world, but aside from the commitment of blue-chip WR Marquez North out of Charlotte, there hasn't been much to get excited about of late for the Vols. Snagging Vonn Bell would be a huge get for Jones, particularly given the Vols' shell-shocked 2012 performance in the secondary.

Vanderbilt Commodores -- Needs: QB, DL, WR. Current 247Sports team class rank: 38.
A handful of decommits have meant James Franklin 's class maybe isn't quite as good as its reputation (though the 247Sports' composite ranking is 32nd, rather than in the high 30s), but it's still not bad at all by the Commodores' usual standards. Early enrollee Johnathon McCrary is likely the 'Dores' QB of the future and may back up Austyn Carta-Samuels this coming fall; Landon Stokes, Nigel Bowden, and Jay Woods should help reinforce a front seven that needs help vs. the rush against bigger teams; and a pair of 6-3 wideouts, Carlos Burse and DeAndre Woods, should help make up for the coming loss of Jordan Matthews . Adding a true headliner to join McCrary would be welcome news for Franklin, though.
The former Rebels coach was suing the school for harming his reputation

Florida and Georgia's rivalry game is the SEC on CBS Game of the Week

Everything you need to know from the week in college football to stave off your case of the...
Our full set of 130-team FBS college football rankings start with Alabama back at No. 1

The Hurricanes have showed out in a major way over the first half of the 2017 season

An early look at the gambling odds for Week 8 of the college football season