Making it to your Fantasy Football Super Bowl should be validation enough of your skills, no matter what actually happens during the game. Success over the course of a long season is a better indicator of your team-building abilities than the outcome of one game, even if that game is, well The Game.
However, no matter how seemingly-dominant a team you put together, the week-to-week randomness of Fantasy football can ruin your season. On the other hand, if you had a handful of players get hot at the right time, you could have ridden them to a surprise victory, despite mediocre results overall. What follows is a list of the five players who found themselves on the most Super Bowl winning teams last week, vs. those who were on the most losers, and a few things stick out from these lists.
First of all, you have to have been really good all season to get on this list, obviously. With one exception, even the losers were among the best in the league at their positions, before derailing their Fantasy owners' seasons with one ill-timed game. No matter how upsetting Andrew Luck's Week 16 flameout was, you wouldn't have been in the position for it to matter without him, so don't be too hard on him. 
More than that, a player had to be truly exceptional throughout the season to get on this list. It's no surprise that Rob Gronkowski, Le'Veon Bell and Odell Beckham carried teams to the Super Bowl, since they all closed the Fantasy season on scoring streaks of at least three games. 
The winners
Odell Beckham, WR, Giants
At his current level of production, Beckham would produce these  numbers for a 16-game season:
115 catches, 1,629 yards, 16 touchdowns
He was the 192nd player drafted, on average, in CBSSports.com leagues, and went untouched in a full 79 percent of leagues on Draft Day. Aaron Dobson, Miles Austin and Greg Jennings were all taken ahead of him, on average.
No player showed up on more Super Bowl rosters than Beckham, and no player wound up on the right side. He was, undoubtedly, the most impactful waiver-wire pickup of the season, and it's hard to think of many in recent years who can even touch him.
Beckham has been a one-man wrecking crew in the Fantasy players, posting 31 receptions for 421 yards and six touchdowns between Weeks 14 and 16, so his place at the top here makes perfect sense. 
Beckham put together enough unbelievable highlights in his rookie season to last a lifetime. We can only hope the rest of his career can come close to matching this: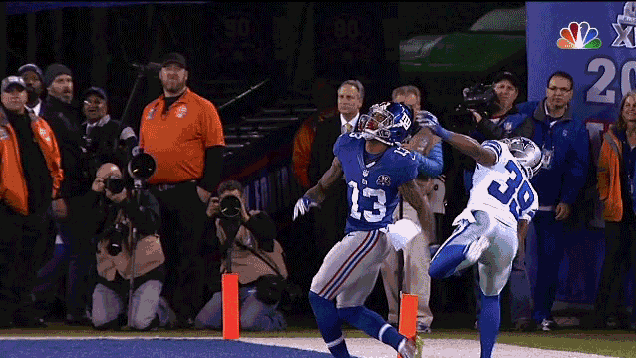 Le'Veon Bell , RB, Steelers
Bell is the glitch in the matrix. Chances are, if you had Bell on your team, he was a late-second/early third round pick; his average draft position was 25th. If you got the top Fantasy running back after 20-plus players went off the board, you probably had a pretty good team to begin with, and his utter dominance in the early rounds of the playoffs, nearly assured you a spot in the Super Bowl; 38 percent of Fantasy Championships played in Week 16 featured Bell on either team. Once he got you to the championship Bell still had a fine game, but not enough to necessarily assure you of a win. Hence, his appearance on both lists. 
Antonio Brown, WR, Steelers
Brown is putting together one of the all-time great receiving seasons in NFL history, after being just the eighth wide receiver picked on average before the season. 14 percent of Super Bowl teams had Brown on their roster, and though he didn't blow the doors off the place in Week 16, you have no room to complain about 13 Fantasy points from any wide receiver. He's been the top Fantasy wideout this season overall, so it's no huge surprise he landed here. The question is whether he'll be the first receiver off the board when you draft next season; in PPR leagues, he might be.
Rob Gronkowski, TE, Patriots
Tight end has historically been a tough position for Fantasy owners to fill, and even Gronkowski was by no means a sure things entering this season. In fact, it was Jimmy Graham who was viewed as the sure-fire star at the position, with Gronk working his way back from a knee injury.
After dropping 9 more Fantasy points in Week 16, of course, Gronk now has 45 more points overall than Graham, who ranks third among tight ends. He has been 25 percent more productive than the second-best tight end this season, a gap that simply doesn't exist at other positions. Simply put, no player put you ahead of the competition like Gronkowski, who capped off the season with a combined 17 receptions for 214 yards and three touchdowns from Weeks 14 through 17.
Marshawn Lynch, RB, Seahawks
Lynch didn't touch the ball for the first time until more than seven minutes elapsed in the second quarter Sunday. If you had Lynch on your roster and went to sleep early, you probably thought your season was ruined. But then he scored on a 6-yard run midway through the second and gave you a sign of life. And then, well, this happened:
Lynch only had 10 carries Sunday, but he made the absolute most of them, finishing with 23 Fantasy points, enough to pace every running back in the league. I wouldn't recommend it for everyone, but if you like drama, that's a heck of a way to win a championship. 
The losers
Andrew Luck, QB, Colts
The fact that Luck is still the leading Fantasy scorer for quarterbacks despite throwing up exactly the same number of Fantasy points in Week 16 as his dad Oliver Luck, says a lot about just how great he was all season long. Luck's 18-point showing in Week 15 was disappointing sure, but it wasn't enough to sink everyone's season -- 30 percent of Fantasy championships played in Week 16 featured Luck on either side. I'm sorry this had to happen to you. I'm so sorry. It's not your fault.  
(I will selfishly note that Luck's horrible, rotten game Sunday helped me come out on top in two different leagues, so I'm not that sorry.)
Bills DST
The Bills are still the highest-scoring Fantasy DST unit overall, with an average of 13.5 Fantasy points per game. However, they were the fourth-worst in Week 16, scoring just 3 points on the strength of a single sack. That the subpar showing came against what should have been a terrific matchup makes it hurt even more.
DeMarco Murray, RB, Cowboys
Murray put Fantasy owners in a similar spot as Bell, actually. If you had him on your roster all season long, he probably carried you to the playoffs, especially thanks to a huge 20-Fantasy-point effort in Week 15. And, though he wasn't bad in Week 16, it was his second-worst game of the season
Harry Douglas, WR, Falcons
Douglas probably played a big part in a lot of teams making it to the finals, as he stepped in for Julio Jones in Week 15 and snagged 10 balls for 131 yards. And, with Jones' availability in question right up to game-time, plenty of you probably rolled the dice on Douglas again in Week 16, especially with such a good matchup on the way. However, with Jones back in the fold, Douglas finished fourth on the team in receiving yards, and was a big-time bust in Week 16.