In the winter of lost logic, players who came up small or medium are getting big deals
Some players who struggled in 2012 (or didn't even play) are being rewarded with big contracts. Meanwhile, one player who had a monster season doesn't seem to have a major market so far.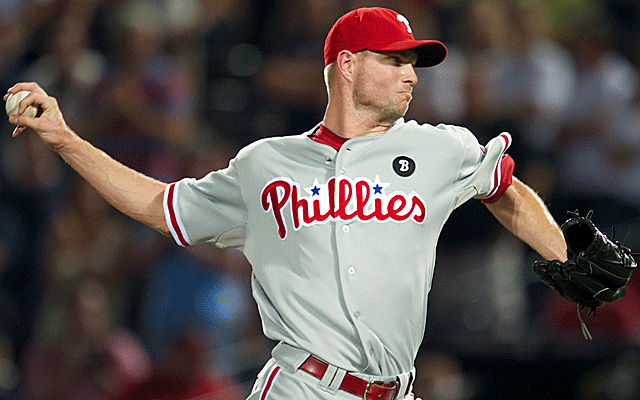 Ryan Madson missed the entire 2012 season with an injury but still got a $6M deal from the Angels.

(US Presswire)
So far it's been rough winter for rhyme, and reason isn't doing so hot, either.
The free agents who had rough summers are being rewarded, one by one, with rich winters. Some of its has to do with a belief in their overall abilities, beyond statistics that would normally give a team pause to lay out the cash.
More of it has to do with the laws of supply and demand.
But that still doesn't explain the case of A.J. Pierzynsky, who had a terrific year and doesn't appear to be in the middle of the action. Now it could still turn out well for Pierzynski, but there apparently isn't the clamoring one might expect after what was a career year.
Possibilities seem to be disappearing, one by one. The Mariners, who are looking at catcher Mike Napoli (who's also being courted by the Red Sox and Rangers after a 200-point slide in his OPS), are said not to be in strong on Pierzynski. The Rangers, who just lost out for Russell Martin, haven't seemed over-enthused by Pierzynski.
The Yankees, who talked about 1-, 2- and 3-year scenarios with Martin but never made an offer, are right now considering Austin Romine and Francisco Cervelli  their likely catching candidates. It's possible they could turn to Pierzynski, but maybe only later, and maybe only if the can get him at a price.
The White Sox, who signed Pierzynski late two years ago after owner Jerry Reinsdorf stepped in to ink a favorite, seem committed to giving prospect Tyler Flowers a shot at the catching job this time.
As for the Dodgers, who some rivals figured might try again for Pierzynski, as was suggested in this space Thursday, one person familiar with the Dodgers' thinking said the chances of them signing Pierzynki are "less than zero.''
That's funny, because the folks getting the deals so far, in some cases, had numbers that were zeros -- literally -- in 2012.
Scott Baker, who missed 2012 with elbow trouble, got $5.5 million from the Cubs.
Ryan Madson, who also missed the year with an elbow issue, got $6 million from the Angels, if he fulfills his roster bonus time.
Martin barely hit .200. Pay the man.
He got $17 million over two years from the Pirates after deciding on that over $21 million for three years.
To be fair, Martin is a terrific defender, walks, has power, is athletic and durable. But it still startles folks to see .211 hitters cash in. It just doesn't happen. Or didn't.
And the Pirates weren't alone. The Rangers were in for Martin for about $13 million over two years, which considering no state tax in Texas is a bit better than that. The Yankees saw Martin as a $6-to-7-million player but didn't want to commit to anything yet, not while they were still concentrating on locking down their pitching. 
They did just that, signing Andy Pettitte who broke his foot, won five games and got $12 million, and Mariano Rivera, who injured his knee and got $10 million. They decided against matching the Pirates, though, leaving the .211-hitting Martin for Pittsburgh.
Napoli stalled a bit in 2012 after his brilliant 2011 season. Pay the man.
Napoli hit .227, and he's got suitors aplenty. The Red Sox are offering three years, and the Mariners would likely offer at least that if they can get him. The Rangers are in, too. Boston is seen as the favorite, but he has three good choices.
Shane Victorino had the worst year of his career. Pay the man.
Victorino has no less than seven teams looking at him. Many are offering three years, and at least one is offering four.
Nick Swisher can't hit a lick in the playoffs. Pay the man.
Swisher also has about seven teams in the mix. He came up limp in October again. no Matter. He looks like he's going to get three or four years. maybe more.
Jeremy Guthrie was awful for half of last year. No worries. pay the man.
Guthrie landed a three-year deal for $25-million with the Royals.
Brandon League lost his closer job in Seattle before straightening himself out in L.A. Pay the man.
League got three years for $22.5 million from the Dodgers.
B.J. Upton put up a .298 on-base percentage. Pay the man.
To be fair, Upton had 28 home runs and 31 stolen bases, and he's only 28. Still, there is that .255 career batting average. According to the research of Danny Knobler, he got the biggest contract ever ($75.25 million for five years) for a .255 hitter.
In summary, it's been a monster year for guys who came up small, medium amd maybe just a little bit better that in 2012. But the one player who had a career year is still out there looking.
Pierzynski hit 27 home runs and had 77 RBI and an .827 OPS. He had 26 home runs while catching, only one fewer than Rockies rookie Wilin Rosario among catchers. You'd think teams would be lining up for that.
But I asked one GM, and he said he saw Pierzynski's season as an aberration, at least from a power standpoint. He said he sees Pierzynski hitting .280 next year but with eight home runs, nt the 27 he hit last year. Hence, he wouldn't be lining up, either.
If Pierzynski doesn't get the dollars commensurate with his monster numbers, we will all wonder whether his status as the opponent everyone loves to hate has hurt him again, like it did last year when he was snubbed by fellow players for the All-Star spot he deserved. In the meantime, he deserves job offers.
The man can play. And he's a winner.
Pay the man? We shall see.
The Red Sox and Cardinals are expected to make trade offers next

The free agent first baseman may be a fit in St. Louis

The front office changes in Atlanta continue
The Marlins are more likely than you think on our list

Judge finished a distant second in the balloting and he paid respect to the winner

Stanton just won the 2017 NL MVP award but could wind up being dealt this offseason