It's just red (as in Barry Larkin) and blue (as in Ron Santo) in Cooperstown this year
This year's Hall of Fame class is special because there's no ambiguity. You hear Barry Larkin, you say Reds. You hear Ron Santo, you say Cubs.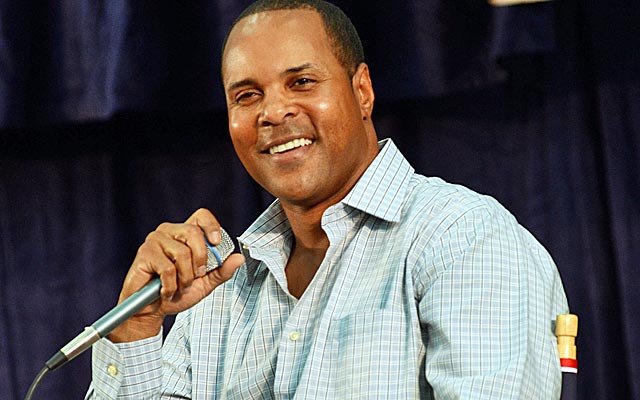 Barry Larkin nearly signed with the Mets late in his career.
(Getty Images)
COOPERSTOWN, N.Y. -- Barry Larkin turned down the Reds when they drafted him out of high school. He challenged the Reds to trade him as a Triple-A player when they suggested he might not make it at shortstop.

He nearly became a Dodger once. He would have been a Met if only they had agreed to give him a three-year contract.

In a way, it's kind of crazy that Larkin is about to go into the Hall of Fame as the rare one-team player -- and as the even rarer Hall of Famer who spent his entire career with his hometown team.

It's kind of crazy ... and it's totally great.
More on Hall of Fame
Related links
One of the nicest things about this year's Hall of Fame weekend is that there's no ambiguity. There's red (Cincinnati red) for Larkin, and there's blue (Chicago Cubs blue) for Ron Santo.

And that's it.

Larkin never played for anyone else. Santo did (one year with the White Sox), but barely acknowledged it.

"He always said he had two families, us and the Cubs," said Ron Santo Jr., part of the family delegation representing his late father.

Cubs fans embraced Santo, first as a player and then as a broadcaster. Cincinnati fans embraced Larkin as one of their own, which he was.

He's the rare single-team Hall of Famer, the first since Jim Rice in 2009. He's the even rarer single-team hometown-team Hall of Famer, just the sixth ever.

There were Lou Gehrig, Whitey Ford and Phil Rizzuto, who grew up in New York and played only for the Yankees. There was Cal Ripken, a lifetime Oriole from his time growing up in Aberdeen, Md. There was Charlie Gehringer, a Michigan kid from Fowlerville, who was always a Tiger.

And now Larkin.

That's it.

"Part of the story is certainly me being a lifer, being a Cincinnati Red," Larkin said Saturday. "Being a lifetime Cincinnati player and being from Cincinnati, I think that's very unique."

He understands that now, understands it better in retrospect than he ever did when he played.

He freely admits he would have been a Met in 2000, would have agreed to the proposed trade if only the Mets had made that three-year commitment.

He also admits now that it would have felt like a mistake.

"It wouldn't be the same situation here had I played the last few years with another organization," he said.

The story reads better this way, even if you also need to include that he spent his high school years dreaming more of a football career than of a lifetime playing for the Reds. His hometown team picked him in the second round, and he chose Michigan and Bo Schembechler instead.

He got a second chance three years later, fortunate enough that the Reds lost enough games in 1984 to earn the fourth pick in the 1985 draft. He got a chance in the big leagues a year after that, and told then-manager Pete Rose that the team should pick him rather than Kurt Stillwell as Davey Concepcion's heir at shortstop.

"I'll be your shortstop for the next 15 years," Larkin said then.

It turned out to be the next 18 years. But there was that near-trade to the Mets, and Larkin also learned of a near-trade to the Dodgers a year earlier. A clubhouse kid brought him a Dodgers jersey with his name on it, a jersey that was to be used at a press conference to announce a deal that instead fell through.

"I just happened not to get traded," Larkin said.

He understands that things could have been different. It's great for a player to want to stay with a team, but it only works if the team wants to keep him, too.

Santo knew that. He didn't want to leave the Cubs after 1973, but the Cubs wanted leave of him. They tried to trade him to the Angels, but he became the first player to exercise the newly negotiated "10-5" rights and block the deal. He agreed to go to the White Sox because it would be less of a burden on his family.

Even then, he stayed just one season, choosing to retire despite having $130,000 remaining on a contract for 1975.

Ron Jr. said his father did keep one of his White Sox uniforms (it was the red pinstripe model that year). And he would sign baseball cards that showed him as a White Sox player -- although not the cards that had a Cubs hat painted red and included the word "traded" on the front.

Santo grew up in Seattle, and when he was finally elected to the Hall of Fame last December, a Seattle website headlined the story: "Seattle's Ron Santo elected to the Hall of Fame." A White Sox blog ran the headline: "Former White Sox player Ron Santo elected to the Hall of Fame."

Still, there's no doubt he's a Cub. There's no doubt, looking out at the fans already gathering in Cooperstown for Sunday's induction ceremony, that the two players going in this year are a Red and a Cub.

"It's special to see all the Cincinnati red," Larkin said. "It's special to see all the Chicago blue."

It's special that the fans of Cincinnati have one of their own to celebrate, and not to share. It's special that Cubs fans can feel the same.

"He had that special connection with every Cubs fan," said Jeff Santo, Ron's younger son.

The connection lives, even now that Santo is gone. It's that connection that makes this weekend special, just as Larkin's lifelong connection with Cincinnati makes the weekend special for those wearing red.

It's red for Larkin, and only red.

It's blue for Santo, and only blue.

And that makes this Hall of Fame weekend special.
Opening Day will be Thursday, March 29 -- the earliest opening day in MLB history

The World Series champion and big-time wrestling fan was on hand Sunday night

The Brewers have very few payroll commitments moving forward
The new, lighter hats will replace embroidered logos with beveled rubber badges

Chipper Jones and Jim Thome join holdovers Trevor Hoffman and Vladimir Guerrero

Another team rumored to be interested in Stanton has confirmed their interest