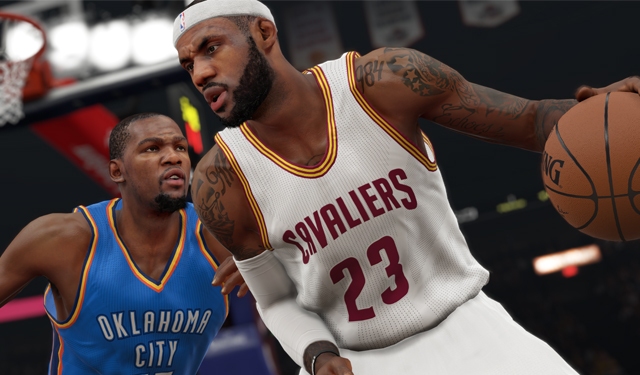 October 7 marks another edition of one of the biggest video game franchises in the history of gaming. The NBA 2K series hasn't just grabbed the majority of basketball video game sales since its inception in 1999; it's become a huge part of basketball culture off the pixelated court as well. NBA players play it as much as some fans and are quick to want to hit up the 2K Sports crew (headed by Ronnie Singh) to find out their ratings in the game long before the game is released.
What the franchise has done such a great job of over the years is trying to make the world of NBA basketball available at your fingertips. The graphics year in and year out have been spectacular, growing ever more lifelike with each advancement in gaming technology. The basketball play has always been solid and improving as the development team works to bring realism into a pretend world by attempting to eliminate glitches and holes in the strategy when you're holding the controller.
More so than ever, 2K Sports is making an effort to bring the NBA world to your console. While there are multiple modes in which you build a team through unlocking "player cards" in almost a tournament style of play or setting up a single season to navigate as a franchise, the bread and butter of the 2K series has become MyCareer mode and MyGM mode.
Thanks to 2K Sports, I've been able to play the game over the last few days to be able to give my thoughts on NBA 2K15 and what's stood out to me is the efforts made in order to not just give you a mode to try out but to give you a story to follow. Let's talk about MyCareer, MyGM and the gameplay and presentation from NBA 2K15.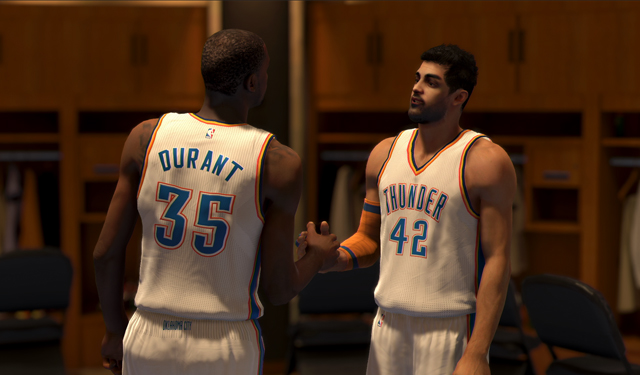 MYCAREER MODE: BECOME YOUR OWN STAR
In NBA 2K14, we were introduced to the first real story mode in MyCareer mode in which your self-designed MyPlayer goes through his own NBA career from start to whenever you're done playing it. 2K Sports introduced a story in which your agent was a childhood friend and you had a rival rookie named Jackson Ellis, who you'd have run-ins with throughout the year. You had to earn sponsorship opportunities and decide which company to sign with. Other agents would try to poach you away from your friend with the promise of brighter spotlights on your career. You would get drafted in 2014, and you had to work your way through the rotation and the NBA, testing free agency and demanding trades if you wanted.
In 2K15, you're still getting a story but it's been changed significantly with a lot more options added this time around. You don't get drafted and the mode starts off with you furiously chasing your agent (not a childhood friend) around the living room of your apartment. He tells you you're going to have to earn a 10-day contract at some point and prove you belong. Nothing is guaranteed for you.
As a way to give the mode even more realism, you can put your face in the game if you have the camera accessory for the XBox One or PS4. You use facial scanning and it collects thousands of data points from the scan to recreate your face into the game. You can adjust coloring, hairstyle, facial hair, and more on top of your scanned face. I grabbed the camera for the PS4 and decided to give it a shot to watch myself trudge through an NBA career.
(On the left, I'm throwing up a 3-point celebration in the Rising Stars Game. On the right, I'm apparently falling asleep.)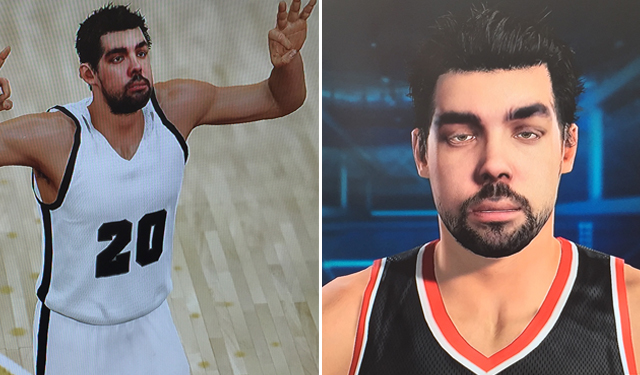 My journey took me to a bevy of various offers for 10-day deals from different teams. It tells you how interested they are in adding you and who is in front of you at your given position. I made myself a shooting guard because there's nothing more fun than making yourself into an NBA gunner. When the offers came rolling in, I picked to tryout for the Milwaukee Bucks with the rationale of "Oh, I can definitely take O.J. Mayo's job from him."
I played well enough to get the offer and it gives you a countdown of how many games you have left during your 10-day. I had five games to prove myself. Immediately when I joined Milwaukee, Kendall Marshall came over to my locker and attached himself as one of the veterans who will help me. Brandon Knight would also be quite vocal with teaching me the ways of being a professional. My first game didn't go so hot. You're starting off with few refined skills and shooting isn't one of them if you're not perfect on timing your release.
After the game, Knight pulled me aside and told me the good news is I "couldn't play any worse." In 2K14, you had mentors but if you weren't reading the subtitles from a silent player on the screen, you wouldn't know they were talking to you. This year's game has the actual voices of players from all over the league there, so you're hearing their voice. Some deliver lines like Daniel Day-Lewis coached them up; some deliver lines like Freddie Prinze, Jr. told them how to do it.
I finally got it together, focusing on doing the little things that would improve my grade for each game. I played well enough to earn a second 10-day contract with the GM of the Bucks having some fun by teasing me before he offered it up. Virtual Me was not amused but relieved to get another shot. This time, there were only four games on the schedule for my 10-day contract.
My high school coach visited a game against the Boston Celtics, telling me how proud he was of Virtual Me. In the fourth and final game of my second 10-day deal, I lit up the Sacramento Kings for 20 points off the bench. The Bucks guaranteed my contract for the rest of the season and it was time to get to work. Once you're a part of the team, you have meetings with the coaching staff for "Game Points" that teach you different ways to play different situations. They explain with video of where the appropriate post-entry passes are and how to run around screens to stick with shooters. You can skip them if you want, but it's offered as a learning tool to bring the experience of being coached.
As the season moved on, my agent brought another client of his to my apartment. It was Dante Exum. With his real voice in the game, Exum is talking trash to Virtual Me while my agent pumps up how good he is. This guy is a terrible agent. You have conversations with your agent about what to do in the upcoming offseason and whether or not you'll leave your current team, even though the season is still going.
This leads to a bit of drama within the locker room. Virtual Me left his phone out and Brandon Knight started snooping through it. He found a text conversation with my agent about possible destinations for next season and shows the rest of the team. They confront you about it, you pick a response of what it means (you only want to play for them or you remind them it's a business), and then you watch the fallout of it all on "Social Media" in which real reporters, analysts, and players are tweeting about it. You could also get a moment in which the entire team pranks you by tricking you to a spot where you get water dumped on you. It's an emotional roller coaster.
Once you get to the offseason, they really go all out with the free agency experience. My agent comes running into my apartment at the beginning to talk about how stressed he is and that if we don't get a good deal, he'll have to go back to the family business. I guess he's not getting much off that Exum rookie deal. You get to pick three teams to pursue a contract with by picking from a list of teams with varying interest in your services. Then the recruiting begins.
Thaddeus Young basically breaks into my apartment to get me to join the Minnesota Timberwolves, the whole time Virtual Me is asking how he got in the door. Thad Young broke into my apartment! Kendall Marshall comes over later and pitches me on loyalty and sticking around with the Bucks. Markieff Morris wants me to join the Phoenix Suns and tells me I'll regret it if I don't, causing Virtual Me to respond with "What does that even mean?" as he walks away. I ended up sticking with the Bucks on a one year deal in which I can earn a certain amount of "virtual currency" depending on the opponent to buy upgrades in attributes.
To bring realism to the mode, Jason Kidd hightails it out of town after one year coaching the Bucks and magically Doc Rivers takes over. Get used to this because 2K Sports is pitching MyCareer mode as having veterans from all 30 teams to help you and "coaching from legendary NBA coach Doc Rivers." It's his real voice and he's offering up knowledge and wisdom to your virtual self.
In the second year of my career, I worked my way into the starting lineup and had some big games against various opponents. A game-winner against the Cleveland Cavaliers gave me a lot of confidence, so I took to the Social Media option and picked LeBron James to tweet some trash talk to. It can be friendly trash talk, serious trash talk, or you can even ask him to join a Big Three with you. I picked friendly trash talk in which I asked him the last time he played a good game. His response?
"LOL @ this kid @GetBuckets thinking he's got something to say. Go hit the weight room or something, dawg."
I was picked for the Rising Stars Game as a sophomore player and went off for 38 points on the slightly bigger stage. Right before the trade deadline hit, Larry Sanders was traded. Instead of taking the "it's a business approach," I decided to walk over to Sanders and let him know I was sorry to see him traded. The next day when Nikola Pekovic walked into the locker room in a Bucks' uniform, I was happy with the trade. After a 41-point outing, Marshall reminded me to be humble and I chose to be braggadocios by telling him "I get buckets." The realism is there.
After the second season was completed, we went through the free agency routine again. Once again, Thaddeus Young broke into my apartment. This time Brandon Knight tried to coerce me into staying in Milwaukee, but I decided to sign a deal with the Phoenix Suns. All the while, you're hitting certain milestones with how many fans you have, whether or not you become a starter, and certain big games you have to earn endorsements. They range from local deals with diners and musical instrument companies to big deals with Sprint, Adidas, Nike, Jordan, and more.
The best part about the upgrade from last year's MyCareer mode to this year's is you can really simulate ahead to advance the story and your career. You're not stuck playing every game, but the games you don't play in don't give you virtual currency to spend. You'll have the opportunity to take your player wherever you want. You can donate virtual currency to upgrade your high school gym. You can hoard it for yourself. You can try to make the Hall of Fame. It's your virtual NBA world.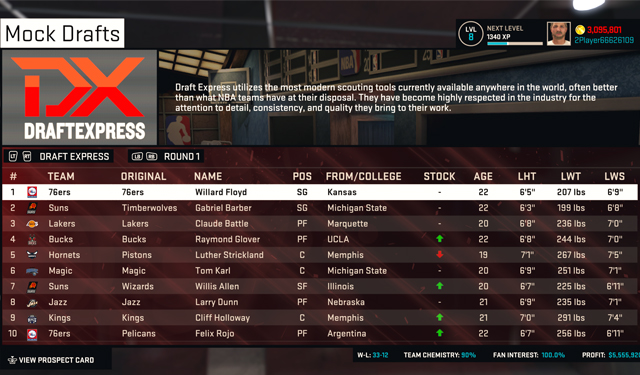 MYGM MODE: BUILD THE TEAM YOU WANT
In MyGM mode, you're taking over one of the 30 teams in the NBA and your MyPlayer is now the GM instead. Based on similarities to real life owners, the virtual owners with different names have different goals regarding business, competitiveness, and much more. Your job is to mind the front office staff, coaching staff, scouting department, players on the court, their personalities, and most importantly the personality of your owner. If you don't satisfy the goals he sets out each season, you'll be looking for a new job.
For my trek into the MyGM mode, I took the Philadelphia 76ers and decided to join the rebuilding process already in painful progress. Right away, I was hit with a world in which Sam Hinkie can't even imagine right now. The owner said he didn't want more than 42 losses. I looked at the roster and knew I had to get to work right away. The mode will hit you with everything you can possibly think of for running a team and it's up to you to deal with or delegate as much as you want. It's an impacted mode but for the basketball nerd, it's perfect.
The revamped scouting system gives you various mock drafts from 2K Sports, Draft Express, and NBA.com. The more you scout a player; the more you learn about them. Except, if your scout is the type to cut corners or doesn't have a great understanding of certain aspects of scouting, you can end up with a real dud. Players have wingspans and go through the draft combine to give you all of the measurements you'd study in real life to glean whether or not a player is worth it. You'll have guys be injury problems in their career. You'll have players be better or worse than your scout suggests, so make sure you've hired the correct scout with the strengths you desire.
When you're in the draft, you can ask the owner, assistant GM, coach, assistant coach, trainer, scout, or CFO which player they think you should draft. Based on their area of expertise, they'll tell you their top choice, but ultimately it's your decision. There are a bevy of trade offers on draft night and every avenue will be explored as you choose whether or not to answer phone calls. As I tried to desperately move up in the draft in a trade with Phoenix, I offered up too many lowball offers before the Suns' GM said he'd never answer my call again. Sure enough, he wouldn't answer it for months when I tried calling about a trade.
Injuries and training are a big part of MyGM mode. You're in constant communication with players on your roster and the staff you've hired to try to determine the balance between training, rest, and player egos. 2K has introduced a new health system tracking different body parts for each player, meaning injuries aren't just a random occurrence like in video games of the past. You can have serious injuries that affect a career, like when Jeff Green tore his Achilles' tendon in the first year of my MyGM mode. His rating plummeted and he wasn't back until later in the next season.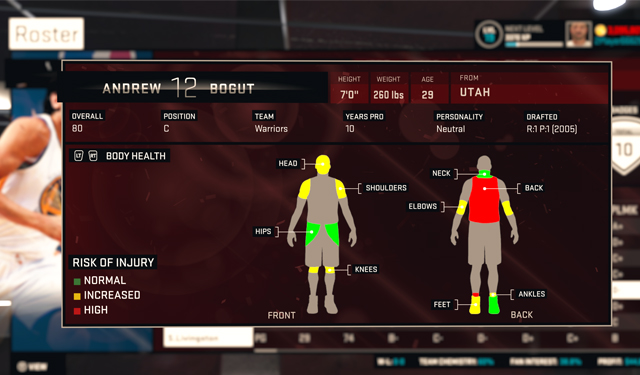 When I traded for Reggie Jackson, Tony Wroten complained about not getting touches and told me in a conversation one of them had to go. I chose to tell Wroten he'd be the one shipped out, which lost me favor with Wroten but gained favor with Jackson. Word travels fast. It's not the only way you handle personalities. Nerlens Noel told me we were training too much (something you can fully control with the schedule, what they train on, and how often they train like before and after back-to-backs).
I promised him I would turn down the intensity of the training and never did it. He wanted to talk again and asked me why I lied. I tried to display some tough love and he told me he couldn't trust me anymore. His trust meter for me dropped down to almost zero and I spent the next two seasons trying to build it back up by being honest with his requests. After trading for a 39-year old Paul Pierce, he said I needed to turn the intensity on practice down. I told him it was for his own good and he needed it. His response was that it was one of the dumbest things I could say.
The options for customizing and navigating through MyGM mode seem endless because the new conversation system gives you so many alternatives to what's going on. One bad choice can ruin your relationship with a player, GM, or worst yet the owner.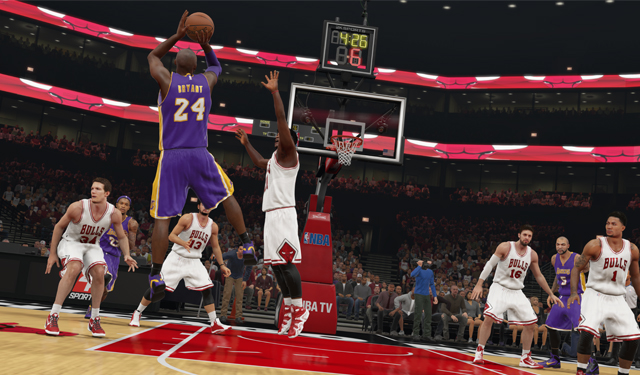 ACTUAL GAMEPLAY AND PRESENTATION
The actual gameplay itself is improved from the first attempt at bringing the gaming franchise to the next generation consoles. Gameplay is smoother and the game looks as realistic as it ever has. Graphics are superb and the in-game interviews can add some great points to the presentation. The shooting meter helps with timing a lot better, but even perfect timing can lead to a missed bucket or 10 based on the player you're using. Almost all of the shot styles are there and true to form.
The biggest issue with the gameplay continues to be some sticking defensively. A lot of players are slow to move properly in the right direction when needed. While this is a problem in real life with some NBA players, it's too often an issue for guys guarding the perimeter. You'll have to be an expert at rotating over with your shot blocker in order to make up for cement feet against guards and wings. The movement off the ball is instinctive so if you start to cheat over to double team, your man will cut backdoor and get an easy bucket. Some of the dribbling can also be difficult to execute when it comes to less than stellar ball handlers. The disparity between the elite and the average when it comes to dribble can too often lead you to crossing over into a defender's leg and the ball rolling away from you.
As the engine is more and more refined for the newer consoles, the physics of actual play will get better. They're still very good, but some players will find frustration with not being able to do whatever you want. You have to play somewhat intelligent basketball, run pick-and-rolls, and find a balance to passing with precision and driving with space to operate. Play like the San Antonio Spurs and you'll succeed. Turn it into an And 1 Mixtape and you're going to catch a loss against a decent opponent.
The presentation of it all really puts a television quality broadcast at your fingertips. Ernie Johnson and Shaquille O'Neal offer up a studio conversation that hasn't gotten stale for me yet. Rachel A. DeMita hosts NBA2K TV with real videos coming to you all the time on the startup menu and the first one with Kevin Durant (the cover athlete) is pretty good. One annoying thing about the presentation is Steve Kerr is a color commentator for games, even though he's also the coach of the Golden State Warriors. But that's probably just bad timing with his hire during production, rather than a design they'd roll with in the future.
Overall, NBA 2K15 is another win for 2K Sports and you can really see where the future of NBA gaming is headed. They have things to fix but it's a fluid process that will get better each year because the customers demand it. They've set the bar for the industry, which means they are their own competition. To get fans to buy a new $60 game each season means it has to be more than a roster update.
They're adding to the experience and giving you a glimpse into NBA life. Just make sure you manage your options well.