2014 NFL Draft position breakdown: Defensive line prospects limited
Kirwan: Defensive-line depth is at issue in this NFL Draft. After pass rushers like Jadeveon Clowney or interior guys like Aaron Donald and Louis Nix, there is some value, but the pool empties quickly.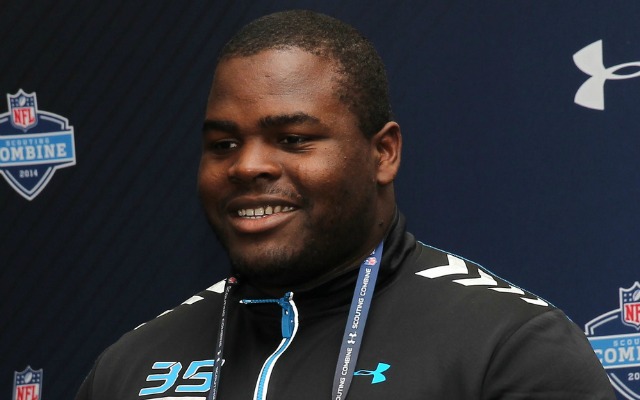 More NFL offseason: Mock Drafts | Prospect Rankings | Pro Days | Top free agents
One thing that rang loud and clear in speaking to NFL GMs at last week's owners meeting is this draft class' lack of quality depth along the defensive line. To appreciate what NFL decision makers face, we'll break down the D-line into positions. Among the six D-line positions that have to be secured in this draft, some are better (4-3, right defensive end) than others (nose tackle), especially when considering the talent drop-off after the first few rounds.
I'm estimating 10 defensive linemen will go in the first round, another six in the second and five in the third. The GMs I spoke to suggested teams in need here best fill those needs early or the pool dries up.
1. 4-3 defense '3 technique' defensive tackle: This player must be explosive and capable of penetrating either the A gap (space between the center and guard) or the B gap (space between the guard and tackle). Some of the greatest 3 techs have measured 6-feet and slightly less than 300 pounds. Warren Sapp is the prototype. There have been converted fullbacks, like Henry Melton, who have played it well. Leverage is as critical as first-step quickness. Coaches want guys who are disruptive at the line of scrimmage.
In need at this position: Cowboys, Bears, Patriots, Giants.
Prospects grading into Rounds 1-3: Aaron Donald (Pitt), Tim Jernigan (Florida State), Will Sutton (Arizona State), Anthony Johnson (LSU), Kelcy Quarles (South Carolina), Dominique Easley (Florida). Overall Grade: B-plus
2. 4-3 defense 'nose tackle:' Known as a '1 technique,' he lines up on one edge of the center. He is usually more stout than the 3 technique, but he must have one-gap penetration skills as well. Many 4-3 teams ask this player to loop around and contain a quarterback in a stunt commonly known as a "pirate stunt." He will be double-teamed at times, especially when the run game comes to his side, and he occasionally will be asked to hold the point of attack.
In need at this position: Falcons, Giants, Raiders.
Prospects grading into Rounds 1-3: Ra'Shede Hageman (Minnesota), Will Sutton (Arizona State), Ego Ferguson (LSU). Overall Grade: C-plus
3. 3-4 defense nose tackle: This player is a wide body who usually lines up on the head of the center and forces a double-team between the center and guard. He can never be driven back by the double-team or one of the blockers will come off the nose and get a linebacker. The traditional size for these players is 6-3 and 335 pounds to 350 pounds.
In need at this position: Chargers, Steelers.
Prospects grading into Rounds 1-3: Louis Nix (Notre Dame). Two more -- Daniel McCullers (Tennessee), and Ray Carrethers (Arkansas State) -- have an outside chance, but likely will go in later rounds. Overall Grade: C
4. 3-4 defense '5 technique:' He's termed a defensive end, but often plays like a tackle. He often lines up over the offensive tackle and is asked to "two gap" the tackle, which means strike the offensive tackle, lock out your arms for separation and be responsible for the B or C gap. Teams are looking for tall players at least 6-4 and bulky enough not to get pushed around (275 pounds-300 pounds).
In need at this position: Cardinals, Ravens, Chiefs, Eagles, Steelers, 49ers.
Prospects grading into Rounds 1-3: Hageman, Stephon Tuitt (Notre Dame), Josh Mauro (Stanford) -- and later in the draft, Taylor Hart (Oregon), Shamar Stephen (UConn), DeAndre Coleman (Cal) and Brent Urban (Virginia). Overall Grade: B
5. 4-3 defense right defensive end: He is a pass rusher first and foremost, but if he plays on run downs he better be physical enough to play or offenses will wear him out on first and second downs, leaving him too tired to rush the QB. Flexibility to beat a tackle on an edge and burst off the blocker is important, so height and long arms really help.
Teams in need at this position: Falcons, Bengals, Cowboys, Lions.
Prospects grading into Rounds 1-3: Clowney (South Carolina), Kalil Mack (Buffalo), Anthony Barr (UCLA), Dee Ford (Auburn) -- then in later rounds, Carl Bradford (Arizona State), Jackson Jeffcoat (Texas) and DeMarcus Lawrence (Boise State). (Note: Many of these players are viewed as potential 3-4 outside linebacker candidates, but for our purposes here, we're talking about guys with their hand on the ground. Overall Grade: A-minus
6. 4-3 defense left defensive end: The 4-3 left defensive end is similar to the 3-4 '5 technique' in physical stature but may possess more first-step quickness to take a gap and rush.
Teams in need at this position: Broncos, Seahawks.
Prospects grading into Rounds 1-3: #1 Kony Ealy (Missouri), Scott Crichton (Oregon State), Trent Murphy (Stanford) -- and later in the draft, Kareem Martin (North Carolina). Overall Grade: B-minus
Everything you need to know about the Packers-Panthers game on Sunday afternoon

The Lions will be wearing their Color Rush uniforms for the first time on Thursday

The Lions look to maintain playoff positioning while the Bears attempt to play spoiler
The Panthers have hired an outside law firm to conduct the investigation

Here's every official injury designation for each NFL team for Week 15

Bennett was one of the few players who escaped punishment after Sunday's melee in Jacksonv...