Agent's Take: Raiders top list of teams with best 2014 cap situation
Former agent Joel Corry examines the 10 NFL teams with the best cap situation heading into the offseason.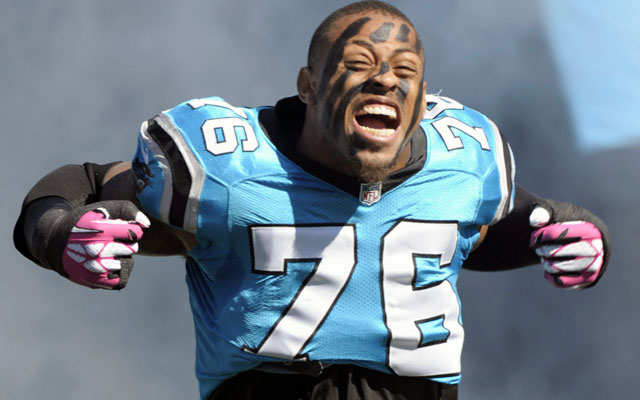 NFL teams were informed at an NFL meeting on Dec. 11 that the 2014 salary cap is preliminarily projected to be $126.3 million. This is a 2.68 percent increase over the current $123 million salary cap. When the 2014 salary cap is set in late February or early March, it could be as high as $128 million. Each team's actual salary cap (known as adjusted salary cap) is typically different from the NFL's set amount because unused cap room can be carried over from one year to the next and other adjustments can further increase or decrease cap space. For example, the Redskins have the lowest adjusted salary cap this year at slightly more than $110 million because of a $36 million salary cap penalty split evenly over 2012 and 2013 for violating unwritten spending rules during the uncapped 2010 season.
Salary cap accounting changes in the offseason. Only the top 51 cap numbers count on the cap. The top 51 includes any franchise/transition, restricted free-agent and exclusive-rights tenders for unsigned players. The restricted free-agent tenders will increase by 5 percent in 2014 as long as the salary cap doesn't exceed $129.15 million. The most common restricted free-agent tender, which entitles a team to draft-choice compensation equal to a player's draft round on an unmatched offer sheet, will be $1.389 million in 2014. After the regular season ends on Dec. 29, teams can sign players who aren't on rosters to contracts that won't take effect until the league year begins on March 11. Typically, these futures contracts are for minimum salary without signing bonus and most teams sign their own practice squad players to help fill out the roster.
Here's a look at the teams with the best cap situations for 2014. Unlike most projections of cap room (which usually only include carryover amounts), the fourth-year proven performance escalators earned by third- through seventh-round picks under the 2011 collective bargaining agreement's rookie wage scale, tenders for restricted free agents and exclusive-rights players with expiring contracts, voidable contract years and futures contracts for practice squad players are taken into account to give a more complete cap picture. These projections include 51 players unless noted otherwise.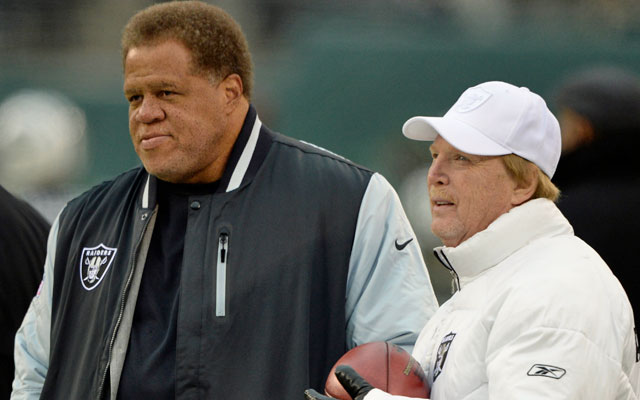 Salary cap room: $63,550,126 (46 players)
Adjusted salary cap: $128,924,069
The Raiders have the most cap room in the NFL because general manager Reggie McKenzie, formerly director of football operations for the Green Bay Packers, has completed his two-year process of cleaning up the cap. If McKenzie adopts the Green Bay philosophy as anticipated, he won't be aggressive in the first wave of free agency when teams overpay players in a seller's market. The CBA requiring teams to spend 89 percent of the cap in cash over four-year periods of 2013-16 and 2017-20 could impact McKenzie's approach. The Raiders have the NFL's lowest payroll at $93.1 million (75.7 percent of the cap).
The defense should have a different look next year because seven starters are unrestricted free agents. Finding a player who can consistently generate a pass rush should be at the top of McKenzie's list. Defensive end Lamarr Houston and left tackle Jared Veldheer are Oakland's top two free agents. Former fourth overall pick Darren McFadden's six-year tenure with the Raiders will likely end after a disappointing and injury-plagued contract year.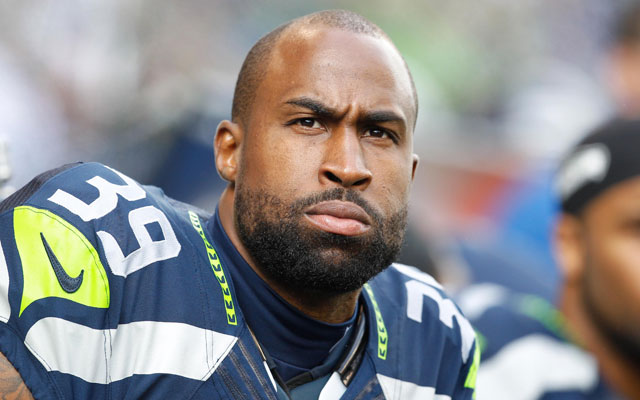 Salary cap room: $54,324,476
Adjusted salary cap: $146,399,666
The Jaguars weren't active in free agency despite having over $33 million in cap room when the league year began in March as new general manager David Caldwell embarked on a rebuilding project. His preference is building the team through the draft. Finding a quarterback, presumably in the draft, is Jacksonville's most pressing need. The Jaguars are currently on track for the fourth overall pick. Starting quarterback Chad Henne is in the final year of a two-year, $6.75 million contract (with an additional $2.5 million in incentives). He could be re-signed on a similar deal since it is unlikely he will find a starting job elsewhere. Blaine Gabbert, the team's 2011 first-round pick (10th overall), could be put on the trading block or released.
Targeting a pass rusher in free agency should be a priority for the Jaguars. Their 27 sacks are next to last in the NFL. Greg Hardy, Michael Johnson and Brian Orapko could be options. The Jaguars are open to keeping Maurice Jones-Drew at the right price. Reggie Bush and Steven Jackson set the free-agent RB market this year with deals averaging $4 million per year. It also wouldn't be a surprise if cornerbacks Walter Thurmond or Brandon Browner (assuming he gets a favorable ruling in his drug suspension appeal) reunite with head coach Gus Bradley, their former defensive coordinator in Seattle.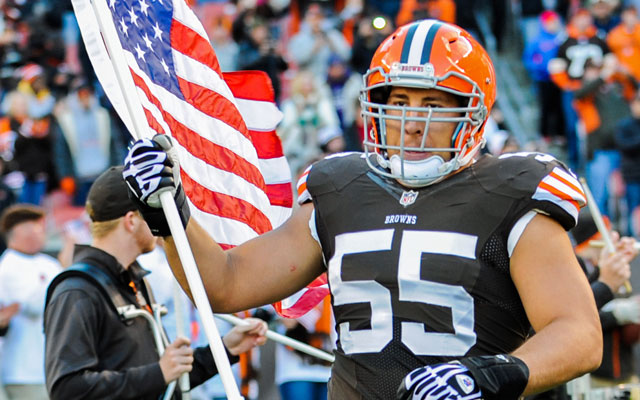 Salary cap room: $46,584,334
Adjusted salary cap: $150,494,764
The Browns have the largest 2014 adjusted salary cap thanks to a league-leading $24.19 million in carryover room. The quarterback position should have a different look in 2014, especially if the Browns take a passer early in the draft. Brian Hoyer, who was a surprise before tearing an ACL in Week 5, is most likely to return. He and Jason Campbell have $250,000 roster bonuses payable by the fifth day of the 2014 league year (March 15) but Hoyer is $1 million cheaper than Campbell with a $1.25 million 2014 salary. Expect the Browns to try to and trade Weeden, who has fully guaranteed base salaries of almost $1.125 million and $1.5 million in 2014 and '15, the last two years of his four-year rookie contract. The Browns could cut their losses with the 22nd overall pick in the 2012 NFL Draft if there aren't any takers. Cleveland's 2014 cap charge for Weeden would increase from approximately $2.2 million to slightly more than $4.775 million primarily because guaranteed base salary accelerates into the current year's salary cap when a player gets released.
Center Alex Mack and strong safety T.J. Ward are Cleveland's two best impending free agents. Ward is the more likely franchise tag candidate because Mack would receive a financial windfall. The franchise tag doesn't account for the salary differences at the three main offensive line positions (center, guard and tackle). The offensive lineman franchise number is expected to be slightly over $11 million while only two centers, Ryan Kalil and Nick Mangold, have contracts averaging over $7.5 million per year. The $8 million safety franchise tag number is more indicative of the strong safety marketplace, where Kam Chancellor's $7 million contract extension in April is a recent data point.
Running back became an area of need after the early season trade of Trent Richardson to the Indianapolis Colts for a 2014 first-round pick. The Houston Texans' Ben Tate reportedly is on Cleveland's free-agency radar screen.
Salary cap room: $41,832,799 (37 players)
Adjusted salary cap: $128,013,800
The Bears are scheduled to have 28 unrestricted free agents, including Jay Cutler, Tim Jennings, Henry Melton and Charles Tillman, because of general manager Phil Emery's moratorium on in-season contract extensions. Chicago's most crucial decision is with Cutler. Emery isn't inclined to use a franchise tag on Cutler, which will be slightly more than $16 million. Cutler could command a contract at least comparable to Tony Romo's deal ($18 million per year/$55 million in guarantees) if he hits the open market.
Compounding matters is the Bears are in a holding pattern with backup quarterback Josh McCown, who has outperformed Cutler this year. Since McCown signed a minimum salary benefit contract, the Bears can only re-sign him to another minimum salary deal until the start of the 2014 league year on March 11. A player receives his league minimum base salary ($840,000 for McCown) and a maximum of $65,000 as a signing bonus in a minimum salary benefit deal while his base salary only counts on the cap at the $555,000 minimum salary for players with two years of service. McCown's salary floor should be the top of the backup quarterback market, which is $3.5 million to $4 million per year, after his stellar play this season.
It is expected that the Bears will part ways with eight-time Pro Bowl defensive end Julius Peppers in 2014 because of his $14 million salary and $18,183,333 cap number. Peppers has been a nonfactor in too many games this season. The Bears will gain $9,816,665 of cap room by releasing the 33-year-old in 2014.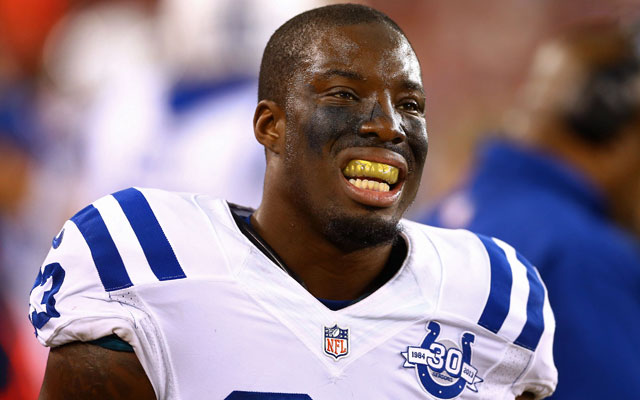 Salary cap room: $31,715,488
Adjusted salary cap: $127,083,144
The offensive line is still a weakness despite making free agent Gosder Cherilus the NFL's highest-paid right tackle with a five-year, $35 million contract ($16.5 million guaranteed). The receiving corps could use an upgrade since T.Y. Hilton hasn't really elevated his game as the primary receiving option after Reggie Wayne tore his ACL in the Week 7 win over the Denver Broncos. The 35-year-old Wayne will be entering the final year of his contract in 2014.
Several key contributors are among Indianapolis' 16 unrestricted free agents. Cornerback Vontae Davis opened eyes with his coverage on Demaryius Thomas in the Denver win but has regressed. Donald Brown has taken over at running back for Trent Richardson, who was acquired from the Browns for a 2014 first-round pick. Returning to the Colts may not be Brown's first option because Vick Ballard is expected back from an early season ACL tear and Richardson's acquisition cost. Punter Pat McAfee received Indianapolis' franchise tag this year. It will take $3,572,400, 120 percent of McAfee's current franchise tender, to franchise him for a second time. Kicker Adam Vinatieri, the NFL's oldest player, is also a free agent.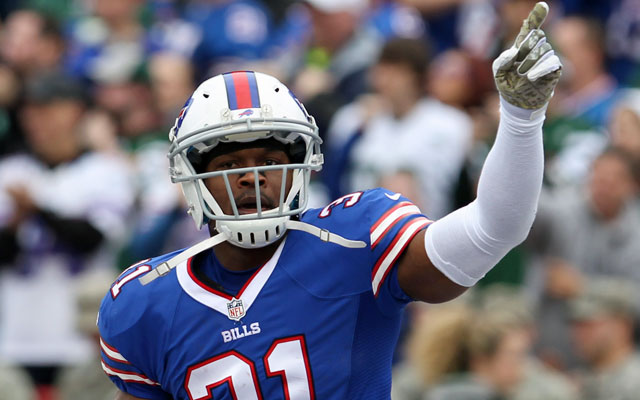 Salary cap room: $28,667,038
Adjusted salary cap: $145,250,531
Resolving Jairus Byrd's situation is of the utmost importance. His relationship with the Bills became acrimonious when the team refused to sign him to a multiyear contract in line with the top of the safety market after designating him as a franchise player. Dashon Goldson's five-year, $41.25 million contract ($22 million guaranteed and $26 million in the first three years) with the Buccaneers is the most recent salary benchmark.
Byrd missed a majority of the preseason in a contract dispute before signing his $6.916 million franchise tender. There has been some speculation that with a long-term deal he may have played through the plantar fasciitis in his feet that kept him out of Buffalo's first five games. If Byrd isn't in Buffalo's long-range plans, he could be franchised for a second time at $8,299,200 for trade purposes. The New England Patriots used this tactic with Matt Cassel in 2009 when he was dealt to the Kansas City Chiefs as a franchise player.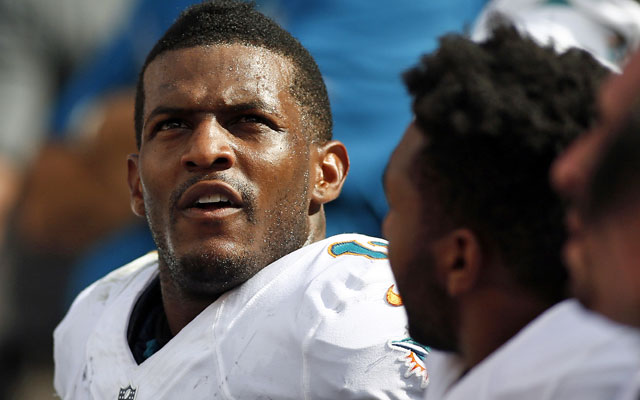 Salary cap room: $28,130,859
Adjusted salary cap: $144,102,920
The Jonathan Martin/Richie Incognito ordeal depleted the offensive line. Neither player is expected back with the Dolphins in 2014. Incognito will be an unrestricted free agent and Martin will be put on the trading block. The Dolphins had trade discussions with the Kansas City Chiefs before the draft regarding left tackle Branden Albert, the Chiefs' franchise player, but weren't willing to part with a second-round pick. It will cost Kansas City, who should have close to $6.5 million in cap room, $11,793,600 to designate him as a franchise player for a second time. The Dolphins reportedly were willing to meet Albert's contract demands if the trade had been made. He was seeking a deal comparable to the six-year contract extension averaging $8.9 million per year (with $22,081,500 in guarantees) that Pro Bowl left tackle Duane Brown signed with the Houston Texans right before the start of the 2012 season. 
Brent Grimes signed a one-year "prove it" deal for $5.5 million to re-establish his value after tearing an Achilles tendon in the Atlanta Falcons' 2012 season opener. He has performed at a Pro Bowl level this year. Grimes could be franchised for a little more than $11.2 million if a long term deal can't be worked out.
The Dolphins can restructure Mike Wallace's five-year, $60 million contract if additional cap room is needed. He has the NFL's 13th-largest 2014 cap number at $17.25 million.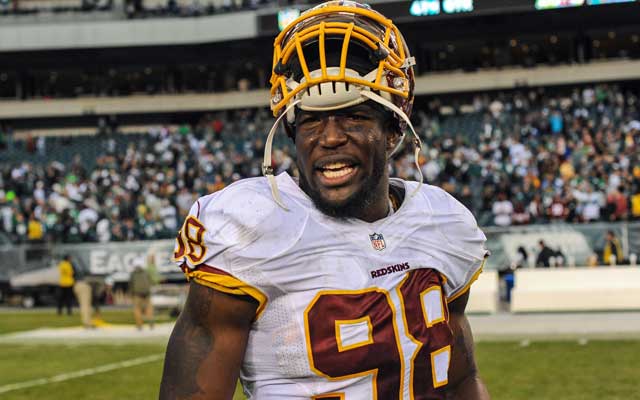 Salary cap room: $28,055,889
Adjusted salary cap: $127,893,111
The Redskins will gain $14.5 million in cap room when the remaining years of four contracts (London Fletcher, Brandon Meriweather, Josh Morgan, Brian Orakpo) void a few days after the Super Bowl. The lack of 2013 and '14 first-round draft picks because of the Robert Griffin III trade increases the likelihood the Redskins will be aggressive in free agency.
The most important player headed to free agency is Orakpo. The two-time Pro Bowl outside linebacker has 10 sacks in his return from tearing his left pectoral muscle last season for a second time. Since Orakpo views himself as an elite pass rusher, it will probably require a long-term deal in excess of $10 million per year with over $30 million in guarantees to retain him. Using the franchise tag, which will be right around $11 million for linebackers, is also an option.
Revamping the secondary should be the top priority for the Redskins. The play of the safeties has been a long-standing issue for the Redskins. Jairus Byrd could be a possibility if the Buffalo Bills don't use a franchise tag on him for a second straight year.
The Redskins could also renew their pursuit of cornerback Aqib Talib, assuming he isn't designated as a franchise player by the New England Patriots. Talib was targeted in free agency this year but Washington's cap penalties were an obstacle in signing him. He could be looking for a contract between the Jason McCourty (slightly more than $8.6 million per year, $17 million in guarantees) and Brandon Carr/Cortland Finnegan neighborhoods ($10 million average per year, $26.5 million-$27 million in guarantees) provided he can regain the form he displayed early in the season before injuring his hip.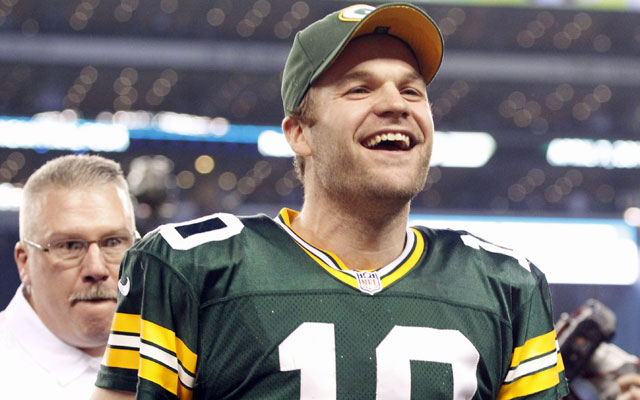 Salary cap room: $26,503,352
Adjusted salary cap: $136,166,383
The Packers usually aren't major players in free agency. General manager Ted Thompson prefers homegrown talent and re-signing core players to long-term deals before their contracts expire. Despite Thompson's approach, the Packers will have 17 unrestricted free agents. Most notable are backup quarterback Matt Flynn, wide receiver James Jones, defensive tackle B.J. Raji and cornerback Sam Shields. If the reports of Raji turning down a contract extension averaging $8 million per year before the season are accurate, he may regret that decision. Raji hasn't registered a sack in his past 33 regular-season games.
It might be wise for the Packers to give Flynn one of the better backup quarterback deals (averaging over $3 million per year) to serve as an insurance policy in case 2011 NFL MVP Aaron Rodgers suffers another injury. The Packers were fortunate that Flynn was available after losing a preseason competition to Terrelle Pryor for the Oakland Raiders' starting job. Randall Cobb, who is sidelined with a broken right leg, and Jordy Nelson might be in line for contract extensions since 2014 is their contract year.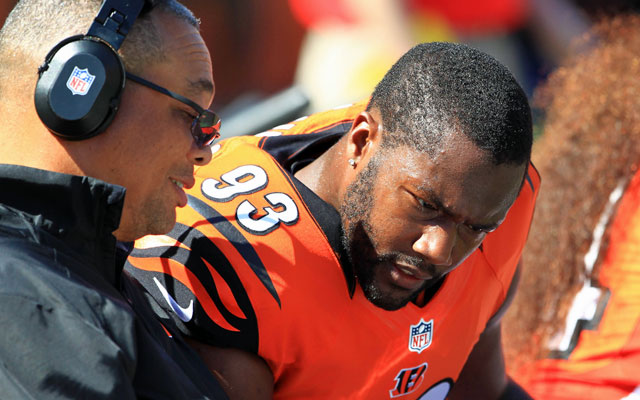 Salary cap room: $22,360,530
Adjusted salary cap: $134,533,678
The Bengals have surprised many in NFL circles by being proactive with core players entering the final year of rookie contracts. Defensive end Carlos Dunlap received a five-year extension averaging $7,763,640 per year (including an additional $4.5 million in base salary escalators). All-Pro defensive tackle Geno Atkins signed a five-year, $53.327 million extension. Dunlap's deal probably means defensive end Michael Johnson will not be back in 2014 after playing this season under an $11.175 million franchise tag. The Bengals aren't expected to franchise Johnson again for $13.41 million when he's in the midst of a three-sack season.
Locking up A.J. Green long term could be a part of Cincinnati's 2014 plans as long as he doesn't ask for Calvin Johnson/Larry Fitzgerald money ($16 million per year/$50 million in guarantees). The Bengals will have the two-time Pro Bowl receiver under contract through the 2015 season by exercising an option for a fifth contract year. Quarterback Andy Dalton, who was a 2011 second-round pick, will be entering his contract year in 2014. The Bengals might take a wait-and-see approach with him despite his AFC Player of Month honors in October because of his inconsistency. Linebacker Vontaze Burfict, who leads the NFL in tackles, is also eligible for a contract extension because he was an undrafted free agent in 2012. He will be entering the final year of his three-year, $1.441 million rookie deal.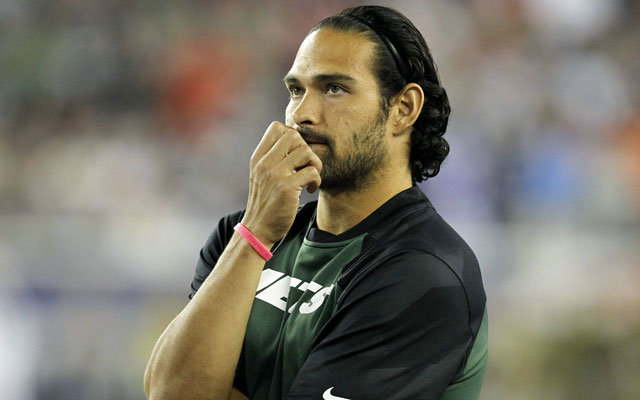 Salary cap room: $16,706,529
Adjusted salary cap: $127,876,408
On the surface, the Jets do not appear to have a big salary cap surplus. But they will have in excess of $30 million of cap space by making a couple of expected roster moves. The Jets will gain $8.3 million of cap room by releasing quarterback Mark Sanchez before his $2 million roster bonus is due on the 15th day of the league year (March 25). Another $8.25 million of cap room will be created by parting ways with Santonio Holmes before his $1 million roster bonus is payable on the third day of the 2014 league year (March 13). Antonio Cromartie's $14.98 million cap number needs be addressed by trade, release or paycut before his $5 million roster bonus is due on March 13. He was named to his first Pro Bowl in 2012 but has performed poorly this year. The Jets would pick up $9.5 million of cap room by releasing him. Finding a playmaking wide receiver is a must for the Jets. Eric Decker, Hakeem Nicks, Emmanuel Sanders and James Jones head the crop of free-agent wide receivers.
---
Joel Corry is a former sports agent who helped found Premier Sports & Entertainment, a sports management firm that represents professional athletes and coaches. Before his tenure at Premier, Joel worked for Management Plus Enterprises, which represented Shaquille O'Neal, Hakeem Olajuwon and Ronnie Lott.
You can follow him on Twitter: @corryjoel
You can email him at jccorry@gmail.com
Pick Six Newsletter
Get the day's big stories + fun stuff you love like mock drafts, picks and power rankings.
Please check the opt-in box to acknowledge that you would like to subscribe.
Thanks for signing up!
Keep an eye on your inbox for the latest sports news.
Sorry!
There was an error processing your subscription.
The Eagles coach responds to the comments made by the former coach of the Giants

They have until Monday to reach a long-term agreement before the franchise tag deadline

Owens, who was voted into the Hall of Fame on his third try, will not attend the enshrinem...
The Cardinals' All-Pro cornerback weighs in on the team's quarterback situation

Owens is not attending his own Hall of Fame induction

The Steelers used the franchise tag on their star running back for the second consecutive...