Freshman of the Year: Newcomers could decide Big Ten race
With only one month left, several contenders are counting heavily upon freshmen to win conference titles.
• 5 min read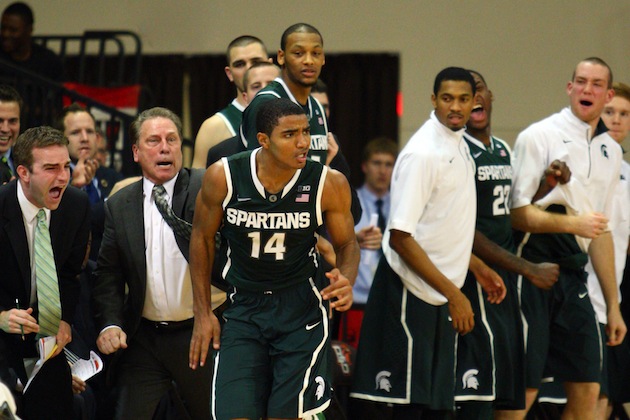 A recent three-game stretch from Gary Harris showed he can provide solid perimeter production for MSU. (US Presswire)
As we head into the final month of the season -- and only a few weeks until the final release of the rankings -- there wasn't a ton of movement in the top five. Anthony Bennett stayed at No. 1, although Ben McLemore's consistency is making life difficult. Jahii Carson dropped down a notch, while Nerlens Noel is emerging at the right time. 
One thing to watch for in the next few weeks is how much of a factor freshmen play in the Big Ten race. Each of the four teams at the top of the standings relies on newcomers, and each needs some consistency from its freshmen.
Start with Michigan State and Gary Harris, who averaged 16.7 points and hit 12 3-pointers during a recent three-game span. Michigan's duo of Nik Stauskas and Glenn Robinson III has been somewhat inconsistent recently, totaling three single-digit games during February. Furthermore, Mitch McGary has to continue to bring energy and rebounding off the bench inside. Sam Dekker provides Wisconsin with a weapon not many teams can handle, but he has to assert himself more. Meanwhile, Indiana has Yogi Ferrell at the point guard spot, and he will simply need to make smart decisions in a half-court setting. 
As always, the Freshman of the Year rankings will be released on Tuesdays, along with the Player of the Year rankings. 
1. Anthony Bennett -- UNLV
 
Position: Power Forward

Ht: 6-8 Wt: 240

Season Stats: 18.3 PPG, 8.6 RPG

Comment: If it's possible, Bennett is almost starting to fly beneath the radar on a national level. Despite that, he's starting to pick it back up for the stretch run. UNLV dropped two in a row before bouncing back with a major win over New Mexico. Over his last three games, Bennett is averaging 19.0 points and 9.0 boards per game, along with four blocks and four steals in that span. Matchup with San Diego State's small lineup and Colorado State's bigs in the next week will be interesting.
2. Ben McLemore -- Kansas
 
Position: Shooting Guard

Ht: 6-5 Wt: 195

Season Stats: 16.8 PPG, 5.5 RPG

Comment: Kansas broke its three-game losing streak on Monday night, getting 30 points -- including six 3-pointers -- and seven rebounds from McLemore in an easy win over Kansas State. McLemore never slowed down during the string of defeats, though. Despite Kansas dropping three in a row, McLemore averaged 17.7 and 5.7 rebounds during that span. He's still following in the lead of the upperclassmen, though; will he be that domiannt go-to-guy come NCAA tournament time? 
3. Marcus Smart -- <span data-shortcode= State" data-canon="Oklahoma Sooners" data-type="SPORTS_OBJECT_TEAM" id="shortcode0">
 
Position: Point Guard

Ht: 6-4 Wt: 225

Season Stats: 14.6 PPG, 5.9 RPG, 4.6 APG, 3.0 SPG

Comment: Smart's performance in a road win at Kansas two weekends ago propelled him up to No. 3 in the rankings, and it's tough to move him back down -- despite shooting 10-for-33 in his last two games. He's becoming even more of a dominant perimeter defender, racking up at least four steals in each of his past four games. Overall, he is averaging 20.8 points, 7.5 rebounds, 5.0 assists and 4.5 steals in the last four games -- and the Cowboys have won five in a row.
4. Nerlens Noel -- Kentucky
 
Position: Center

Ht: 6-10 Wt: 228

Season Stats: 10.6 PPG, 9.6 RPG, 4.5 BPG, 2.1 SPG 

Comment: Noel picked the perfect time to really emerge in all facets of his game, as Kentucky has rolled off five wins in a row to get back into the top 25. He has three straight double-doubles -- and that doesn't include his 12-block performance against Ole Miss two weeks ago. Over his past three games, Noel is averaging 13.0 points and 12.0 rebounds, blocking eight more shots during that span. He's also become more aggressive, getting to the free-throw line 26 times in three games. 
5. Jahii Carson -- Arizona State
 
Position: Point Guard

Ht: 5-10 Wt: 175

Season Stats: 17.9 PPG, 3.2 RPG, 5.1 APG

Comment: It's getting to be danger time for Arizona State's at-large hopes. The Sun Devils have lost two of their last three, and five of their final seven games are on the road. Since Carson's 32-point performance at Washington two weeks ago, he has struggled from the field, shooting 11-for-26 and has only been to the free-throw line eight times and scored 27 points in two games. Carson is the major reason Arizona State is in this position, and he'll need to carry the Sun Devils in the final month.
Others to Note:
Before I proceed, I just want to make note that this "Others to Note" category isn't just the honorable mention players. I try to rotate the players on a week-to-week basis, in order to highlight as many players as possible over the course of the season.
UCLA's Shabazz Muhammad was the last one out of the top five, as he shot 22-for-55 in his past three games. He's continuing to put up points -- which UCLA certainly needs him to do, but he needs to limit some of the more forced attempts. With that said, he did take over the freshman scoring crown from Bennett.
Bright sign for the future of Boston College's backcourt: Olivier Hanlan has scored at least 16 points in three of his last four games.
Alex Caruso of Texas A&M was one of my favorite players back in high school (mainly because he wore boat shoes to games), but he's been a dynamite defender in his freshman year. He's at 2.1 steals per game, but he only plays about 23 minutes -- meaning he leads the nation's frosh in steal percentage.
Staying in the Lonestar State, keep an eye on Texas guard Demarcus Holland. His numbers for the season aren't great, but he's moving into the starting lineup alongside Myck Kabongo, and he did score 13 points in his last outing. He's also a good defender.
Unfortunate news for Oklahoma and Buddy Hield. The freshman guard will miss four-to-six weeks with a fracture in his foot. His scoring has fallen off a bit, but he has shown the ability to hit shots and be a solid perimeter defender. Fellow frosh Isaiah Cousins will see his role increase with Hield out. 
Guess who had the best single-game scoring performance for any freshman this season? If you said Georgia State's R.J. Hunter, you'd be right. He had 38 points on 10 3-pointers two weekends ago against Old Dominion, and is now averaging nearly 18 a game. 
Although Noel and Chris Obekpa get all the attention as shot-swatting freshmen, there is one other newcomer averaging at least three blocks per game: Austin Peay's Chris Horton, who has blocked at least six shots on five occasions in the last two months.
Freshman leaders -- Points: Shabazz Muhammad, UCLA (18.5); Rebounds: Shawn Long, Louisiana-Lafayette (10.5); Assists: Siyani Chambers, Harvard (6.2).
__________________________________________________________________________
For more college basketball news, rumors and analysis, follow @EyeOnCBB on Twitter, subscribe to our RSS Feed and subscribe to our College Basketball Newsletter. You can follow Jeff Borzello on Twitter here: @jeffborzello
The Wildcats' resume doesn't seem too impressive right now

Was there contact? 'Everybody saw it,' UK coach John Calipari said

After losing its second game this week, a deep NCAA Tournament run looks far-fetched for U...
Coach K shows he is on on top of his game by landing the best three prospects in the Class...

The Buckeyes and Boilermakers continue to assert their dominance in the Big Ten

The 5-star phenom was thought to be headed to Clemson, but was swayed to the Blue Devils