Coaching Changes Daily: Why Texas should give Mike Gundy a look
Oklahoma State's Mike Gundy should be a Texas candidate, Army has plenty of potential replacements for Rich Ellerson.
• 3 min read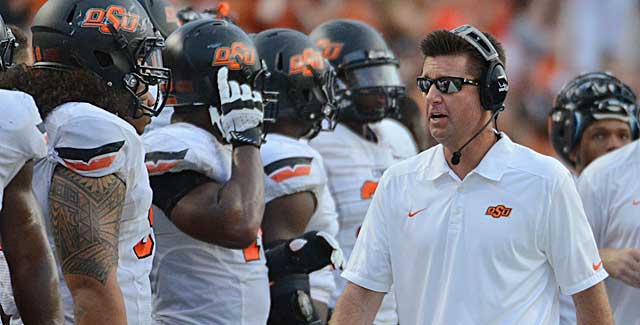 1: Here's why I think Texas Longhorns will give Oklahoma State Cowboys Mike Gundy a hard look:
First, realistic options must be considered. Can Texas afford to wait on Florida State Seminoles 's Jimbo Fisher or Auburn Tigers 's Gus Malzahn if those two are interested? Possibly, since recruiting is dead until Jan. 15. But that's a long wait to potentially miss out on other coaches. Also, NFL folks such as Mike Tomlin or Jim Harbaugh -- I just don't see it. David Shaw, Art Briles -- there's a chance they are lifers where they are (maybe that's naïve, but certainly possible).
When prioritizing this job, which factor is undoubtedly in the top three? Evaluating Texas high school talent.
Well, Gundy's Oklahoma State roster -- which is two wins better than Texas this year and nearly three wins better on average the past four seasons -- currently has 70 players from Texas. Seventy!
Just take a look at the All-Big 12 teams this season. Excluding special teams, Oklahoma State has four first- or second-teamers from the state of Texas compared to Texas' six from the state.
Oklahoma State's Justin Gilbert , one of the nation's best corners, got no traction with Texas as a recruit out of Huntsville.
Linebacker Shaun Lewis from Missouri City, receiver Josh Stewart from Denton, linebacker Caleb Lavey from Celina -- all without offers from Texas.
Gundy has won more with players Texas didn't want. Imagine what he could do with players Texas does want.
For a school looking to bury Oklahoma every year, Gundy's 1-8 record against the Sooners could be a hard sell. But if UT can get past that, Gundy has a few factors in his favor.
Texas needs to infuse youth and energy to the program, and though Gundy's not exactly young, 46 is a reasonable age in coaching terms. He's got a good 15 to 20 years left.
Gundy sticks to convictions and can make adjustments on the fly (emphasized the rushing attack midway through the year when the passing game sagged). Gundy's last in-house promotion, Glenn Spencer to defensive coordiantor, worked out beautifully. Oklahoma State gave up a combined four defensive touchdowns to Baylor Bears , Oklahoma and Texas.
As evidenced by Gundy's evaluation of the Tennessee Volunteers job last year, he could be willing to listen again.
Well, anyone should listen to this one. A coach would be silly not to at least consider it.
Perhaps Gundy could actually happen.
2: Army West Point Black Knights is a tough job, but it should have a pool of strong candidates at a crucial point in the program.
It'd be nice for Army to find someone to exceed Rich Ellerson's 20-41 record, but let's start with a simple goal -- hire a guy who can beat Navy Midshipmen . Not every year, but at least once.
Dropping 12 straight to Navy, including Saturday's 34-7 loss, can't define the program any longer.
Army seems to realize this after it put out feelers to candidates before Ellerson was fired. One FBS head coach with a solid record told me his AD got a call from someone at the school and declined.
Don't be surprised if Army takes a hard look at Ohio State Buckeyes State" data-canon="Ohio Bobcats" data-type="SPORTS_OBJECT_TEAM" id="shortcode0"> co-offensive coordinator/offensive line Ed Warinner, who was an Army assistant from 1987-99, working his way up from centers/guards coach to offensive coordinator. He also coached at Air Force Falcons . Offensive line was a strength for Ohio State.
Central Florida offensive coordinator Charlie Taaffe was an Army assistant/coordinator from 1980-86 and has done a solid job with UCF Knights 's offense this year.
Army would be smart to look to Navy offensive coordinator Ivin Jasper, former Wake Forest Demon Deacons offensive coordinator Steed Lobotzke (former Air Force graduate assistant) and Mizzou defensive coordinator Dave Steckel (Marine Corps)
3:  Bowling Green Falcons is not looking at Stanford Cardinal DC Derek Mason, which doesn't make a lot of sense, but there should be plenty of good candidates.
Bowling Green could shake the Ohio State tree (RBs coach Stan Drayton). Florida DC D.J. Durkin has been a popular name. Don't be surprised if Nebraska Cornhuskers OC Tim Beck is in the mix.
4: Hearing Notre Dame Fighting Irish could have some of its coordinator replacement plans wrapped up in the next few days.
Brian Kelly needs to replace OC Chuck Martin (Miami, OH) and DC Bob Diaco (UConn).
5: Florida's OC search could heat up now that recruiting is in a dead period.
We've addressed Arizona State's Mike Norvell in this spot. Have heard UNC OC Blake Anderson's name a few times but not sure if that will go anywhere. 
Chip and Barton pick win totals for Ohio State, Penn State, Michigan and more

These three teams could surprise quite a few people in 2017

With the Chargers moving to Los Angeles, the Aztecs now need to find a new home -- fast
Lawyers representing Ole Miss want Leo Lewis and Kobe Jone to show at an infractions heari...

The redshirt sophomore will not only decide Auburn's fate, but the landscape of the SEC

Ohio State filed for apparel rights to 'OSU' in February 2017