3 to Watch: The 'Probables' edition
The Cubs still list Ryan Dempster as their Tuesday night probable. Same goes for the Braves and Kris Medlen, the Rays and James Shields and the Phillies and Cliff Lee. But with the non-waiver trade deadline arriving Tuesday at 4 p.m., 3 to Watch points out that uncertainty rules.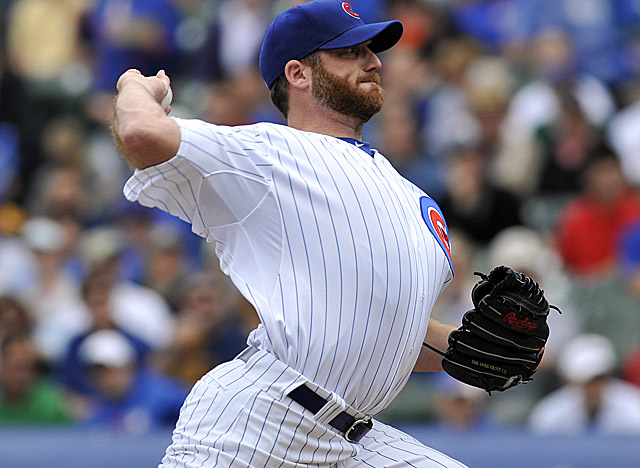 Ryan Dempster is set to start for the Cubs on Tuesday night after the 4 p.m. ET trading deadline passes. (Getty Images)
As of now, the Cubs list Ryan Dempster as their probable starter for Tuesday night. As of now, the Braves list Kris Medlen.

As of now, James Shields is the Rays' probable for Tuesday. And Cliff Lee is the probable for the Phillies.

Hey, that's why they call them "probables," right?

There's no more uncertain time in baseball than the last few days of July, and as baseball entered the final hours of July, uncertainty still ruled.

Dempster, who was supposed to be the first pitcher traded this month, could now end up being the last one. After balking on a trade that would have sent him to the Braves last week, Dempster remained a Cub as of Sunday night -- but with still some chance he could land with the Dodgers or Braves.

The Braves told Medlen he would start Tuesday, in place of the struggling Jair Jurrjens, who was moved to the bullpen. But they also said there was still a chance they could obtain a starter on the trade market.

By Sunday, it seemed that the Rays will most likely keep Shields. After back-to-back shutout wins over the Angels, and with the increasing possibility that Evan Longoria will soon come off the disabled list, the Rays now look like something of a wild-card contender again.

As for Lee, CBSSports.com's Jon Heyman reported Friday that the Phillies didn't expect to trade him this month (or next). That was before the Phillies were swept over the weekend in Atlanta, a sweep that had all of baseball expecting a Phillies sale over the next two days.

Chances are that a Phillies sale would include Shane Victorino, Juan Pierre, Joe Blanton and Ty Wigginton, and probably won't include Lee.

But in the final days of July, very little is certain. Until 4 p.m. ET on Tuesday, when the non-waiver trading deadline passes, probables remain subject to rapid change.

On to 3 to Watch:

1. The Reds have already won 10 in a row for the first time since 1999. They haven't won as many as 11 in a row since 1957, but they have a chance in Padres at Reds, Monday night (7:10 ET) at Great American Ball Park. Oh, and in case you were wondering, the Reds are still very much interested in trading for a leadoff hitter, and will be among the teams most interested in talking to the Phillies (about Victorino and Pierre).
 
2. The Braves had Medlen make three Triple-A starts in June, when they thought they'd need help in their rotation. Then they needed Medlen in the bullpen, so he came back as a reliever. He's done well. But after having the Dempster trade fall through (for now) and after falling short in their bid for Zack Greinke, the Braves may need Medlen as a starter, in Marlins at Braves, Tuesday night (7:10 ET) at Turner Field. Perhaps the Braves will still end up with Dempster, or with another starter, before Tuesday. But by Sunday, the word around baseball was that the Braves had shifted their focus to look for relievers.

3. The rebuilding Cubs are still going to do something before the deadline, right? They wanted to trade Dempster and Matt Garza and Alfonso Soriano, but as of Sunday night they still hadn't made a move. Garza isn't going to pitch before the deadline (and, in fact, doctors intend to induce labor for his wife that very day), but he still could be dealt. So could Dempster, who for now is the scheduled starter in Pirates at Cubs, Tuesday night (8:05 ET) at Wrigley Field.


First baseman Justin Bour will visit the baseball team this week as well

Jesus Luzardo was supposed to work out at his old high school the day of the shooting

Here's what to know about the announced rule changes for 2018
Tillman joins Andrew Cashner as recent Orioles pickups

Keep tabs on the top 50 free agents right here

Straily says he is motivated by his former teammates' trade requests