A-Rod and Cruz among 13 players suspended for ties to Biogenesis
A total of 13 players have been suspended, effective immediately, for their ties to the South Florida anti-aging clinic Biogenesis.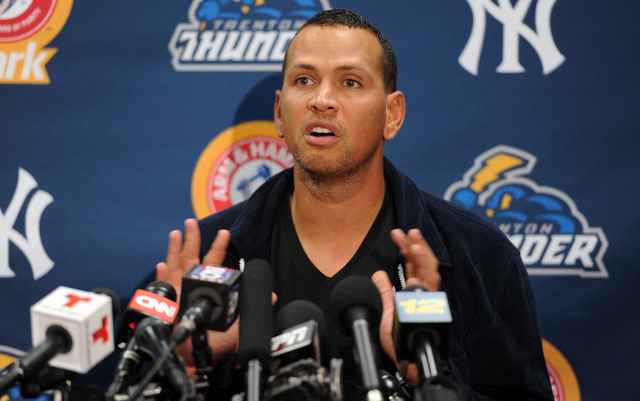 More MLB: Scoreboard | Standings | Probable Pitchers | Sortable Stats | Odds
A total of 13 players have been officially suspended by Major League Baseball for their ties to the South Florida anti-aging clinic/performance-enhancing drug hub Biogenesis, the league announced. The 13 players are:
Blue Jays outfielder Melky Cabrera, Padres catcher Yasmani Grandal and Athletics right-hander Bartolo Colon were not disciplined for their ties to Biogenesis after serving 50-game suspensions within the last calendar year. Brewers outfielder Ryan Braun began serving a 65-game suspension two weeks ago.
Nationals left-hander Gio Gonzalez and Orioles infielder Danny Valencia, who were initially reported to have ties to Biogenesis, were cleared by MLB during the investigation and will not face discipline. Gonzalez emphatically denied the allegations back in January.
All of the players get the standard 50-game ban for first-time offenders, effective immediately, except Rodriguez. He has been suspended for the remainder of 2013 and all of 2014 for trying to interfere with the league's investigation. From the official release:
Rodriguez's discipline under the Joint Drug Prevention and Treatment Program is based on his use and possession of numerous forms of prohibited performance-enhancing substances, including Testosterone and human Growth Hormone, over the course of multiple years.  Rodriguez's discipline under the Basic Agreement is for attempting to cover-up his violations of the Program by engaging in a course of conduct intended to obstruct and frustrate the Office of the Commissioner's investigation.  The suspension, which will become effective on Thursday, August 8th, will cover 211 Championship Season games and any 2013 Postseason games in which Rodriguez otherwise would have been eligible to play.
Jon Heyman of CBSSports.com reports A-Rod plans to appeal while the other players will accept their penalties. That allows them to serve their suspensions this year and start 2014 with a clean slate.
Rodriguez, 38, missed the start of this season due to left hip surgery and has been sidelined by a quad injury more recently. He completed a minor league rehab assignment this past weekend and is expected to join the Yankees for their series opener against the White Sox in Chicago on Monday night. Players are allowed to play while the appeals process plays out.
MLB and commissioner Bud Selig were said to be considering banning Rodriguez from playing during the appeal using a power in the Collective Bargaining Agreement intended to preserve the integrity of the game. That did not happen, in part to maintain labor peace with the players' union.
During a recent press conference following a Double-A rehab game, A-Rod insinuated the Yankees and MLB were conspiring to keep him off the field. The Yankees issued the following statement addressing those accusations:
"We are in full support of Major League Baseball's Joint Drug Prevention and Treatment Program. We also recognize and respect the appeals process. Until the process under the Drug Program is complete, we will have no comment. We are confident that the process outlined in the Drug Program will result in the appropriate resolution of this matter. In the meantime, the Yankees remain focused on playing baseball.

"However, we are compelled to address certain reckless and false allegations concerning the Yankees' role in this matter. The New York Yankees in no way instituted and/or assisted MLB in the direction of this investigation; or used the investigation as an attempt to avoid its responsibilities under a player contract; or did its medical staff fail to provide the appropriate standard of care to Alex Rodriguez."
Union head Michael Weiner contacted the league on Rodriguez's behalf to discuss a possible plea agreement over the weekend, but was rebuffed. A-Rod personally contacted the Yankees to discuss a buyout of the four years and $86 million left on his contract, but was also turned down.
"We believe that the Commissioner has not acted appropriately under the Basic Agreement," said Weiner in a statement. "Mr. Rodriguez knows that the Union, consistent with its history, will defend his rights vigorously. We must revisit the JDA's confidentiality provisions and consider implementing stricter rules for any breach."
Players have three days from the announcement of the suspension to file an appeal. The hearing must take place within 20 days of the appeal, and the ruling must come down within 25 days of the hearing. Arbitrator Frederic Horowitz will preside over all appeals. He was appointed baseball's arbitrator last June after MLB fired Shaym Das for overturning Braun's suspension in February 2012.
Back in 2009, Rodriguez admitted to using performance-enhancing drugs while with the Rangers from 2001-03. MLB, who has been working with former Biogenesis chief Anthony Bosch, is said to have evidence A-Rod purchased and used PEDs for a period of time between 2010-12. Bosch reportedly tried to extort money from Rodriguez before agreeing to cooperate with MLB and avoid a lawsuit.
Cruz, 33, currently leads the Rangers with 27 home runs and is second on the team with a 123 OPS+. He released the following statement:
"I have been notified by the Commissioner of Major League Baseball that I have been suspended for 50 games for violation of the Joint Drug Agreement.  I have decided to accept this suspension and not exercise my rights under the Basic Agreement to appeal.  From November, 2011 to January, 2012, I was seriously ill  with a gastrointestinal infection, helicobacter pylori, which went undiagnosed for over a month.  By the time I was properly diagnosed and treated, I had lost 40 pounds.  Just weeks before I was to report to spring training in 2012, I was unsure whether I would be physically able to play.  Faced with this situation, I made an error in judgment that I deeply regret, and I accept full responsibility for that error.  I should have handled the situation differently, and my illness was no excuse.  I am thankful for the unwavering support of my family, friends, and teammates during this difficult time.  I look forward to regaining the trust and respect of the Rangers organization, my teammates, and the great Rangers' fans, and I am grateful for the opportunity to rejoin the team for the playoffs."
Heyman says Cruz may have been pressured by teammates to appeal the suspension so he can remain on the field and help Texas push for a postseason berth. The Rangers came into Monday 2.5 games back in the AL West and 0.5 games back of the second wild-card spot. Cruz will be eligible to return to the team in the playoffs, if they qualify.
"The Texas Rangers are disappointed that Nelson Cruz has violated the terms of Major League Baseball's Joint Drug Prevention and Treatment Program resulting in his suspension," the team said in a release. "The Rangers' organization fully supports the MLB program and its efforts to eliminate performance-enhancing substances from our game. Per the protocol outlined in Major League Baseball's collective bargaining agreement, the Rangers will have no further comment."
The 31-year-old Peralta is hitting a career-high .305 with 11 homers and a 122 OPS+ for the Tigers. He released the following statement after the suspension was announced:
"In spring of 2012, I made a terrible mistake that I deeply regret. I apologize to everyone that I hurt as a result of my mistake, including my teammates, the Tigers' organization, the great fans in Detroit, Major League Baseball, and my family. I take full responsibility for my actions, have no excuses for my lapse in judgment and I accept my suspension. I love the fans, my teammates and this organization, and my greatest punishment is knowing that I have let so many good people down. I promise to do everything possible to try and earn back the respect that I have lost."
The Tigers acquired shortstop Jose Iglesias from the Red Sox in a three-team deal prior to last Wednesday's trade deadline as a replacement while Peralta serves his suspension. Peralta will be eligible to return for the final three games of Detroit's regular season as well as a potential postseason run.
"We recognize the suspension of Jhonny Peralta for violating Major League Baseball's Joint Drug Prevention and Treatment Program as a measure taken in the best interest of the game," said the Tigers in a statement. "The Detroit Tigers continue to fully support Major League Baseball's policy and its efforts to eliminate performance enhancing drugs from our game. Per the protocol outlined by Major League Baseball's collective bargaining agreement, the Tigers' organization will provide no further comment on Peralta's suspension."
Both Cruz and Peralta are due to become free agents after the season. By accepting the suspensions now, they can head out onto the open market in better standing and ready to play on Opening Day 2014. Players are not paid during suspensions, so the duo could also be saving money by serving their bans now rather than appeal and potentially wait until next year, when they could have higher salaries.
Cabrera, 26, was a first-time All-Star for San Diego last month and is currently leading the National League with 37 stolen bases. He led the circuit with 44 steals in 2012.
"The Padres fully support Major League Baseball's policy and its efforts to eliminate performance-enhancing drugs from our game," said the club in a statement. "The club will continue to stand behind the Commissioner's Office to ensure the integrity of baseball."  
The Padres recently signed infielder Ronny Cedeno to a minor league contract to help cover the shortstop position while Cabrera is out.
The 27-year-old Bastardo has established himself as a top lefty setup man in recent years. He has a 165 ERA+ with 47 strikeouts in 42 2/3 innings for the Phillies this year and a career 109 ERA+ in parts of five big league seasons.
"Obviously, the Phillies are very disappointed to learn of Antonio Bastardo's violation of Major League Baseball's Drug Program," said the Phillies in a statement. "We strongly believe in the Program and look forward to a time when performance enhancing drugs are completely out of baseball.  Hopefully the sanctions announced today will bring us closer to that day. We respect the fact that Antonio has acknowledged his serious mistake and accepted his 50-game suspension."
Cervelli, 27, has been on the disabled list since mid April with a broken right hand and recently suffered a stress reaction in his elbow during rehab. He is expected to miss the rest of the season due to the injuries and will be allowed to serve his suspension while sidelined. There is plenty of precedent.
The Mariners sent the 23-year-old Montero to Triple-A Tacoma earlier this year after he produced a 70 OPS+ in 29 games. He recently returned from a knee injury and is transitioning from catcher to first base.
"The Seattle Mariners are disappointed that Jesus Montero has violated the terms of Major League Baseball's Joint Drug Prevention and Treatment Program," said the club in a statement. "Our organization fully supports the Program and its efforts to eliminate performance-enhancing substances from our game."
Since he is on the 40-man roster, Montero will be treated as a September call-up and receive credit for those games against his suspension according to the Associated Press.
Valdespin, 25, managed just a 59 OPS+ in 66 games this year before the Mets sent him to Triple-A Las Vegas. Reports indicate he "snapped" at team management when given the news of the demotion. Like Montero, September games will be credited towards Valdespin's suspension.
Puello, 22, is on the Mets 40-man roster. Baseball America ranked him as the team's 18th best prospect coming into the season in their 2013 Prospect Handbook, but he has since raised his stock by hitting .328 with a .955 OPS and 19 home runs in 90 games with Double-A Binghamton. He will also receive credit for September games.
De Los Santos, Escalona, Martinez and Norberto are not currently on a 40-man roster, meaning they are not part of the players' union. MLB suspended Tigers minor league right-hander and non-40-man roster player Cesar Carrillo 100 games earlier this year after he declined to cooperate with their investigation.
The Miami New Times first reported back in January that players like Rodriguez, Cruz, Cabrera and others were treated at Biogenesis. Their names, as well as those of athletes in other sports, appeared to handwritten records that included information like substances, dosages and payment schedules. All players involved have ties back to the Miami area.
CBS Sports HQ Daily Newsletter
Get the best highlights and stories - yeah, just the good stuff handpicked by our team to start your day.
Please check the opt-in box to acknowledge that you would like to subscribe.
Thanks for signing up!
Keep an eye on your inbox for the latest sports news.
Sorry!
There was an error processing your subscription.
Tatis is still five years away from free agency

Ozuna wound up in Atlanta on a one-year deal

Sanchez has improved his blocking last season, but his framing slipped
Kerwin Danley and Alfonso Marquez are making history in the 2020 season

Hope springs eternal, and there's some reason to believe in all 30 of these players

The aromatherapy method seemed to work as his Doolittle's performances contributed to the Nats'...
The MLB commissioner was asked plenty of questions about the Astros on Sunday

The results of the BBWAA vote for the 2020 Hall of Fame class were announced on Tuesday