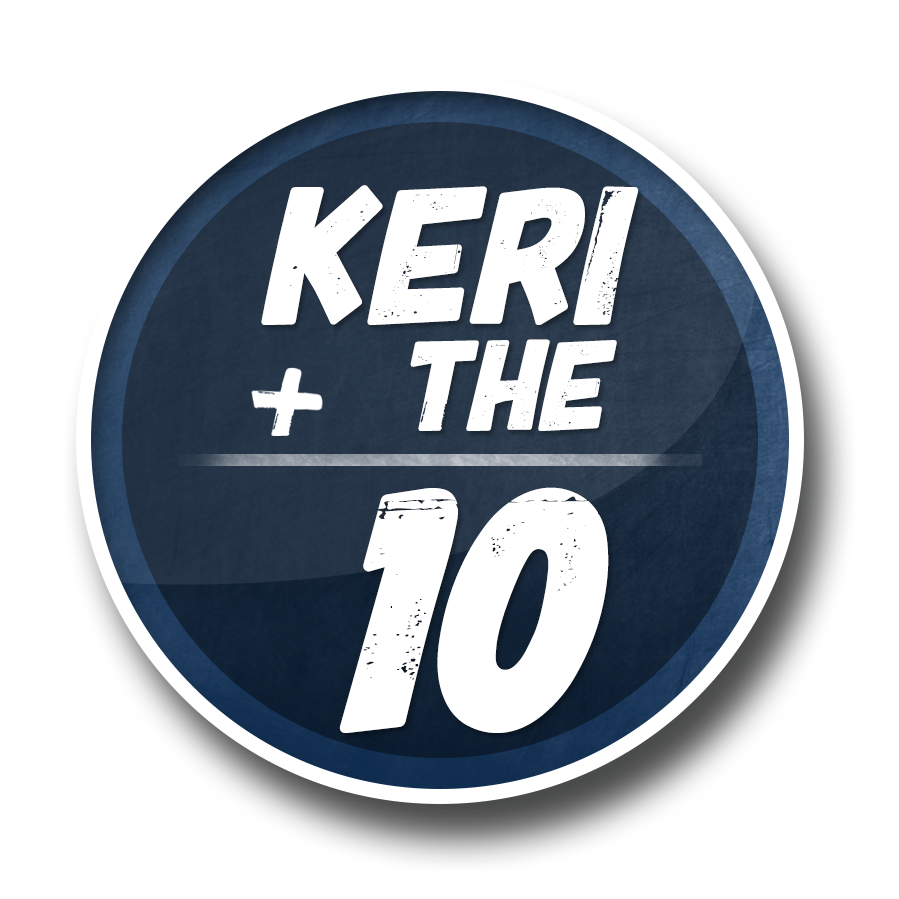 Welcome to this week's edition of Keri The 10! As always, we'll go around the majors with 10 stories that caught our eye from the past seven days. There will be numbers, and occasionally, memes. As always, we will have fun.
1. Home runs keep surging
In 2016, major-league baseball's home-run rate surged to its second-highest level ever, trailing only the heart-of-the-PED era 2000 season. So far, 2017 is on pace to smash 2016, '00 and every season in MLB history as the dingeriest year of all.
Last year on this date, we were seeing a HR every 36.2 PA. So far in 2017, it's one every 32.1.

— Jason Collette (@jasoncollette) May 3, 2017
You might be tempted to assign those huge numbers to a couple of splashy early-season monsters. But look beyond the Aaron Judge and Eric Thames Show, and you have an avalanche of power shockers. Marwin Gonzalez hit 13 homers last season; he has nine already this year. Yonder Alonso hit seven last season; he has six this year. Scott Schebler? Logan Morrison? Jose Ramirez? Tim Beckham? The home-run leaderboards are stuffed with anonymous players and traditional non-power guys suddenly going yard with incredible frequency.
Confronted by this barrage of brawn, cynical baseball fans might start making the wink-wink/nudge-nudge/say-no-more face. Greater awareness of advanced hitting stats, combined with recognition of the effect of shifts, has helped some hitters refine their hitting approaches to, roughly, "swing for the moon every time." The prevailing attitude toward strikeouts changing from batters shortening up with two strikes to stay alive to, "who cares, let's just go for it" could also help explain the homer explosion.
Whatever the cause(s), one thing's for sure: It's time to adjust our expectations. When a Eugenio Suarez or Matt Davidson launches a tape-measure home run, that's the new normal.
2. Michael Conforto is the only thing keeping Mets fans from curling into fetal position
They're a half-game out of last place. Their disabled list is a horror show, with Noah Syndergaard this week joining Yoenis Cespedes, Steven Matz, Lucas Duda and other would-be key contributors. Their medical staff, long the subject of media derision, is getting hammered again. With the benefit of hindsight, their improbable run to the 2015 World Series now looks like a mirage.
But at least the Mets have Michael Conforto. The lefty-swinging outfielder crashed the Show during that glorious 2015 season, batting a cool .270/.335/.506 in his 56-game debut. Last season was a whole other story: Conforto's strikeout rate surged to 25.6 percent, and his .220/.310/.414 line was a bitter pill to a swallow for an aging team that now boasts the oldest group of position players in the National League. So far this year, Conforto looks like he's starting to figure things out: He's up to .347/.417/.684 in 25 games. He has boosted his walk rate to a career-best 10.7 percent and slashed that K rate back to 20.2 percent.
Still, red flags remain. Conforto is swinging at more pitches out of the strike zone this season, and he's swinging and missing more often than ever before. He's also hitting a lot more ground balls, and more than one-third of the fly balls he has hit in 2017 have flown over the fence for home runs, an unsustainable fluke that's ripe for major regression. Oh and also: Manager Terry Collins continues to protect Conforto from left-handers, limiting him to just 10 plate appearances against southpaws this year.
The good news is there's plenty of time to chip away at the weaknesses in his game. At 24 years old, Conforto is the youngest position player on the major-league roster by more than a full year. His first-round pedigree, improving batting eye and flashes of huge power all bode well for his future. And hey, he's a New York Met who's not currently in a full body cast. Baby steps.
3. Marcell Ozuna knocked 22 satellites out of orbit with this home run
It's nowhere near as spectacular as Ozuna's effort. But Ozuna's Marlins teammate J.T. Realmuto is doing something that hardcore baseball nerds can appreciate: He has been leading off a handful of games. And he's a catcher.
Realmuto's numbers this season profile well for a leadoff hitter, with a .315/.357/.446 line (plus some surprising speed for a catcher, as evidenced by last year's 12 steals). Granted, Realmuto has started just three games in the leadoff spot, usually ceding that position to Dee Gordon, who has put up far inferior offensive numbers but is also faster than should be legal.
Gordon's speed notwithstanding, no catcher outside of OBP fiend John Jaso has spent significant time leading off games in a long time. If only for the sake of random curiosities, Realmuto needs to amble to the plate more often leading off games.
5. Diamondbacks pitchers are strikeout machines
At a time when strikeouts continue to soar across the league, Arizona's arms stand alone. The D-Backs set a major-league record Tuesday with 10 or more punchouts for the ninth straight game. Three of the most prolific strikeout-hoarding starting pitchers in the NL are Diamondbacks.
Robbie Ray is the leader of that pack. The 25-year-old lefty has fanned more than 32 percent of the batters he has faced in 2017, tops in the senior circuit. Thing is, his peripheral stats don't look all that different than last year: He's piling up a pinch more strikeouts, a few more walks, a few fewer home runs and a ground-ball rate about identical to 2016's mark. So what has changed? Last year, Ray stranded just 68.7 percent of the runners he put on base, the fifth-lowest mark in the NL among qualified starting pitchers. This year? 76.7 percent, placing him in the top third among NL starters. Strand rate is a highly volatile stat that's largely dependent on luck and timing; Ray has been a little fortunate this year, after being terribly unlucky last year.
Still, that's a great way to chop your ERA by nearly a run and a half, despite doing almost nothing different than before. Ray was a strikeout machine in 2016, and he's doing it again in 2017, led by a borderline illegal slider. The rest of his numbers have finally caught up.
6. The White Sox are rolling with an all-Garcia outfield
The South Siders' recent promotion of Willy Garcia enabled an outfield consisting of Willy, Avisail and Leury, Garcias all.
In his third season as a White Sox regular, 25-year-old Avisail has emerged as one of the biggest breakouts in the game, batting a massive .371/.419/.598. Twenty-six-year-old Leury is getting an extended run of regular playing time for the first time in his big-league career; he has fallen off a bit after a hot start, but retains numbers just four percent worse than league average, a respectable showing for a career .204/.237/.273 hitter. Willy is a 24-year-old rookie who came up through the Pirates system, got plucked off the waiver wire by the Sox in January, mashed at a .294/.395/.529 rate at Triple-A, and thus got a shot on a rebuilding team that has been surprisingly competitive.
This isn't likely to be another case of the Alou brothers. For one thing, the Dominican-born Alous were damn good, with Felipe in particular rising to excellence with 2,101 hits before going on to a distinguished managing and coaching career. But the Garcias do have a leg up in the all-same-name race: While Felipe, Matty and Jesus Alou played together with the 1963 Giants, they never actually started a game in the same outfield. The Garcias might not be brothers, but they've already pulled off the same-name starting outfield multiple times, a fun sight on a long-struggling team that's finally offering fun moments -- including a share of first place -- for its fans.
You would have figured the plan all along went like this: Collect as many top-flight prospects as possible, ease them into the big leagues, let them develop at their own pace as the team shuffles along in mediocrity, then when the Manny Machado-Bryce Harper post-2018 free-agent class arrives, strike fast and strike hard, so they can be a championship contender in 2019 and beyond.
That timetable might soon change. The potent Baby Bombers, led by planet-eater Aaron Judge, are tearing opponents to shreds and now sit atop the AL East. Still, nominal staff ace Masahiro Tanaka has been erratic this year, and the rotation gets incredibly dicey after Tanaka and the capable duo of Michael Pineda and Luis Severino. Already, reports are circulating that the Yanks could make a play for a big-name starting pitcher like Pittsburgh's Gerrit Cole. All that after a brief supposed rebuilding process that saw the team never fall below 84 wins.
Once the damn Yankees, always the damn Yankees.
8. It's a 2012 Cubs reunion!
And Starlin Castro has just the greeting for his old double-play partner Darwin Barney: a big 'ol smoocheroo.
9. Dallas Keuchel is a Cy Young contender ... again
The Astros lefty won the award in 2015 with a huge breakout season, only to tack two full runs onto his ERA in 2016. So how did he become the talk of baseball again, with a 1.21 ERA and a trail of frustrated batters in his wake?
Let's turn to our weekly pitching correspondent, Nick Pollack of PitcherList.com, for some deep thoughts.
The foundation of Keuchel's success, Pollack explained, is the southpaw's fastball. At 89 mph, it's one of the slower heaters in the game, which means that Keuchel must locate it perfectly. He did so in veritable Glavine-ian fashion in 2015, pounding the bottom of the zone and locating right at the edge of the corners.
In 2016, Keuchel still pounded the strike zone -- more frequently than he did the year before, in fact. But as Pollack noted, he wasn't painting the way he had in 2015. Even on this strikeout pitch, watch how far Evan Gattis has to move his glove to receive this called strike three, and check out how the pitch ended up in the fat part of the zone. Keuchel got away with one here:
So what's up with Keuchel's fastball in 2017? Here's one perfect illustration:
As Pollack writes: "The camera angle is different and illuminates the horizontal movement Keuchel gets on his heater, and the execution is nearly the same as 2015. The pitch is close enough to the zone that the batter can't risk letting it go for a possible strike three, triggering a swing before the ball fades away from the bat for a swing-and-a-miss. Classic Keuchel."
Injuries likely explain the wobbly journey. Keuchel missed the final month of last season following his Aug. 27 start, later revealing in the offseason that he had pitched all year with a shoulder injury. While arm injuries often manifest themselves in steep drops in velocity, in Keuchel's case, the main casualty was command. Healthy left arm equals lots of nearly unhittable pitches knee-high on the outside corner.
This doesn't necessarily mean Keuchel is going to challenge Bob Gibson's modern ERA record this year. The Astros ace carries a middle-of-the-road 21.8 percent strikeout rate, which means he has to hope for positive results on the frequent occasions in which batters put his pitches into play, and also hope that the runners who get on against him don't come around to score. So far, so great in both those areas: Keuchel's .186 batting average on balls in play ranks second-lowest in the American League, while his 98.7 percent strand rate ranks second-highest in the majors. Problem is, both those metrics rely heavily on factors beyond a pitcher's control, from team defense to straight-up luck.
Astros fans should still be delighted that their team's ace is healthy and back to his old tricks. Just know that he probably won't keep walking between the raindrops all year long.
10. BURNING QUESTION OF THE WEEK
This week's burning question comes to us via Twitter from @Kevin_Seamus:
What are your initial thoughts on the 10 game dl? the coaches are making heavy use of it. (it's killing my fantasy team) #Kerithe10

— Kevin Fennell (@Kevin_Seamus) April 27, 2017
There's a little logic here. Teams are looking for roster flexibility, and this gives them a quick and easy way to improve it. Still, they're also clearly gaming the system. Dodgers outfielder Joc Pederson suffered a groin strain so minor, it took about 10 seconds after he landed on the disabled list for reports to surface that he would return the instant he was eligible to do so. Basically, Pederson couldn't hit a lick, and this tiny injury was an excuse to sit him down and bring top prospect Cody Bellinger up to wreck every opponent in sight.
And yes, as a fantasy owner of Pederson and other players who've been tossed on the 10-day DL in the middle or even the start of a week (but after the deadline for weekly moves), missing out on multiple games of production over and over again for these exceedingly minor owies is a pain in the ass. Since every decision in professional sports should be based on my League of Leagues team, I'm declaring the 10-day DL a total sham.
Send a Tweet to @jonahkeri using hashtag #KeriThe10  to submit questions for future No. 10s.