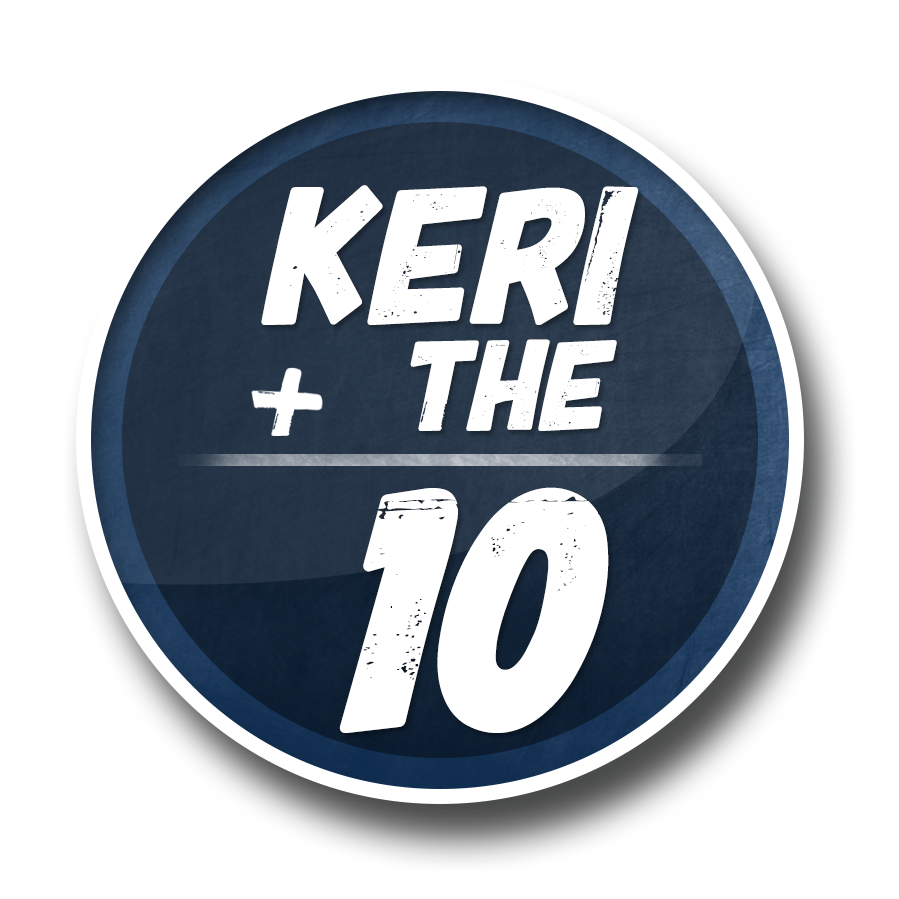 Welcome to this week's edition of Keri The 10! As always, we'll go around the majors with 10 stories that caught our eye from the past seven days. There will be numbers, and occasionally, memes. As always, we will have fun.
1. In the battle against PEDs, there's now only one logical course of action ...
Legalize everything.
Moralizing, shaming offenders, making penalties stiffer -- none of these approaches will ever fully stamp out performance-enhancing drug use. Athletes will always look for an edge. They'll always try to find loopholes, ways to avoid positive tests, ways to improve on the field by ingesting anything that will do the trick. The only thing we know that prohibitions do is push athletes to find little helpers on the black market.
Take the case of Starling Marte. The Pirates All-Star outfielder tested positive for a substance called nandrolone. Why is that noteworthy? As VICE Sports writer Aaron Gordon explained, no player in his right mind would ever knowingly take nandrolone, because it stays in the body for much longer than other performance-enhancing substances, and because it gets detected at "ultratrace" levels. In his story, Gordon interviewed Victor Conte, the founder of the infamous BALCO lab. As Gordon wrote:
"Conte said nandrolone is often detected when an athlete is taking another banned substance — likely testosterone — that was manufactured in an illicit laboratory that doesn't adhere to strict quality standards..."
Marte getting suspended for half a season is a mild drawback compared to another potential effect of black-market drug distribution: huge and extremely harmful side effects. Without the protections that come from reputable, well-funded labs, athletes diving into PED use risk doing serious harm to their health, moral implications aside.
More and more, governments are relaxing their restrictions on drug use. Marijuana is legal in multiple U.S. states, and will be legal all across Canada in July 2018. The early returns in first-mover places like Colorado point to booms in tax revenue, as well as positive ancillary effects such as keeping weed users out of overcrowded prisons, plus potential dents in trafficking and violence by gangs and cartels.
Don't think marijuana and steroids should be viewed through the same lens? Consider the case of Portugal. Overrun by a nationwide drug epidemic, the Western European nation decriminalized all drugs. That move has resulted in a wide range of benefits, including drops in crime rates and lower risk of ingesting black-market substances that can result in serious illnesses and death.
None of this is going to happen any time soon in baseball, of course. The sports world has become obsessed with the drug warrior mentality. The result is a nebulous set of policies, where stem cell-related procedures, blood spinning, a certain set of potentially harmful drugs and all manner of advantage-seeking methods are A-OK, but another class of advantage-seeking is out of bounds. Having a U.S. attorney general committed to drug policies straight from the 1950s probably won't help.
Let's be clear here. While the use of substances created in quality-controlled labs should be legalized, players should only be able to take whatever they like while under proper medical supervision. Make it all legal, have trained medical professionals available to help and monitor and prescribe drugs that work and also don't cause serious harm.
Letting athletes decide for themselves how they want to train would nullify that hypocrisy, lower health risks and snuff out the "Won't somebody think of the children" approach that doesn't help anyone. All of which would be cause for a true #MartePartay.
2. The Baby Bombers are fun!
By eschewing the free-agent market that once dumped hordes of over-30 future albatrosses on the roster, and loading up on young talent via skilled drafting and player development as well as trades, the Yankees figured to be an exciting team, starting around 2018 or '19. They look like they're jumping the gun this season.
The Baby Bombers just capped an 8-1 homestand that pushed them to 10-5, just a half-game out of first in the AL East.
Aaron Judge has been the chief fun instigator. At 7-foot-20, 843 pounds (approximately), Judge has long been regarded as a top power prospect. The only (admittedly big) question was whether he could control the strike zone. After whiffing in about one-quarter of his minor-league plate appearances, the baby behemoth fanned 42 times in 94 at-bats in his 2016 first brush with the majors. Through 14 games this year, he has chopped that K rate to 28.3 percent while also drawing six walks in 47 plate appearances.
But the reason teams (and statheads) constantly preach plate discipline has little to do with walks and strikeouts, and much more to do with getting pitches to hit. Work the count in your favor and you're far more likely to get a fat pitch to drive; when you're a human Godzilla like Judge, getting into those favorable situations can result in balls getting hit to the moon. Sure enough, Judge has already hammered a double, a triple and five home runs in the early going, including multiple tape-measure shots that simply exploded off his bat. Whether or not he slows down, the prospect of Judge in the Home Run Derby already has the #YankeesOnly crowd drooling.
As exciting as the kids might be, the Yankees owe much of their hot start to some veterans too. Chase Headley(?) has been unstoppable(?!), batting a ridiculous .396/.500/.646. Headley's .457 batting average on balls in play ranks third in the American League, and is obviously nothing close to sustainable, given the rest of the league clocks in at .286. Still, there's a real change in approach afoot here. With the league shifting against him, Headley has responded by slashing line drives all over the field: His 35.1 percent line-drive rate is the fifth-highest in the AL, and Headley has hit 34.2 percent of his balls in play to the opposite field, by far the highest rate of the 32-year-old switch-hitter's career.
Right-hander Michael Pineda, 28, offers a third intriguing piece to the puzzle. For most of his career, Pineda has vexed the stats crowd, putting up impressive strikeout-to-walk numbers but still giving up too many hits and too many runs. We've seen a little of that this season, with Pineda posted a 3.44 ERA in his first three starts, despite peripheral stats that would point to a 2.69 mark instead. Still, Pineda has ramped his game up considerably this season: He has punched out 23 batters (with just one walk) in 18 1/3 innings, while also inducing more ground balls and fewer line drives than ever before. Pineda still throws his cutter more than any other pitch, but he has located it better too, resulting in far fewer extra-base hits so far.
As with any stat on April 21, take all of these with a huge, small-sample-size-infused grain of salt. But the Yankees are getting strong performances from a bunch of unlikely sources, Gary Sanchez keeps inching closer to a return, and a passel of injuries and lousy performances in Toronto could mean one less formidable opponent to deal with in the AL East. Stay tuned.
3. Khris Davis is a man possessed (partly by luck, but still!)
He's smashing baseballs harder than all but one player in the game. On the other hand, he's suddenly and inexplicably hitting tons of groundballs, and we're going to go on a limb and say that we won't keep seeing 53.5 percent of his fly balls(?!?!) clear the fence.
Still, for a team that will likely need to fight to stay out of last place, this is a fun little chart:
Home runs since Opening Day 2016:
4. Another one-time A's outfielder gets serenaded in Oakland
Josh Reddick authored plenty of big moments in his four-plus seasons with the A's. In 596 games with Oakland, Reddick launched 84 home runs, deleted scores of runners off the bases with his strong throwing arm and won a Gold Glove award. But the right fielder won at least as many fans for his personality as he did for his play. Long-haired, tattooed and emotive, he frequently rousted Oakland's famously rowdy bleacher creatures out of their seats.
More than anything, though, Reddick might've been best known for his walkup music. While most players walk to the plate to something in the hard rock, hip hop or Latin genre, Reddick adopted George Michael's saxophone-heavy "Careless Whisper" as his accompaniment of choice. As a result, no player in baseball made fans sway more often than Reddick did.
So when Reddick returned to Oakland in a Houston uniform last weekend, the Coliseum and its fans serenaded him with lots and lots of sax. Considering Reddick is batting a cool .341/.362/.523 for the first-place Astros, you could say he's making sweet music everywhere he goes.
5. Closers are collapsing left and right
On Monday, MLB Network Radio tweeted a horrifying graphic.
Things haven't exactly improved since. To name just one example from this week: Neftali Feliz, who started the season looking like a 100 mph-slinging steal for the Brewers, has been torched in the past few days, a walkoff three-run jack surrendered to Addison Russell on Wednesday against the Cubs being the cruelest blow.
But wait, there's so much more. When Sam Dyson gave up 500 kajillion runs in the first week and a half of the season, the Rangers responded by placing him on the disabled list with a phantom injury. They haven't settled on a closer since.
Jeanmar Gomez was horrible in the first week of the season for the Phillies, prompting a change to Joaquin Benoit in the ninth ... but then Hector Neris got the save for Philly on Thursday night.
The Nationals have gone from an oft-rumored trade for White Sox closer David Robertson to Shawn Kelley as the presumptive closer to right-hander Koda Glover threatening Kelley's gig to Blake Treinen emerging out of nowhere to claim the job to Treinen getting ousted after a couple of shaky outings, only to be replaced by Kelley ... and Glover. Probably.
At some point in the next few years, we'll see more teams start to bend bullpen roles so that the best relievers come in as often as possible in the highest-leverage situations; think Andrew Miller in Cleveland. But that's not what's happening here. Teams are staging gigantic rallies late in games this season and closers are getting deposed at eye-popping rates as a result. There's no specific reason to expect that to continue much longer. But it has been irksome to watch for fans of those bullpen-battered ballclubs ... and not so fresh for fantasy baseball players either.
Los Angeles Times writer Bill Shaikin passes along the most jaw-dropping stat I've seen this year. In his past 11 home games, Clayton Kershaw is 10-0 with a 0.65 ERA, 96 strikeouts and six walks. More than just devastating performance, Kershaw earns sky-high levels of reverence -- even fear -- from opponents.
Watch a player as skilled as Rockies All-Star outfielder Charlie Blackmon react in horror after Kershaw waves at him to get back in the batter's box, and you can see what kind of reaction the best pitcher on the planet gets when he's on the mound:
Blackmon's Face goes from "Kershaw is waving to say hi, what a nice guy" to "Kershaw is waving me to get in the box, he's going to kill me." pic.twitter.com/jKi510ulMd

— Rob Friedman (@PitchingNinja) April 20, 2017
Four years ago, I wrote at length about Kershaw, his unbelievable talent and work ethic and his terrifying intensity. Somehow, he has actually improved since then. In our latest weekly installment of pitcher analysis, we again turn to our friend from PitcherList.com, Nick Pollack. As Pollack explained, Kershaw has four major factors working in his favor every time he takes the field.
The first is what we can call Kershaw's "tunnel." Thanks to a small hitch in his delivery that helps Kershaw hide the ball behind his hip, hitters take longer to identify his pitches than they do against almost any other pitcher. As Pollack put it: "Pitchers with longer tunnels have similar release points across each pitch they throw, as well as having pitches that take longer to make their initial break and reveal the true nature of the pitch to the batter."
When you have outrageously great breaking stuff to complement your fastball, that longer tunnel is torture on opposing hitters. In Kershaw's case, he has two.
The lefty ace wields a curveball that's basically unhittable. Out of 3,529 curves thrown in his career, just five have been hit for home runs. Opposing hitters have posted a minus-15 wRC+ against that pitch during Kershaw's career. Put another way, that's about how Kershaw's rotation mate Kenta Maeda hit last season when he posted a line of .123/.138/.193.
Kershaw's other killer breaking pitch is a slider. As his close friend and former teammate A.J. Ellis once explained, Kershaw struggled with command early in his career. So Dodgers bullpen coach Mike Borzello suggested the young southpaw try a slider. Kershaw had never thrown a slider in his entire life to that point, at any level of baseball. The first time he threw one, as Ellis explained in that 2013 article, Kershaw's slide piece was "just perfect."
To wit: From 2011 to 2016, that slider has registered whiff rates of 20 percent or better each season, with opponents batting just .159 against it. Throw in one of the most consistent fastballs in the game in terms of velocity, location and effectiveness, and you have the perfect pitcher.
7. Francisco Lindor is incredible; his dogs might be even better
Combine elite defense with a batting line of .328/.400/.639 and you have a player who at age 23 might already be one of the 10 best players on the planet. The Indians have stumbled at times en route to their current 8-7 record. But you can't blame Francisco Lindor, Cleveland's resident superstar.
Blah, blah, blah. Lindor's transcendent skill and beaming smile are about to become afterthoughts -- as soon as I show you a picture of his dogs. You've been warned.
8. Two of baseball's best players so far this year ... are named Mitch
He wasn't even supposed to be the big catch in the offseason trade that sent Taijuan Walker to Arizona and brought back shortstop Jean Segura. But Mitch Haniger has been a revelation for Seattle, in multiple ways. At the plate, he has been a beast, batting .303/.418/.561 while ranking among the league leaders in runs scored and runs batted in (if you're into team-dependent stats). With the glove, he has been equally impressive, rating as the second-best right fielder in the majors with a +3 in Defensive Runs Saved, according to Baseball Info Solutions. M's general manager Jerry Dipoto made so many deals over the winter, it might've looked at times like he was just trading for the sake of trading. But the 26-year-old Haniger could prove to be a major find for a team that struggled badly with outfield defense last year and now has a slick gloveman in right who might also be able to hit.
Mitch Moreland has been nearly as impressive for the Red Sox. Signed last winter as an obvious low-cost option because the Sox cheaped out and didn't want to go over the luxury tax, Moreland has raked anyway. Through 16 games, Boston's new first baseman is batting .344/.420/.574. Moreland's weapon of choice has been doubles: He leads the majors with 11 of them, at one point collecting two-baggers in seven straight games, making him the first player in club history to pull off that feat. With a wildly flukish .476 batting average on balls in play, a shaky track record and a 31-year-old body that makes the likelihood of a breakout slim to none, Moreland figures to crash back to Earth before much longer. But as April continues to give us some fun adventures in small sample size theater, Moreland's early heroics rank among the wackiest in the league.
9. Coming soon to a sporting goods store near you: bat chargers!
First, we got hats for bats. Now, Keon Broxton is upping the ante. Struggling badly to start the season, the Brewers outfielder has sought answers for his early struggles. It's not known if a faux bat charger will actually perk up his offense but Broxton gets an A+ for creativity.
If your bats are dead and not getting hits, or making hard contact. Put your bats on the Charger! My bats are charging as we speak. pic.twitter.com/WEpIjH7Hry

— Loverboy9 (@KeonDDBroxton) April 16, 2017
10. BURNING QUESTION OF THE WEEK
This week's burning question comes to us via Twitter from @cruzin_USA:
@jonahkeri @CBSSports Is Eric Thames the second coming of Christ? Or to tame it down how awesome is he and do you think he'll be really good (not this good)

— Velvet Thunder (@cruzin_USA) April 20, 2017
Easter is behind us, so we'll eschew any literal answers here. Still, Eric Thames has been a monster for Milwaukee. And yes, it's possible he could keep mashing.
Through his first 15 games as a Brewer, Thames leads the majors with eight home runs, batting an impossible .415/.500/.981. Looking at Thames' unimpressive stats from earlier in his major-league career when he was a backup outfielder for the Jays and Mariners, you would have a tough time figuring out what's going on now. But Thames became a superstar in Korea after that two-year stretch of mediocrity, blasting 47 homers in his best season in the KBO. Those massive numbers weren't enough to attract big interest in the big leagues; the three-year, $16 million deal he got from the Brewers (Thames said the beer sold him) surprised many talent evaluators in the game, even though some middle relievers make more money than that.
At the risk of drawing all-encompassing conclusions from 1/10th of a season, that contract might well prove to be a huge bargain, because Thames looks like a completely different player now than he was five years ago. This week, The Ringer's Michael Baumann wrote a detailed description of Thames' journey and new skills. But it boils down to this: Thames leads the league in homers, slugging and Wins Above Replacement because he's getting pitches to drive, and he's pulling those pitches with authority when he gets them. If you're as big and strong as Thames and you're clocking a pull rate above 60 percent, you're going to do some serious damage.
Predictably, Thames is drawing backlash for his heroics, with Cubs right-hander John Lackey and pitching coach Chris Bosio insinuating that their NL Central rival might be juicing. Leaving aside my proposal to make that practice legal, the bellyaching by Lackey and Bosio comes across as sour grapes. Meanwhile, if Thames keeps showing patience at the plate, and pulling pitches when he gets ahead in counts, he could continue to torment opposing pitchers. That might not make him the second coming. But it would make him a fun attraction for a Brewers squad that needs as many of those as it can get.