With Phillies needing to retool, Cole Hamels could hit trade block
Hamels has been told by the Phillies they prefer to keep him, but no guarantee was made.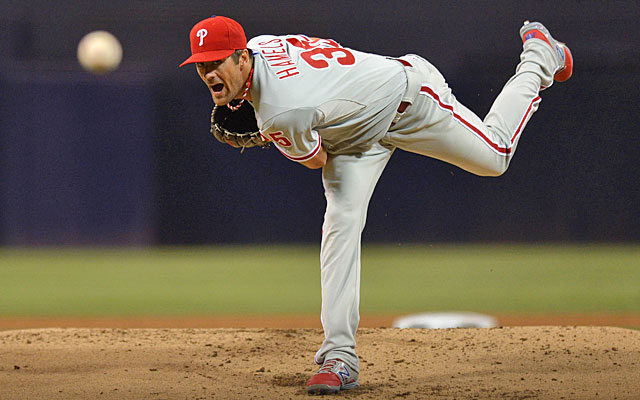 Phillies ace Cole Hamels could hit the trade market this winter, competing teams are saying.
Hamels could be dealt, but only for a very steep price, executives on other teams say they've been told.
Hamels himself has been told by the Phillies that they would love to keep him but also that it's possible their situation could cause them to have to reconsider that. While the Phillies obviously would prefer to hold onto Hamels, one competing executive put it this way: "That's their only [valuable] trading chip."
Among the last-place Phillies' other high-priced veterans, Ryan Howard wouldn't bring anything back while Jimmy Rollins and Chase Utley have no-trade clauses they seem pretty intent on enforcing. Nobody would command the same type of return as Hamels, however.
The Red Sox and Cubs are two big-market teams that have shown interest in recent months, with the Cubs claiming him on revocable waivers this past summer and the teams unable to work out a trade.
Hamels should have big trade value even though he is well paid, with $96 million and four years remaining on his $144 million, six-year deal. Two other aces, Jon Lester and Max Scherzer, are free agents, but they are expected to command longer commitments, perhaps even seven-year deals. So for that reason Hamels may look especially attractive.
Hamels has a 20-team no-trade list, and he's working on updating that now, as it is due Nov. 1. As of Friday, these are the nine teams to which he can be traded without his consent: Dodgers, Angels, Padres, Cardinals, Nationals, Braves, Yankees, Red Sox and Rangers. The southern California native (San Diego) can alter the list, though.
Phillies club president Pat Gillick said in an interview with CSN that he didn't expect to contend immediately as currently constituted, so some player shakeup wouldn't be a surprise. "I think where we are right now, it's probably a couple of years," Gillick told CSN.
Hamels, 30, was 9-9 with a 2.46 ERA in 2014, with 198 strikeouts and only 176 hits allowed in 204 2/3 innings.
CBS Sports HQ Daily Newsletter
Get the best highlights and stories - yeah, just the good stuff handpicked by our team to start your day.
Please check the opt-in box to acknowledge that you would like to subscribe.
Thanks for signing up!
Keep an eye on your inbox for the latest sports news.
Sorry!
There was an error processing your subscription.
The Mariners are denying the allegations

Ohtani made an impact on the mound and at the plate in his first MLB season

Acuna flashed the skills that will make him a superstar
The AL Rookie of the Year still won't be able to pitch in 2019

Six players turned down a one-year, $17.9 million deal in order to hit free agency

There are no Angel Berroas in this group