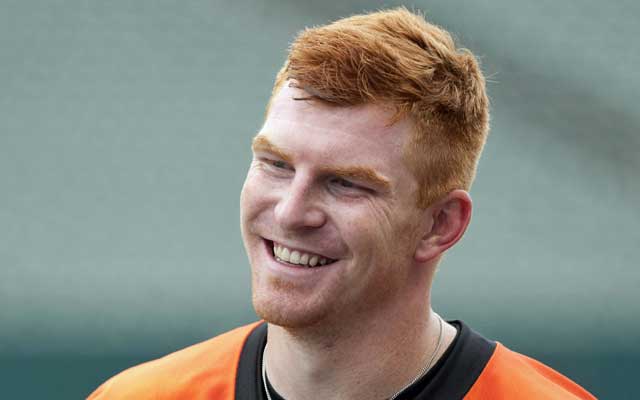 Andy Dalton became the latest quarterback to sign a lucrative long-term deal with the six-year, $96 million contract extension he received from the Cincinnati Bengals. The deal contains $18 million of base salary escalators tied to playoff performance that can increase the overall value to $114 million.
In typical Bengals fashion, the only guaranteed money in Dalton's contract consists of a $12 million signing bonus and a $5 million roster bonus payable three days after signing. Instead of making $1,086,027 in the final year of a rookie deal signed in 2011, Dalton gets $18,086,027, a $17 million raise, this year. Dalton also has a $4 million roster bonus payable on the third day of the 2015 league year, which is intended to serve as a substitute for additional contact guarantees.
Dalton's contract has been characterized as a two-year, $25.28 million deal because the Bengals can release him after the 2015 season without any adverse salary cap consequences. By releasing Dalton at this time, the Bengals will have given him a one-year extension for $24.2 million, which is right around $5.7 more than the 2015 non-exclusive quarterback franchise tag should be with similar cap growth as this year (approximately $18.5 million). Dalton is scheduled to make slightly under $35 million in new money through 2016, the first two new years of the deal (three year cash flow of almost $36 million), which is close to $6 million less than receiving two years of franchise tags.
Here are three takeaways from Dalton's contract.
Tier 2 QB market is now set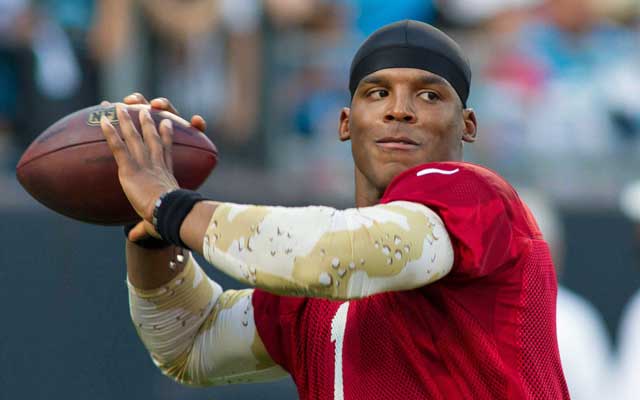 Dalton's contract establishes a second or middle salary tier for starting quarterbacks. This tier has been non-existent since the New York Jets terminated the three-year, $40.75 million contract extension Mark Sanchez signed in 2012 and Matt Schaub took a pay cut from the four-year, $62 million extension he received from the Houston Texans in the same year with his trade to the Oakland Raiders.
Prior to Dalton's extension, the recent quarterback market contains nine contracts signed since the start of the 2012 league year averaging between $17,666,667 and $22 million per year, with no other deals hitting the $10 million per year mark. There are also two outdated veteran contracts for Ben Roethlisberger and Philip Rivers from 2008 and 2009 respectively averaging right around $15 million per year, which were considered top quarterback money when signed.
It's unlikely that Dalton's deal will have much of a bearing on Cam Newton's next contract. Newton, whose contract expires after the 2015 season, is regarded as a quarterback with the potential to join the "elite" because of his rare physical ability while Dalton has a lower ceiling. The $19 million per year maximum value of Dalton's deal could serve as a salary benchmark for Bus Cook, Newton's agent. Cook will likely view the seven-year, $126.7 million contract (with $54 million in guarantees) he negotiated with the Chicago Bears for Jay Cutler as more relevant because it has $38 million essentially fully guaranteed at signing (within two and half months of signing).
The timing of Newton's new contract will likely be between the end of the 2014 season and the beginning of training camp next year since the Carolina Panthers currently only have $4.66 million of cap space. Cook may not have a sense of urgency with Newton, who has a $14.666 million cap number and salary in 2015. He might be able to drive up Newton's market by first negotiating the contract of another one of his quarterback clients, Russell Wilson, in 2015. Although Seattle's offense doesn't revolve around Wilson, he is expected to sign a blockbuster deal next offseason that conceivably could make him the NFL's highest paid player by surpassing Aaron Rodgers' five-year extension average $22 million per year (with $54 million guaranteed).
Creation of salary ceiling for A.J. Green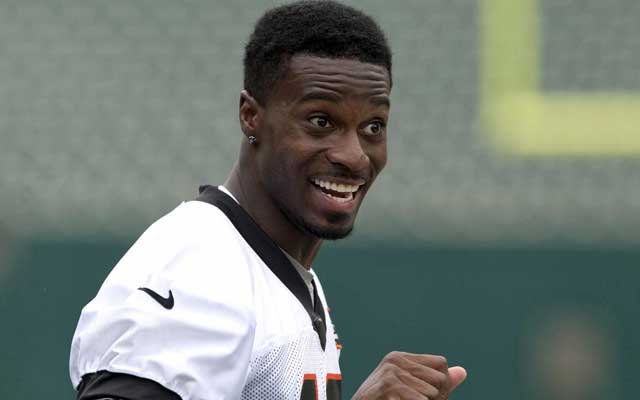 The Bengals reportedly would like to turn their attention to negotiating a new deal for 2011 fourth-overall pick A.J. Green. The salary cap won't be an issue because the Bengals have $15.87 million of cap room after Dalton's deal.
Green is under contract for two more seasons after the Bengals exercised their 2015 option year with him for $10.176 million. His 2015 salary is guaranteed for injury and becomes fully guaranteed on the first day of the 2015 league year.
Green is widely considered as one of the NFL's top-five wide receivers, if not among the top three. His first three seasons are arguably the best for any wide receiver in NFL history. He has 260 receptions, 3,833 receiving yards and 29 receiving touchdowns. His receptions and receiving yards rank first and second all-time for wide receivers after their first three years. The three-time Pro Bowler is also the first player to have 100 receptions, 1,500 receiving yards and 10 touchdowns in his first 20 NFL games.
Dalton's contract makes it difficult for Green to become the NFL's highest-paid wide receiver because his deal has a base value of $16 million per year. Calvin Johnson and Larry Fitzgerald set the wide receiver market on long term-deals averaging slightly more than $16 million per year containing in excess of $45 million in guarantees. Typically, the quarterback is at the top of a team's salary hierarchy when he gets a lucrative contract. For example, Matthew Stafford is the highest paid player on the Detroit Lions (by average yearly salary) despite Johnson arguably being one of the five best players in the NFL.
Johnson and Fitzgerald's contracts are considered as outliers. Their deals average 25 percent more than Percy Harvin's, who is third highest paid wide receiver. Harvin received a five-year extension averaging $12,843,500 per year (includes $25.5 million in guarantees) from the Seattle Seahawks when he was acquired in a 2013 trade with the Minnesota Vikings.
Cincinnati's preferred structure with lucrative veteran contracts is another obstacle that must be overcome. The team's contracts are typically light on guaranteed money because of the absence of base salaries guarantees. Reinventing the wheel structurally will be a challenge for Green. It will be interesting to see how the Bengals will reconcile Green already having guarantees for his $10.176 million 2015 salary with their preferred contract structure.
Green's best deal may come from being patient. Dez Bryant and Demaryius Thomas, two of the NFL's other top young wide receivers, are in contract years. They could help define the upper end of the wide receiver market if their new deals top Harvin's.
Impact to Alex Smith negotiations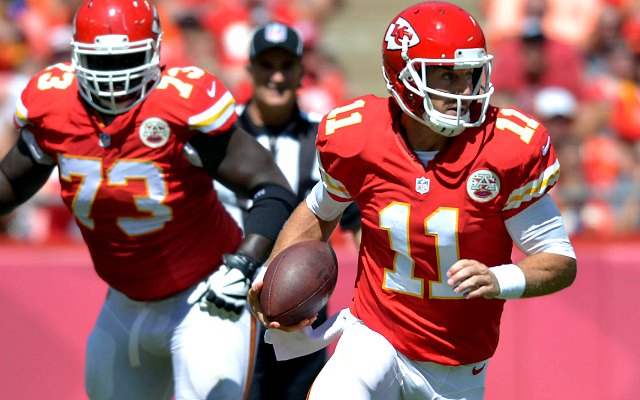 Dalton's contract started speculation that a new deal for Alex Smith wouldn't be far behind since negotiations have been ongoing. The deal may not help the Kansas City Chiefs reach an agreement with Smith.
Smith reportedly views himself as a franchise quarterback, which would put him in the $18 million per year range. Creative Artists Agency's Tom Condon, Smith's agent, can point to Smith's 30-9-1 record as a starter since 2011. He can also use Smith's performance over the last six games of the 2013 season, including the playoffs, to try to prove that he's more than a game manager. Smith completed 66.5 percent of his passes (129 of 194) for 1,542 yards with 16 touchdown and three interceptions in the six games. These numbers project to 4,112 yards, 43 touchdowns and eight interceptions over a 16 game season.
The Chiefs will have a difficult time justifying to Condon that Smith should accept a structure similar to Dalton's when Dwayne Bowe, the only high priced signing since Andy Reid and John Dorsey became head coach and general manager, got a more player friendly structure. Bowe's five-year, $56 million deal contains $20 million guaranteed for skill and injury at signing, including a $15 million signing bonus. The deal has $26 million in overall guarantees where $1.5 million of Bowe's 2015 base salary became fully guaranteed on the third day of the 2014 league year (March 13).
The most recent lucrative quarterback deals Condon has negotiated (Stafford and Matt Ryan) have substantially more security than Dalton's. Stafford and Ryan have $33.5 million and $42 million fully guaranteed at signing in their contracts. An additional $8 million and $17 million in Stafford and Ryan's contracts, both signed in 2013, became fully guaranteed on the third day of the 2014 league year and third day of the 2014 waiver period (February 5) respectively.
Condon needs to be careful about overplaying his hand in negotiations. Smith signed a three-year, $24 million contract (worth a maximum of $30 million with incentives) in 2012 to remain with the San Francisco 49ers after he didn't generate much interest from teams as an unrestricted free agent. The 2005 first overall pick may find that he's hasn't dramatically altered his perception around the NFL since 2012 if he hits the open market again. 
---
Joel Corry is a former sports agent who helped found Premier Sports & Entertainment, a sports management firm that represents professional athletes and coaches. Before his tenure at Premier, Joel worked for Management Plus Enterprises, which represented Shaquille O'Neal, Hakeem Olajuwon and Ronnie Lott.
You can follow him on Twitter: @corryjoel
You can email him at jccorry@gmail.com