More NFL offseason: League minicamp dates | Latest news, notes
There are 11 new offensive coordinators in the NFL, which means teams are digging to profile these new play callers. Most defensive coordinators Norv Turner (Vikings), Gary Kubiak (Ravens), Kyle Shanahan (Browns) and Hue Jackson (Bengals), but the other seven -- Jeff Tedford (Bucs), Bill Lazor (Dolphins), Jason Michael (Titans), Frank Reich (Charger), Ben McAdoo (Giants), Sean McVay (Redskins) and Joe Lombardi (Lions) -- remain mysterious.
"None of these new guys were ever play callers before," a defensive coach said over the weekend, "so I go back to their main influences growing up in the league plus whatever college experiences they had."
Four of the seven new OCs were college quarterbacks (Reich, Tedford, Lazor, Michael), which usually means they want to throw the ball. Most, if not all, of the new coordinators are attempting to install a version of the offense they ran in their previous post.
Frank Reich will continue to run the same offense Ken Whisenhunt ran in San Diego, but the run/pass ratios and personnel grouping might change.
There is a lot of interest in the league around Tedford's offense since he has no NFL experience. The speculation is it will be more up-tempo and more no-huddle. I know at least one team is breaking down Tedford's play calling at Cal, because that team will face him early.
The major influences for the remaining five new OCs are diverse.
Lazor spent time with Dan Reeves, Joe Gibbs, Mike Holmgren, Jim Mora and Chip Kelly. My bet is the recent Kelly influence, with his up-tempo attack, will play a prominent role in his offense.
Michael follows Whisenhunt to Tennessee after two years in San Diego but likely will have less impact as a coordinator than the head coach. Lombardi is the grandson of Vince Lombardi, but was heavily influenced by his seven years in New Orleans and Sean Payton's inside seam route game.
Look for tight ends Eric Ebron and Brandon Pettigrew to get lots of work down the field vs. safeties.
McVay is the grandson of former 49ers executive and New York Giants coach John McVay and is a disciple of Jay Gruden who will take a back seat to Gruden in play calling.
McAdoo will call plays for the Giants after spending 10 years with the Packers' Mike McCarthy and his west coast offense. Some are saying the Giants' new offense will be easier to learn and should include more no-huddle.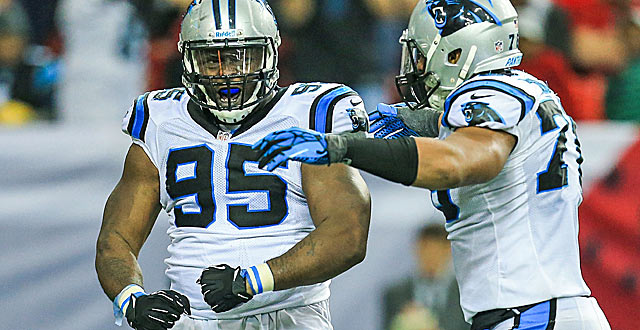 Is blitzing worth it? Some teams are built to blitz, some do it out of necessity and others don't because of a solid four-man rush. Last season tells us which direction some teams may be headed in 2014.
Seattle had the best of both worlds. When the Seahawks brought a fifth, or even a sixth, defender in a blitz they were No. 1 in the NFL affecting the passing game with a sack, hurry or hit on the QB. When they relied on their three- or four-man rush they were No. 5 in the NFL. The only other team achieving that kind of balance was the Panthers (No. 2 when blitzing, and No. 1 in a basic pressure scheme). No wonder they want to pay Greg Hardy as well as Charles Johnson.
Three clubs were very effective when blitzing, but not very good when playing it straight. The Cardinals were No. 2 in pressure defenses but on No. 20 without the blitz. The Redskins were No. 4 when blitzing but fell to No. 26 when it was off. And the Jaguars were No. 7 from pressure and No. 28 without it. Rookies Kareem Martin (Cardinals), Trent Murphy (Redskins) and Chris Smith (Jaguars who also acquired Chris Clemons from the Seahawks) are expected to change their clubs' non-pressure fortunes.
Meanwhile, I wonder the Lions bother to blitz at all because they are so effective with their four-man schemes (No. 3) and lousy (No. 29) when blitzing.
Personnel breakdowns: Most NFL personnel groupings are coded in a two-digit system. The first number indicates the number of running backs in the game and the second indicates the number of tight ends. Since every play has five eligible receivers, the wide receivers make up the difference. A 21 personnel means there are two running backs, one tight end and two wide receivers.
The deployment depends on the fullback, a second tight end and a third wide receiver. Those three players stand next to the play caller on the sideline. Depending on which personnel group is desired, one or two of those players take to the field.
In 2013, there were 17 different personnel groups used around the league. The most-used was 11 (1 RB, 1 TE, 3 WRs). It outpaced the second-most used personnel group (12 personnel) by 10,078 snaps. Combining personnel groups using three or four wide receivers -- forcing defenses into nickel or dime packages -- there were 18,848 plays. Personnel groups with two or fewer WRs, keeping extra defensive backs on the sideline, numbered 14,461 plays. That means the third wide receiver and the third cornerback were true starters. Teams were in "sub" defenses approximately 57 percent of the time.
Surprisingly, the 11 personnel package was successful in the running game. Of the five most-used groups (11, 12, 21, 22, 13), the run game in 11 personnel was successful 51.4 percent of the time (successful is defined by 40 percent of the required first-down yardage gained if used on first down, 50 percent if used on second down and the chains were moved or the team scored if used on third down). In 2013 teams ran the ball 5,558 times without a fullback or second tight end and were successful close to 51 percent of the time, but that number fell to 44 percent when employing a fullback or second tight end. With offenses opening up the running game in three-plus WR packages, the defenses better find nickel backs and pass rushers who can tackle.
It wasn't too many years ago that 21 personnel was the dominant group used in the NFL; it was even referred to as "regular" personnel. It finished behind 11 personnel and 12 personnel in 2013 by a significant margin. It is still a heavy run grouping (60 percent) but the rushing success rate isn't there (46 percent).