Musings: By acquiring Mankins, Bucs don't improve much at guard
Logan Mankins might have added another Pro Bowl appearance last season, but he's no longer an elite player, and you wonder if the Buccaneers were aware of that when they acquired him.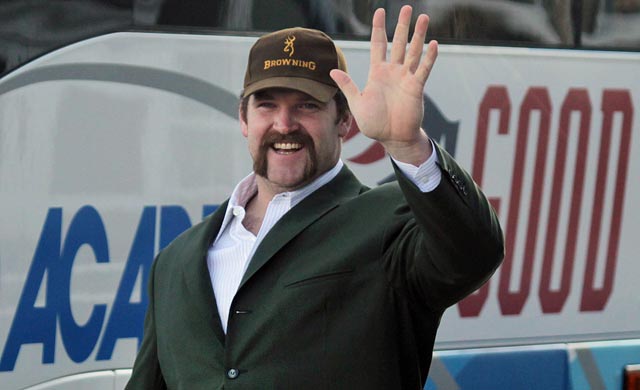 The bad news for the Tampa Bay Buccaneers: Guard Logan Mankins isn't the same Logan Mankins he was a few years ago.
The good news: He's better than what the Bucs had at guard.
Tampa Bay traded tight end Tim Wright and a fourth-round pick to the New England Patriots to land Mankins on Tuesday. It is a deal that fills a major hole for Tampa Bay, which has had major troubles inside this preseason.
But if the Bucs think they are getting the same player who dominated five years ago, they are woefully mistaken. Mankins, 32, went to the Pro Bowl in 2013, but he was far from a player who earned it.
In fact, there were times when I thought Mankins really struggled last season, especially in pass protection. That's where he will have to be better for Tampa Bay. But after watching Tampa Bay's guards this preseason, and talking to their staff, there was little doubt the team had to do something.
"Logan Mankins is everything we would ever want in a football player," Patriots coach Bill Belichick said in a statement released by the team.
Except maybe being good enough to be on their roster at his current pay.
Wright is a nice pass-catching tight end who really doesn't offer much in terms of blocking. With Rob Gronkowski battling back from the knee injury, it gives the Patriots flexibility. It also allows them to have a player in the mold of former Patriots tight end Aaron Hernandez.
When Tom Brady had Gronkowski and Hernandez, he used a lot of two-tight-end sets to move the ball through the air. Wright caught 54 passes last season and showed the ability to get down the field, something Hernandez used to do to complement Gronkowski.
The Patriots will look at several options to replace Mankins. Among the players they will look at are Marcus Cannon, Josh Kline and Jordan Devey.
This might actually be a good trade for both teams, but Tampa Bay should know that they are getting a descending player. Mankins is more solid than special.
More Musings
•The Arizona Cardinals decided a younger, stronger leg was better than having a veteran kicker they already had on their roster.
The New Orleans Saints might have a new kicker, a younger version.
The Tennessee Titans decided to go younger at kicker when they released Rob Bironas in March, and now have a two-man battle between two kickers who have never made an NFL field goal, although they also have reached out to Jay Feely, who was the veteran released in Arizona.
There could be new kickers in other spots as well.
What gives?
Stronger legs.
In Arizona, veteran Feely had problems with his kickoffs last season, which is part of the reason why the Cardinals decided to keep rookie Chandler Catazano. Feely is 38. Catazano is 23.
"When you go with a young player at any position, there's always a certain amount of faith and trust you need to have," Cardinals general manager Steve Keim said. "Chandler's responded to every test we've put in front of him and performed well. Every measurable -- kickoff hang time, distance, accuracy -- he's checked every box and he's earned this opportunity."
The Giants opted to go with veteran Josh Brown over rookie Brandon McManus, and then shipped McManus to Denver. The Broncos will use McManus until regular kicker Matt Prater gets off his four-game suspension.
There are so many good kickers out there waiting for their chance that it sometimes makes sense to go younger. Say that now, though, because when it's pressure time, that thinking could change.
•As we ready for the final weekend of the preseason, the games will feature few starters. But there are a lot of guys fighting for roster spots, which brings the intrigue. This fourth preseason game is one to focus on gunners on punt coverage and guys covering kickoffs. Look for maniacs throwing their bodies around. When your future is on the line, you tend to go the extra mile.
•This preseason will go down as the worst we've had. The play has been bad. The officiating has been over the top and the interest isn't what it has been in years past, in my mind. It's time for the league to cut it down to two and add two more regular-season games. Don't you get the idea fans are tiring of the preseason the way it is?
•Matt Cassel has done some good things for the Vikings this preseason, but at times he has been merely OK, yet he will start for the Vikings. I know why coaches want to start the veteran players, but I don't get it for the long term. You have to find out if the first-round passer can play. To do that, you need to get him experience. A coach is always fighting the desire to win now. But Teddy Bridgewater is clearly the long-term answer in Minnesota -- not Cassel. So get on with it. Mike Zimmer is in his first head-coaching job, so I get that he wants to win as many as possible. But the Vikings are not a playoff team with Cassel or Bridgewater playing. So get the young kid the experience.
•Washington safety Brandon Meriweather will never learn. Six times he has had issues with illegal shots -- and faced league discipline for it -- and the latest landed him a two-game suspension. Rules are rules. Follow them, or don't play. Meriweather should worry more about his coverage skills than the big shots.
•Losing nose tackle Kwame Geathers, who was placed on IR by the Chargers after suffering a knee injury Sunday against San Francisco, is a big hit. He was being counted on to give them some bulk inside at nose. That leaves Sean Lissemore and Ryan Carrethers to pick up the slack.
•I saw a recent ESPN ranking of NFL coaches done by some general managers and front office types that had Seattle's Pete Carroll ranked second behind Bill Belichick. Are you kidding? Giants coach Tom Coughlin has two rings to one for Carroll. He has also been in three more championship games. That one makes no sense.
•The Bucs are excited about rookie Solomon Patton's punt-return skills, which is why they released Eric Page. Patton went undrafted out of the University of Florida.
•It would not be a shock to see rookie Luke Bowanko starting at center for the Jaguars early in 2014, and maybe even to open the season. The sixth-round pick from Virginia has really impressed the coaches. He needs to get stronger, but he fights and he's smart in terms of picking up the calls. When rookie quarterback Blake Bortles takes over for Chad Henne -- it will happen -- the Jaguars will likely have an All-Rookie battery. That's risky, but they are playing for 2015. Bowanko has already been getting work with the first unit. If not for an ankle tweak, he might have the job by now.
The Green Bay Packers quarterback seems to be a go for the Carolina Panthers game

Shazier's season might be over, but he still wants to help his team

The young head coach took the blame after a heartbreaking loss to the Eagles
Our computer model simulated every Week 15 NFL game 10,000 times with very surprising resu...

Britt is going from the worst team in football to a Super Bowl contender

With three weeks to go in the regular season, the MVP race is wide open