Top Ten with a Twist: Best players who are 32 or older
Anquan Boldin isn't the only over-32 year old player who continues to have an impact on the league.
• 6 min read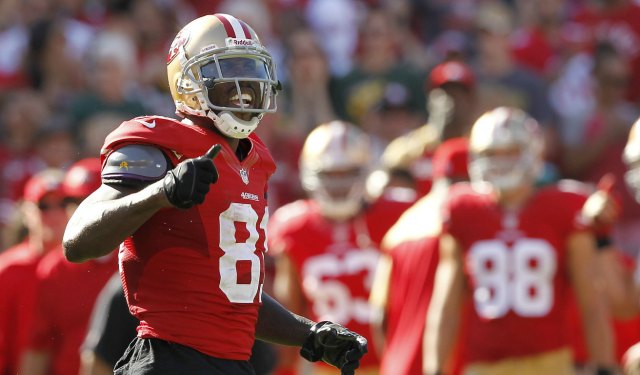 There were coaches back in the olden days of the NFL who believed that once a player hit 30 years old, they almost immediately became useless as football players. Thirty, at the time, was the new 35, and players oftentimes were treated as such.
Now, we know better. Aside from running backs, who really do seem to break down at about the age of 30 (if not before) because of the constant pounding they take, players can last -- and be effective -- until their mid- and late-30s. Hell, if you're a punter or place-kicker, you can last in this league until you're on the other side of 40.
That said, let's take a look at some of the top players in the league who already have passed their 32nd birthdays. Because 30 is the new 25, and for players in today's age, that's cause for celebration.
10. London Fletcher , Washington Redskins linebacker, 38 years old: One of the best things about the career of Fletcher is that the older he gets, the more recognition he receives. He accumulated a career-high five interceptions last season, and he made the first of his four Pro Bowls after he turned 34. He's started every game since 2001, and he continues to produce top-notch statistical numbers (even if he slipped some last year). Every year, it seems he's asked when or if he'll retire. Before last season, there was no reason to do so. But last season might have started a disturbing trend, and after Week 1 of 2013, Pro Football Focus's metrics ranked him as the worst inside linebacker in the league.
9. James Harrison , Cincinnati Bengals linebacker, 35 years old: I'm not sure Harrison would still remain on this list if we revisit it at the end of the year, because, frankly, I'm not sure how much effectiveness the five-time Pro Bowler has left in his bones. After recording a career-high 16 sacks in 2008, his yearly totals have gone this way, respectively: 10, 10.5, nine and six. Obviously, that's not good, but after the Pittsburgh Steelers released him last May in a salary cap-cutting move, the Bengals were quick to sign him. What we know now: he's still good enough to start in Cincinnati's defense. But as intimidating as he was to the Hard Knocks camera crew, he only recorded one tackle in the 40 snaps he played on defense last Sunday.
8. Adam Vinatieri , Indianapolis Colts kicker, 40 years old: With the retirement of Detroit Lions kicker Jason Hanson, Vinatieri has become the oldest player in the league. Vinatieri likely will be remembered most for his heroic kicks when he was in New England, but he continues to be a steady presence in his 18th season. Strangely enough, Vinatieri -- eighth on the all-time made field goals list -- attempted seven field goals from 50-plus yards last season, more than twice as many as his previous career-high. He made four of them.
7. Champ Bailey , Denver Broncos cornerback, 35 years old: Before Bailey got toasted by Baltimore receiver Torrey Smith in last year's playoffs, Bailey probably would have been higher on this list. But at some point, Bailey's play will fall off to the point where he'll probably have to move to safety. The 12-time Pro Bowler says he's not ready to make the move there, and though he didn't play in Week 1, he's probably right. But that one game last year has us wondering: Is Bailey still one of the top cornerbacks in the game?
6. Reggie Wayne , Colts receiver, 34 years old; Steve Smith , Carolina Panthers receiver, 34 years old: Yeah, I'm cheating here by using two guys for one spot. Oh well. For most of his career, Wayne made his name and reputation by catching passes from Peyton Manning . But then Andrew Luck came to town, and Wayne revisited the success of his youth, catching 106 passes for 1,355 yards and five touchdowns in helping lead Indianapolis to a surprising playoff appearance last year. He continued that production Sunday with eight catches, 96 yards and a score. Smith, meanwhile, remains as feisty as ever. He's still a solid No. 1 receiver, but he also hasn't topped 80 catches since 2008. How much longer will he be a big-time receiver?
5b. Andre Johnson, Texans receiver, 32: Yes, I accidently left Johnson off the list the first time around. Of course he should be here. Of course, of course, of course. Thanks to this guy for pointing it out.
5. Tony Gonzalez , Atlanta Falcons tight end, 37 years old: Very clearly, Gonzalez wants to win a Super Bowl, which is why I never believed he would retire after last season if Atlanta didn't go all the way. But the Falcons had to be ecstatic when he announced his return -- even if Gonzalez didn't spend much time with the team in training camp -- because he's still a top-five tight end talent. Let's face it, Gonzalez is the best tight end to ever play the game. The fact he's still so good at the age of 37 only reinforces that notion.
4. Justin Smith , San Francisco 49ers defensive end, 33 years old: He's still one of the toughest defensive linemen in the league, and his statistics still hold up. Like Fletcher, he didn't start making Pro Bowls until four years ago. But beyond that, his value really showed last year after he was injured late in the season and he missed the final two regular-season games. Suddenly, Aldon Smith stopped sacking quarterbacks, and it became clear that Justin Smith was nearly as important to freeing up Aldon Smith to make high-impact plays as Aldon Smith himself. Now that Justin Smith is healthy again, Aldon Smith recorded 1.5 sacks in Week 1.
3. All those veteran quarterbacks: Included in this category are Tom Brady (36 years old), Peyton Manning (37) and Drew Brees (34). Despite the influx of new quarterbacking talent in the league (Andrew Luck, Robert Griffin III , Russell Wilson and Colin Kaepernick ), the three older signal-callers remain at the pinnacle of successful quarterbacking in this league. All have won Super Bowl titles, and all have led the league in passing (Brees four times and Manning and Brady both twice). All three could probably play until they're 40 if they stay relatively healthy again and continue to be effective.
2. Charles Tillman , Chicago Bears cornerback, 32 years old: If you're expecting Tillman to fall off as he draws closer to his mid-30s, last Sunday should change your mind. He recorded two interceptions vs. Bengals quarterback Andy Dalton , and Tillman had an enjoyable battle with receiver extraordinaire A.J. Green for much of the day. Yeah, Green got the better of Tillman for much of the contest (he caught nine of the 13 passes in which he was targeted and amassed 162 yards and two touchdowns), but Green is going to dominate most cornerbacks in this league if he gets one-on-one coverage. Still, that doesn't take away that Tillman will continue to be a problem for opposing quarterbacks.  
1. Anquan Boldin , 49ers receiver, 32 years old:If I had written this list last week, I might not have put Boldin on it at all (and I certainly wouldn't have had him here in the top spot). But his performance vs. the Green Bay Packers on Sunday (13 catches, 208 yards) showed us why the Baltimore Ravens made a big mistake in dealing him to San Francisco for a lowly sixth-round draft pick. All because Baltimore wanted to make him take a paycut. Of course, the 49ers didn't expect to lose Michael Crabtree for the season, and they didn't expect Boldin, who's lost much of whatever speed he once had, to become the No. 1 receiver. But he's there now, and he looks awesome.
Follow Josh Katzowitz on Google+
Donald Trump would like to see NFL owners cut any players who kneel for the national anthe...

One of the biggest penalties in Thursday's game was a controversial flag that went against...

If Ezekiel Elliott gets suspended, it likely won't come until Week 5 at the earliest
The NFL is apparently concerned that the Chargers might not be viable in Los Angeles

Everything you need to know for Week 3 of the 2017 NFL season is here

You can find every official injury designation for each NFL team shortly after its Friday report...