Metropolitan Division: Team-by-team preview
Looking at what lies ahead in the Metropolitan Division where the Pens are a clear favorite but the race behind should be fierce.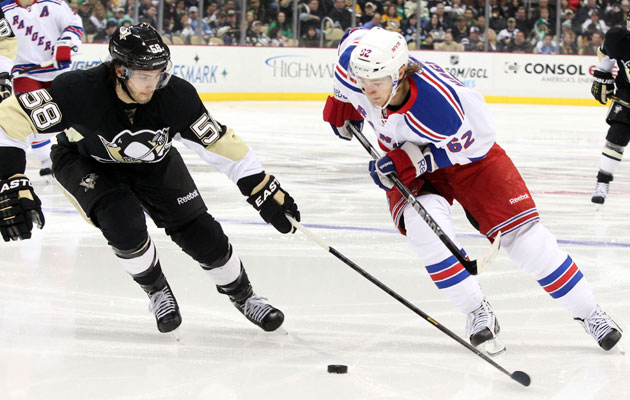 More NHL offseason: Rumors | Top 50 Free Agents | Buyout Tracker | Trades | Transactions
Training camps have opened, meaning the season is right around the corner. It's going to be a lot different with the new divisional alignments but the Metropolitan Division will look relatively familiar with the five teams from the Atlantic staying together and welcoming three teams to the mix.
There is a pretty clear favorite at the top in the Penguins but then there is a group of  teams that don't seem to have a massive gap from one to the next in between them. Remember, they're competing for three guaranteed playoff spots and then potentially a fourth and fifth against the new Atlantic Division. It's going to make for a fiercely competitive division, perhaps the tighest of all the new alignments.
In other words, it should be fun.

1. Pittsburgh Penguins
Most important player: Duh
X-factor: Fleury is the easy answer but what about replacing Matt Cooke? It might be a bigger hole than people realize as he was more than just an agitator. Much more.
The Penguins have not had their success in the postseason but let's not forget that they are a powerhouse and have been a regular-season monster for years now. They possess a wealth of scorers and play-makers that they always have an offensive presence. Naturally it helps when you possess two of the game's absolute best players in Sidney Crosby and Evgeni Malkin but don't think it's just about them. These guys James Neal, Chris Kunitz, Pascal Dupuis, Kris Letang, etc. aren't bad either.
Again though, they aren't without their issues. The defense (and goaltending) is always the No. 1 topic of conversation and it will be again in terms of potential downfalls of this team but they did a bit of an upgrade in bringing back veteran Rob Scuderi to the corps. Meanwhile they will likely give some of the younger guys like Simon Despres more of a chance, a guy who should have seen more ice time last season.
The real intrigue is in net where Marc-Andre Fleury is likely going to open as the starter again, at least that's what Dan Bylsma said at the end of last season. Fleury in the regular season has never been the problem, it's Fleury in the playoffs. Fortunately for them they have one of the best backups in the league in Tomas Vokoun. It's hard to predict now before camp but it wouldn't be a surprise to see them share the load with Fleury carrying a slightly larger role. There's no reason to think the Penguins will falter from another preseason of lofty expectations.
Standings with last season's records
Team
Wins
Losses
OTL
Points
1. Penguins
36
12
0
72
2. Capitals
27
18
3
57
3. Rangers
26
18
4
56
T4. Islanders
24
17
7
55
T4. Blue Jackets
24
17
7
55
6. Flyers
23
22
3
49
7. Devils
19
19
10
48
8. Hurricanes
19
25
4
42
2. New York Rangers
Most important player: Lundqvist. The Rangers have a lot of options but as long as he's around, Lundqvist will remain the focal point. He's one of the very best in the game.
X-factor: Richards, as you'll see below.
There is no denying that the Rangers were a disappointment last season. They were slow out of the gate and while everybody was just waiting for them to turn the corner, it didn't really happen. It took the help of a very soft schedule down the stretch for the Rangers to get into the playoffs where they did get past the Capitals in the opening round before bowing out.
With that departure came another; coach John Tortorella out, Alain Vigneault in from the Canucks. Two different coaches, two different philosophies and with Vigneault the expectation is the Rangers will open things up, a welcome relief from years characterized by shot-blocking and goaltending. They have the talent to open things up, especially once Derek Stepan is back under contract and the expectation here is that they'll show some of the form people anticipated last season.
The X-factor of course is Brad Richards, who the Rangers nearly bought out. The belief in New York is that he'll bounce back after a poor season with no lockout to interrupt the offseason flow. They need to hope so because he gets the big bucks for a reason. As for the back half, well, they'll be fine there, especially with Marc Staal recovered from his eye injury and Henrik Lundqvist in net.

3. Washington Capitals
Most important player: Duh, Part II. Last season proved that as Ovi goes, so go the Caps.
X-factor: Mike Green. The Caps need him to stay healthy because he's still an excellent point man and has improved a lot defensively. Simply, they're a better team with him on the ice.
This is where I think things will get really bunched up as there doesn't appear to be a lot separating the next group of teams (really, you could probably even put the Rangers in this same group).
It took half a shortened season but the Capitals finally started to look like the Capitals we have come to know in the latter half of last season. Most notably the renaissance of the team ran parallel with the renaissance of Alex Ovechkin, whose move to the right wing eventually came to help revitalize his game. As we all know, though, it's about much more than Ovechkin (people forget how good Nicklas Backstrom is, too) as he has been stellar over the years but the Caps haven't hit their peak. Don't underestimate the value of having a full preseason and now a season with coach Adam Oates; that will only help.
They lost Mike Ribeiro and had a gaping hole once again at 2C until Mikhail Grabovski more or less fell into their laps. Now they have a better all-around player (if not as good offensively) who can allow wingers to be wingers. On the back the Caps don't possess the stoutest of defensemen you'll find but they're sturdy enough to help keep things calm for Braden Holtby. Speaking of Holtby, it's about time we stop expecting him to crash down to earth because he's been more than good for Washington.
They have their work cut out for them as they are no longer in the Southleast, but they should be good enough to earn another playoff berth. It would help if they are able to settle into Oates' system a bit more and become a better puck possession team but they convert well on the opportunities they get, especially on the power play.

4. Philadelphia Flyers
Most important player: Ray Emery/Steve Mason. They're not the best (Giroux) but as far as importance goes? Yea, the goalies are up there for this team. Way up there.
X-factor: Veterans. If the new vets -- Lecavalier, Streit, Cleary (maybe) -- can not only give them consistent minutes but productive minutes, it will make a huge difference. The jump from Briere to Lecavalier could be tremendous.
How rare is this; the Flyers are coming into a season after a long summer. That's of course because the fact that they didn't qualify for the playoffs, they simply weren't good enough defensively and in net to keep up with some improving teams in the East.
The big change now is that the Ilya Bryzgalov experiment is over and now it's back to Ray Emery along with Steve Mason. Emery was excellent as the No. 2 guy in Chicago the past two years but that was playing behind the Blackhawks defense, and Philadelphia's D isn't exactly Chicago's. The hope is that the addition of Mark Streit will make a significant impact for that blue line but he is a guy who's more offensive-minded first and foremost. The Flyers won't complain, though, if that just means they have the puck more.
They still have good scoring potential up front but they really do need Scott Hartnell to stay on the ice and show why they gave him a big deal before last season. That largely depends on Claude Giroux continuing to play like the star he has become. And don't sleep on the addition of Vincent Lecavalier. He might be another veteran but he can still play and should help to round out a good top six.
The pressure's on the Flyers, GM Paul Holmgren has spent to the cap (and beyond) again so missing out on the playoffs for a second straight year isn't really in the plans.

5. New York Islanders
Most important player: Tavares. He's the new captain and there's no doubt that he's the face of the franchise now. Another season of Hart Trophy consideration is a must.
X-factor: Defense. This directly correlates to the goaltending but they have a hole to fill with Streit gone. If they can be a strong six then perhaps the fortunes in goal will improve.

The good times, they are a comin' back to the Island. Well, they actually already came as the Islanders finally got to experience what the postseason is like for the first time in what seemed like an eternity.
They're still young and growing ever more talented. They have outstanding players like John Tavares and Matt Moulson -- who doesn't seem to get enough attention -- who will lead the way and while they represent a strength, the Islanders still have some their weaknesses.
The Isles had the opportunity to try and upgrade some in net this summer as Evgeni Nabokov was a free agent and of course they had room under the cap, but instead they decided to stick with the veteran Nabokov. While he was certainly OK in the regular season with a .910 save percentage and 2.50 GAA, they will need him to be a little better than OK in a competitive division if they want to continue taking those next steps. If they can get better defense and goaltending -- they were in the bottom third in goals against last season -- then the Islanders could make some serious noise with the scoring potential they possess.

6. Columbus Blue Jackets
Most important player: BOBROVSKY! Remember last season?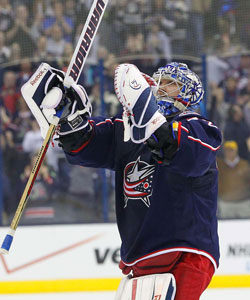 X-factor: Brandon Dubinsky. Dubinsky only played 28 games last season but he produced 20 points, which is good. However they could use more actual goals than just two. He's capable of it, if he can show it then they're in business.
It's been a long time since they were this excited about Blue Jackets hockey in Ohio but the team was so good in the second half of last season and so close to the playoffs (finishing tied for eighth but missing out on tie-breakers) that it's hard to blame them. Until you remember that they were doing it on the strength of Sergei Bobrovsky. A very strong Bobrovsky. He was able to play out of his mind and help mask an offense that was 25th in the NHL with 2.40 goals per game.
Now there is reason for hope that the offense will improve as they will have Marian Gaborik from the start and they signed Nathan Horton this summer. However Horton will miss the first couple of months with an injury and their leading scorer from last season, Vinny Prospal, is no longer around. Now they have the task of trying to rekindle that late-season magic in the Eastern Conference and this division that will be fiercely competitive.
I'm just not sure they have it in them, especially when if Bobrovsky is unable to match his .932 save percentage and 2.00 GAA.

7. New Jersey Devils
Most important player: Adam Henrique. The offense needs a lead man now without Kovalchuk and it's likely to fall to the young Henrique. Is he up to the task?
X-factor: The Martin Brodeur/Cory Schneider dynamic. How is this tandem going to work, will they be OK sharing the net as much as is expected? Will Schneider pull away and take the bulk? All good questions.
It's rare that the Devils come into a season with expectations this low but when you lose Zach Parise and Ilya Kovalchuk in back-to-back summers, that's going to happen. However maybe the low expectations will do them some good and they can get back to playing typical Devils hockey again.
Let's not forget, they were a team that was really unlucky last season. They were a very strong possession team and surrendered the fewest shots against per game. Converting on more of their shots while stopping just a few more of the opponents' will go a long way. Rocket science, I know, but I put it such simple terms to point out that at least one of the two should be achieved this season. There's no reason to think they aren't much better in goal with the huge summer addition of Cory Schneider, who will split time with Martin Brodeur.
It will certainly be a lot tougher to increase the scoring but Jaromir Jagr coming in will help keep the puck in the right end of the ice and all that Michael Ryder seems to do is score 25-30 goals wherever he goes. Add them to the core of the Devils, guys like Adam Henrique, Travis Zajac and, yes, Patrik Elias still and you can see some potential for offense. Problem is they aren't deep and none of their top six are guaranteed big scorers like Kovalchuk was. It's going to be a challenge.
It looks like it's going to be a rough season in New Jersey but would anybody really be surprised if they push for a playoff spot? Not me.

8. Carolina Hurricanes
Most important player: Cam Ward. It might have been coincidence they dropped off dramatically last season when he got hurt but probably not. He does have a solid backup in Anton Khudobin this year, though.
X-factor: Jeff Skinner. That Calder Trophy seems like a long time ago at this point. He had 32 goals that first season but has fallen off since. They really need him to return to that form.
The Hurricanes are in a tough spot, having to merge into the previous version of the Atlantic along with the best team from their previous division in Washington. Life won't be easy for a team that some expected big things from last season. They were severely hurt by an injury to Cam Ward, who should be good to go for this season, no problems. However that was far from the only reason they finished low in the standings.
They were supposed to be an offensive force with the Staal brothers, Jeff Skinner and Alexander Semin on the ice, it just didn't play out that way. They generated a lot of shots but not necessarily a lot of goals, finishing middle of the pack at 14th with 2.65 per game. While the defense undeniably has to get a lot better -- an issue that wasn't really addressed this summer unless you think Mike Komisarek is the answer or expect Ward to make all the difference -- the offense could stand for an uptick as well, especially if the defense doesn't show signs of improvement.
The Canes absolutely have their work cut out for them in this new division, I just don't think they're up to it.
Pittsburgh finds itself a new third-line center as it looks to make a third straight run at...

The All-Star is one of the biggest names in the rumor mill, and reports say a move is on the...

SportsLine's Mike McClure, a DFS pro with more than $1M in winnings, gives optimal lineup...
The 38-year-old Luongo has been a longtime Parkland resident and is a father of two

This might be the new norm at the Winter Olympics, so here are three reasons why

It isn't a surprise to anyone, but an NBC executive acknowledged the ratings