NHL Award Races: Avalanche in store for big awards show
In the last installment of the NHL Award Races for the 2013-14 season, the Avalanche are in position to take home a few awards after a great turnaround.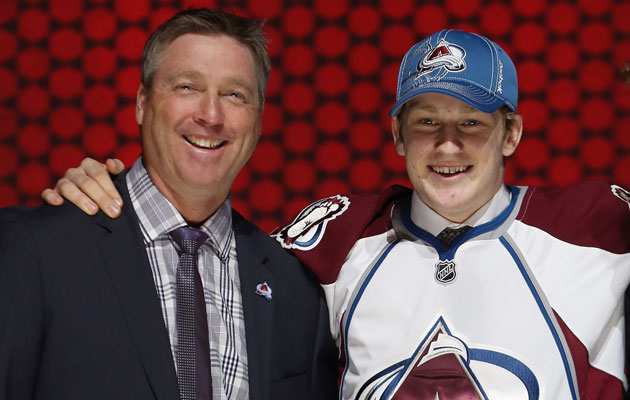 More NHL: Scores | Standings | League Leaders | Odds | Injuries | Power Rankings
Welcome back to Award Races. We will take a look at how the battles for the individual awards are shaping up periodically from now through the end of the season.
This is it, the last days of the regular season. Whatever cases are to be made by players in terms of the individual awards have pretty much already been made. It's going to be very difficult to turn the tide of the races in the few days left so what you see now is pretty much what you're going to get.
In the case of some races like the Hart, it's clear what that means; it should be Sidney Crosby. He's had the strongest case all season long and in the end it looks no different. It's the other awards that look so much more intriguing. The Vezina, for example, could go any number of ways still. Tuukka Rask is the leader here but Semyon Varlamov could appear atop a lot of ballots too with his superb season for a revitalized Avalanche. Ben Bishop and Carey Price have arguments to be made as well.
If Varlamov is able to finish up top, it could be quite the awards show in July for Colorado, the fruits of a dramatic turnaround. Patrick Roy is likely going to be the Jack Adams winner and Nathan MacKinnon is in a good race with Ondrej Palat for the Calder. Let's not forget Ryan O'Reilly's candidacy for the Lady Byng.
So here it is, the final Award Races of the season with how I would fill out a ballot today.
Award watch
Hart
Vezina
Sidney Crosby
Not only will he be a runaway winner of the Art Ross Trophy, the only player to surpass 100 points but he has been the one steady force in an injury-plagued Penguins season. Let's not overcomplicate it, Crosby is the MVP.
Tuukka Rask
Among goalies with at least 35 appearances, Rask leads them with a .930 save percentage. He's also the league leader in shutouts with seven. He's helped by a great team in front of him, yes, but there's no denying Rask is elite.
Ryan Getzlaf
One thing that's difficult with Getzlaf is the fact that Corey Perry has been so good this season too but Getzlaf is the straw that stirs the drink. He has had just a fantastic season and if it weren't for Sid, it would be Getzlaf.
Semyon Varlamov
There were doubts if Varlamov could keep it up all season long. Well, he did and not only has a .927 save percentage but leads the league with 40 wins all while being asked to make more saves than anybody else for an Avs team that gives up a lot of shots. He could beat out Rask.
Claude Giroux
Giroux is pretty good at hockey but also pretty good with predictions. The Flyers were 1-7-0 when he said the Flyers would make the playoffs. They have and he's the biggest reason why with 27 goals and 48 assists in the last 66 games.
Ben Bishop
There was a time when it looked like Bishop might run away with the Vezina considering he helped keep the Lightning afloat without Steven Stamkos but since the Olympics has just a .904 save percentage. Still, it's at .924 on the season.
Gustav Nyquist
There is no consensus with Nyquist and the Hart as his lack of games is a drawback but if you look at what he has done in the games he played? Well it's a great case. He has 28 goals in 53 games and led the Wings through tough injury times.
Carey Price
Price has been almost as good for the Canadiens this season as he was for Canada in Sochi. While the Habs have been inconsistent on offense -- more often on the quiet side -- he has remained steady and has a .925 save percentage to show for it.
Tyler Seguin
It's looking pretty good for the Stars to make the playoffs and if they do, expect Seguin to get some attention. Like Getzlaf, he has a teammate with a good case in Jamie Benn but Seguin has the benefit of being the new guy, and the image of being the difference.
Sergei Bobrovsky
Bob! He has proven last season's Vezina was no fluke with little fallback this season. The Jackets are likely playoff bound and he has 30 wins to show for it plus a .922 save percentage. Doing this a second straight season starts to look like a trend.
Award watch
Norris
Calder
Duncan Keith
In the non-Erik Karlsson division, Keith leads Dmen in points but he's more than six goals and 54 assists. He is a vital part of the Blackhawks' offense and possession game with his ability to get the puck up ice and out of the D zone. He might be having his best season yet.
Nathan MacKinnon
MacKinnon has seen his role increase steadily throughout the season and he's thrived all along, leading rookies with 24 goals and 62 points. It only helps that the Avalanche have had such a successful season and still he's only eight points off the team lead.
Ryan Suter
Suter seems determined to earn his contract all in the first couple of years with how much he's playing (29:43 per game, 2:26 more than any other player). His point total isn't off the charts but is certainly good at 43 and defensively he's as sound as they come.
Ondrej Palat
MacKinnon will most likely win the award but it's no shoo-in with the season Palat is having. He's not far behind MacKinnon with 57 points and has been impressive on the defensive end all while helping them through the Stamkos injury (and now excelling with him).
Drew Doughty
Doughty is part of the possession monster that is the Kings but he's a very big part. His 58.5 percent Corsi For mark is outstanding, helping him to play the biggest role on a Kings defense that is the stingiest in the league. Offensively he has 10 goals, 27 assists.
Torey Krug
Even though he's on defense, Krug is fourth among rookies in points and he's been especially potent on the power play, helping to juice a unit that has been one weakness over the past few years in Boston. He won't be in Norris talk but best rookie? He's made an impact.
Victor Hedman
The Lightning have taken a big step forward defensively and it's not just because of Bishop. Hedman is rather quietly having a fantastic season, sitting fifth among defensemen in scoring. He doesn't play as much as the others at 22:38 but he's no less effective.
Tyler Johnson
Another rookie from Tampa Bay having a superb season, Johnson is second in goals with 23 to MacKinnon's 24. Like Palat, his role in helping the Lightning excel through injury has been big with close to 19 minutes a game. The Bolts have a couple of good ones for years to come.
Zdeno Chara
You almost take for granted what Chara does because he does it so well and so consistently. He might actually end up winning this award even with such a strong group. He plays a lot of tough minutes and always has a major impact on games. He's alway sin the conversation.
Olli Maatta
Another defenseman who should get a real look (there's another in Hampus Lindholm as well), Maatta was asked to step up with how depleted the Pens blue line was and he did. He has 29 points to his credit while handling the increased responsibilities well.
Award watch
Adams
Selke
Patrick Roy
For many this race is neck and neck between Roy and Cooper but not here; it's Roy by a mile. In his first year on the job (in the NHL even) he has led an amazing Avs turnaround, one that still could end with a division title. Not bad for a team that picked first in the draft.
Patrice Bergeron
Bergeron is so good many think he belongs in the Hart conversation as well with how he impacts games. That's not likely but the Selke is. Nobody in Boston plays tougher minutes in all situations and yet he still excels. Boston scores 63.5 percent of goals when he's on the ice.
Jon Cooper
That said about Roy, it doesn't take away from Cooper. He too has overseen a dramatic turnaround (he joined the Lightning mid-season in 2013). Not only has he worked in rookies seamlessly but has made the Bolts good on D too, something that been missing.
Anze Kopitar
Kopitar can compete with Bergeron's numbers (minus faceoffs). He too is a possession monster with a 60.9 percent Corsi For and the Kings score 67.6 percent of goals with him in the game. He plays in all spots and is also LA's offensive leader. He will be a finalist.
Mike Babcock
People are calling this Babcock's finest coaching job and considering he's the all-time wins leader in Wings history, that's quite a statement. Navigating through an injury minefield and with an AHL roster at times, the Wings have sprinted to the playoffs with a tremendous close.
Jonathan Toews
Toews probably wasn't going to repeat as a Selke winner anyway but his season-ending injury with a couple of weeks to go probably ended his hopes, even if he still play 76 games. Still, he could be a finalist given all he did for the Hawks.
Craig Berube
Remember when the Flyers were 1-7-0, just 1-4-0 under Berube? Since that time they are 40-22-9. That .627 points percentage would be third in the Eastern Conference if not for that slow start. Oversee a swing like that and you'll get credit as a coach.
Ryan Getzlaf
Part of Getzlaf's strong season is his defensive play. He gets the majority of his starts in the defensive zone and is still a plus-possession player on a team that's average in that department. Plus/minus is flawed as we all know but his plus-28 still looks good.
Todd Richards
In all likelihood, the Blue Jackets are going to the playoffs for just the second time and Richards gets some credit for that. He has the Jackets scoring this season while not leaving his goalie out to dry. Winning in Columbus hasn't been easy but he's done it.
David Backes
Many say Alexander Steen should be mentioned in the Selke from the Blues more than anybody but hurting him are games missed due to injury. Backes centers that line with Steen and plays a big role in making it so successful, including an improved faceoff percentage.
It's time to hook your favorite NHL fan up with some Black Friday deals

The Lightning have Steven Stamkos to thank, and the Blues should be extra grateful for Brayden...

The Sabres will face the Rangers at Citi Field on New Year's Day in these sharp threads
SportsLine's Mike McClure, a DFS pro with more than $1M in winnings, gives optimal lineup...

Without the star power of the NHL, America is banking on big contributions from some AHL, KHL...

Lincoln Financial Field will play host to the annual outdoor game on Feb. 23, 2019