Talent comes out in droves for Orlando Nike Camp
LA was really good, Atlanta was great, Miami was solid but they really didn't measure up to the amount of talent that took to the fields for the Orlando Nike Camp on a relatively beautiful Sunday afternoon. With numerous top 100 athletes in attendance the stacked field gave observers everything they could handle.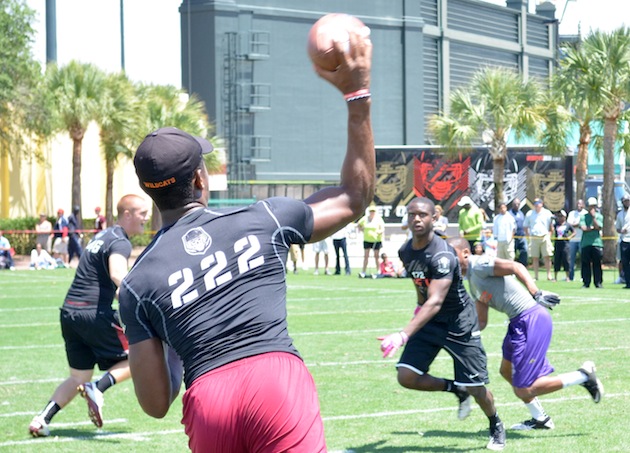 LAKE BUENA VISTA, Fla. -- The Los Angeles camp was really good, Atlanta was great, Miami and other Nike Camps were solid but they could not measure up to the amount of talent that took to the fields at the Disney Wide World of Sports Complex for the Orlando Nike Camp on what turned out to be a beautiful Sunday afternoon. With numerous top 100 athletes in attendance the stacked field gave observers everything they could handle with intense competition taking place despite an occasional sprinkle of rain.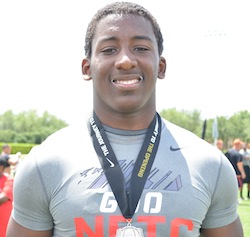 Despite the abundance of talent from all over the region, it was a local standout from a few miles north who stole the show as Orlando (Fla.) defensive end Devin Washington dominated one-on-ones to earn position group MVP honors and leave a lasting impression.
"This means the world to me," Washington said. "I've been working hard, been in the weight room, day-in and day-out just working. It's good to see my hard work pay off and this is a blessing."
The 6-foot-2, 220-pounder was a terror off the edge during drills thanks to a quick first step and impressive speed turning the corner. Though he didn't win every rep, Washington did beat five-star offensive tackle
Laremy Tunsil
on more than one occasion to elicit a big reaction from his fellow defensive linemen.
"When you come in here, you knew (Tunsil) was coming. Everybody was tweeting it and talking about it so I came in with the mindset of I want to go against him," Washington said. "I was looking at everybody else but that was the guy I wanted to go against - the best. I came in and we both competed and he won and I won. I took advantage of the weaknesses and had a good time."
Washington is not an unknown by any means with over 25 offers to his name and there's no doubt that the medal he went home with as MVP will do nothing to slow down the craziness surrounding his recruitment. Though he will eventually get out to see more schools and take in the sights of various campuses, for right now the talented end is just going to take it easy and concentrate on his high school team as he lets recruiters come to him.
"I'm going to start spring ball in a couple of weeks so I'm going to enjoy that," he said. "I know a lot of college coaches are coming by and hopefully I pick up some more offers. After that I'll start narrowing down my list."
Clemson
,
Louisville
and
South Carolina
are a handful of the schools that have already offered and based on previous conversations with coaches, Washington feels like a few of the big in-state powers might be the next ones he adds.
"I think Florida might be close," he said. "The only Florida schools that have offered are
FIU
,
UCF
and
USF
so I think the big schools like
Florida
,
Florida State
and
Miami
could be close. I'm not really waiting on them, I'm going to move on regardless if they offer. If they do offer, it will be a blessing. I'm just going to keep working and do what I have to do on the field."
Things change on a daily basis in terms of recruiting for the weakside end but Washington has tried to keep some consistency by evaluating each program in its own right. He isn't ready to narrow his list of schools quite yet but he certainly does have the checklist of things he's looking for in a program set.
"I don't have a top five or top 10 right now," Washington said. "I'm just looking at academics right now. All colleges have academics but I want to major in medical administration so I'm looking at a place that has a good medical program. Obviously looking for a good coaching staff, but keep in mind that they're always leaving, and a family environment. I just want a place where I can come in and it feels like home."
Tunsil still impresses despite off day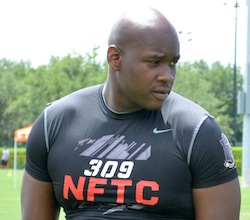 Though he got beat a handful of times during one-on-ones, Lake City (Fla.) offensive tackle
Laremy Tunsil
still looked and acted the part of a top 10 player in the country. With an athletic build and a great drop step, he could handle just about everything a very deep group of defensive linemen thew at him as both sides tried to elevate their games.
"It was pretty good, they gave me some competition I've never had before," Tunsil said. "I really wanted to work on my outside game today. They made me work on it a lot. My inside game is ok and I can move my feet well but I have to work on that outside game."
Ranked as the country's top offensive lineman and number seven overall player in the class of 2013, Tunsil no doubt had bit of a target on his back. Of course, as one of the biggest players at the camp he would have had one on his jersey anyway.
"I felt it," he said. "Everybody wanted me. But that's good because it made me work a little bit harder."
There was a little bit of confusion over Laremy's top five schools, which he recently narrowed, so the big tackle made sure to very carefully mention each program when discussing his recruitment.
"Florida,
Georgia
,
LSU
,
Alabama
and
Oklahoma
," he said of the schools that made the cut. "With all of my top five, I like the coaches and I like how they play."
Tunsil has not scheduled any visits over the spring and summer but might take a few depending on how things shake out. For right now he's just concentrating on his high school team ahead of spring ball and looking forward to showing coaches that stop by during the evaluation period that he is indeed the best of the best.
"I feel I can bring everything to the table, I just have to keep working," Tunsil said. "I can't concede anything."
The big offensive tackle added that he will make his decision on Signing Day.
Powell represents Florida well as MVP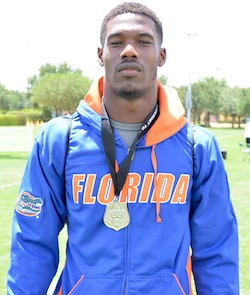 Daytona Beach (Fla.) linebacker
Quinton Powell
was one of the few players at the Orlando Nike Camp who was committed to a school and he certainly represented his Florida
Gators
by wearing plenty of blue and orange gear on Sunday. What might be even more exciting to Will Muschamp and his staff than him wearing the colors was the fact that Powell earned MVP honors after a great day during pass coverage drills and one-on-ones.
"I came in here with a chip on my shoulder," Powell said. "Just to have the opportunity to win the MVP was a great accomplishment."
It's rare for a highly regarded player who has committed to an SEC school like Florida to have a chip on his shoulder but Powell explained that he understood some of the criticisms against his style of play and set out to change people's perception of him between the lines.
"Well, a lot of people think I can't play in space because I play defensive end in high school," he said. "I just felt I needed to prove them wrong and I did.
"I really excel at keeping the team together. When they're down, I try and keep them up. I work hard and just try and do my job."
Powell says he is in his Gator gear "all the time" and came to the camp to meet up with several other commitments from the 2013 class such as Jacksonville (Fla.) wide receiver
Ahmad Fulwood
and Winter Haven (Fla.) running back
Adam Lane
.
"I saw the other commits as soon as I came in," Powell said. "All these people who are committing early have a good bond. I'm trying to work on as many people as a I can (to join us). I was with the linebackers and talking to a few about it."
The 6-foot-2, 200-pounder was able to show off his range at the camp, dropping quite well in coverage and showing off better than average athleticism - all attributes he saw on display from several members of the current Florida team when he was in Gainesville for the spring game.
"I saw a lot of athleticism from the defense and that was stuff that I was really looking for," he said. "That's why I committed. I saw everything I wanted to see from them."
Hargreaves looks smooth despite bumpy landing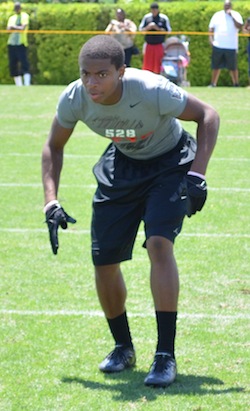 If you were looking for Tampa (Fla.) cornerback
Vernon Hargreaves
at the Orlando Nike Camp, he was kind of hard to spot. Despite being one of the top defensive backs in the class of 2013 he looks much younger than most would think and is a little reserved. His talent, however, was easy to spot when he was out on the field and unfortunately for those looking on (and perhaps fortunately for the opposing wide outs) he had to miss the tail end of one-on-ones after getting injured.
"I got elbowed in the head," Hargreaves said. "I had a headache and was kind out of it.
"It was a good camp otherwise, there was a lot of competition and I had fun. It's always fun competing."
Fast, smooth and a lockdown defender in either press coverage or off man, Hargreaves did nothing to sway anybody's opinion of him. Already ranked 29th overall in the class of 2013 with plenty of room to move up, the 5-foot-11, 180-pounder is preparing for the surge in his recruitment that is likely to accompany the rest of the Evaluation Period.
"It's not bad right now as it's going to get I guess," he said. "A couple of coaches are calling me."
Hargreaves holds offers from just about everybody in the country from Alabama to
Washington
. Though he's nowhere near sorting all of them out and narrowing his list to five or 10, there will no doubt be one constant throughout the process in USF because his father is an assistant coach on the staff there. While he is definitely not being pressured into committing to the
Bulls
it is an additional layer to the already complicated recruiting process.
"It's not difficult at all because he's not making me go one way or the other," Hargraves said. "He's letting the other (USF) coaches give the pitch. He doesn't want to hear, 'Oh he's going to USF because of his dad,' and stuff like that.
"I really am just looking for a good environment and a good education. Nothing special at all."
From all indications, it appears doubtful that Hargreaves will make a decision on a commitment in the near future.
Green shows complete package to nab MVP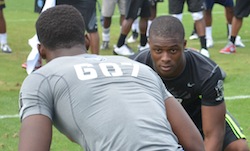 It was not a long trip at all to compete on Sunday for St. Petersburg (Fla.) running back
Ryan Green
which was probably fitting considering he made short work of his fellow running backs by putting on a dazzling performance to take home MVP honors.
"I'm humbled by it. It's an honor that they chose me," Green said. "I'm really thankful and blessed to be MVP."
The 5-foot-11, 195-pounder was a blur in his neon yellow shorts and showed he could cut on a dime during drills. Sure-handed during pass skeleton and one-on-ones, Green showed off all the skills that have college coaches excited for his potential and why he has over 30 offers to choose from.
"I came out here to work hard and get better," he said. "I wanted to work on a few things and came to give it my all and it paid off."
Along with fellow highly ranked running back
Greg Bryant
, Green picked up an invite to 'The Opening' this summer and is looking forward to showing the rest of the country's top players what he can do on the fields outside Nike's world headquarters.
"That means a lot, my hard work finally pays off," he said. "I really look forward to going to
Oregon
and tearing it up again."
Green is actually ahead of the curve when it comes to recruiting. Though he won't list a top three in order, there was no hesitation in coming up with several schools when asked about who leads for his commitment.
"Three schools are actually standing out: Florida, Florida State and
Notre Dame
," Green said. "Florida State, I grew up a fan of them. Florida, they just kind of came along recently. It's kind of weird because those two are big rivals but Florida is a great school. Notre Dame is top-notch too. I really like all three."
There are no unofficial visits on the calendar at the moment because Green has no plans to see schools this summer. He will still be looking at the fine print at each school over the coming months however as he takes his time making a decision on his future.
"I don't mind going away from home. The only problem with that is my mom might have a fit," he said with a laugh. "I really am just looking for where I feel comfortable socially, academically and athletically."
Notes
- MVPs by position were Winter Park (Fla.) quarterback
Asiantii Woulard
, Fort Meyers (Fla.) wide receiver
Johnell Barnes
, Madison (Fla.) offensive lineman
Ira Denson
, Seffner (Fla.) defensive back
Leon McQuay
, Green at running back, Washington at defensive line and Powell at linebacker.
- A camp season-high 10 invites to 'The Opening' were handed out on Sunday, indicative of the talent level that came out to Orlando. Those that got a ticket to Oregon were Greg Bryant, Ryan Green, Ahmad Fulwood, Laremy Tunsil, Quinton Powell, Ira Denson, Vernon Hargreaves, Leon McQuay, defensive back
Marcell Harris
and defensive lineman
DeMarcus Walker
.
- Woulard was easily the top quarterback at the event and stood out with a fluid throwing motion and enough arm to fit the ball into some tight windows. He's got great size at 6-foot-3 and will probably fill out even more while remaining a dual threat guy. He backed off his USF commitment earlier this month and it wouldn't be all that surprising to see his recruitment take off in May as coaches stop by and see him throw. Also notable was Orlando (Fla.) signal-caller Jason Driskel, the brother of Florida quarterback
Jeff Driskel
. While the 2014 Driskel isn't quite as big as his older brother he still threw the ball well on Sunday. Boca Raton (Fla.) quarterback Kevin Anderson and Blackshear (Ga.) underclassman Tyler Harris also looked sharp.
- Green and Bryant are two of the best backs in the state so it was no surprise to see them look good in just about everything they did. As good as Green performed, Bryant might have been more impressive with the way he got out of the backfield and ran routes. He dropped one here or there but it was still pretty amazing to see a guy as big as he was move as well as he did. Bryant also made sure to keep his
Oklahoma
socks high so everybody could see where he was committed to. Florida commit Adam Lane had a solid performance as well but didn't jump out during drills.
- There was a great set of wide receivers in what coaches nicknamed the "A-team" group. Evans (Fla.) receiver
Dominic Walker
looked impressive physically and had great burst off the line of scrimmage. Though he wasn't the fastest guy there he was able to use his big body to shield the defender and made several nice grabs. Tampa (Fla.) receiver
Travis Johnson
looked more like a tight end out there running routes but was very fluid in open space. He had no problem catching the ball and showed why he's got offers from just about everywhere. Florida commit Ahmad Fulwood had a good day but didn't flash anything special. He's got all the makings of an all-world talent however but still needs to fill out. Tampa (Fla.) wide receiver
Zach Benjamin
also caught the attention of several.
- The usual suspects (almost all of whom were mentioned above) had a great day in the secondary but Bartow (Fla.) defensive back Vontravrius West also stood out.
- Not sure anybody has had as dominant a camp performance as Denson did as a guard. He was pretty much a brick wall and didn't allow anybody to beat him thanks in large part to a great initial punch and strong base. Any move the defensive lineman had was instantly met with a counter move by Denson to stonewall them. He wasn't on a lot of people's radar but, with an MVP and Opening invite, he's on everyone's now. Florida commit
Caleb Brantley
was off and on but still had good form.
These five teams have the best chance of being the Group of Five darling this coming year

Drevno had been running the Michigan offense for three seasons

Aaron was reportedly shot while trying to protect his girlfriend when a fight broke out at...
An assistant-by-assistant look at changes Saban made to the Tide's staff ahead of 2018

Find out when Nick Saban, Kirby Smart and the rest of the coaches will speak ahead of the...

It wasn't only the massive $75 million contract that got Fisher to depart for College Stat...