Upset Bait: Penn State comes in for a cold open vs. Ohio
The Eye on College Football blog crew scans the weekly odds for a straight-up shocker or two * for entertainment only, of course.
The Eye on College Football blog crew scans the weekly odds for a straight-up shocker or two – for entertainment only, of course.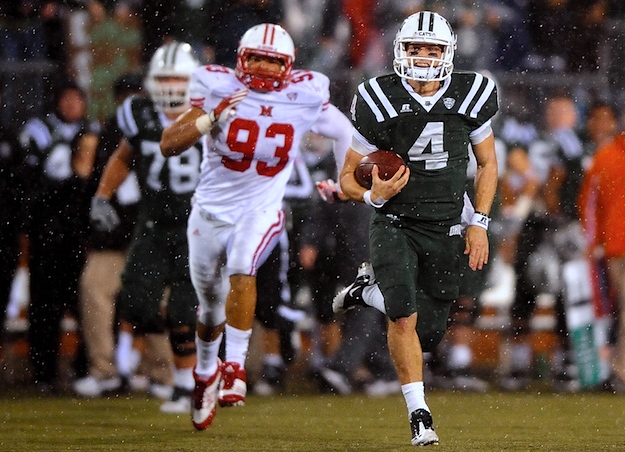 Bryan Fischer: OHIO (+9) over PENN STATE.
Between graduation and transfers, an already mediocre offense was hit hard and it's not like Matt McGloin under center is going to inspire confidence. I get that Penn State Nittany Lions coach Bill O'Brien is being lauded for his offensive mind after several years with the New England Patriots, but it's his first game as head coach ever and there's a ton of pressure on the Nittany Lions as a whole (not to mention distractions). Ohio Bobcats 's a good football team with 14 starters back, including quarterback Tyler Tettleton, and Frank Solich has the coaching smarts to pull the upset.
Chris Huston: MICHIGAN (+11) over ALABAMA.
A stunner in Dallas might happen for the same reason Nebraska Cornhuskers lost at Arizona State as the top-ranked, defending national champion in 1996: Because some teams, even defending champs like Alabama Crimson Tide , need time to gel and it's never easy to do so against a team like Michigan Wolverines . The Wolverines aren't Kent State Golden Flashes or San Jose State Spartans , the Crimson Tide's last two victims on opening day. They are a talent-rich program that just happens to be very well-coached.
Jerry Hinnen: VANDERBILT (+6½) over SOUTH CAROLINA.
So, let's see: An underdog that was straight dynamite at home in 2011 under a first-year coach... hosting a Thursday night, primetime special for the first time in just shy of forever… that's overdue for a big home upset after coming just-that-close to pulling it off last year against Georgia Bulldogs and Arkansas Razorbacks ... that has all the pieces in place offensively... against an opponent with question marks in the passing game on both sides of the ball, and could be over-reliant on a tailback (a spectacular tailback, but still) making his first appearance since tearing an ACL less than 12 months ago... and whose quarterback was quantifiably less effective on the road a year ago... again: On Thursday night, at home.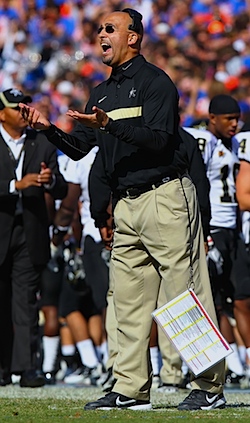 I'm on record as a Vanderbilt Commodores believer, and a James Franklin believer, so I'm all-but contractually obligated to look at the facts above and conclude: Yes, this is happening. I wouldn't bet the proverbial ranch – South Carolina Gamecocks quarterback Connor Shaw having anything more than the barest token of passing success would likely break the Vandy defense's back – but too many stars are aligned not to pull the trigger.
Chip Patterson: NEVADA (+11) over CALIFORNIA.
California Golden Bears 's defense was one of the best in the Pac-12 a season ago, but the Bears will have their hands full with a high-powered Nevada Wolf Pack offense, led by sophomore quarterback Cody Fajardo . As a freshman in 2011, Fajardo stepped right in to the hole left by Colin Kaepernick and helped the WAC's best offense average over 500 yards per game. In Berkeley, the Wolf Pack will be looking to reverse the outcome of their last matchup against a Pac-12 opponent, a 69-20 beatdown at the hands of Oregon Ducks last September.
  Cal quarterback Zach Maynard struggled to show consistency in his first year as a starter, even with All-American Keenan Allen as his favorite target. Nevada returns seven of their top eight players in the secondary, and if the front seven can shut down Cal running back Isi Sofele , the Wolf Pack could dictate the pace of this game – and the outcome.
Tom Fornelli: BOSTON COLLEGE (+ 2½) over MIAMI.
It's not a huge gamble by any means to take Boston College Eagles over Miami – B.C. beat Miami last year, in Miami – but the Eagles are underdogs at home, so it counts. While things are far from perfect at BC, Miami is dealing with so many suspensions and injuries (not to mention a looming NCAA investigation that could break during the season, or cost the Miami (Fla.) Hurricanes another bowl game at the end) that a letdown is only logical. Considering Boston College has 10 returning starters on offense, I think the Eagles can pull off the early surprise.
Matt Hinton: WESTERN MICHIGAN (+10) over ILLINOIS.
The MAC has a long history of pulling the rug out from beneath the lower and middle classes of the Big Ten, including Western Michigan's 23-17 upset in 2008, and the 2012 have the most important ingredient: A Big Ten-caliber quarterback. Senior Alex Carder has racked up more than 7,200 yards and 61 touchdowns through the air over the last two years, and is coming in off four consecutive games with at least 400 yards passing to close 2011. He had multiple scoring strikes in all of them.
Earlier in the season, Carder burned the Illinois Fighting Illini secondary for 306 yards and two touchdowns in a narrow, 23-20 loss that came down to the final seconds. This time, with the Illini in transition under first-year coach Tim Beckman, the Broncos will close the deal.
The junior will take the snaps for the defending national champions in 2017

MetLife Stadium is about 10 miles away from where the World Trade Center buildings once st...

The Terps will wear these against Indiana on Oct. 28.
The coach of the Eagles isn't here for no science talk

These are the teams that are getting too much -- or too little -- love before the season

The Crimson Tide start atop the AP Top 25 poll for the second straight season