All you need to know: MLB news and rumors roundup for Dec. 27
Friday was mostly about Masahiro Tanaka speculation, so let's run down the essentials.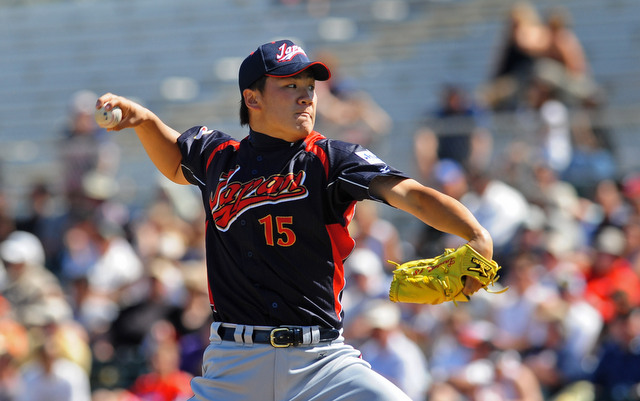 MORE: FA tracker: position players | FA tracker: pitchers
Friday marked the onset of Masahiro Tanaka rumor-churning, so that will be the focus for today's "All you need to know." Now let's run down the must-knows for Dec. 27 ... 
ALL THINGS MASAHIRO TANAKA
- A straw poll of team execs undertaken by Bob Nightengale suggests that Tanaka will wind up making at least $17 million per. That, of course, is in addition to the $20-million posting fee that goes back to Rakuten, his former team in Japan. 
- Will MLB bar Tanaka from donating money to his former NPB club for capital improvements? They appear to have the power and intent to do just that. 
- Phillies: Justin Klugh of Philly.com says you shouldn't expect GM Ruben Amaro to be among the fiercest suitors of Tanaka. 
- Mariners: Roger Rubin of the New York Daily News writes that Seattle will definitely be among the strongest contenders for Tanaka's services. 
- Red Sox: Pete Abraham of the Boston Globe wrote late Thursday night that the Sox don't yet appear to be seriously interested in Tanaka. 
- Yankees: Marc Carig of Newsday reports that the Yanks have already been in touch with Tanaka's agent, Casey Close. The Yankees are expected to be among the favorites to sign the 25-year-old right-hander. 
RUMORS, SPECULATION, ETC.
- Nelson Cruz: Rangers GM Jon Daniels says he expects the free agent outfielder to sign elsewhere. Texas's signing of Shin-Soo Choo (see below) all but ensured that. (Richard Durrett via Twitter)
- Ike Davis: The Mets reportedly were turned down by the Orioles when they asked for Eduardo Rodriguez in exchange for Davis, but they're still talking trade with the O's, Brewers and Pirates. (Mike Puma via Twitter)
- Sam Fuld: Five unnamed teams are reportedly considering offering Fuld a minor-league contract for next season. (Zach Links, MLBTradeRumors)
- Angels: The Halos may be emerging as the favorites to sign 36-year-old lefty Mark Mulder, who's making a comeback attempt and hasn't pitched in the majors since 2008. (Nick Cafardo via Twitter)
- Mets: Mets exec J.P. Ricciardi tells WEEI that the team is happy with Ruben Tejeda as its starting shortstop. This would seem to downplay the Mets' chances of hotly pursuing free agent shortstop Stephen Drew. 
- Red Sox: The Sox may develop interest in right-handed reliever Jesse Crain. (Peter Abraham, Boston Globe)
SIGNINGS & AGREEMENTS
- Angels: Officially announced signing of DH Raul Ibanez to a one-year, $2.75-million contract, plus incentives. 
- Cubs: Officially announced the signing of closer/RHP Jose Veras to a one-year contract plus a team option for 2015. The deal includes $4 million guaranteed. 
- Rangers: Officially announced signing of OF Shin-Soo Choo to a seven-year, $130-million deal. Next season, Choo will bat lead-off and man left field for Ron Washington. 
Jonathan Singleton was suspended after a third positive test for a drug of abuse

Rodriguez will join Jessica Mendoza and Matt Vasgersian on the "Sunday Night Baseball" boo...

Jeff Wilpon talked about payroll on Tuesday, and it won't make any Mets fan happy
Yelich's agent recently asked the Marlins to trade him before the spring

I've only been in the BBWAA three years, but here's what my ballot would've looked like this...

In the last two votes, Clemens has gained nearly 17 percent in Hall of Fame voting