Awards Watch: National League Cy Young
It's time to hit on the NL Cy Young race in our bi-weekly series. It's a very loaded field, but an elite foursome at the top.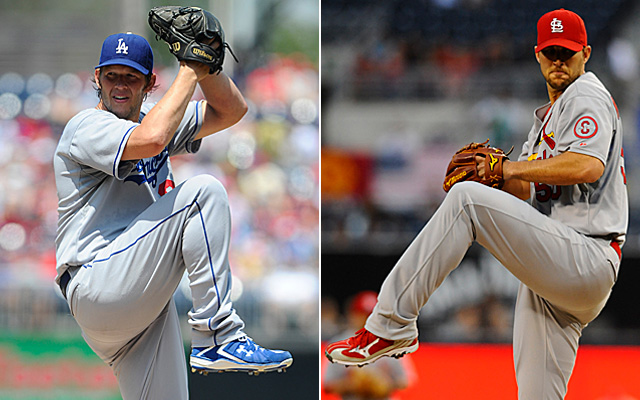 More Awards Watch: AL MVP | NL MVP | AL Cy Young
It's time to run down the potential Cy Young candidates in the National League, as we continue awards watch. As a reminder, these aren't necessarily my picks -- though I might let you know who I'd pick at some point below -- this is instead a look at what pitchers would be in the discussion for the BBWAA, the body that votes on this award.
Being that this is an award for pitchers, I feel like I need to point out that I believe the voting body overemphasizes win-loss record for the most part. There are outliers ( Felix Hernandez in 2010), but otherwise it appears that many voters believe run support received by pitchers makes them better.
While I disagree with this line of thinking rather strongly, we're attempting to run down how the votes might fall, so win-loss record cannot be ignored.
[Players listed alphabetically within categories]
Patrick Corbin , Arizona Diamondbacks : The All-Star lefty is cruising along at 12-3 with a 2.33 ERA and 1.02 WHIP. A decade ago with those numbers, he'd be an obvious choice, but this NL pitching field is utterly loaded.
Matt Harvey , New York Mets : The All-Star Game starter is going to hit an innings limit at some point -- the Mets just haven't said what it is -- so that might inhibit the chances of the club grabbing a second straight Cy Young. Harvey leads the NL in strikeouts and strikeout rate while boasting an 8-3 record and 2.21 ERA.
Clayton Kershaw , Los Angeles Dodgers : The MLB leader in run prevention (ERA) and keeping runners off base (WHIP) would be my choice at this point. Will his 10-7 record hurt him? It might, but only three pitchers ( Chris Sale , Stephen Strasburg and Eric Stults ) get worse run support and the Dodgers' bullpen has blown two wins of his. With the exact same personal performance and better help from his teammates, Kershaw could easily be something like 15-4. The Dodgers' run to first place helps with the voters, too, I believe.
Adam Wainwright , St. Louis Cardinals : Here's Kershaw's biggest threat in my view. Wainwright leads or is tied for the NL lead in wins, complete games, shutouts, innings pitched, strikeout-to-walk ratio and walk rate. He's only walked 21 hitters in 175 2/3 innings.
[Note: Considering there are four strong candidates above and voters only put three men on their respective ballots, the guys below need to catch fire to be legitimate contenders. I just didn't want to end the list with four names considering how many good NL pitchers there are.]
Madison Bumgarner , San Francisco Giants : He's 11-6 with a 2.69 ERA, a high strikeout rate and excellent WHIP (0.97).
Craig Kimbrel , Atlanta Braves : Baseball's best closer is again having an excellent season, but he was better last year and finished fifth. And this season's crop is more loaded at the top.
Mat Latos , Cincinnati Reds : The Reds appear headed for the playoffs and Latos is 11-3 with a 3.21 ERA. That could get him some third-place votes. Maybe.
Cliff Lee , Philadelphia Phillies : With the team going nowhere and an excellent upper echelon, Lee doesn't appear close to being a Cy Young winner at this point, but he's 10-5 with a 3.13 ERA and 1.04 WHIP along with his usual low walk rate. He could get hot enough to make a run.
Francisco Liriano , Pittsburgh Pirates : The only thing holding him back from the frontrunners is the difference in workload. Due to opening the season with an injury, Liriano has only thrown 102 2/3 innings right now compared to, for example, Kershaw's 174 1/3. Seventy-plus innings is an awful lot of impact to ignore. Still, Liriano merits mention here for his stellar work (12-4, 2.02 ERA, 1.15 WHIP, 9.3 K/9) this season.
Mike Minor , Braves: The 25-year-old lefty has come into his own this year, sporting an 11-5 record with a 2.76 ERA.
Jeff Locke , Pirates: He's 9-3 with a 2.47 ERA and 1.26 WHIP. That's good, but he's only thrown 131 1/3 innings, has a low strikeout rate and has a 4.96 ERA and 2.27 WHIP in his last three starts.
Jordan Zimmermann , Washington Nationals : Once an obvious frontrunner, Zimmermann has a 7.36 ERA and 1.84 WHIP in three second-half starts. And, actually, in his last 12 starts, Zimmermann has a 4.42 ERA. He needs a huge turnaround to get back in the mix.
Jose Fernandez , Miami Marlins : The phenom ranks in the top 10 in the NL in ERA, WHIP, K/9, ERA+ and WAR for pitchers. He's been steadily improving, too, as he's 6-2 with a 1.67 ERA and 86 strikeouts in his last 11 starts. He's struck out 27 hitters combined in his last two starts, too. I'm not sure he'll rack up enough of a workload, but it's worth watching this kid. He's nasty. And he's only 21.
Sale becomes the first AL pitcher to reach 300 strikeouts since 1999

Steve Balboni's long-standing record of 36 has finally fallen

Several players called for the netting to be extended down the base lines following Wednesday's...
Maria made landfall as a Category 4 on Wednesday

The players are trying to do their job and don't want to see anyone hurt

The child is receiving medical attention at an area hospital, the Yankees said in a statem...